January 2023 Vault Report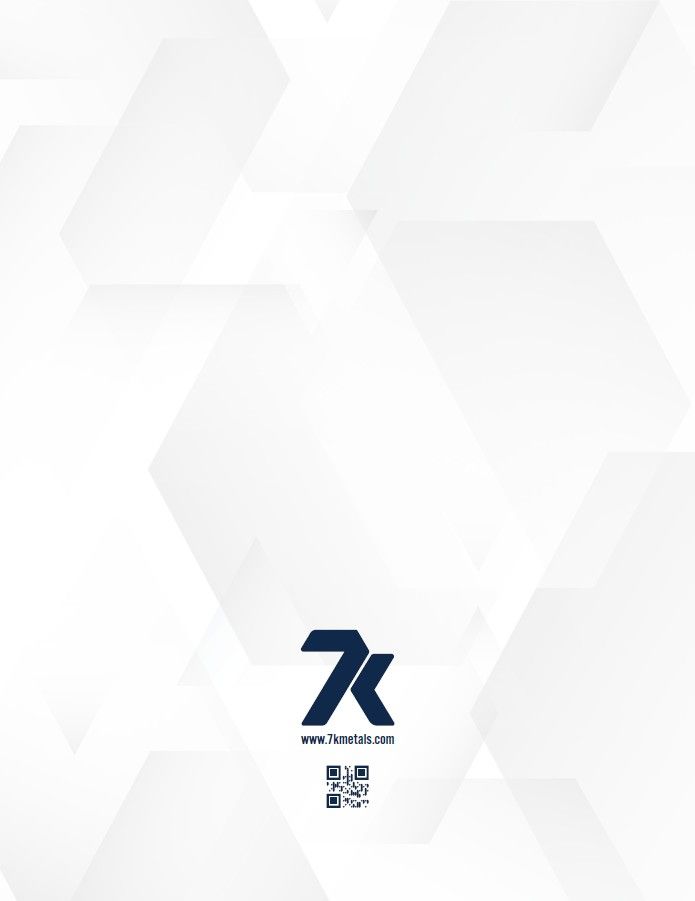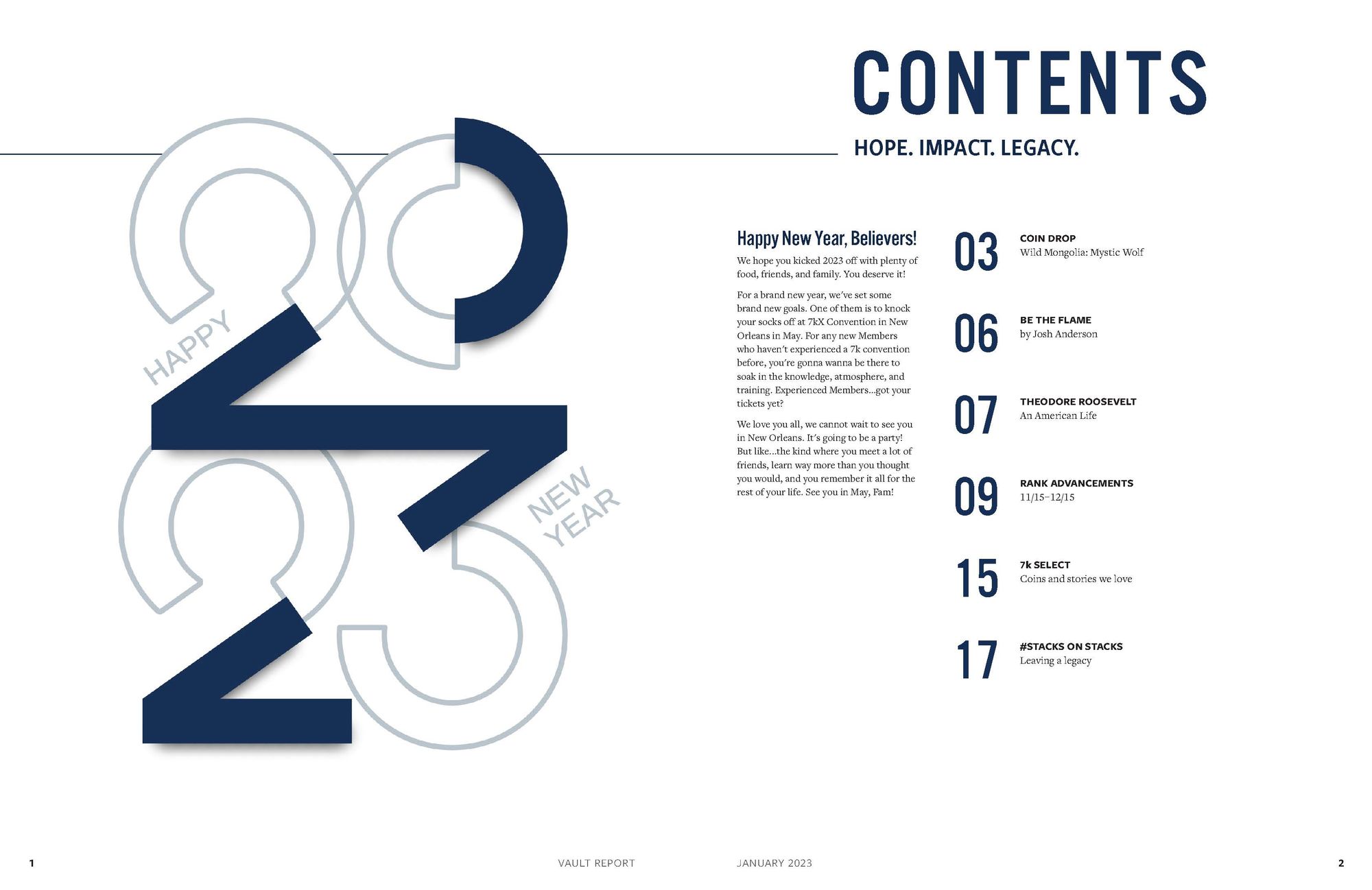 HAPPY NEW YEAR 2023
Happy New Year, Believers! We hope you kicked 2023 off with plenty of food, friends, and family. You deserve it!
For a brand new year, we've set some brand new goals. One of them is to knock your socks off at 7kX Convention in New Orleans in May. For any new Members who haven't experienced a 7k convention before, you're gonna wanna be there to soak in the knowledge, atmosphere, and training. Experienced Members...got your tickets, yet?
We love you all, we cannot wait to see you in New Orleans. It's going to be a party! But like...the kind where you meet a lot of friends, learn way more than you thought you would, and you remember it all for the rest of your life. See you in May, Fam!
CONTENTS
03 - COIN DROP: Wild Mongolia Mystic Wolf
06 - BE THE FLAME by Josh Anderson
07 - THEODORE ROOSEVELT An American Life
09 - RANK ADVANCEMENTS 11/15 - 12/15
15 - 7k SELECT: Coins and Stories We Love
17 - #STACKSONSTACKS: Leaving a Legacy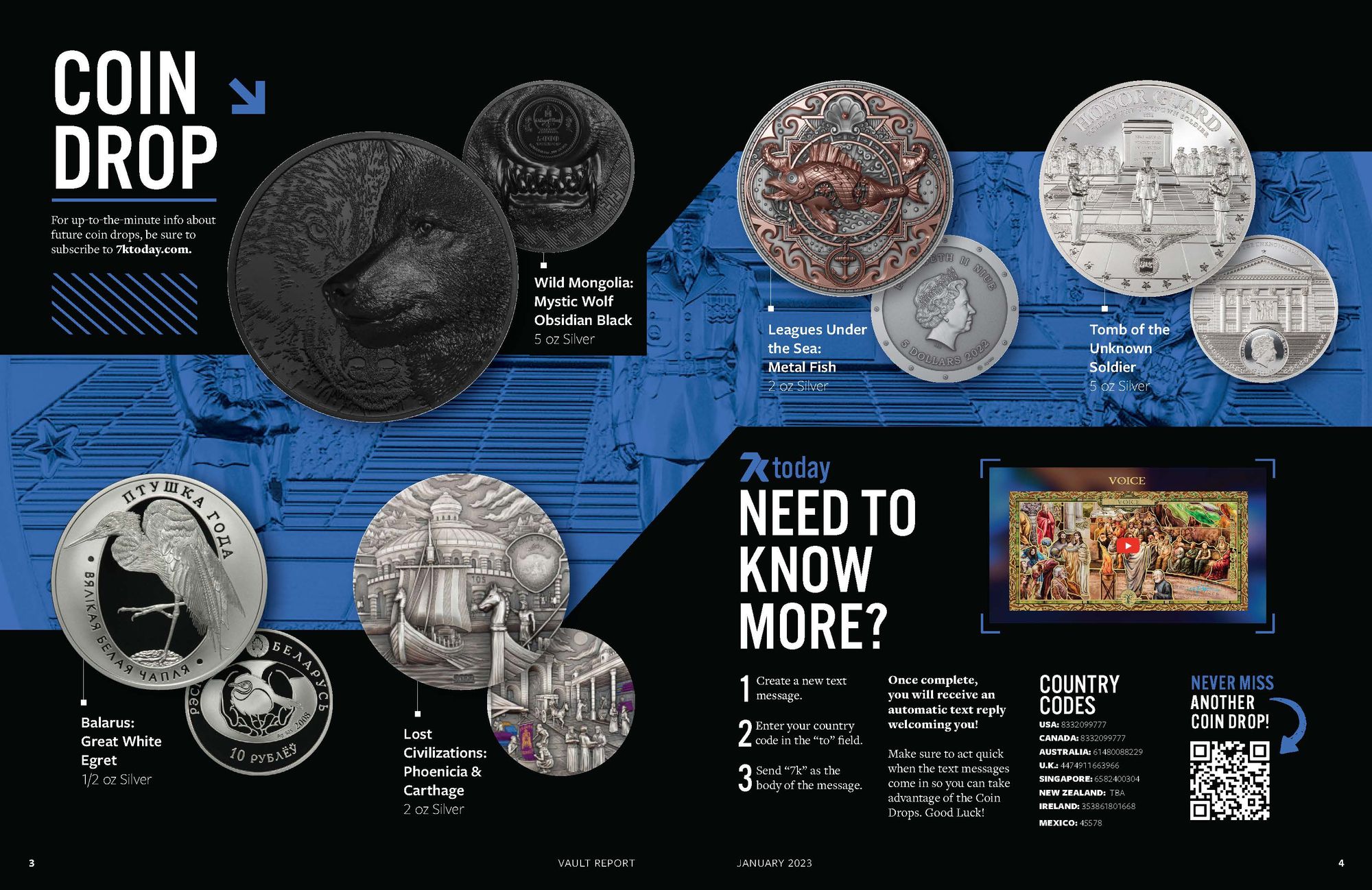 COIN DROP
For up-to-the-minute info about future coin drops, be sure to subscribe to 7ktoday.com.
Wild Mongolia: Mystic Wolf Obsidian Black 5oz Silver
The Wild Mongolia series released this exceptional 5 oz addition of the Mystic Wolf using an Obsidian Black Proof quality against minting techniques that are guaranteed to get a double take. Keeping with tradition, the Mystic Wolf scans its surroundings from two angles on the reverse of this coin while the snapping jaws on the obverse close in a snarl. All parts of this coin are sleek, gripping, and leave you hungry for more.
Belarus: Great White Egret 1/2oz Silver
A beautiful series dedicated to enjoying and preserving nature, the Belarus Bird of the Year collection has consistently released a coin annually since 2007. 2008's winner was the Great White Egret, showcased on this impressive half-ounce silver coin. The fine fowls grow gorgeous colorful plumage during mating season, for which they were hunted to near extinction. They are now protected by the National Audubon Society.
Lost Civilizations: Phoenicia & Carthage 2oz Silver
It's a shame that the great civilization of Phoenicia faded from existence in 332 BC...their alphabet is the basis for most of the languages we speak today! The Phoenicians were around from about 3200 BC. They built a booming dyeing and shipping industry by 1500 BC, and ensured a legacy from their rich, luxurious purple dyes. This gorgeous coin features 'Phoenician purple' in honor of the 'purple people'.
Leagues Under The Sea: Metal Fish 2oz Silver
You caught a big one! Steampunk, meet ocean. Ocean, you're about to get a lot cooler. This 2 oz coin gives us 20,000 Leagues Under the Sea plus fish-plaque-over-the-mantle vibes. Did you know that that Jules-Verne's-novel-turned-Disney-movie is credited with being a steampunk originator? Fits the timeline is all we're saying. And that this coin has Copper plating, High Relief quality, AND Antique finish quality. Flex.
Tomb of the Unknown Soldier 5oz Silver
This 5-ounce, Miles Standish-designed, fine silver coin showcases the entirety of the Tomb of the Unknown Soldier. Though built for World War I, the monument has been expanded to include soldiers from World War II, the Korean War, and the Vietnam War. The Honor Guard Identification Badge is one of the highest honors a military officer can receive, and the mintage of this coin represents how many have been given out to date: 688.
NEED TO KNOW MORE?
1 - Create a new text message.
2 - Enter your country code in the "to" field.
3 - Send "7k" as the body of the message.
Country Codes
USA: 8332099777
CANADA: 8332099777
AUSTRALIA: 61480088229
U.K.: 4474911663966
SINGAPORE: 6582400304
NEW ZEALAND: TBA
IRELAND: TBA
*Normal rates based on your individual plan may apply, but no additional international costs will be incurred.
Once complete, you will receive an automatic text reply welcoming you!
Make sure to act quickly when the text messages come in so you can take advantage of the Coin Drops. Good luck!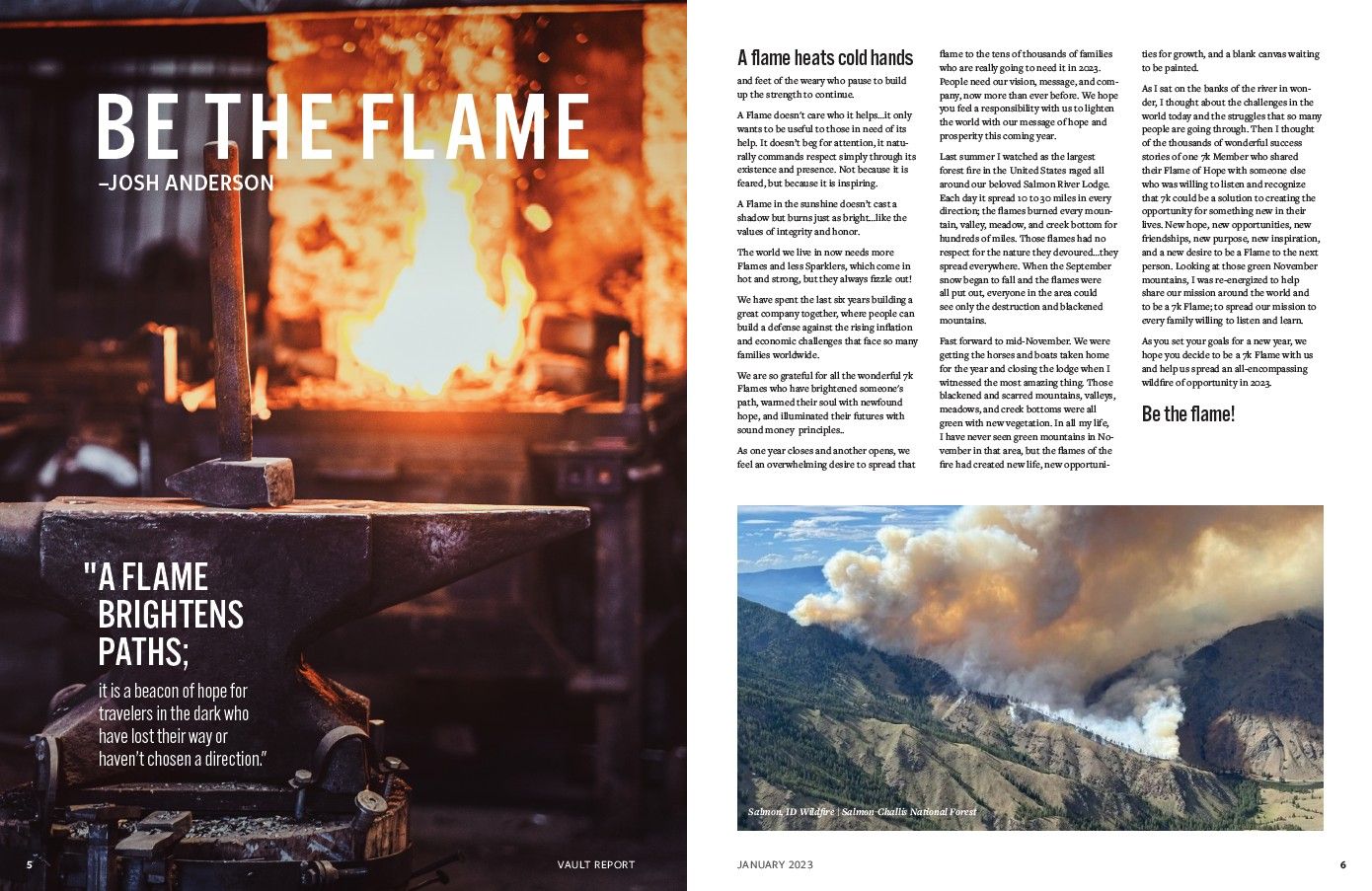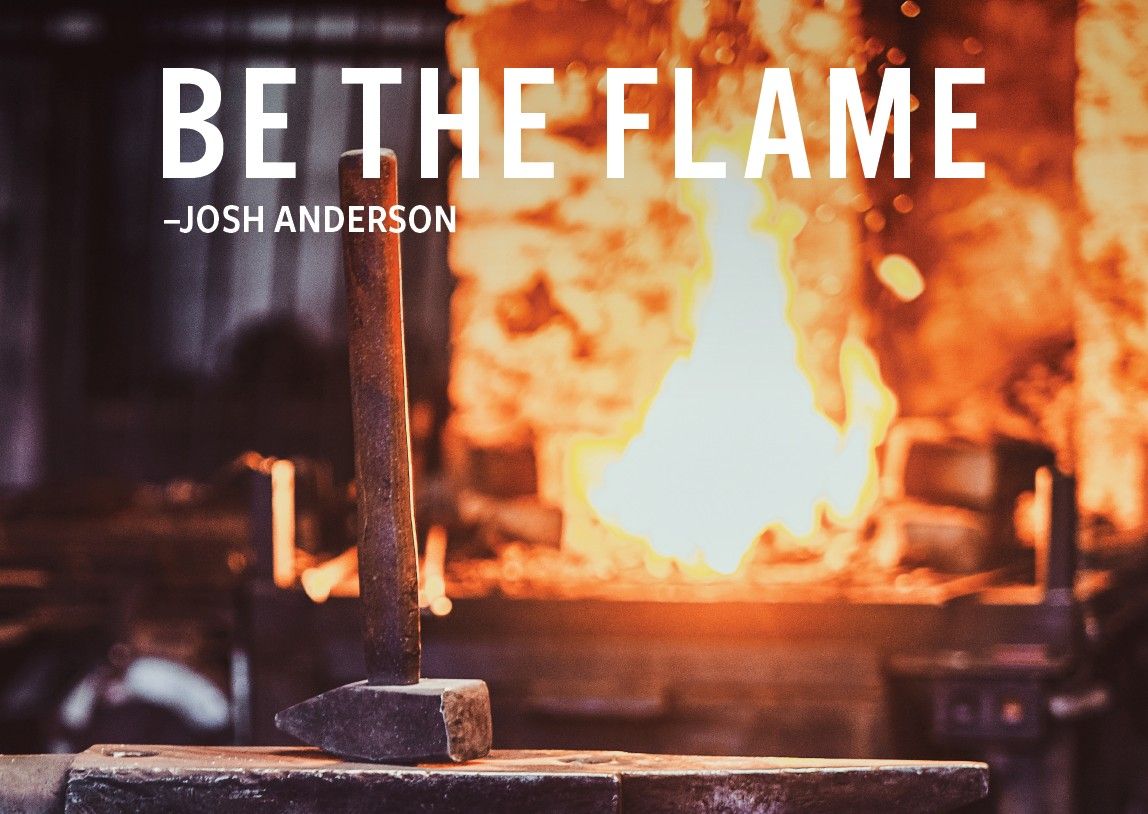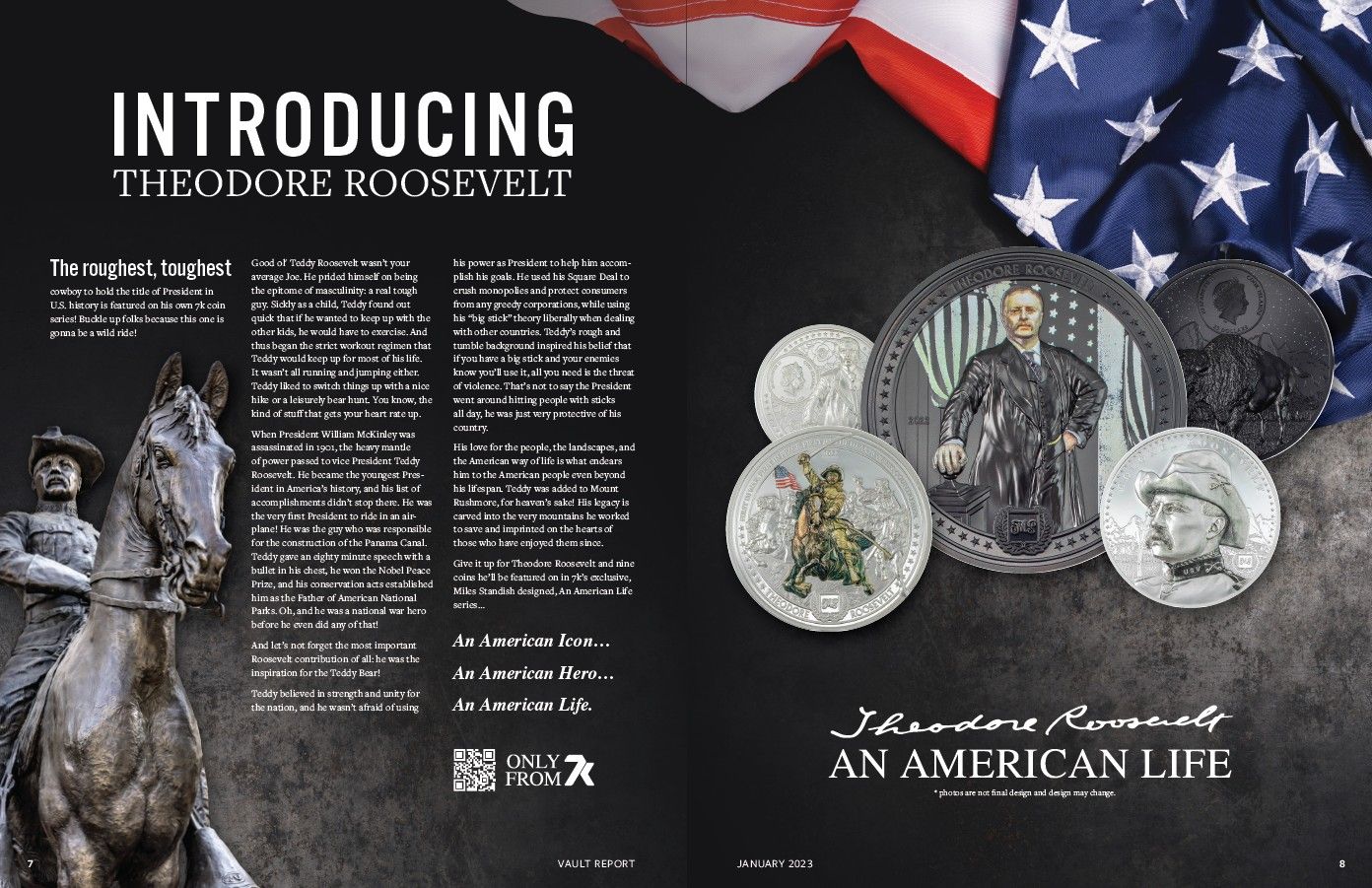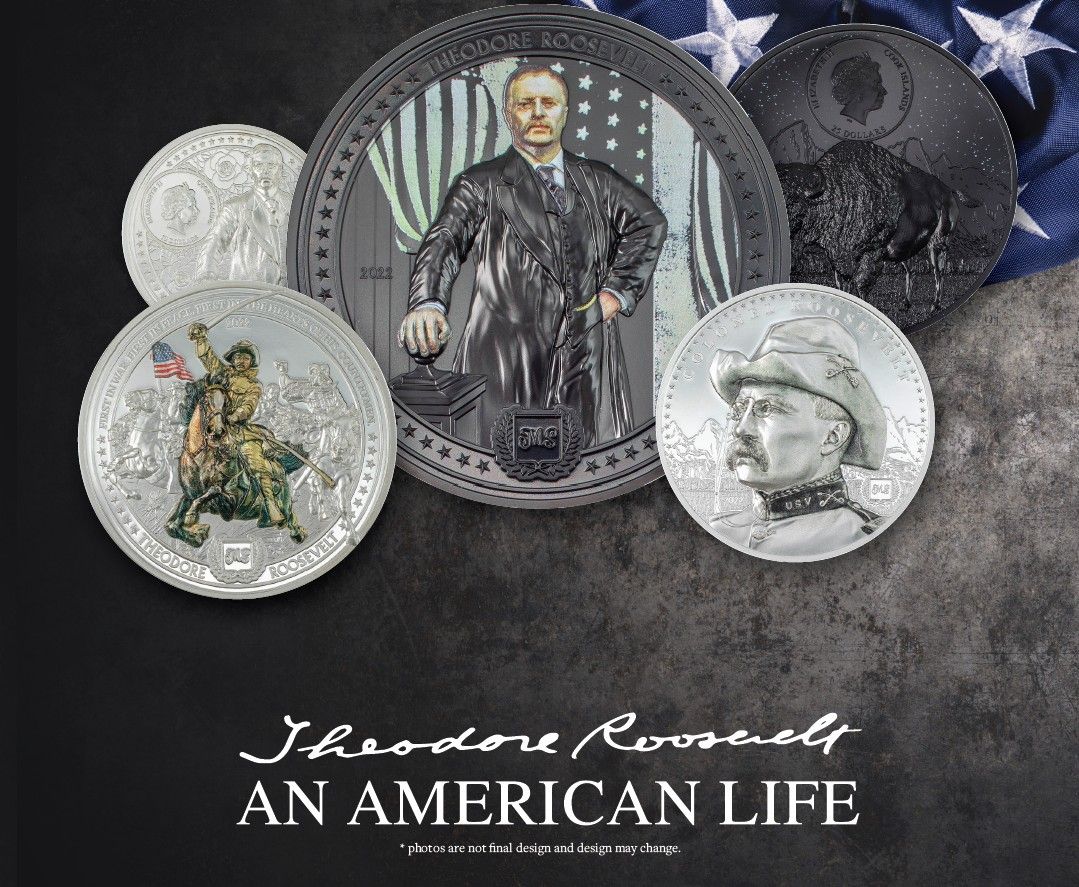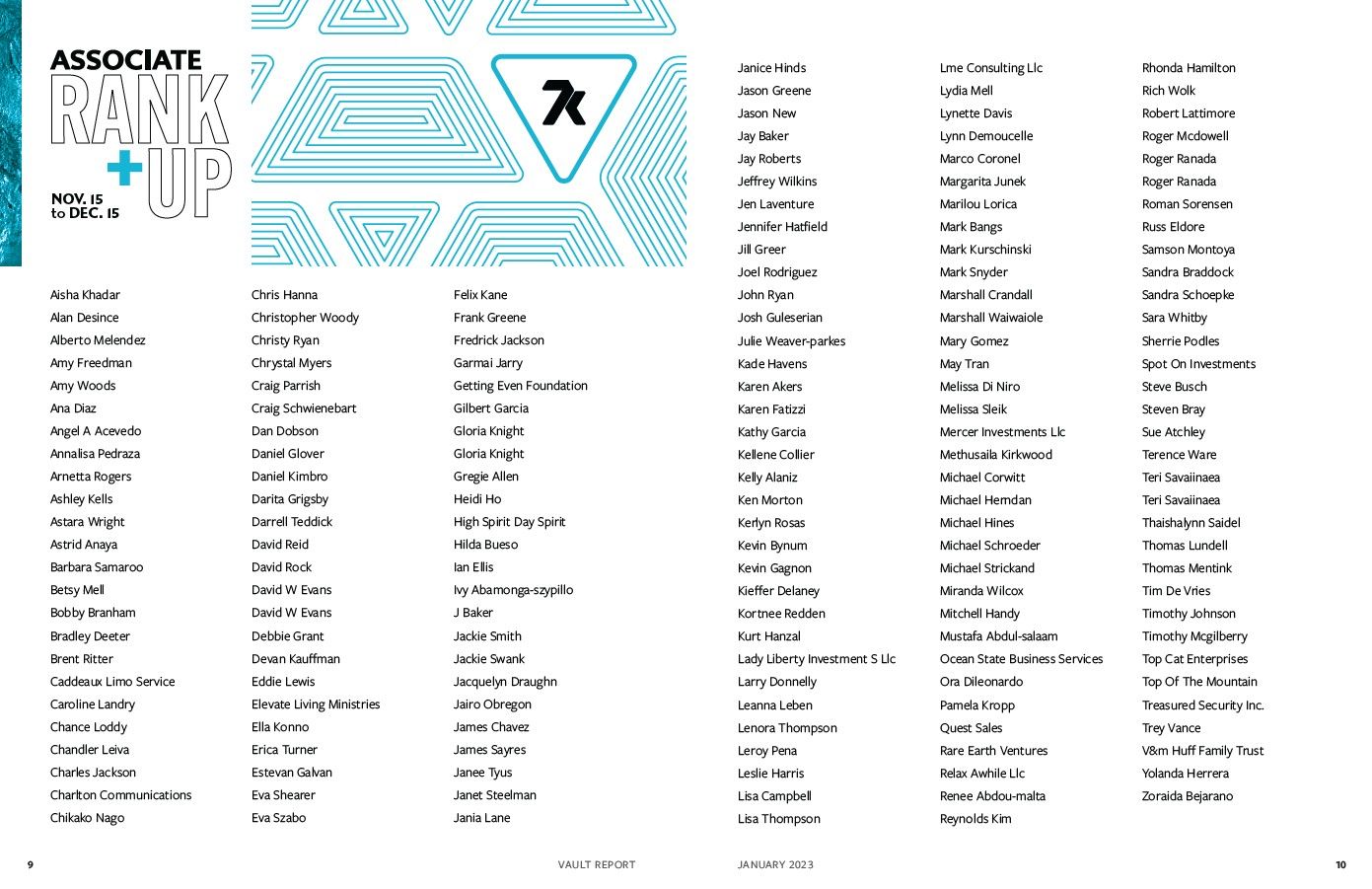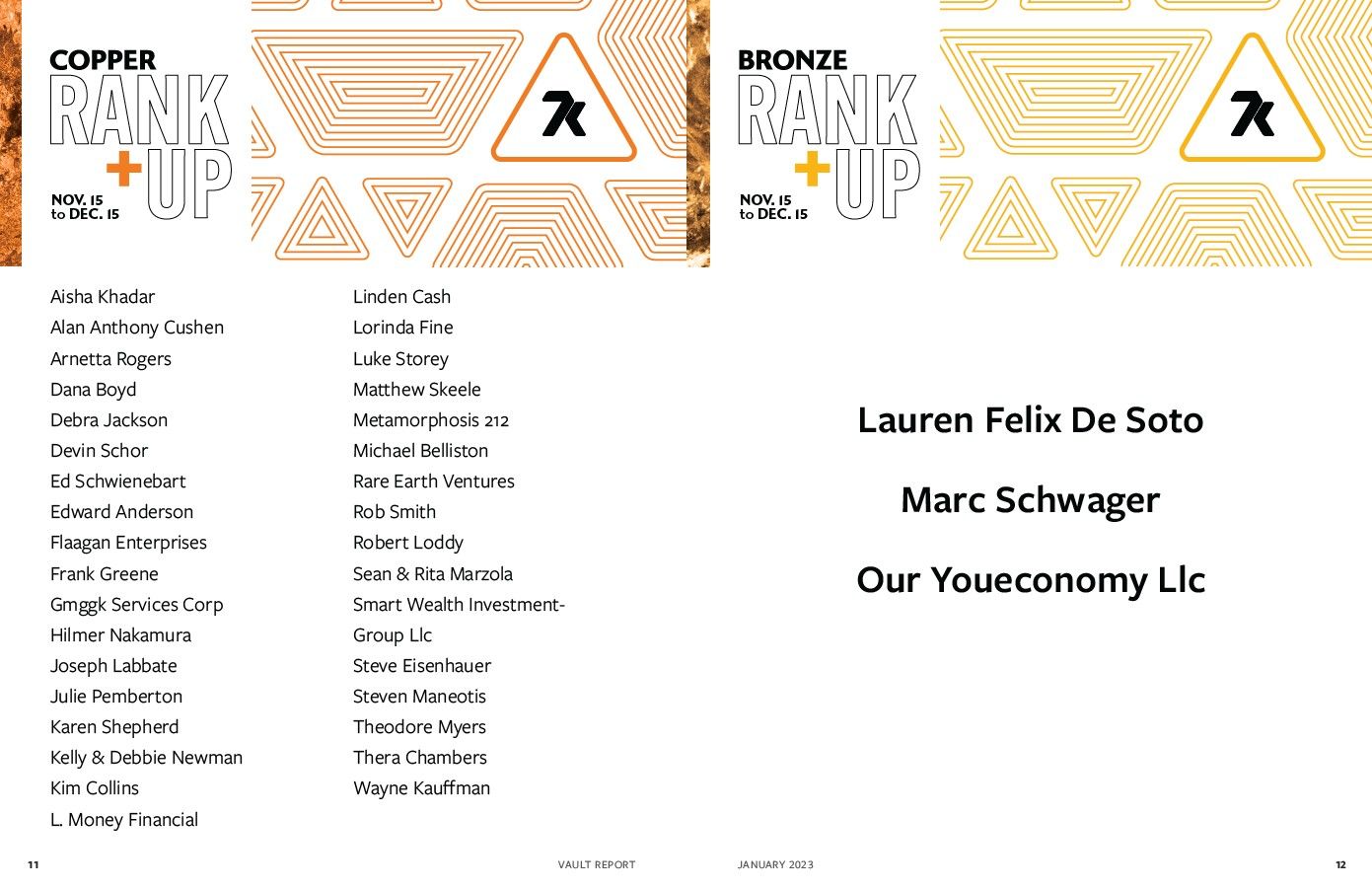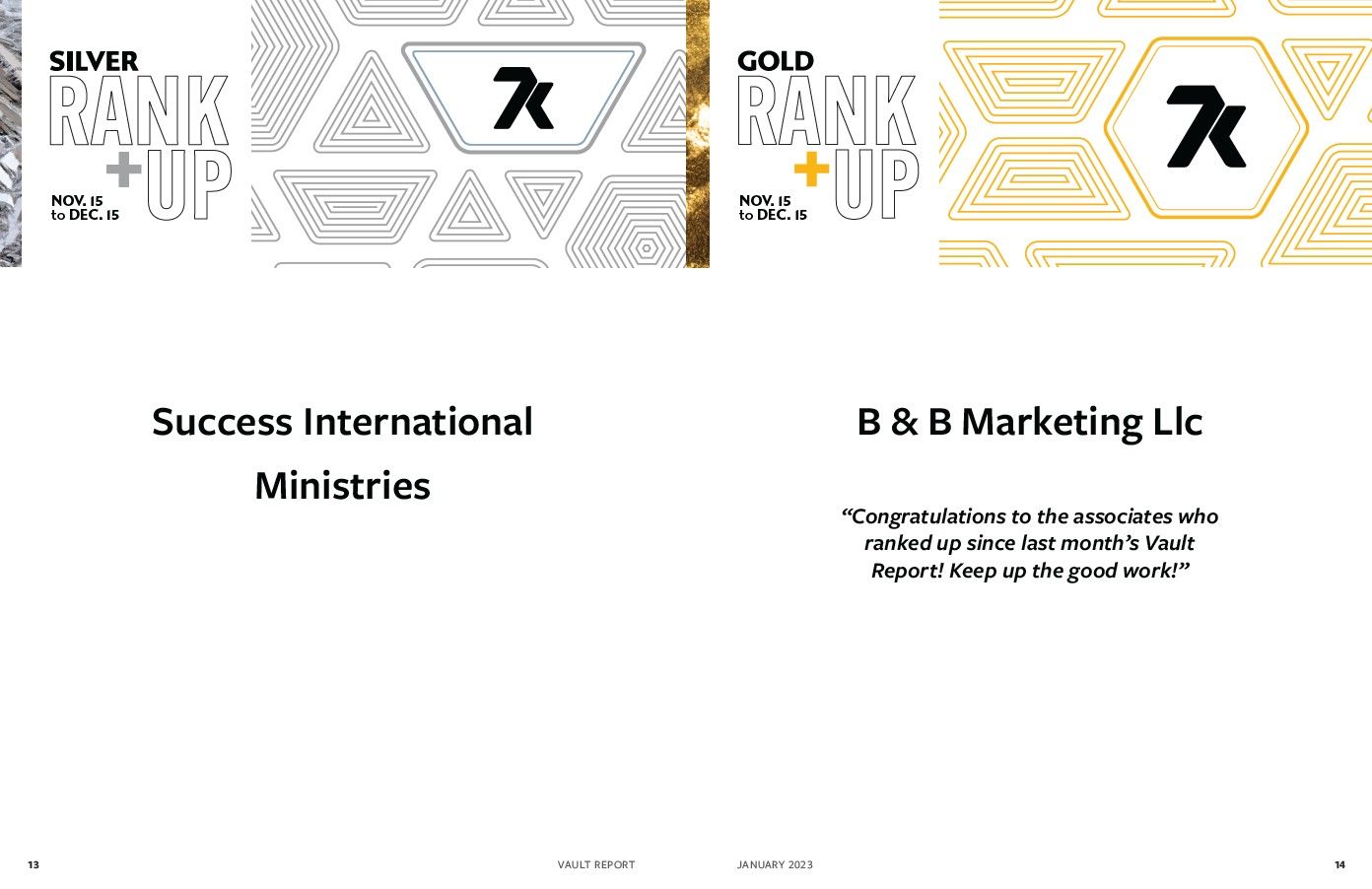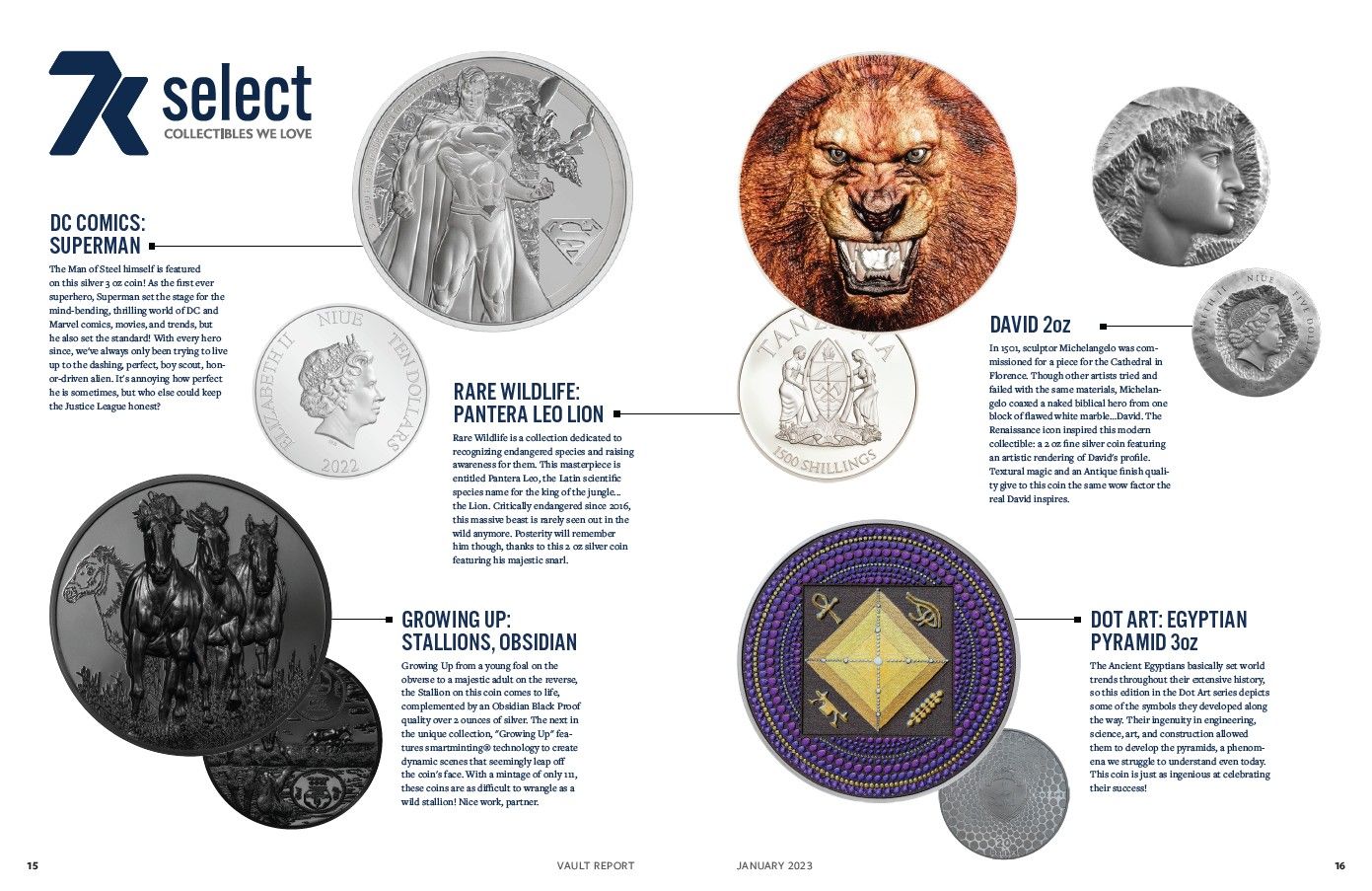 7k SELECT
Collectibles We Love
DC COMICS: SUPERMAN
The Man of Steel himself is featured on this silver 3 oz coin! As the first ever superhero, Superman set the stage for the mind-bending, thrilling world of DC and Marvel comics, movies, and trends, but he also set the standard! With every hero since, we've always only been trying to live up to the dashing, perfect, boy scout, honor-driven alien. It's annoying how perfect he is sometimes, but who else could keep the Justice League honest?
RARE WILDLIFE: PANTERA LEO LION
Rare Wildlife is a collection dedicated to recognizing endangered species and raising awareness for them. This masterpiece is entitled Pantera Leo, the Latin scientific species name for the king of the jungle...the Lion. Critically endangered since 2016, this massive beast is rarely seen out in the wild anymore. Posterity will remember him though, thanks to this 2 oz silver coin featuring his majestic snarl.
GROWING UP: STALLIONS OBSIDIAN
Growing Up from a young foal on the obverse to a majestic adult on the reverse, the Stallion on this coin comes to life, complemented by an Obsidian Black Proof quality over 2 ounces of silver. The next in the unique collection, "Growing Up" features smartminting® technology to create dynamic scenes that seemingly leap off the coin's face. With a mintage of only 111, these coins are as difficult to wrangle as a wild stallion! Nice work, partner.
DAVID 2oz
In 1501, sculptor Michelangelo was commissioned for a piece for the Cathedral in Florence. Though other artists tried and failed with the same materials, Michelangelo coaxed a naked biblical hero from one block of flawed white marble…David. The Renaissance icon inspired this modern collectible: a 2 oz fine silver coin featuring an artistic rendering of David's profile. Textural magic and an Antique finish quality give to this coin the same wow factor the real David inspires.
DOT ART: EGYPTIAN PYRAMID 3oz
The Ancient Egyptians basically set world trends throughout their extensive history, so this edition in the Dot Art series depicts some of the symbols they developed along the way. Their ingenuity in engineering, science, art, and construction allowed them to develop the pyramids, a phenomena we struggle to understand even today. This coin is just as ingenious at celebrating their success!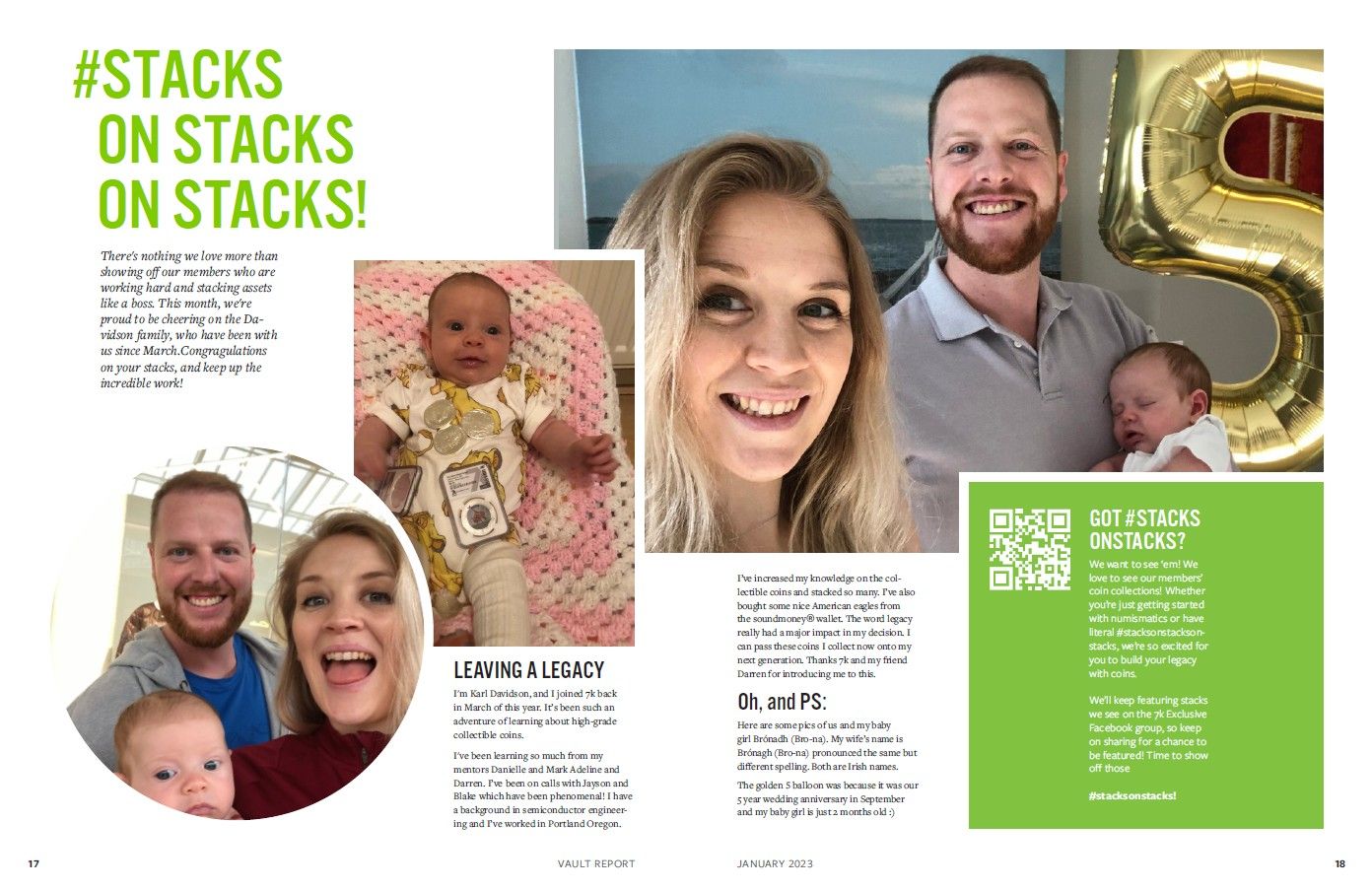 STACKSONSTACKSONSTACKS!
There's nothing we love more than showing off our members who are working hard and stacking assets life a boss. This month, we're proud to be cheering on the Davidson family, who have been with us since March. Congratulations on your stacks and keep up the incredible work!
LEAVING A LEGACY
"I'm Karl Davidson and I joined 7k back in March of this year. It's been such and adventure of learning about high-grade collectible coins.
I've been learning so much from my mentors Danielle and Mark Adeline and Darren. I've been on calls with Jayson and Blake which have been phenomenal! I have a background in semiconductor engineering and I've worked in Portland, Oregon. I've increased my knowledge on the collectible coins and stacked so many. I've also bought some nice American Eagles from the soundmoney wallet. The word legacy really had a major impact in my decision. I can pass these coins I collect now onto my next generations. Thanks 7k and my friend Darren for introducing me to this.
Oh and PS: Here are some pics of us and my baby girl Brohadh (Bro-na). My wife's name is Bronagh (Bro-na) pronounced the same but different spelling. Both are Irish names.
The golden 5 ballon was because it was our 5 year wedding anniversary in Spetember and my baby girl is just 2 months old :)"
Got #stacksonstacks?
We want to see 'em!
We love to see our members' coin collections! Whether you're just getting started with numismatics or have literal #stacksonstacksonstacks, we're so excited for you to build your legacy with coins!
We'll keep featuring stacks we see on the 7k Exclusive Facebook group, so keep on sharing for a chance to be featured! Time to show off those #stacksonstacks!
---