January 2022 Vault Report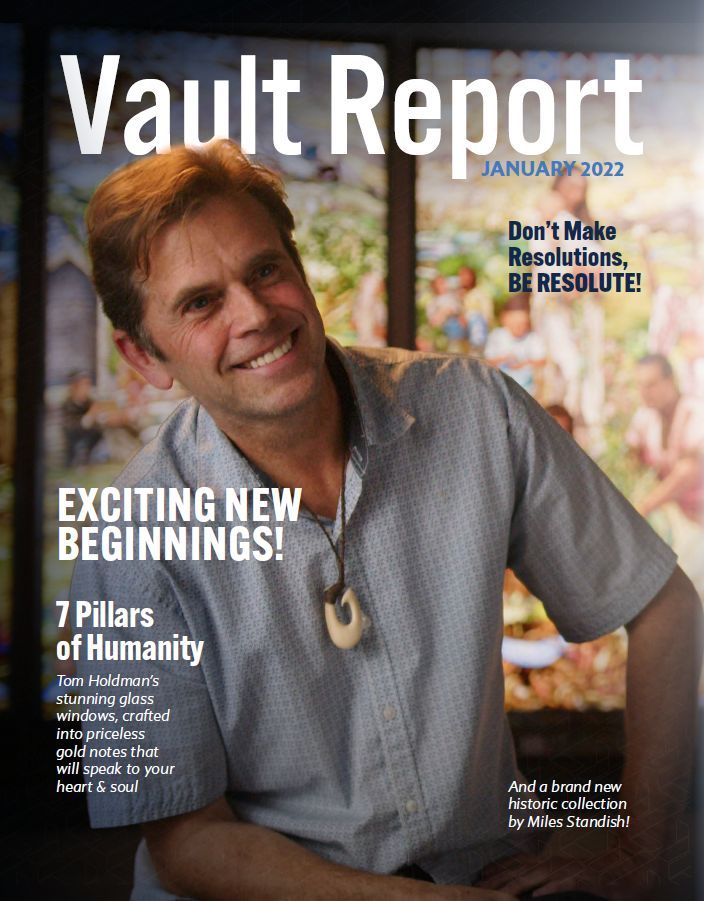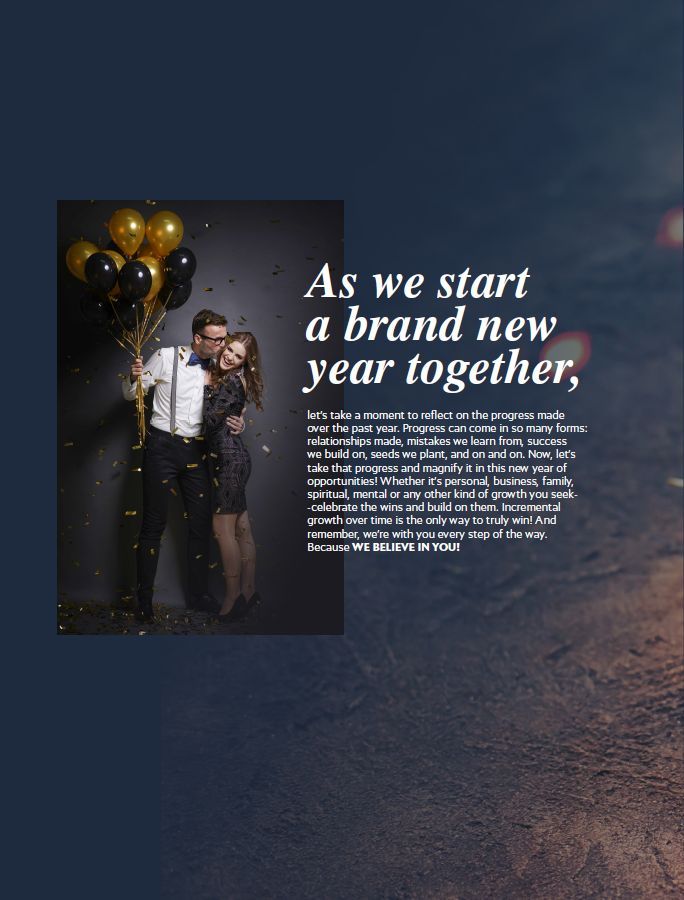 As we start a brand new year together, let's take a moment to reflect on the progress made over the past year. Progress can come in so many forms: relationships made, mistakes we learn from, success we build on, seeds we plant, and on and on. Now, let's take that progress and magnify it in this new year of opportunities! Whether it's personal, business, family, spiritual, mental or any other kind of growth you seek--celebrate the wins and build on them. Incremental growth over time is the only way to truly win! And remember, we're with you every step of the way. Because WE BELIEVE IN YOU!
CONTENTS
1 - The New Coin Drop Process
3 - The 7 Pillars of Humanity Project
7 - The USS Arizona: A New Collection
11 - Our First National Convention
15 - Wealth Strategies Deep Dive
17 - 7kToday: More Than Just Coin Drops
21 - Rank Advancements Nov. 15 - Dec. 15th
25 - From The Vault: Coins We Love
27 - Note Grading 101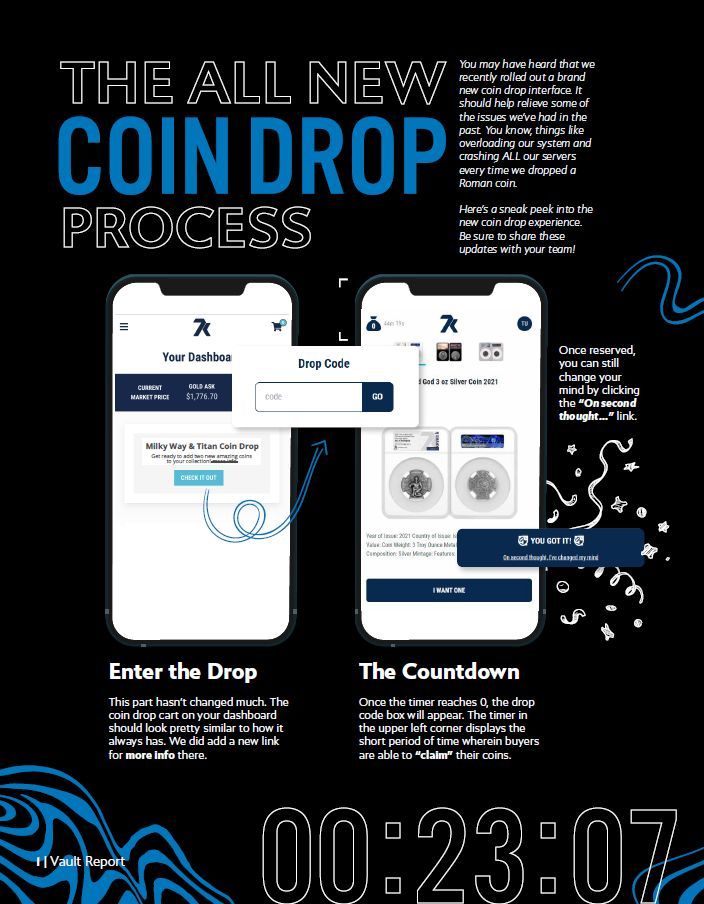 The All New Coin Drop Process
You may have heard that we recently rolled out a brand new coin drop interface. It should help relieve some of the issues we've had in the past. You know, things like overloading our system and crashing ALL our servers every time we dropped a Roman coin.
Here's a peek into the new coin drop experience. Be sure to share these updates with your team!
Enter The Drop
This part hasn't changed much. The coin drop cart on your dashboard should look pretty similar to how it always has. We did add a new link for more info there.
The Countdown
Once the timer reaches 0, the drop code box will appear. The timer in the upper left corner displays the short period of time wherein buyers are able to "claim" their coins.
Grab One of Each
At the top of the page, you'll see pictures of the coins available in the drop. You can click on each coin to see its details. Then you can click on "I WANT ONE" to reserve each coin.
Select Your Grade
Choose between MS70 & MS69. Make sure you pay attention to which option is selected. The prices and points will change as you select either option.
Things to Note:
You can keep track of coins you've claimed by clicking on the blue bag in the upper left corner of the screen.
Once reserved, you can still change your mind by clicking on the "On second thought..." link.
Once everything looks good, click "close" and exit out of the coin drop interface. You're done! Within 24 hours, the payment method you have on file in your account will be charged, you'll receive a confirmation email and receipt, and your coins will be on their way to you!
Make sure to double-check your payment method before every coin drop.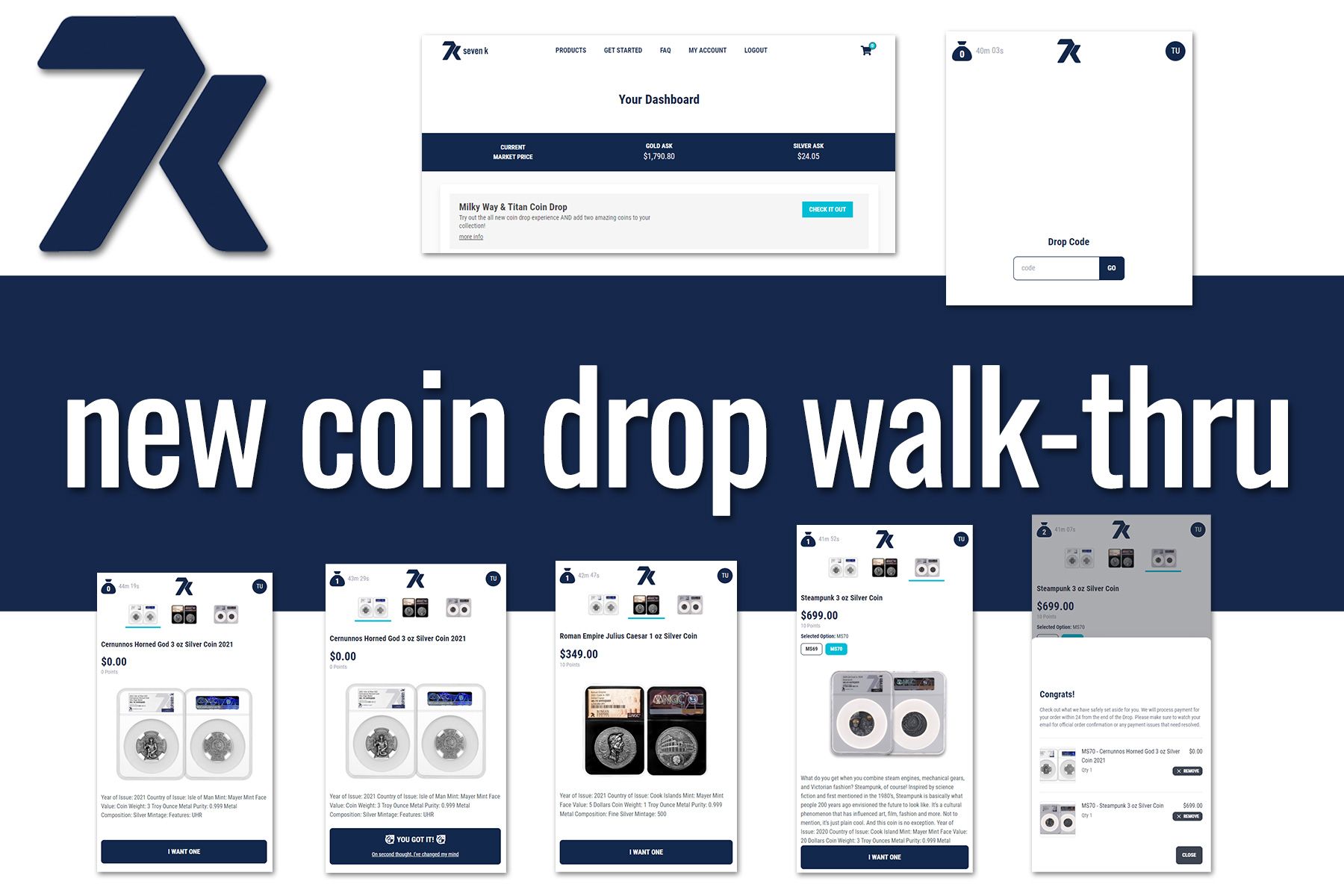 ---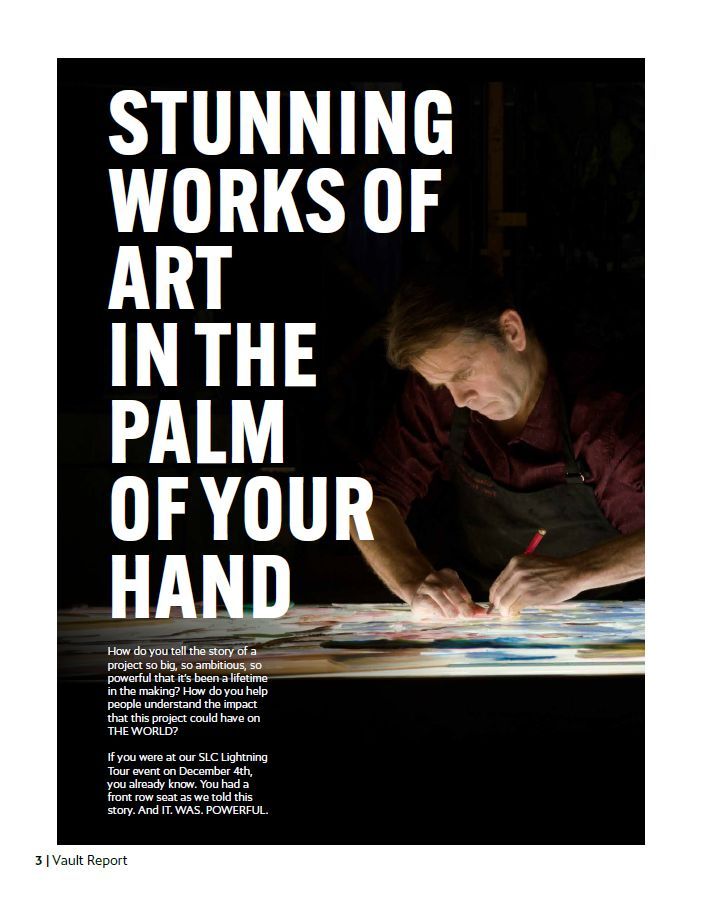 Stunning Works of Art in the Palm of Your Hand
How do you tell the story of a project so big, so ambitious, so powerful that it's been a lifetime in the making? How do you help people understand the impact that this project could have on THE WORLD?
If you were at our SLC Lightning Tour event on December 4th, you already know. You had a front row seat as we told this story. And IT. WAS. POWERFUL.
For those of you who weren't, we're going to try to recreate that experience here. But to do that we'll need your cooperation. It will be immensely worth it, we promise. So grab a cup of your favorite beverage and follow along as we take you on the journey of a lifetime.
THE LIFE OF A GENIUS
Start by watching this video:
Amazing story, isn't it? We were privileged to have the man himself, Tom Holdman, join us in SLC to introduce The Roots of Humanity project. Here's his speech directly to 7k members.
Now that you've been introduced to Tom and to his wildly ambitious Roots of Humanity project, we'd like to take you on a journey through the symbols in each of the first five 7 Pillars of Humanity glass panels that have been turned into stunning 1/200th oz Gold Notes available as a new Auto Saver option for 7k members.
INTRODUCING:
The Unity Panel
This gorgeous work of stained glass art has been painstakingly recreated into a pure gold note. There are over 20 individual symbols that unite humanity depicted in the Unity Panel.
The Freedom Panel
There are over 40 individual symbols that depict the human struggle for liberty in the Freedom Panel.
Check out this page on 7kToday for the rest of the notes and their powerful symbolism.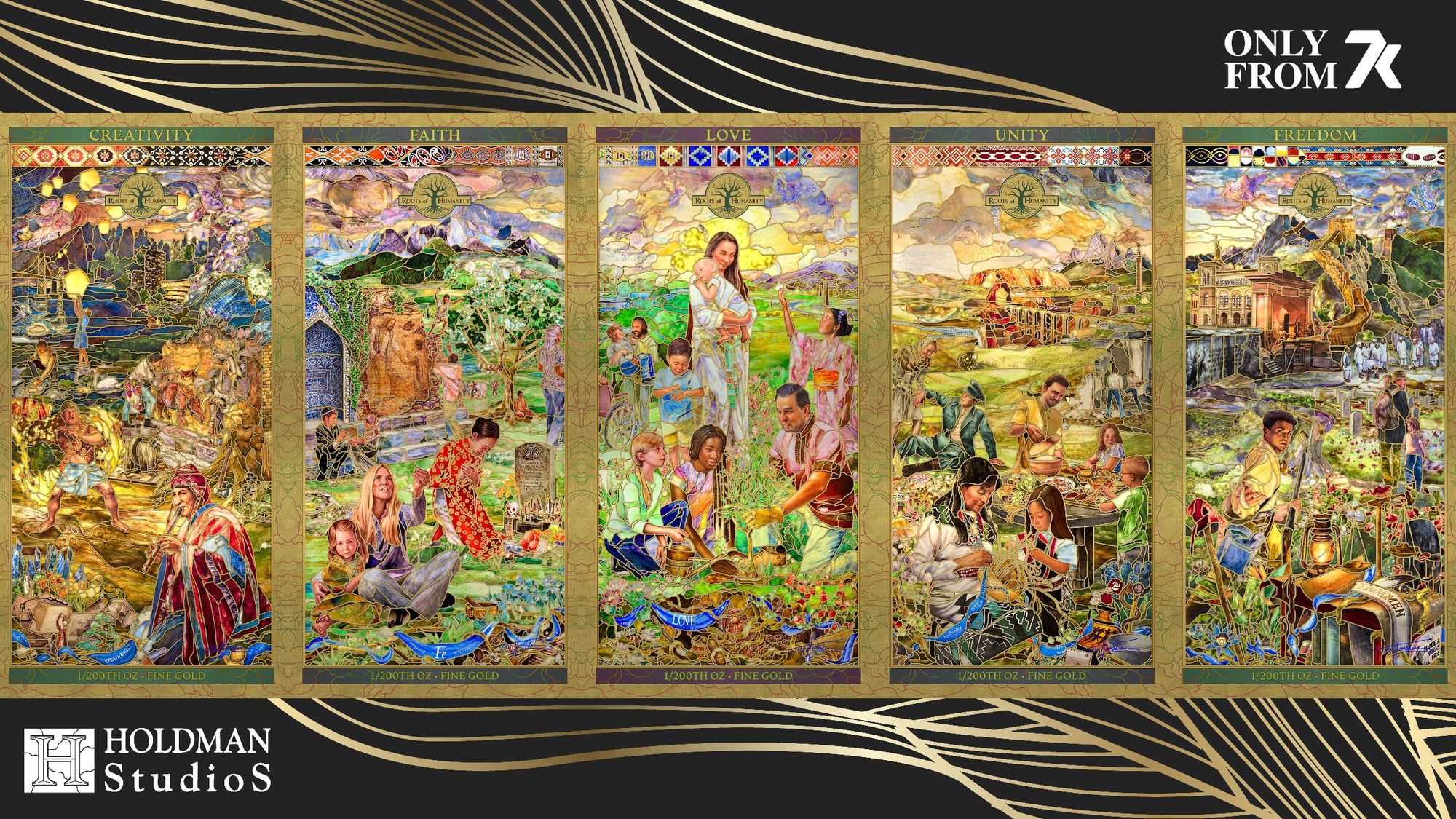 Are you as excited as we are to be involved with this project? We hope so! We look forward to a long and light-filled partnership with the brilliant people at Holdman Studios.
---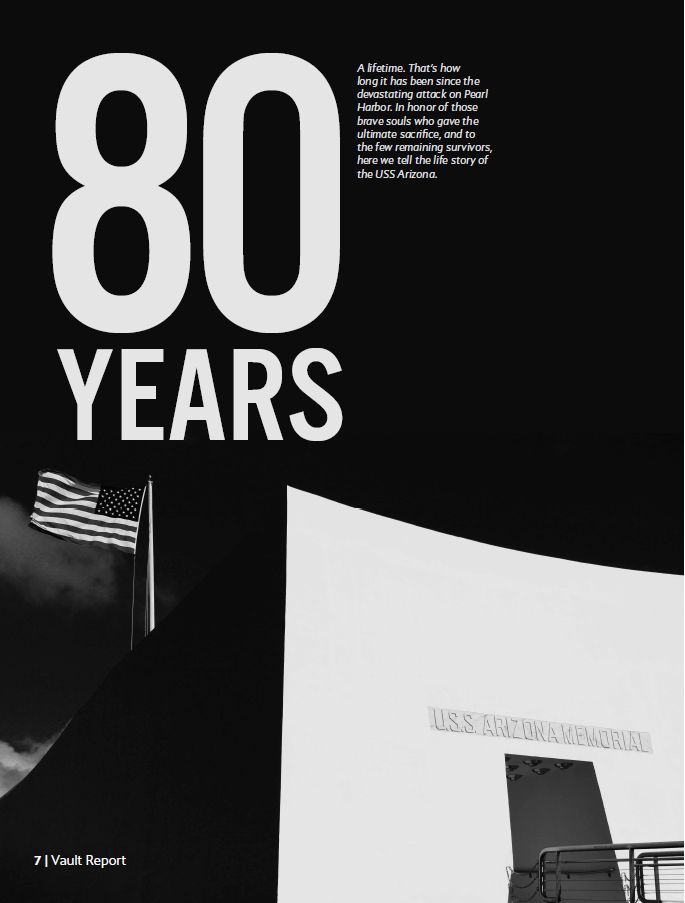 80 years.
A lifetime. That's how long it has been since the devastating attack on Pearl Harbor. In honor of those brave souls who gave the ultimate sacrifice, and to the few remaining survivors, here we tell the life story of the USS Arizona.
June 19, 1915
It took 15 months to finish building her and oh was she a sight to see. Her christening brought tens of thousands of viewers to the Brooklyn Navy Yard. All eyes were on Esther Ross, a 17-year-old girl, whose father had campaigned for her to perform the mighty battleship's christening. Seeing as the Sunset State was the newest addition to the United States, she was chosen as "a typical representative of Arizona's younger generation of women,"--and her dad was a good friend of the Governor. Whatever the reason she was selected, Esther was determined to crush it. She practiced for hours at home, swinging syrup bottles at the back fence. When the moment came, she was ready. Because prohibitionists back home had thrown a fit over champagne being used in the christening, Esther held the compromise in her hands. Two bottles: one filled with the ceremonial champagne, and one brimming with water from Arizona's very own Lake Roosevelt. Pulling the two bottles back and waiting for the mark, Esther christened the USS Arizona loud and proud.
The Arizona entered the waters of New York, freshly christened and ready for it's first mission. Everyone had known that when the USS Arizona was built, it was going to be the best. Not only was it the largest battleship ever built until that point, but it had all the newest equipment–- a dozen 14-inch guns on her deck with a range of up to 20 miles, 8 anti-aircraft guns, and an additional 8 machine guns mounted and ready to defend the great country that built her. In 1915, if you would have asked what the fate of the giant that had just been released onto the waters of the East River was, most everyone would have told you it would have a long military career. As it happened, the USS Arizona would never even know a single battle.
December 7th, 1941
It was a serene morning aboard the USS Arizona; sun rising on the beautiful Hawaiian islands. Church services were scheduled to start shortly. The U.S. Navy Band Unit 22 sat on the deck, tuning their instruments in preparation. Crew members bustled around above deck and below, manning their positions with ease. Many of them were young men between the ages of 17-19. They'd been preparing for war for months now, the pressure building slowly as U.S. involvement looked more and more likely. For now, everything was seemingly calm on a Sunday morning in paradise.
Ken Potts, a crane operator aboard the USS Arizona, was onshore when the attack began. He heard the sirens and a voice over the radio that said, "All Navy personnel, return to your ships." Crammed into the back of a cab with 6 other sailors, Ken and his shipmates scrambled to get back to battleship row. When asked what the first sign was that something was wrong, Ken replied simply, "Noise." The sailors made it back to Pearl Harbor to see the entire area burning before their eyes. The thick layer of oil coating the ocean surface spoke to the damage of the ships it poured from. Ken and his fellow sailors hopped into a boat and took off toward the USS Arizona. On their way, they searched for men in the mixture of oil, water, and fire, and scooped them into their boat, desperate to save as many lives as they possibly could. As Ken reached the fantail of the ship he heard a massive explosion.
John Anderson had just stepped inside the mess hall to have his morning meal when he heard the heavy boom. Running to a porthole, he saw the planes descending with red circles on their wings. "The Japanese are here," he told his fellow sailors. John sprinted to pull the general alarm and had almost reached it when a bomb dropped so closely to him, that he was completely thrown aside. Fire sprung up around him and the Japanese were immediately on them. Machine gun fire rained down on the deck of the ship. John immediately sprang into action, manning his station as a gunner on the number four turret. Realization dawned on him that there were no Japanese ships in sight, only the planes, and his twin brother Delbert was stationed above deck as an anti-aircraft gunner. The decision was made. He was on his way to the top of the deck, climbing a ladder when the USS Arizona was hit with a bomb that ignited their artillery reserves. "I got to the top of the ladder and an enormous explosion occurred and people were just blown all over the place," John said in an interview. "There were all kinds of body parts." With difficulty, John made it back to the turrets amidst raging fires and exploding ammunition. On his way, he found a man who was alight with flames. John was able to smother the fire and get him off of the ship. "He was from Greenfield, Ohio, I never forgot that. And I saved him." John helped to save many men from the burning, sinking Arizona by dumping them into smaller boats that came to collect survivors. He defied his commanding officer's orders to get off the boat until the man dragged him off with force. John wanted to stay and find his brother, but never did. On another mission and ship years later, he would be told by a surviving gunner that he saw Delbert shot down by Japanese gunfire right as an explosion knocked the gunner overboard, and he knew no more than that. Delbert's body was never recovered.
"After church I had a date to meet a little gal over on the beach. Her name was Nikki," Lauren Bruner, anti-aircraft gunner on the USS Arizona told Arizona Public Media in his interview. "Never got to see her." Lauren served with his best friend, another gunner named William "Billy" Mann. Lauren was nearly to his battlestation amidst the attack on the Arizona when he was shot twice in the leg by a Japanese pilot. The pilot circled around to begin his next attack and Lauren remembered it clearly, saying, "Big old grin on his face, mouth wide open. I could see all those teeth." He watched the fatal 1,700 pound bomb when it dropped 20 feet from where he was stationed, into the number two turret beneath, igniting the powder magazine, instantly killing his best friend Billy stationed there. Lauren was stranded on the broken husk of the USS Arizona with 5 of his crewmates while fires licked and snapped at their bodies from all around. A crew of a small repair ship docked on the side of the battleship spotted the 6 men and threw the end of a rope to them, creating a line from the doomed ship to the small savior. Lauren was second to last to cross that 100 foot line. He did it with two bullet wounds in his leg and burns across seventy percent of his body.
Dec 7, 2021
All in all, the American death toll at the bombing of Pearl Harbor was 2,403. 1,177 of those deaths were USS Arizona ship members. Exactly 80 years later, we remember those men that paid the ultimate sacrifice in a surprise bombing that changed the course of history. Would the United States have entered into World War II had that infamous attack not happened? While we may never know the answer, we do know that that strike on American territory that took American lives could not have gone unanswered, as did the Japanese. Admiral Isoroku Yamamoto, a key player in the planning of the Pearl Harbor attack, went down in history for his quote: "I fear all we have done is to awaken a sleeping giant and fill him with a terrible resolve."
The USS Arizona Memorial in Hawaii welcomes about 1.4 million visitors annually. As of 2021, there are still two remaining survivors from the USS Arizona: Ken Potts of Provo, Utah and Louis Conter of Grass Valley, California, both of whom celebrated their 100th birthdays this year.
We at 7k, along with our good friend and incredibly talented designer, Miles Standish, want to join the effort to keep these events in the forefront of our minds as the 80th anniversary has come and gone. The events that transpired and the people who lost their lives to them deserve to be remembered beyond a few generations. Just as those 1,177 soldiers are entombed in a once mighty battleship, they should be just as encapsulated in history. The only way that happens if we and future generations remember the USS Arizona and all the heroes she's carried. From birth to death and beyond.
---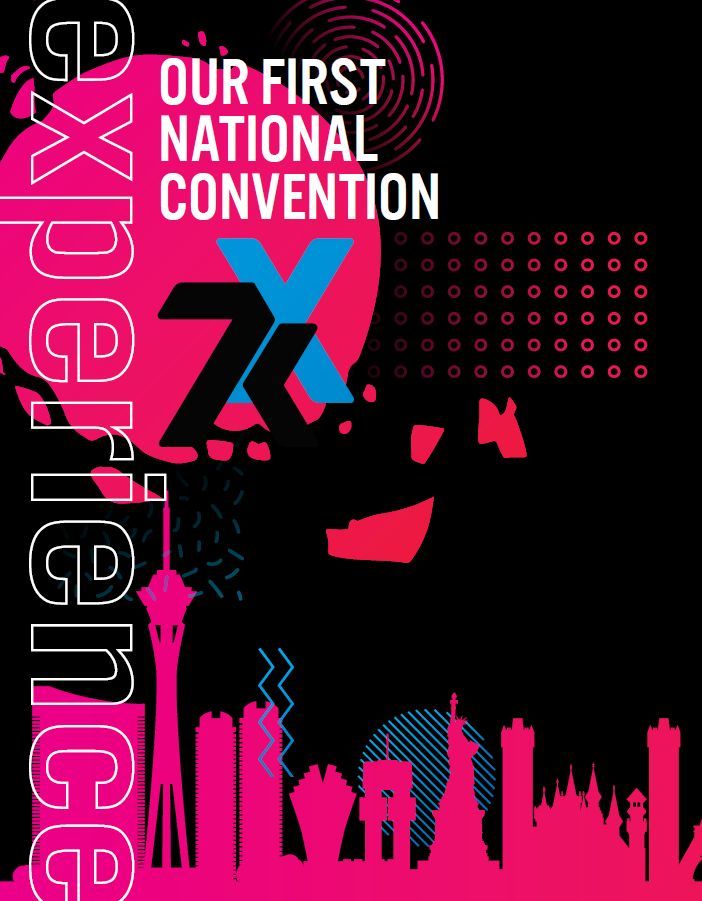 7k experience
Our First National Convention
What happens in Vegas...
We know you have heard the tagline, but it won't be like that this time. You will want to share EVERYTHING!
7k is crashing Vegas May 1st-May 4th, and what we do in Vegas won't be meant to stay there. We will be partying, yes. It will be the kind of party you could tell your kids about, though.
We will be starting with a one-of-a-kind welcome reception Sunday night. With plenty of food, drinks, and great company, it will be the perfect start to the week!
Monday will be the official start of the FIRST 7k NATIONAL CONVENTION! What will follow will be three days of incredible announcements, team-building, and fun--but even more important will be the break-out sessions. This will be one of the first 7k events where you will have the opportunity to learn from some of the top field leaders, Executive Team, Founders, and other industry experts to help you get where you want to go.
After finishing the three days of training, we will celebrate with an awards show gala where we will honor your #rankups over incredible food and in style.
With the incredible negotiated rate for the hotel at the Bally's (no resort fees!), the crazy low event pricing, and now the easy pay-as-you-go option, we can't see many reasons why you shouldn't join us!
Check out the payment options and event schedule, and grab your tickets and hotel ASAP!
Convention & Lunches
Standard Admission - May 2022
Lightning Event pricing for Standard Admission to the Las Vegas, NV 7k Convention on May 2nd - 4th 2022. This includes 3 jam-packed days. This will be unlike any other event in 7k history! Featuring break-out sessions for the first time, delivering focused training along with key-note speakers, team lunches, and incredible entertainment in beautiful Las Vegas--this first-ever convention will help you get where you want to go! Standard Admission tickets will include lunch meals on May 2nd, 3rd, and 4th.
Price: $199.00 USD or 4 equal installments of $49.75
Convention, Lunches & Reception
Welcome Reception and Standard Admission - May 2022
Lightning Event pricing for our Welcome Reception and Standard Admission to the Las Vegas, NV 7k Convention on May 1st - 4th 2022. This includes admission to the Welcome Reception that will be held in the evening of May 1st, where you will you be able to rub shoulders with team members and corporate staff, and have a blast getting pumped for the main event. Plus--you get the FULL convention experience... Welcome Reception and Standard Admission tickets will include lunch meals on May 2nd, 3rd, and 4th.
Price: $229.00 USD or 4 equal installments of $57.25
Get The Full Package
Welcome Reception, Standard Admission, and Gala Dinner - May 2022
Lightning Event pricing for our ALL-IN package to the Las Vegas, NV 7k Convention on May 1st - 4th 2022. ALL IN! That's the motto we live by. The 2022 7k Convention is no different. To have full access to all sessions, receptions, and the gala dinner we have the ultimate ALL-IN package. This includes admission to the Welcome Reception that will be held in the evening of May 1st, where you will you be able to rub shoulders with team members and corporate staff, and have a blast getting pumped for the main event. Plus--the FULL convention experience... To top it all off, you will be included in the exclusive 7k Gala Dinner on the evening of May 4th where we will celebrate your #rankups in style! ALL-IN tickets will include lunch meals on May 2nd and 3rd and will include a lunch and dinner on May 4th.
Price: $279.00 USD or 4 equal installments of $69.75
Purchase Your Tickets Online In Your Back Office Today!
---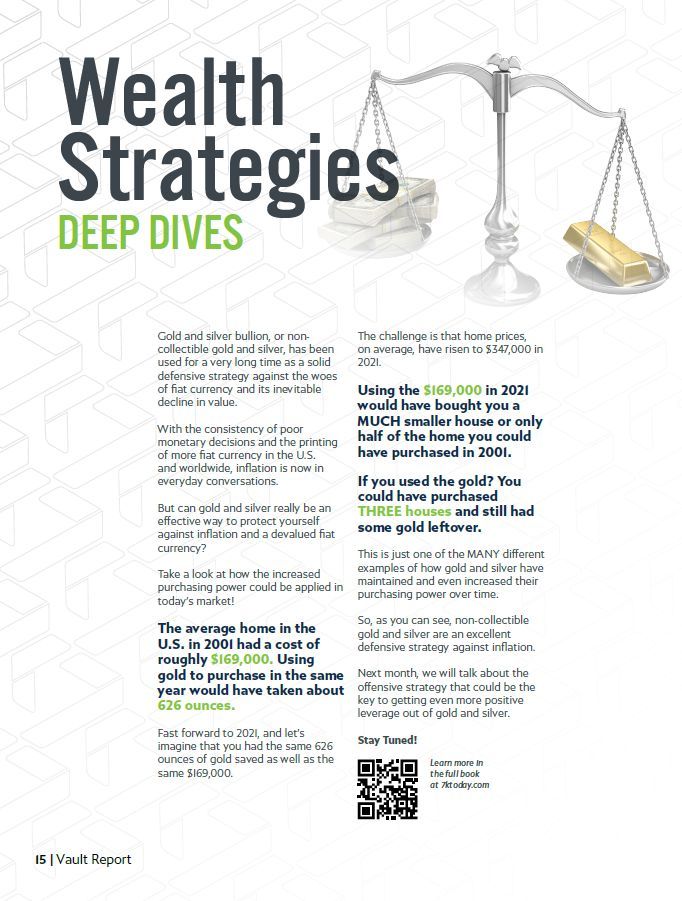 Wealth Strategies Deep Dive
Gold and Silver Bullion, or non-collectible gold and silver, has been used for a very long time as a solid defensive strategy against the woes of fiat currency and its inevitable decline in value.
With the consistency of poor monetary decisions and the printing of more fiat currency in the U.S and worldwide, inflation is now in everyday conversations.
But can gold and silver really be an effective way to protect yourself against inflation and a devalued fiat currency?
Take a look at how the increased purchasing power could be applied in today's market!
The average home in the U.S. in 2001 had a cost of roughly $169,000. Using gold to purchase in the same year would have taken about 626 ounces.
Fast forward to 2021, and let's imagine that you had the same 626 ounces of gold saved as well as the same $169,000.
The challenge is that home prices, on average, have risen to $347,000 in 2021.
Using the $169,000 in 2001 would have bought you a MUCH smaller house or only half of the home you could have purchased in 2001.
If you used the gold? You could have purchased THREE houses and still had some gold leftover.
This is just one of the MANY different examples of how gold and silver have maintained and even increased their purchasing power over time.
So, as you can see, non-collectible gold and silver are an excellent defensive strategy against inflation.
Next month, we will talk about the offensive strategy that could be the key to getting even more positive leverage out of gold and silver.
Stay Tuned!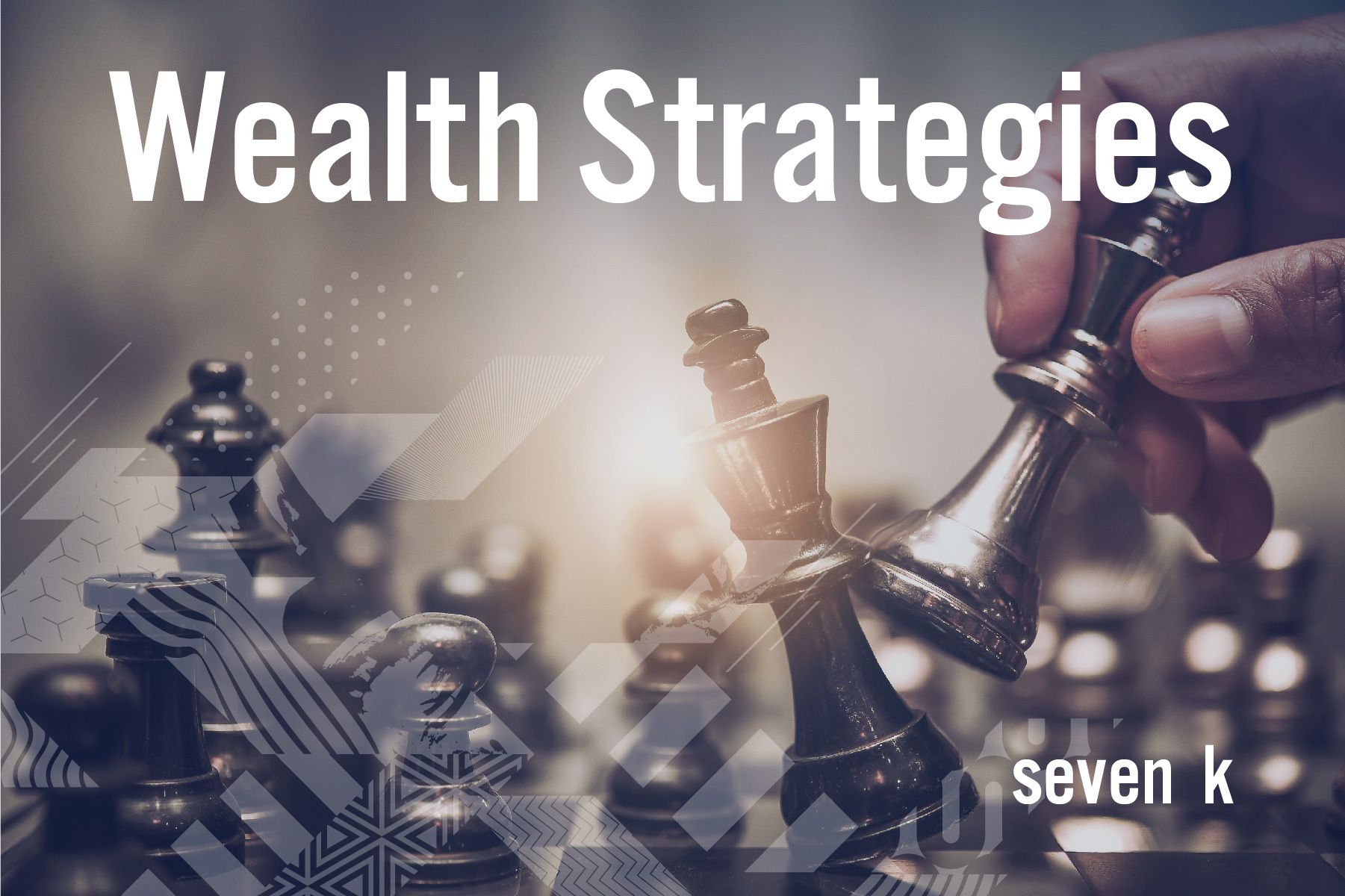 ---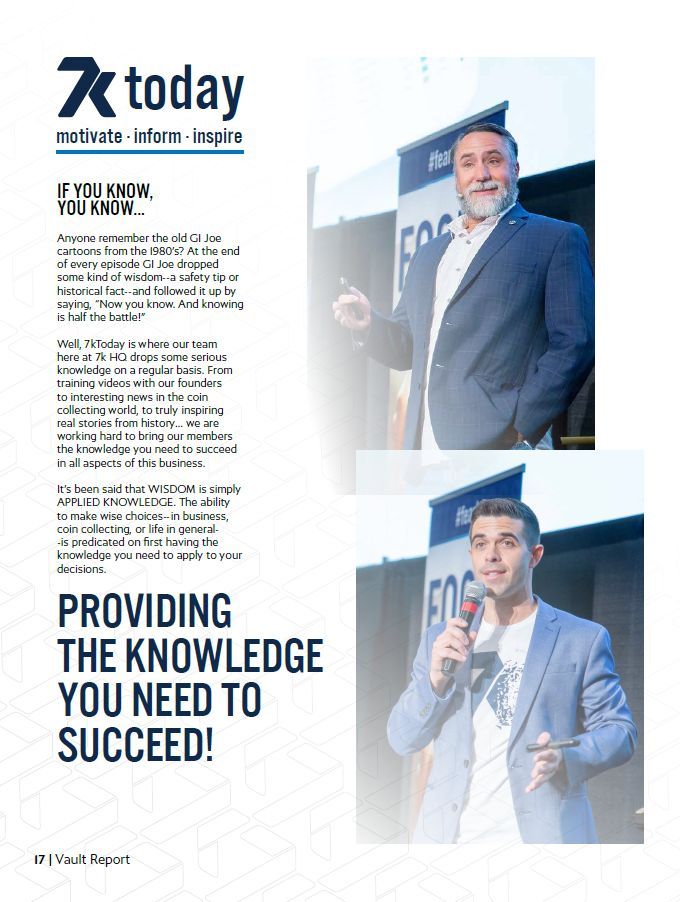 If you know, you know...
Anyone remember the old GI Joe cartoons from the 1980's? At the end of every episode GI Joe dropped some kind of wisdom--a safety tip or historical fact--and followed it up by saying, "Now you know. And knowing is half the battle!"
Well, 7kToday is where our team here at 7k HQ drops some serious knowledge on a regular basis. From training videos with our founders to interesting news in the coin collecting world to truly inspiring real stories from history... we are working hard to bring our members the knowledge you need to succeed in all aspects of this business.
It's been said that WISDOM is simply APPLIED KNOWLEDGE. The ability to make wise choices--in business, coin collecting, or life in general--is predicated on first having the knowledge you need to apply to your decisions.
MORE THAN JUST COIN DROPS
Our goal at 7kToday is to give you the stories, facts, inspiration, and guidance you need to be successful.
As a subscriber to 7kToday you'll be first to hear about upcoming coins and why we think they're worth adding to your collection. You'll be first to get the access code to coin drops. You'll be able to find out about past (and future) releases in many collections, which Autosaver coins are still shipping and which are sold out, the fascinating stories behind the people, places, and events featured on coins, behind the scenes recaps of 7k events and getaways, and SO MUCH MORE!
7kToday is where 7k associates go to be in the know.
---
Don't Make Resolutions. Be Resolute!
"Admirably purposeful, determined, and unwavering. A firm decision to do or not to do something."
Those are the definitions for "resolution". Sounds nice, right? The problem is that most people are anything but "resolute" about their New Year's resolutions. I mean, how many times have you made a resolution only to abandon it shortly thereafter?
My question is this: Suppose you were "admirably purposeful, determined, and unwavering" about doing or not doing something. Why are you (or did you) wait a whole year to start or stop doing something on January 1?
Here is the cold, hard truth. Over one-third of resolutions don't make it past January, and three-quarters are abandoned shortly after. Don't believe me? Go drive by the gym on January 10 and again on March 1. Why do I mention the gym? Look at the following stats:
The five most popular New Year's resolutions are--
Exercise to get in shape' (19.7%)
Diet to lose weight (18.3%)
Save money (14.8%)
Eat healthier in general (11.9%)
Something for self-care (5.5%).
The reason resolutions don't work is that it's not what you want, but what you think you "should" want, or what everyone else wants most of the time. Where is the resolve to do better in that? It's like looking up at a mountain 365 miles long, knowing you have to climb it, but you don't really care about getting to the top. It feels too big and like it has to be done today. Not a great formula for success.
Want to crush it in 2022 and have more self-confidence in being an achiever? Do this instead.
1. Decide what YOU want, not what THEY want.
2. Figure out WHY you really want it. It better get emotional. That will give you the power to keep your commitments.
3. Start today with a 1% shift in the direction you want to go.
4. Keep track of every time you commit toward your progress and keep it.
5. Focus on today, not 365 days down the road.
Making a 1% shift in the right direction every day will make you 365% better a year from now instead of the alternative of setting a new year's resolution you don't really care about or is too big and then quitting two weeks later. What if you only hit half the days? You are still 182.5% better than when you started. I like those numbers.
Keeping the small commitments you choose to make to yourself daily will give you the confidence to make more commitments. That's part of the fuel that keeps you going. It won't take long, and that will just become who you are; a commitment keeper.
Forget about following the masses. Make a firm decision on who you want to be. Make a 1% shift in that direction today, and when you look up at the end of the year, you will be surprised what you have accomplished. You got this.
We believe in you!
Zach Davis, Co-Founder
---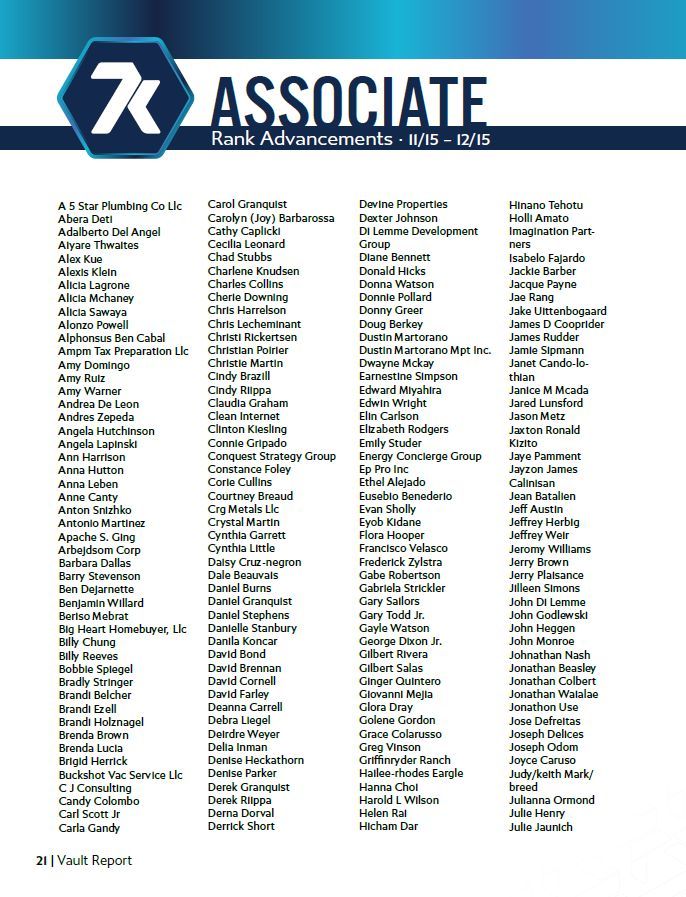 ---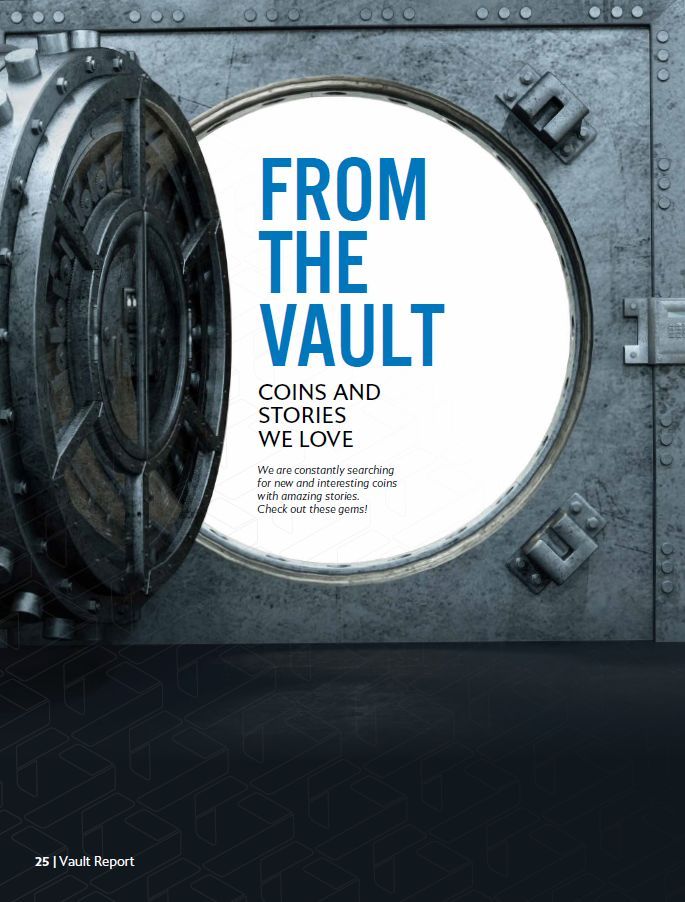 From The Vault
Coins and Stories We Love
We are constantly searching for new and interesting coins with amazing stories. Check out these gems!
The Milky Way
The second issue in "The Space: The Final Frontier" coin series, "The Milky Way" is truly a stunner. Did you know that until the Hubble Space Telescope taught us otherwise in the 20th century, humans believed our Milky Way was the whole universe? Now we know it is just one of many! But this coin is one of only 333 in the whole universe!
Fighter Pilot Gold
We make movies about them. We write books about them. We tell their true stories. They're fighter pilots and it takes someone with "the right stuff" to become a "top gun" in their world. This coin is the first in a new series called Real Heroes and we can all agree, the real men and women who fly fighter jets are exactly that. Only 199 in the world like this one!
---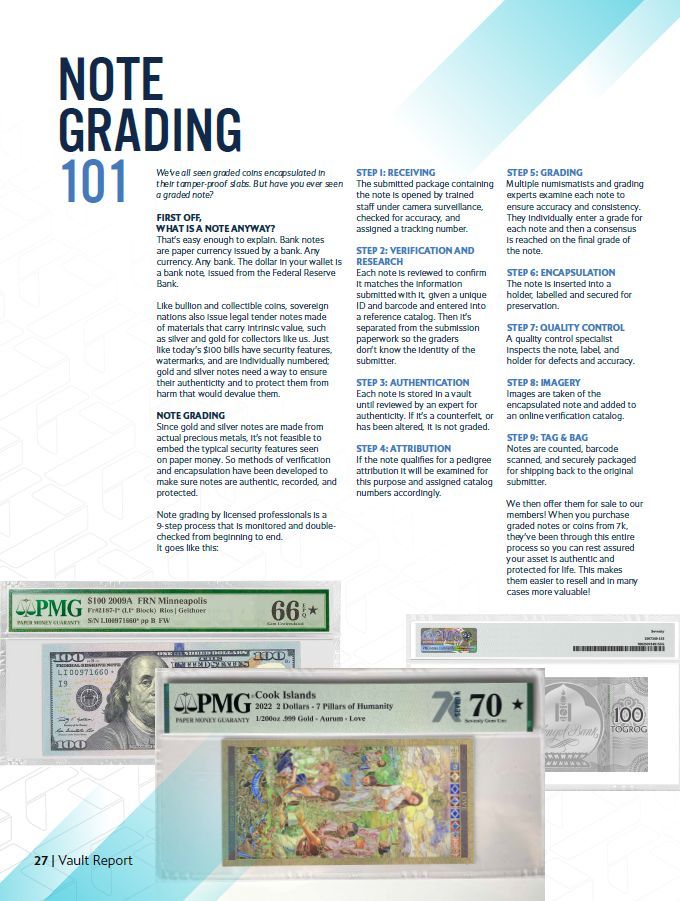 Note Grading 101
We've all seen graded coins encapsulated in their tamper-proof slabs. But have you ever seen a graded note?
**First off, what is a note anyway? **
That's easy enough to explain. Bank notes are paper currency issued by a bank. Any currency. Any bank. The dollar in your wallet is a bank note, issued from the Federal Reserve Bank.
Like bullion and collectible coins, sovereign nations also issue legal tender notes made of materials that carry intrinsic value, such as silver and gold for collectors like us. Just like today's $100 bills have security features, watermarks, and are individually numbered; gold and silver notes need a way to ensure their authenticity and to protect them from harm that would devalue them.
Note Grading
Since gold and silver notes are made from actual precious metals, it's not feasible to embed the typical security features seen on paper money. So methods of verification and encapsulation have been developed to make sure notes are authentic, recorded, and protected.
Note grading by licensed professionals is a 9-step process that is monitored and double-checked from beginning to end. It goes like this:
Step 1: Receiving
The submitted package containing the note is opened by trained staff under camera surveillance, checked for accuracy, and assigned a tracking number.
Step 2: Verification and Research
Each note is reviewed to confirm it matches the information submitted with it, given a unique ID and barcode and entered into a reference catalog. Then it's separated from the submission paperwork so the graders don't know the identity of the submitter.
Step 3: Authentication
Each note is stored in a vault until reviewed by an expert for authenticity. If it's a counterfeit, or has been altered, it is not graded.
Step 4: Attribution
If the note qualifies for a pedigree attribution it will be examined for this purpose and assigned catalog numbers accordingly.
Step 5: Grading
Multiple numismatists and grading experts examine each note to ensure accuracy and consistency. They individually enter a grade for each note and then a consensus is reached on the final grade of the note.
Step 6: Encapsulation
The note is inserted into a holder, labelled and secured for preservation.
Step 7: Quality Control
A quality control specialist inspects the note, label, and holder for defects and accuracy.
Step 8: Imagery
Images are taken of the encapsulated note and added to an online verification catalog.
Step 9: Tag & Bag
Notes are counted, barcode scanned, and securely packaged for shipping back to the original submitter.
We then offer them for sale to our members! When you purchase graded notes or coins from 7k, they've been through this entire process so you can rest assured your asset is authentic and protected for life. This makes they easier to resell and in many cases more valuable!
---