New Coin Drop Process Walk-Thru
Exciting times here at 7k HQ! As we mentioned in the previous post, we're rolling out a brand new coin drop interface TODAY that should help relieve some of the issues we've had in the past. You know, things like overloading our system and crashing ALL our servers every time we dropped a Roman coin.
Without further delay, follow along for a sneak peek into the new coin drop experience. You will be much better prepared to get the coins you want if you take a minute or two and look through the instruction here. Be sure to share this post with other 7k members, too.
Step 1:
This part hasn't changed much. The coin drop cart on your dashboard should look pretty similar to how it always has. Note, we did add a link for more info there.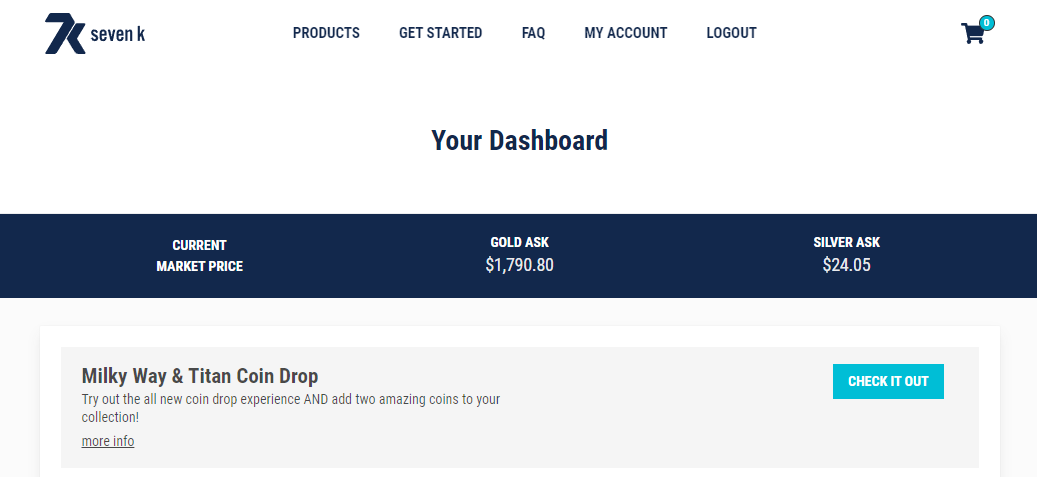 Step 2:
Click on "Check It Out" and you'll see a timer counting down to the drop. When the timer gets to 0, the Drop Code box will appear as in the screenshot below.
Notice the timer in the upper left corner of the screenshot. All coin drops will have a limited amount of time wherein buyers will be able to "claim" their coin.
Step 3:
Enter the code. (You can find it on 7ktoday.com, through the text blast, or on the 7k Exclusive Facebook Group.) Then click Go.
After you do, the new coin drop interface will appear. At the top of the image, you'll see pictures of the coins available in the drop. You can click on the coins to see details. Then you can click on "I Want One" to reserve your coin.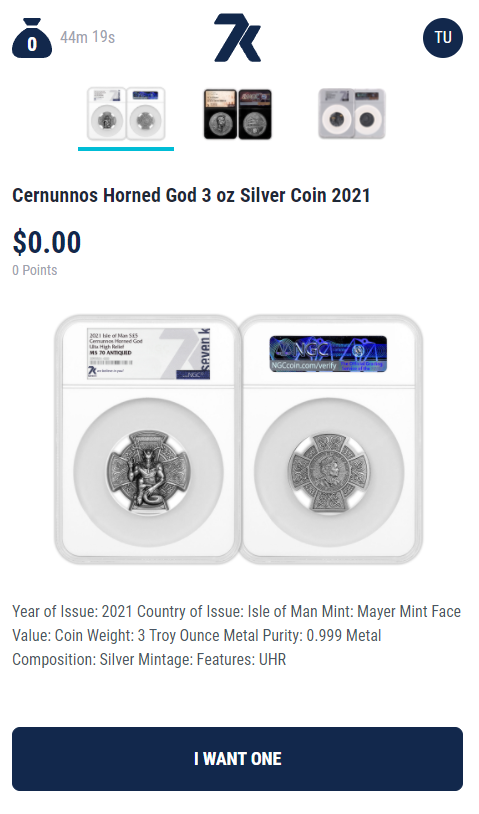 Step 4:
When you click on the "I WANT ONE" button, the system will check current inventory and let you know whether or not there are any of the coin available for you to reserve.
In the example below, the system has reserved a coin for you. You can still change your mind at this time by clicking the "On second thought, I've changed my mind" link. This will release your reserved coin for another member to reserve.
You can keep track of coins you have claimed, by clicking on the blue bag in the upper left corner.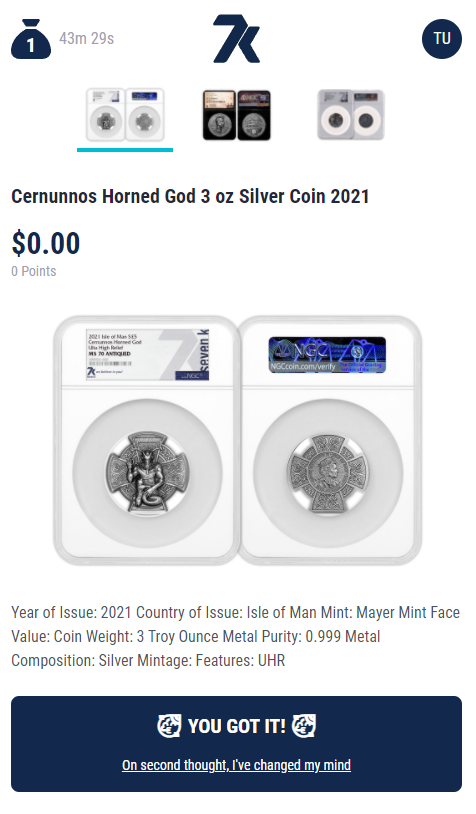 Step 5:
On to the next coin! Simply click the image of the coin at the top of the screen to go to that coin. You'll then have the option to reserve that one as well.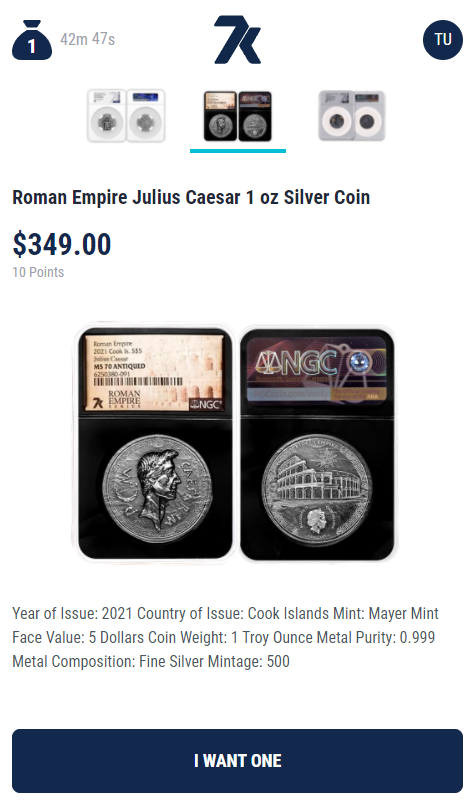 Step: 6
Choose between MS70 or MS69. Make sure you pay attention to which option is selected. The prices and points will change as you select either option.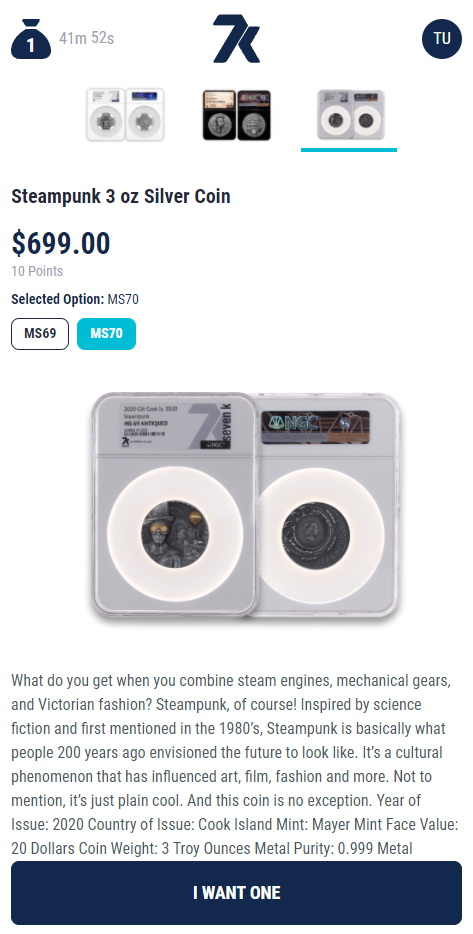 Step 7:
When you click on the blue bag in the upper left of your screen, you'll see a list of the coins you have in your reservation cart. If everything looks good, click close and exit out of the coin drop interface. You're done!
Within 24 hours, the payment method you have on file in your account will be charged, you'll receive a confirmation email and receipt, and your coins will be on their way to you!
Make sure to double-check your payment method before every coin drop.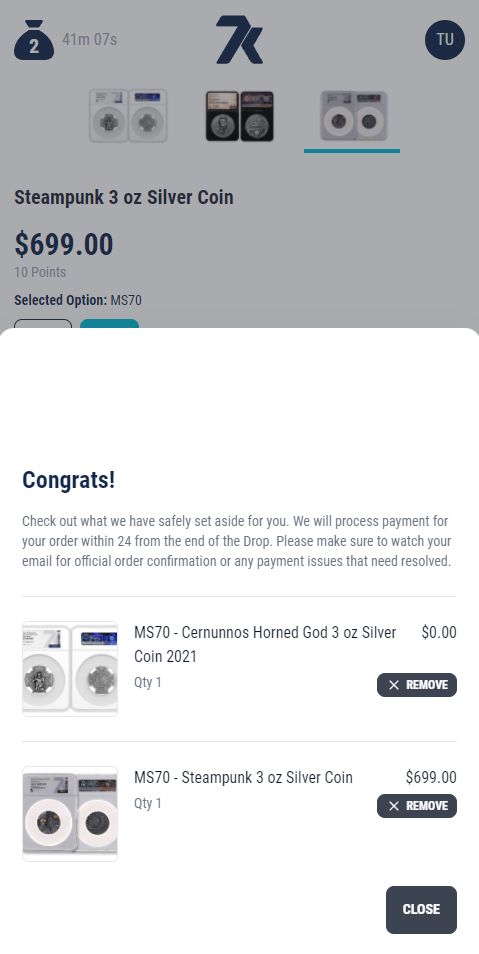 One final note: The new system was designed to work best on a mobile device. You can still use a laptop or desktop computer, of course, and the coin reservation system will work exactly the same for you. It just won't be as pretty ;)
That's it! Not too different from before, but this system should help us prevent issues that we know were frustrating to our members before. Thanks for your patience and understanding as this company soars to ever higher new heights!