December 2020 Vault Report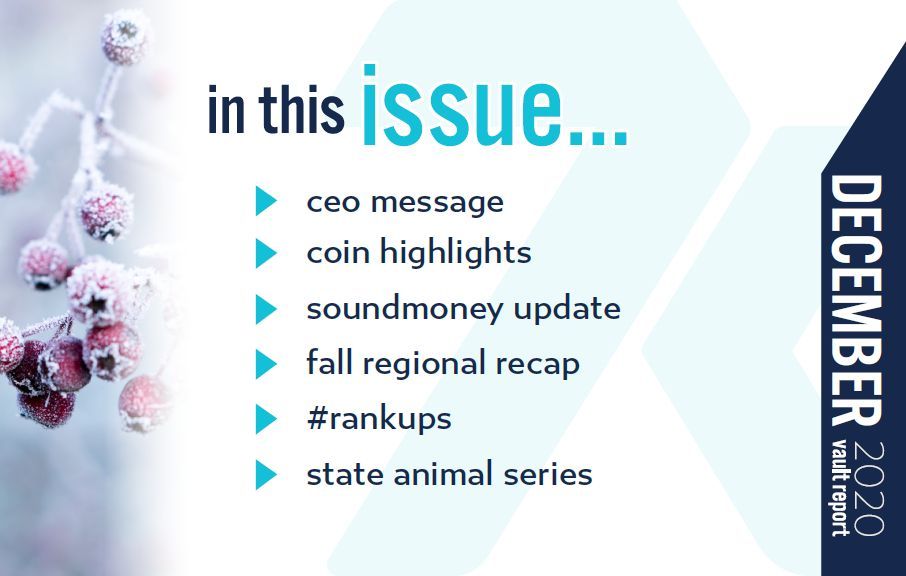 In This Issue:
ceo message
coin highlights
soundmoney update
fall regional recap
rankups
state animal series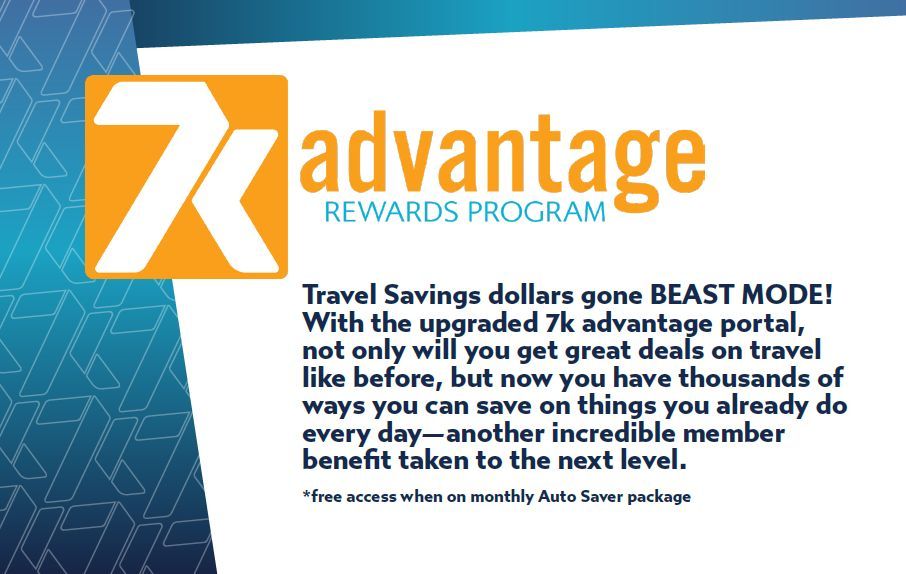 7k Advantage Rewards Program
Travel savings dollars gone BEAST MODE! With the upgraded 7k advantage portal, not only will you get great deals on travel like before, but now you have thousands of ways you can save on things you already do every day--another incredible member benefit taken to the next level.
*free access when on monthly Auto Saver package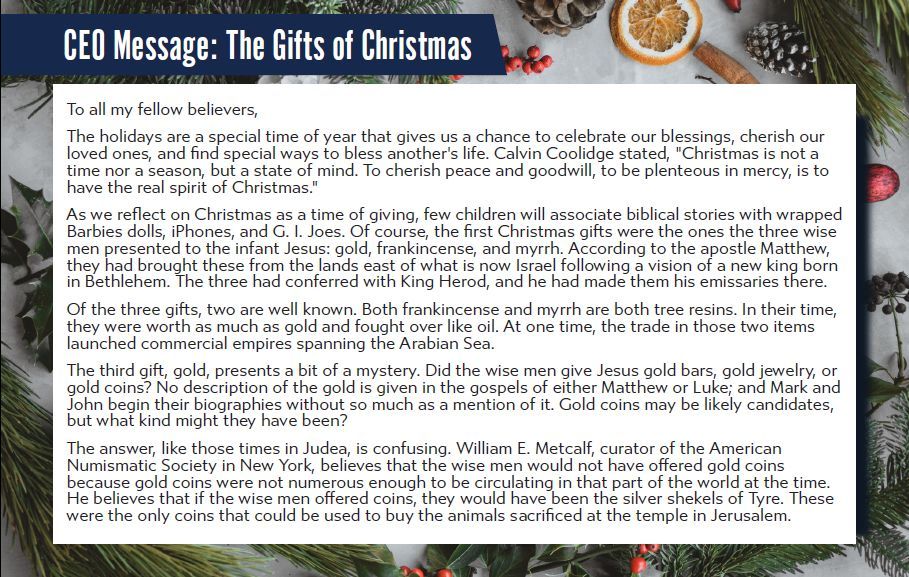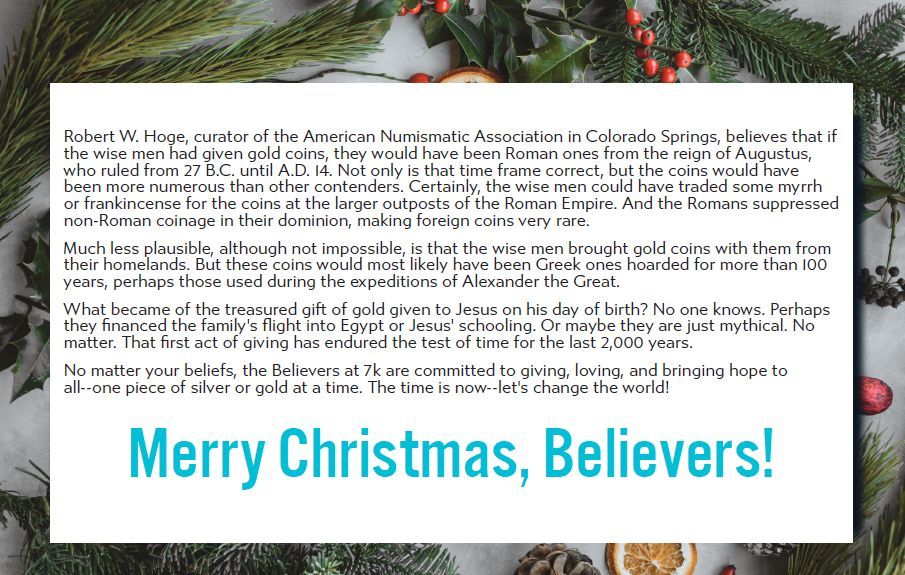 CEO Message: The Gifts of Christmas
To all my fellow believers,
The holidays are a special time of year that gives us a chance to celebrate our blessings, cherish our loved ones, and find special ways to bless another's life. Calvin Coolidge stated, "Christmas is not a time nor a season, but a state of mind. To cherish peace and goodwill, to be plenteous in mercy, is to have the real spirit of Christmas."
As we reflect on Christmas as a time of giving, few children will associate biblical stories with wrapped Barbie dolls, iPhones, and G.I.Joes. Of course, the first Christmas gifts were the ones the three wise men presented to the infanct Jesus: gold, frankincense, and myrrh. According to the apostle Matthew, they had brought these from the lands east of what is now Israel following a vision of a new king born in Bethelehem. The three had conferred with King Herod, and he had made them emissaries there.
Of the three gifts, two are well known. Both frankincense and myrrh are both tree resins. In their time, they were worth as much as gold and fought over like oil. At one time, the trade in those two items launched commercial empires spanning the Arabian Sea.
The third gift, gold, presents a bit of a mystery. Did the wise men give Jesus gold bars, gold jewelry, or gold coins? No description of the gold is given in the gospels of either Matthew or Luke; and Mark and John begin their biographies without so much as a mention of it. Gold coins may be likely candidates, but what kind might they have been?
The answer, like those times in Judea, is confusing. William E. Metcalf, curator of the American Numismatic Society in New York, believes that the wise men would not have offered gold coins because gold coins were not numerous enough to be circulating in that part of the world at the time. He believes that if the wise men offered coins, they would have been the silver shekels of Tyre. These were the only coins that could be used to buy the animals sacrificed at the temple in Jerusalem.
Robert W. Hoge, curator of the American Numismatic Association in Colorado Springs, believes that if the wise men had given gold coins, they would have been Roman ones from the reign of Augustus, who ruled from 27 B.C. until A.D.14. Not only is that time frame correct, but the coins would have been more numerous than other contenders. Certainly, the wise men could have traded some myrrh or frankinsence for the coins at the larger outposts of the Roman Empire. And the Romans suppressed non-Roman coinage in their dominion, making foreign coins very rare.
Much less plausible, although not impossible, is that the wise men brought gold coins with them from their homelands. But these coins would most likely have been the Greek ones hoarded for more than 100 years, perhaps those used during the expeditions of Alexander the Great.
What because of the treasured gift of gold given to Jesus on the day of birth? No one knows. Perhaps they financed the family's flight into Egypt or Jesus' schooling. Or maybe they are just mythical. No matter. That first act of giving has endured the test of time for the last 2,000 years.
No matter your beliefs, the Believers at 7k are committed to giving, loving, and bringing hope to all--one piece of silver or gold at a time. The time is now--let's change the world!
Merry Christmas, Believers!
Some Coins You May Have Missed!
Check out these world-class coins that members added to their collections recently! Congratulations if you were able to get one!
2019 Belarus Year of the Mouse
2008 Belarus Dzyady
2011 Belarus Cutty Sark Hologram
2009 Belarus Rouble Spasy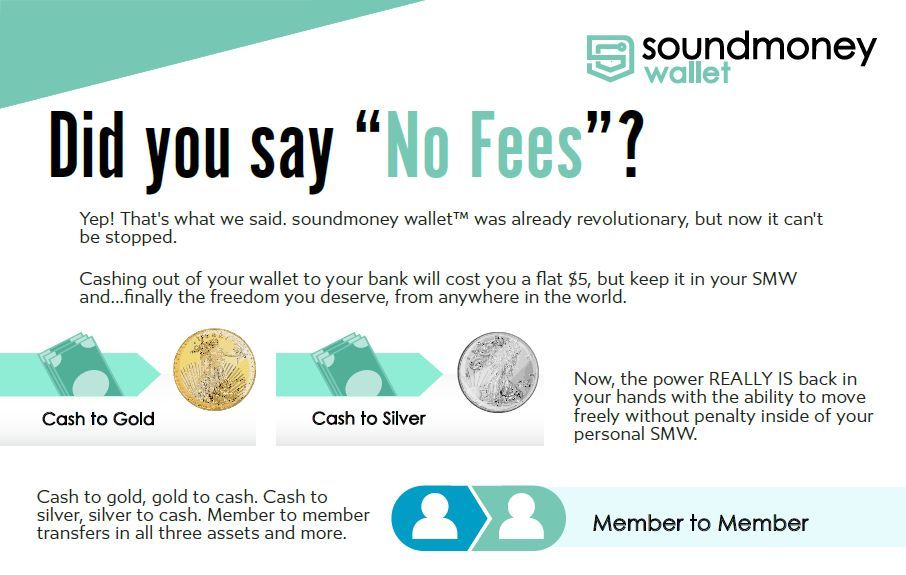 soundmoney wallet
Did you say "no fees"?
Yep! That's what we said. soundmoney wallet was already revolutionary, but now it can't be stopped.
Cashing out of your wallet to your bank will cost you a flat $5, but keep it in your SMW and... finally the freedom you deserve, from anywhere in the world.
CASH TO GOLD / CASH TO SILVER
Now, the power REALLY IS in back in your hands with the ability to move freely without penalty inside of your personal SMW.
MEMBER TO MEMBER
Cash to gold, gold to cash. Cash to silver, silver to cash. Member to member transfers in all three assets and more.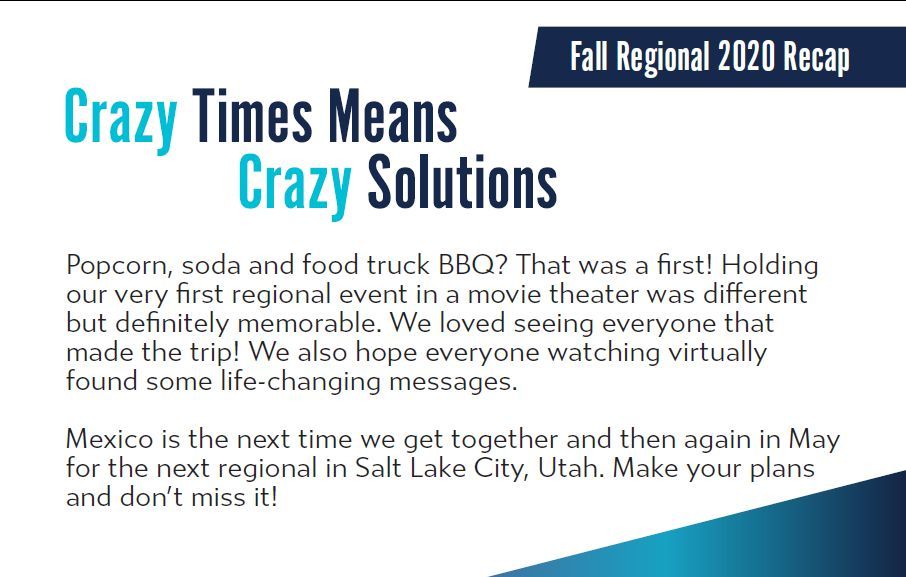 Fall Regional 2020 Recap
Crazy Times Means Crazy Solutions
Popcorn, soda and food truck BBQ? That was a first! Holding our very first regional event in a movie theater was different but definitely memorable. We loved seeing everyone that made the trip! We also hope everyone watching virtually found some life-changing messages.
Mexico is the next time we get together and then again in May for the next regional in Salt Lake City, Utah. Make your plans and don't miss it!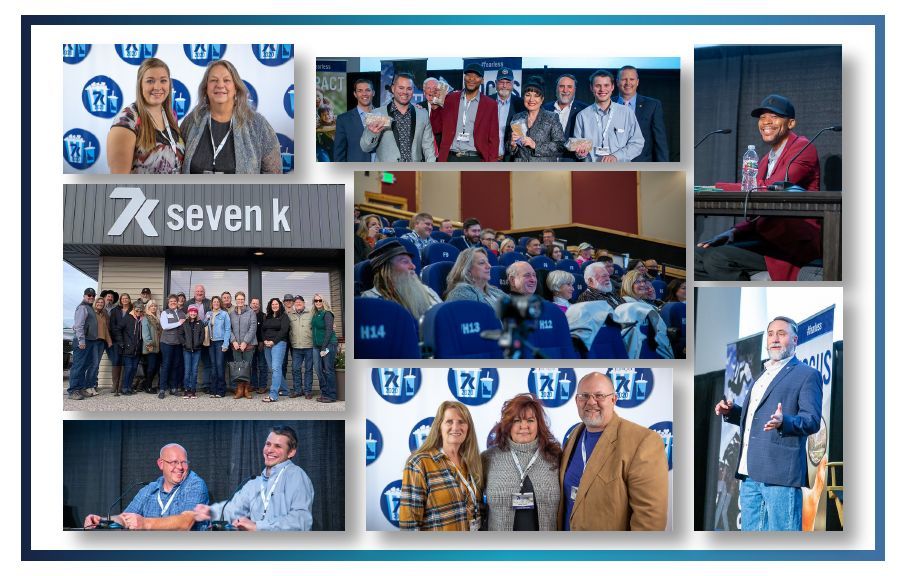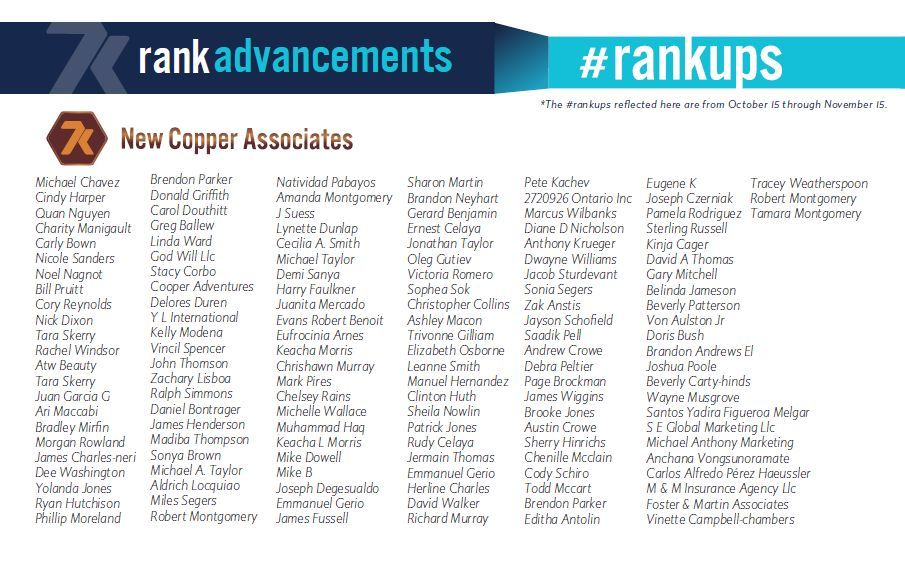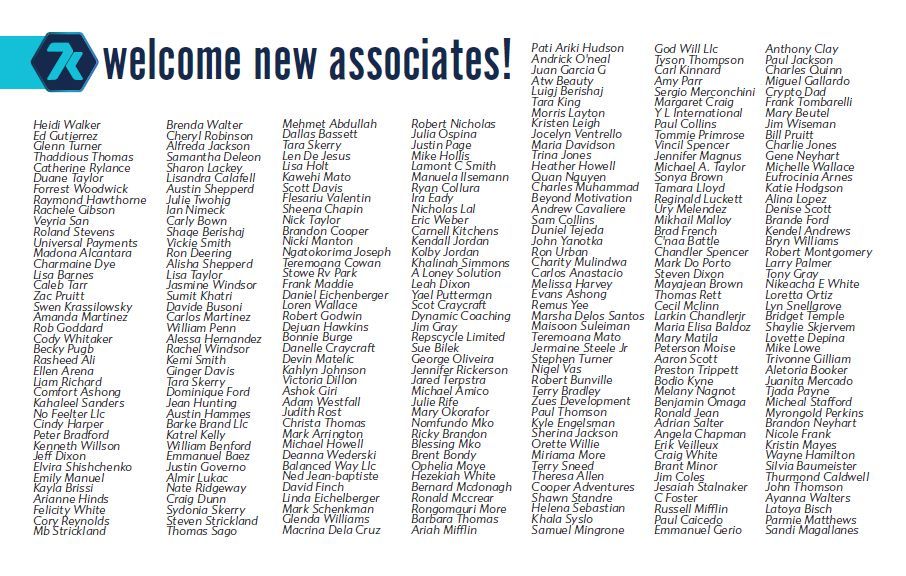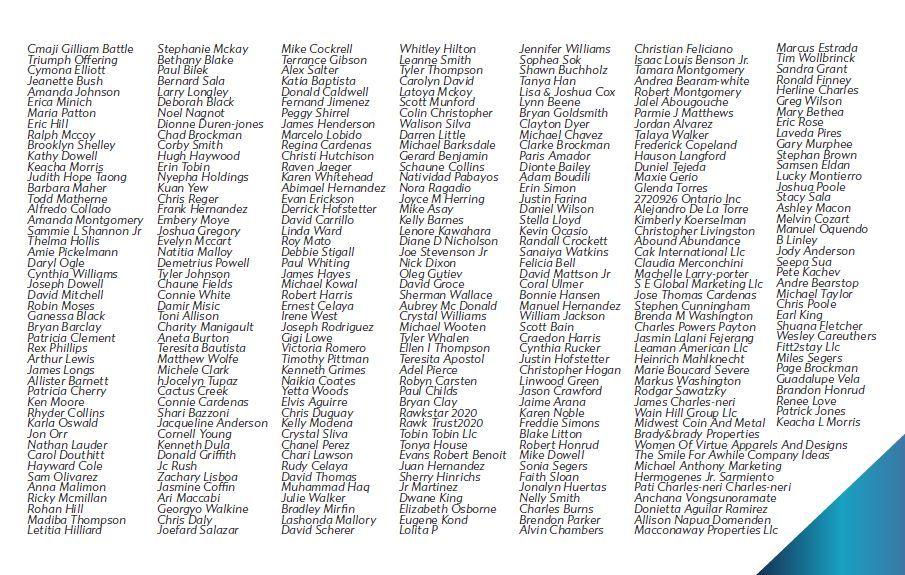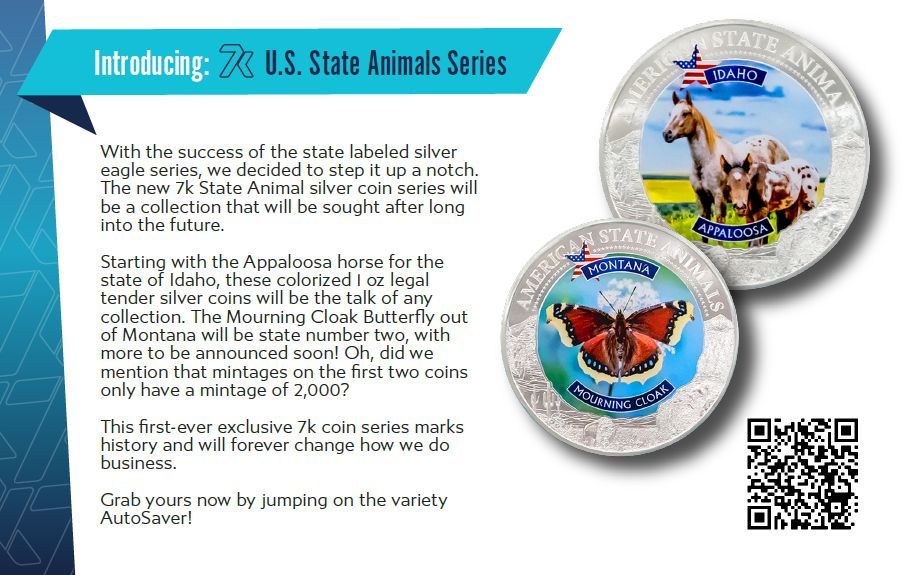 Introducing: 7k U.S. State Animal Series
With the success of the state labeled silver eagle series, we decided to step it up a notch. The new 7k State Animal silver coin series will be a collection that will be sought after long into the future.
Starting with the Appaloosa horse for the state of Idaho, these colorized 1oz legal tender silver coins will be the talk of any collection. The Mourning Cloak Butterfly out of Montana will be state number two, with more to be announced soon! Oh, did we mention that mintages on the first two coins is capped at only 2,000?
The first-ever exclusive 7k coin series marks history and will forever change how we do business.
Grab yours now by jumping on the Variety AutoSaver!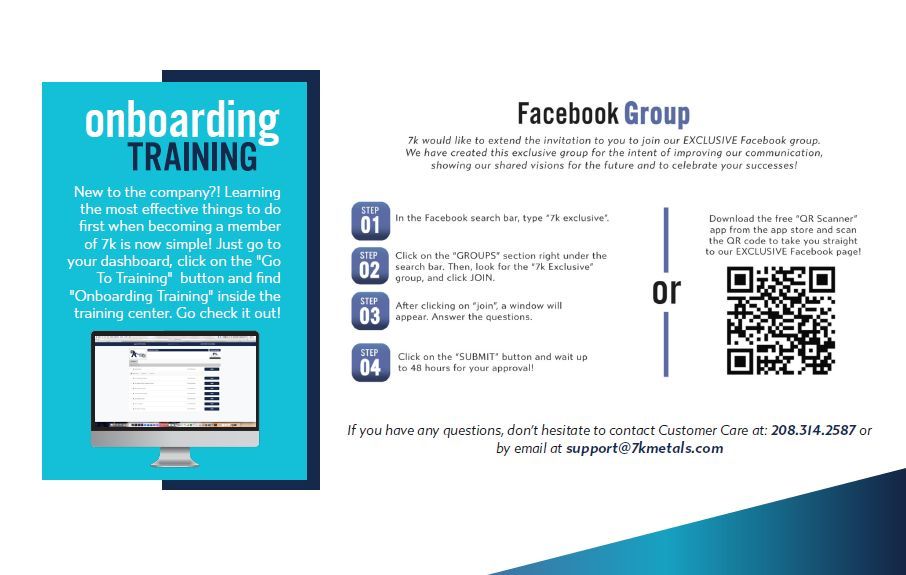 Onboarding Training
New to the company?! Learning the most effective things to do first when becoming a member of 7k is now simple! Just go to your dashboard, click on the "Go To Training" button and find "Onboarding Training" inside the training center. Go check it out!
Facebook Group
7k would like to extend the invitation to you to join our EXCLUSIVE Facebook group. We have created this exclusive group with the intent of improving communication, showing our shared visions for the future and to celebrate your successes!
Step 1: In the Facebook search bar, type "7k Exclusive".
Step 2: Click on the "GROUPS" section right under the search bar. Then, look for the "7k Exclusive" group, and click JOIN.
Step 3: After clicking on "join", a window will appear. Answer the questions.
Step 4: Click on the "SUBMIT" button and wait up to 48 hours for your approval!
OR open your camera on any smartphone and scan the QR code in the image above to take you straight to our EXCLUSIVE Facebook group page.
If you have any questions, don't hesitate to contact Customer Care at: 208.314.2587 or by email at support@7kmetals.com.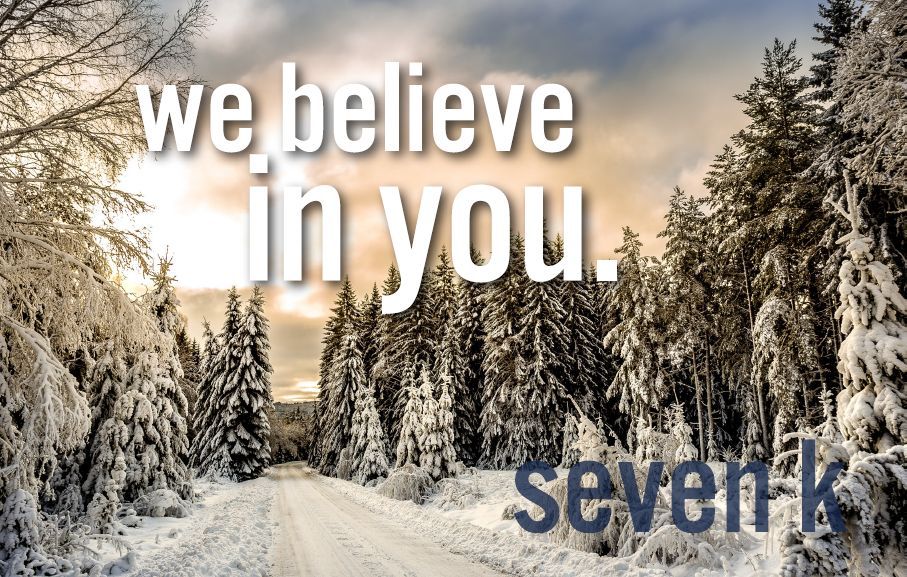 ---
Next Issue...