Teddy Roosevelt & Our National Parks
Have you ever visited the Wind Caves of South Dakota, or Crater Lake in Oregon? What about Mesa Verde in Colorado? How about the Grand Canyon?
These natural wonders in the States have a couple things in common.
One, they're National Parks! Their purpose is for the conservation of nature and its resources—both physical and cultural—for all generations of Americans and visitors to enjoy.
Two, they became what they are today through the efforts of conservationist President, Theodore Roosevelt.
Tragic events early in Roosevelt's life pushed him West toward the North Dakota Badlands, when the area really was, "wild, wild." He lived among the gun-slinging cowboys and the Buffalo Bill characters in their later days. He was grieving, both the death of his new wife and his mother, who died at roughly the same time. So the bullet-dodging, hunting for food, and chaotic justice of the Badlands was the scene he chose to heal his heart.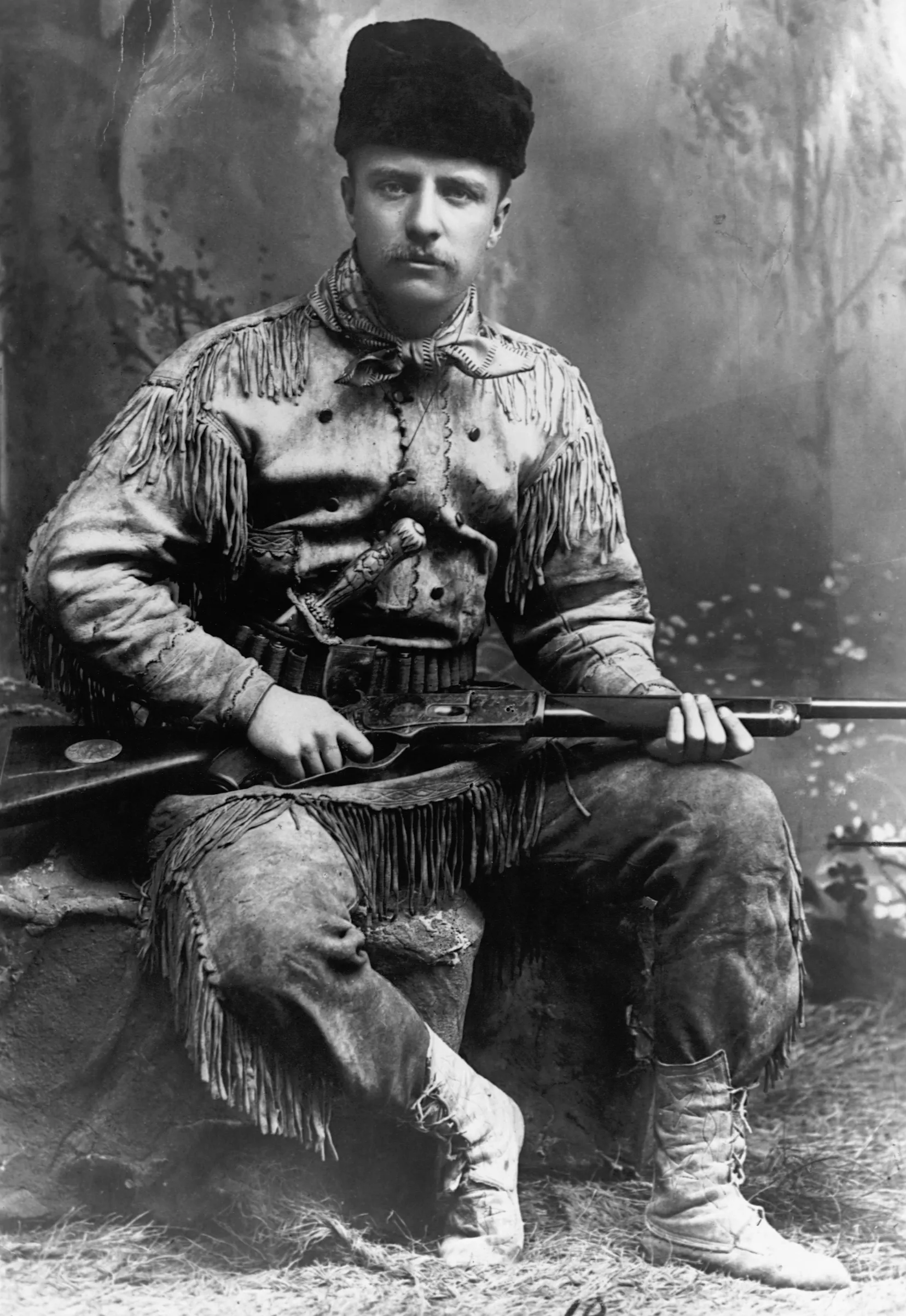 It was these years that toughened Roosevelt (and introduced him to many of the men who would fight beside him in the Spanish-American War as his Rough Riders) but it also instilled in him almost a conflicting respect for nature that drove his actions in everyday life and years later as President. Before him, and since his two terms, America has never seen a national leader who did so much for the conservation of natural resources.
To demonstrate the conflicting nature of real human beings, we've got to point out that Roosevelt loved a good hunt as much as the next guy. The photo above was taken at some point while Teddy was in the Badlands, and despite the gun and animal skins, it became a symbol of the conservation movement. Because Teddy really stood for something and that was the respectful treatment of nature and its critters, and to him that included fair and legal hunting.
So Teddy talked the talk in public, you say. But action speaks louder than words, right? Well, we can confidently say that Teddy walked the walk as well. Not only is there the famous Teddy's Bear story—when Roosevelt refused to shoot a beaten, subdued black bear for sport—but he and his six kids must have brought home every animal they happened upon. Because the White House during his terms housed pets unlike it's ever seen, including a group of five bears (a gift which was nearly immediately turned over to the nearby zoo), a flying squirrel, a pig named Mame (after the kids nanny—she was not thrilled), Bill the lizard, a herd of guinea pigs, a badger named Josiah, a one-legged rooster and a hen, kangaroo rats, Jonathon the Piebald rat, a green snake named Emily Spinach, Eli Yale who was a blue macaw, Peter the rabbit, two Shetland ponies, cats, and many dogs including Pete, a Bull Terrier with a chomping problem who infamously chased down the hall and ripped the pants of a French ambassador.
There are countless stories about the Roosevelts and their pets. At one time, two of his kids tried to cheer up one of their sick siblings by guiding their pony into the elevator and up to his room. Unfortunately the horse caught sight of his reflection in the elevator and refused to leave the dreamboat in the mirror! Another time, one of his boys interrupted an important meeting Roosevelt was holding in the Oval Office by bursting through the doors and dropping a handful of snakes on his father's desk, sending officials screaming and running for the doors. All the boy wanted to do was show his father his newest pets! The Roosevelts were the epitome of animal lovers.
Throughout his time in Presidency, Teddy established 5 national parks, 150 national forests, and 51 federal bird reserves. Many more of his national monuments have since gone on to achieve full national park status. Each of these natural sites entertains thousands (in some cases millions!) of visitors annually: hikers, photographers, honeymooners, families, and sight-seekers. The virtues nature has to offer have been appreciated long before Teddy Roosevelt came around, but through his action, they were preserved for us today. Hopefully, we'll choose to be like Teddy, and have respect and care in the way we interact with our planet, so that the future of natural resources is secure. For our children and theirs.
Introducing, Coin #5 in An American Life: Theodore Roosevelt Collection...
---