September 2023 Vault Report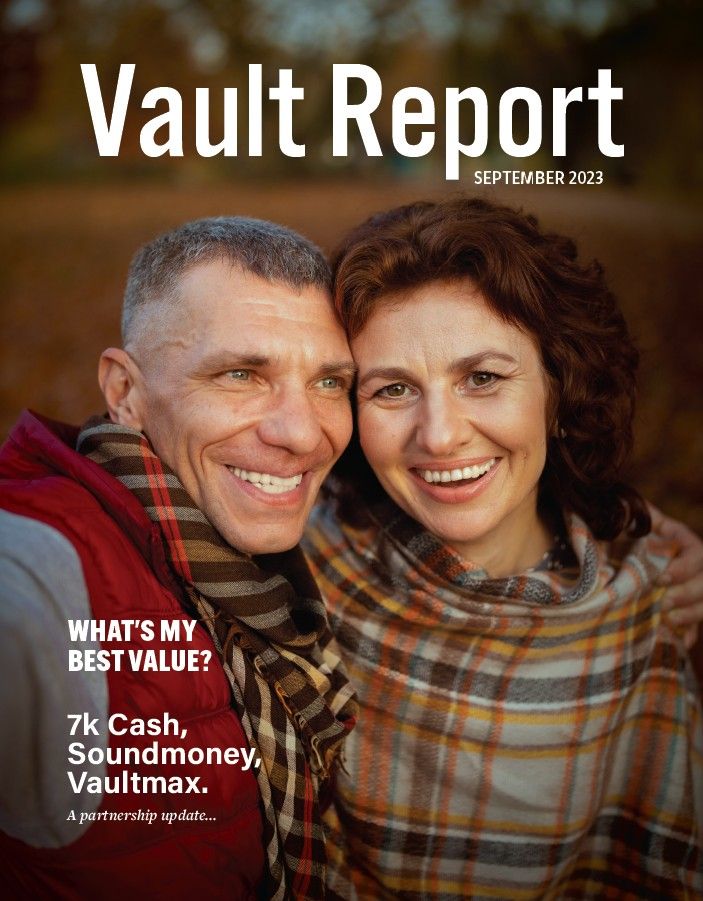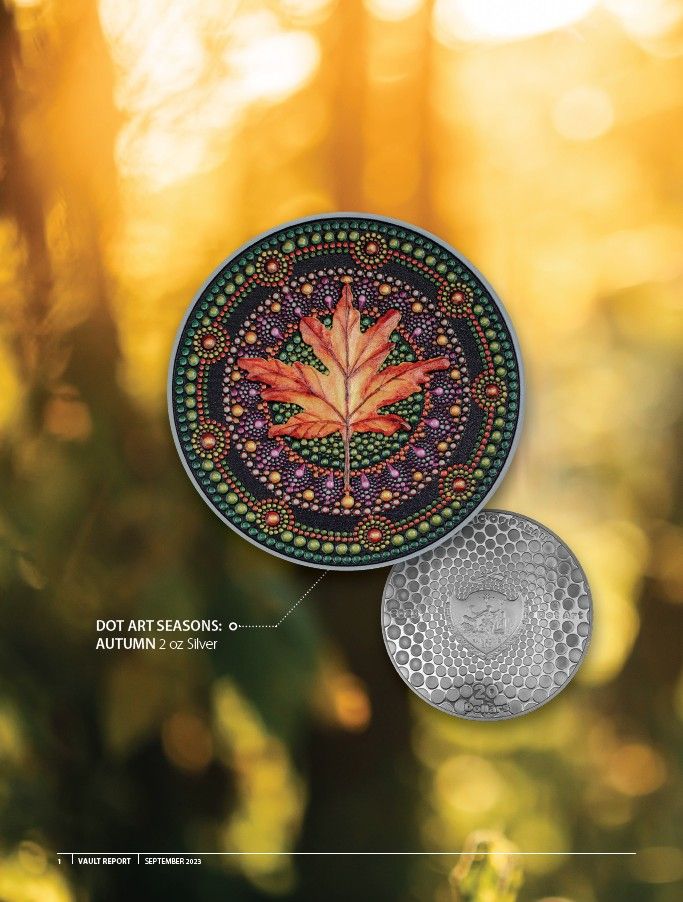 CONTENTS
HOPE - LEGACY - IMPACT
03 - COIN DROP: History & Animals Drop
05 - WEBSITE: What's My Value
07 - RANK ADVANCEMENTS: 8/15-9/15
11 - 7k CASH: Soundmoney Vaultmax
13 - 7k GETAWAY: And Run With The CEO!
15 - 7k SELECT: Coins and Stories We Love
17 - #STACKSONSTACKS: Some awesome stacks!
September: A New Beginning
What? Since when has September become a new beginning?
Since...right now.
Think back to last December with me. Do you remember all the aspirations for 2023 you drummed up after you got done with the family gatherings and presents?
Were you like so many of us who allowed yourself to dream big for a brief moment about the year to come and wrote down some "goals" to make sure "2023 is going to be the best year yet!?"
Also, like many of us who allowed ourselves to dream big and we started the year out strong, I challenge you to look back at those goals and give yourself an honest assessment.
PLEASE, GIVE YOURSELF SOME GRACE if you have fallen short. But this is why I say that September is the new beginning. You will only fail at any goal if you stop striving for it out of lack of belief or laziness.
Can you adjust them? OF COURSE! But please don't fail by giving up. Let's look back at what we wanted, reassess those goals, and set priorities and systems in our lives for the next four months!
Making a push now will only propel you with some momentum and confidence into 2024, especially if you win a lightning tour, so our CEO, Jayson Arfmann, comes to your meeting!
I do not know of any message in the marketplace today that can give more people common sense solutions for some of the problems they face, both with sharing the 7k story and the actual product of value at competitive pricing.
Whether you are a loyal customer to 7k (THANK YOU!) or actively sharing the 7k story, I challenge you to take a look back at what you wanted in January, be it a more significant 7k business or to implement better health habits or anything that will make your life better, and take the chance for the self-declared new beginning...
Either way, WE BELIEVE IN YOU!
Blake Davis
Chief Sales and Marketing Officer
---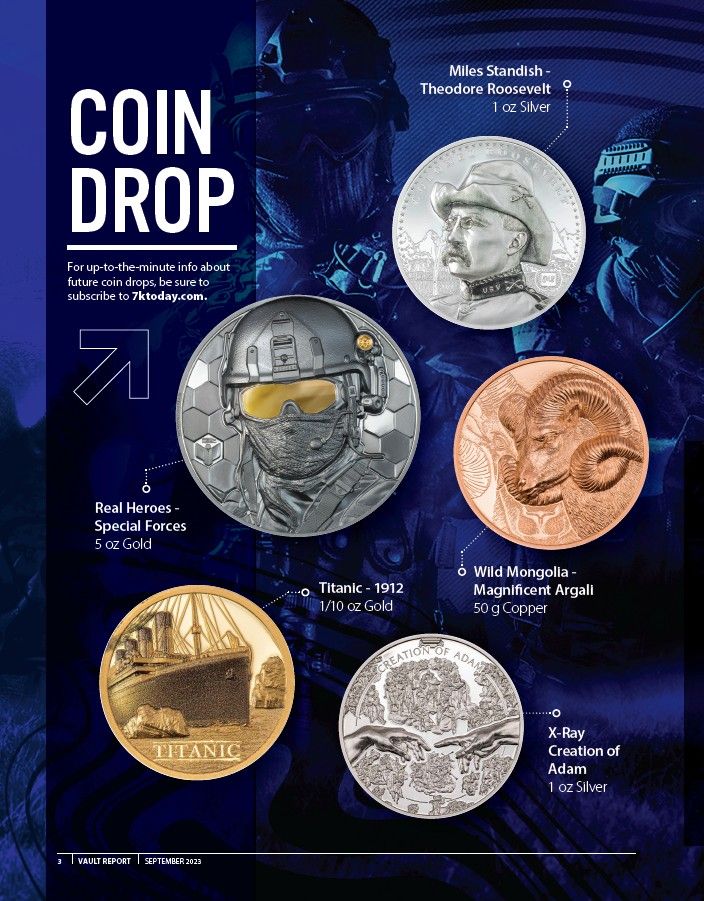 COIN DROP
For up-to-the-minute info about future coin drops, be sure to subscribe to 7ktoday.com.
Miles Standish: An American Life Theodore Roosevelt 1 oz Silver
Real Heroes: Special Forces 5 oz Gold
Wild Mongolia: Magnificent Argali 50 gram Copper
Titanic 1912: 1/10th oz Gold
X-Ray Creation of Adam 1 oz Silver
Amazing Animals: Peacock 3 oz Silver
Leaning Tower of Pisa: 1 oz Gold
Woodland Spirits: Chipmunk 1 oz Silver
NEED TO KNOW MORE?
1 - Create a new text message.
2 - Enter your country code in the "to" field.
3 - Send "7k" as the body of the message.
Country Codes
USA: 8332099777
CANADA: 8332099777
AUSTRALIA: 61480088229
U.K.: 4474911663966
SINGAPORE: 6582400304
NEW ZEALAND: TBA
IRELAND: TBA
*Normal rates based on your individual plan may apply, but no additional international costs will be incurred.
Once complete, you will receive an automatic text reply welcoming you!
Make sure to act quickly when the text messages come in so you can take advantage of the Coin Drops. Good luck!
---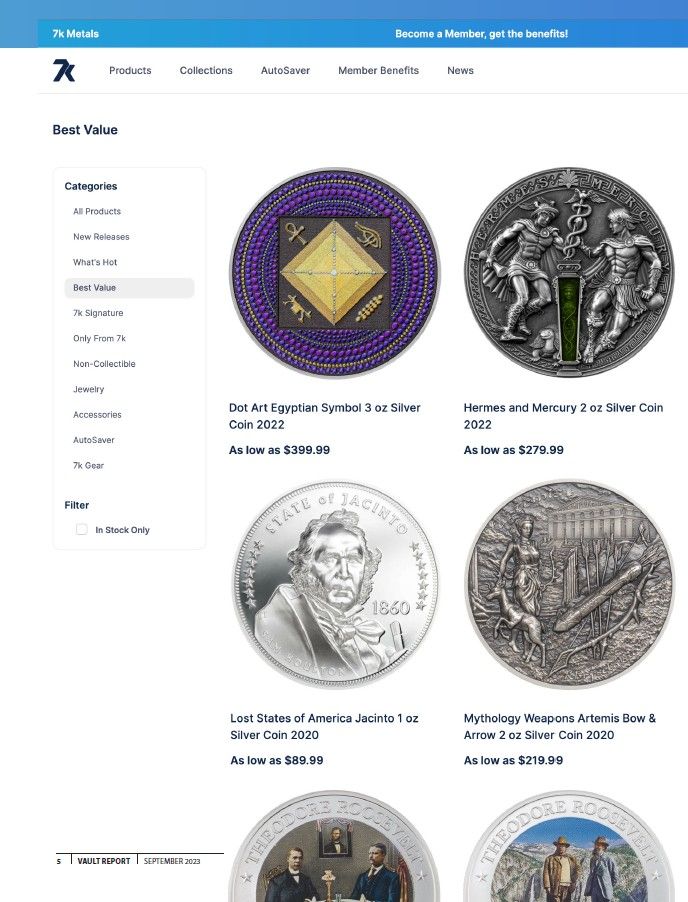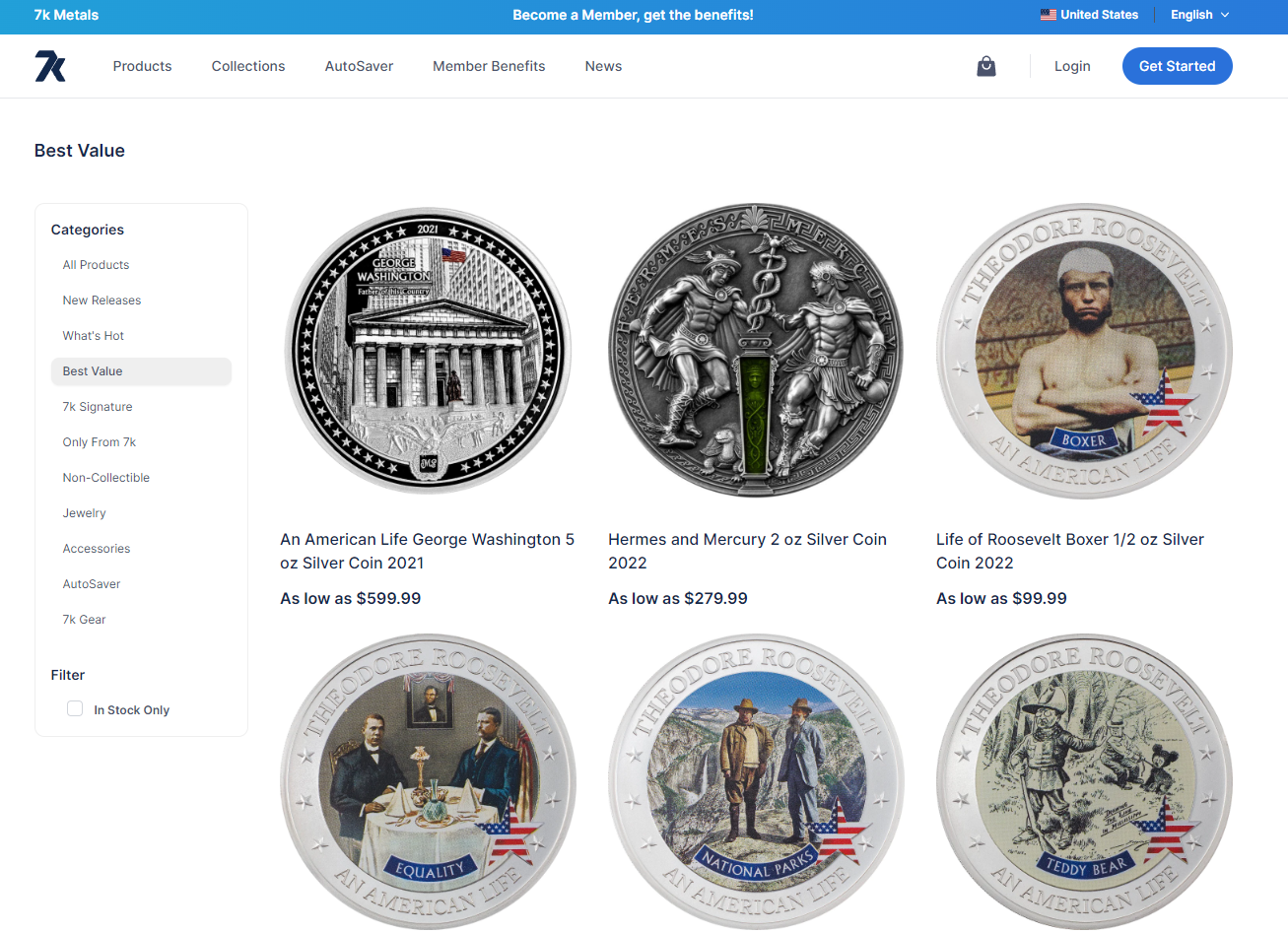 ---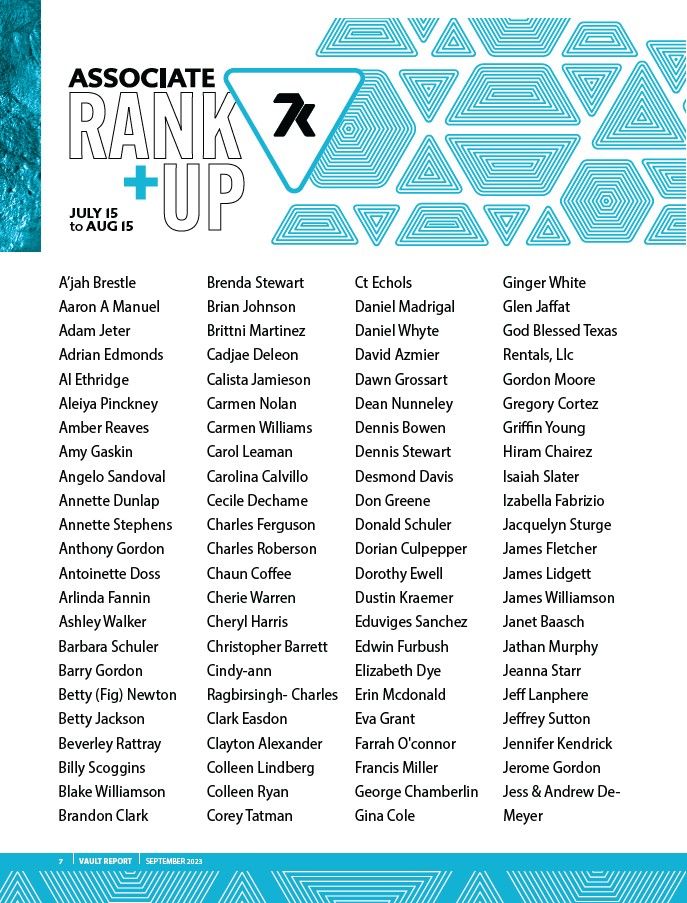 ---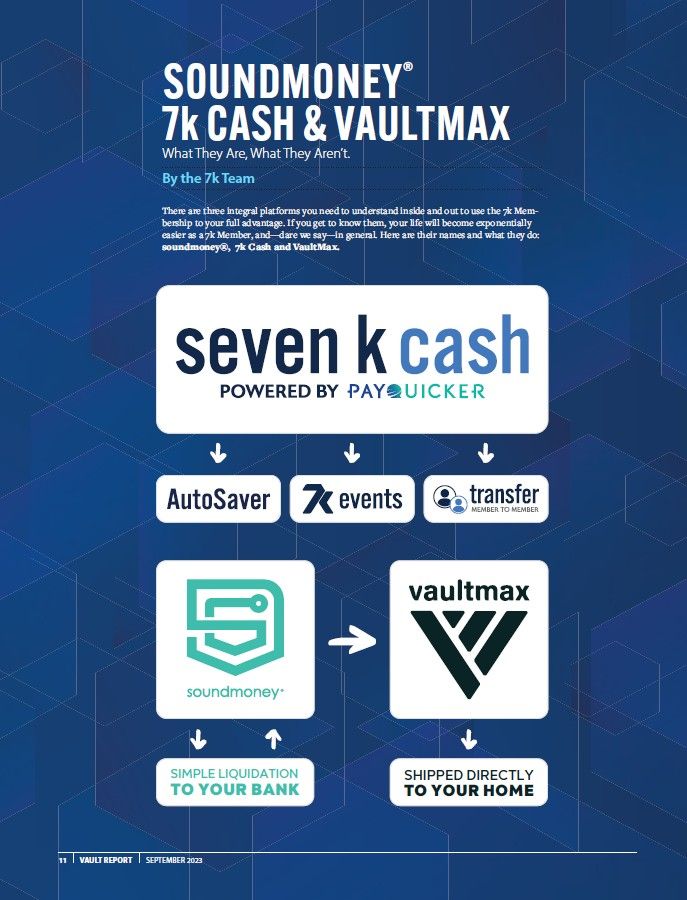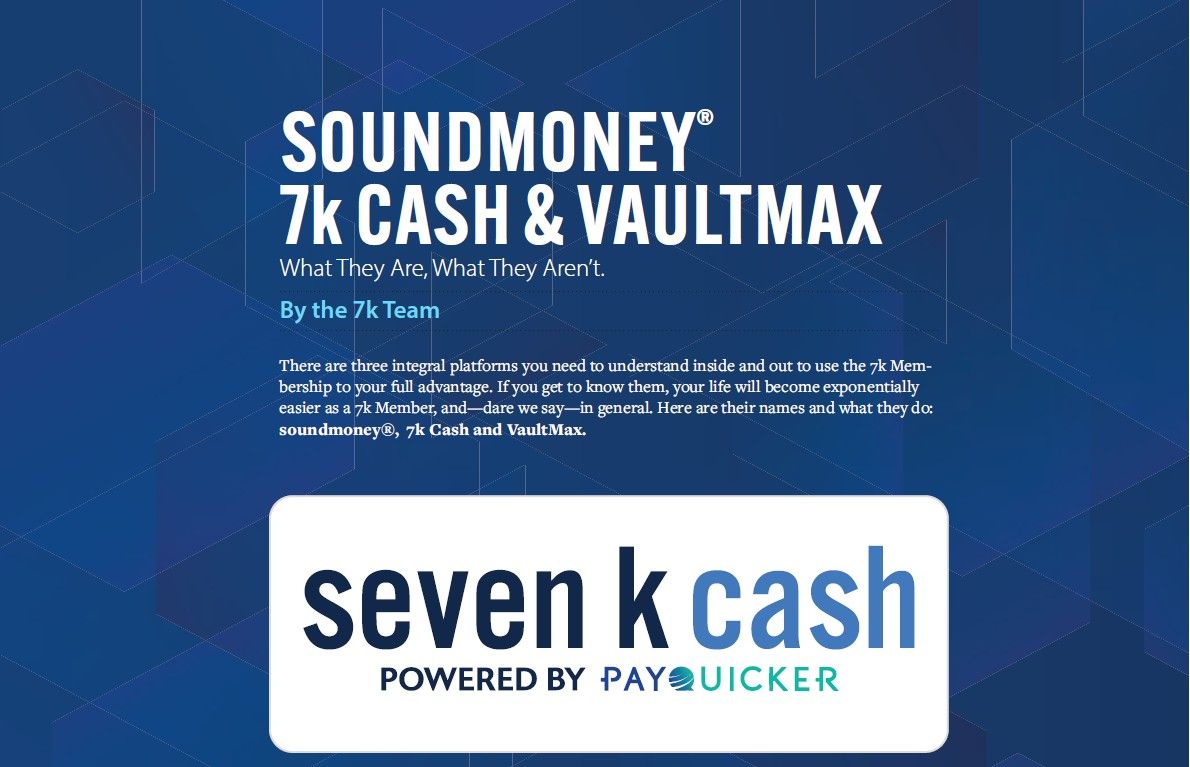 ---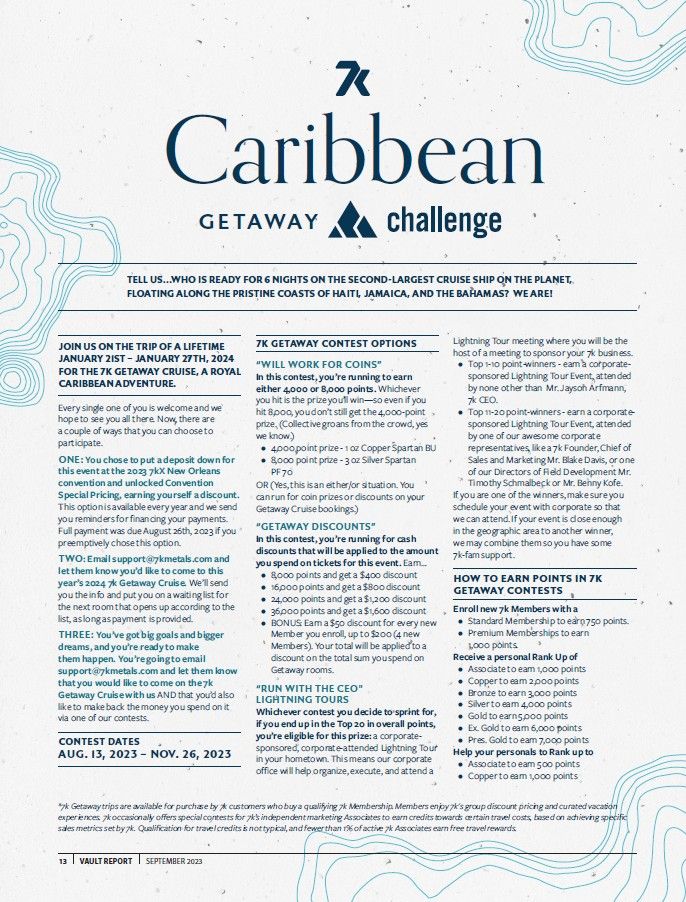 2023 7k Getaway Cruise – Contest Details
Tell us… who is ready for 6 nights on the second-largest cruise ship on the planet, floating along the pristine coasts of Haiti, Jamaica, and the Bahamas?
WE ARE!
Join us on the trip of a lifetime: January 21st – January 27th, 2024 for the 7k Getaway Cruise, a Royal Caribbean adventure.
Every single one of you is welcome and we hope to see you all there. Now, there are a couple of ways that you can choose to participate:
ONE: You chose to put a deposit down for this event at the 2023 7kX New Orleans convention and unlocked Convention Special Pricing, earning yourself a discount. This option is available every year and we send you reminders for financing your payments. Full payment was due August 26th, 2023 if you preemptively chose this option.
TWO: Email support@7kmetals.com and let them know you'd like to come to this year's 2024 7k Getaway Cruise. We'll send you the info and put you on a waiting list for the next room that opens up according to the list, as long as payment is provided.
THREE: You've got big goals and bigger dreams, and you're ready to make them happen. You're going to email support@7kmetals.com and let them know that you would like to come on the 7k Getaway Cruise with us AND that you'd also like to make back the money you spend on it via one of our contests.
Contest Dates: Aug. 13, 2023 – Nov. 26, 2023
7k Getaway Contest Options
"Will Work for Coins"
In this contest, you're running to earn either 4,000 or 8,000 points. Whichever you hit is the prize you'll win—so even if you hit 8,000, you don't still get the 4,000-point prize. (Collective groans from the crowd, yes we know.)
4,000 point prize - 1 oz Copper Spartan BU
8,000 point prize - 3 oz Silver Spartan PF70
OR (Yes, this is an either/or situation. You can run for coin prizes or discounts on your Getaway Cruise bookings.)
"Getaway Discounts"
In this contest, you're running for cash discounts that will be applied to the amount you spend on tickets for this event. Earn…
8,000 points and get a $400 discount
16,000 points and get a $800 discount
24,000 points and get a $1,200 discount
36,000 points and get a $1,600 discount
BONUS: Earn a $50 discount for every new Member you enroll, up to $200 (4 new Members). Your total will be applied to a discount on the total sum you spend on Getaway rooms.
"Run with the CEO" Lightning Tours
Whichever contest you decide to sprint for, if you end up in the Top 20 in overall points, you're eligible for this prize: a corporate-sponsored, corporate-attended Lightning Tour in your hometown. This means our corporate office will help organize, execute, and attend a Lightning Tour meeting where you will be the host of a meeting to sponsor your 7k business.
Top 1-10 point-winners - earn a corporate-sponsored Lightning Tour Event, attended by none other than Mr. Jayson Arfmann, 7k CEO.
Top 11-20 point-winners - earn a corporate-sponsored Lightning Tour Event, attended by one of our awesome corporate representatives, like a 7k Founder, Chief of Sales and Marketing Mr. Blake Davis, or one of our co-Directors of Field Development, Mr. Timothy Schmalbeck or Mr. Benny Kofe.
If you are one of the winners, make sure you schedule your event with corporate so that we can attend. If your event is close enough in the geographic area to another winner, we may combine them so you have some 7k-fam support.
How To Earn Points in 7k Getaway Contests
Enroll new 7k Members with a:
Standard Membership to earn 750 points.
Premium Memberships to earn 1,000 points.
Receive a personal Rank Up of:
Associate to earn 1,000 points
Copper to earn 2,000 points
Bronze to earn 3,000 points
Silver to earn 4,000 points
Gold to earn 5,000 points
Ex. Gold to earn 6,000 points
Pres. Gold to earn 7,000 points
Help your personals to Rank up to:
Associate to earn 500 points
Copper to earn 1,000 points
Bronze to earn 1,500 points
Silver to earn 2,000 points
Gold to earn 2,500 points
Ex. Gold to earn 3,000 points
Pres. Gold to earn 3,500 points
Take a personal to Rank Copper in 10 days from Enrollment for:
Take a personal to Rank Bronze in 30 days from Enrollment for:
a PF70 Rusty Lantern Collectible Coin
Take a personal to Rank Silver in 90 days from Enrollment for:
When you get your personals on the Copper Train, you earn:
5,000 points for every 4 new Copper Rank ups after August 13th.
What Are the Rules
Any points or prizes in the contest are non-transferable and cannot be redeemed for cash, other contest prizes, or other goods or services.
Contest points earned will only be recognized from a single 7k account per room (regardless of room participants) and will only be from the 7k account that made the purchase.
Any points accumulated for the 2024 7k Getaway will only count for the 7k sponsored getaway and no other travel, vacations, or bookings. All points accumulated are for this contest only and are separate from the share plan points.
All contest prizes will be awarded based on the highest achievement level in the contest or on the contest results based on points awarded through specific activities.
All remaining payments for Convention Special reservations and pricing must be made in full by August 26, 2023 for the reservation of the room and price to be held.
All rooms are subject to availability and are first-come, first-serve based on payment in full, regardless of content results. Contest participants who do not make payment in full are not guaranteed a room if demand exceeds the reserved room block.
All advertised rates are per room, for single or double occupancy (regardless if you have one or two people in the room).
All personal advancements and personal enrollee advancements will have a baseline of your Lifetime Rank (highest Rank achieved) starting August 13, 2023.
Points are only awarded one time per rank advancement.
All contest winners must be in full compliance with all policies and procedures and be in good standing with 7k.
You must have a solid business in all cases to qualify for any of the contest prizes.
All new enrollments must be on monthly AutoSaver and remain active through January 1, 2024, to be eligible for points or discounts to be awarded.
7k holds the right to audit and reject any non-quality or non-qualifying enrollments or rank advancement.
Each 7k contest dashboard is informational only and is not binding for final or audited results. It is the responsibility of each account to understand all legitimate or illegitimate activity for contest points.
Final results will be communicated within 7 business days of the end of the contest audit period, which ends Nov. 26th, 2023.
This is not a lottery. All prizes are awarded based on performance inside the 7k business plan.
Contest rules and prizes are subject to change.
It's your time to show yourself what you're made of. Make your goals for this event, stick with them, and the growth you'll see within your business alone will be worth the effort, let alone the fun you're going to have when you get your reward: 7 days and 6 nights on a world-class cruise ship with your favorite 7k Fam. What are you waiting for? Let's run for it!
---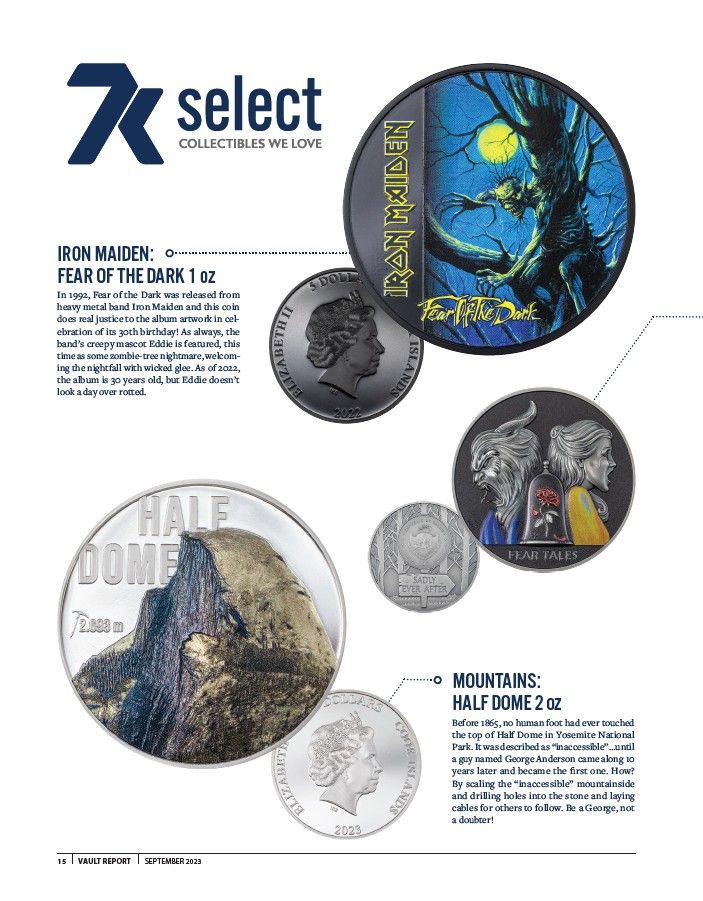 7k Select
Collectibles We Love
IRON MAIDEN: Fear of the Dark 1 oz
In 1992, Fear of the Dark was released from heavy metal band Iron Maiden and this coin does real justice to the album artwork in celebration of its 30th birthday! As always, the band's creepy mascot Eddie is featured, this time as some zombie-tree nightmare, welcoming the nightfall with wicked glee. As of 2022, the album is 30 years old, but Eddie doesn't look a day over rotted.
MOUNTAINS: Half Dome 2 oz
Before 1865, no human foot had ever touched the top of Half Dome in Yosemite National Park. It was described as "inaccessible"…until a guy named George Anderson came along 10 years later and became the first one. How? By scaling the "inaccessible" mountainside and drilling holes into the stone and laying cables for others to follow. Be a George, not a doubter!
FEAR TALES: Beauty and The Beast 2 oz
Forget what you think you know about dancing teapots and singing luminaries — this coin tells a bone-chilling alternative to the story of Beauty and the Beast! And if Beauty's gaping jaw doesn't rattle you, the spit-flinging snarl of the Beast will. Together, they live sadly ever after on this 2 oz, fine silver finale to the Fear Tales four-part collection.
MOUNTAINS: Half Dome 1/2 gram GOLD
Before 1865, no human foot had ever touched the top of Half Dome in Yosemite National Park. It was described as "inaccessible"…until a guy named George Anderson came along 10 years later and became the first one. How? By scaling the "inaccessible" mountainside and drilling holes into the stone and laying cables for others to follow. Be a George, not a doubter!
PALADIN PANDA: 40th Anniversary 3 oz
It's not every day you see a panda in full warrior getup…well, unless you watch Kung Fu Panda on the daily. And if that's the case then you got your paws on the perfect coin for you! This ambitious paladin panda is outfitted in gilded gold armor, ready to lead an army. Good thing pandas are actually pretty lazy because if they did form an army to overthrow us all, that stick looks like it could do some real damage.
CYBORG REVOLUTION: DOG 3 oz
Welllll crap. They've got dogs. In the ongoing tales this coin collection tells about the Cyborg Revolution, now they've added cyborg DOGS to their army! We don't know about you, but if we saw this hell-beast coming for us, we'd turn tail and run. Thankfully, this is just a super cool recreation, made so realistic by a beautiful Black Proof quality. Whew.
EYE OF MAGIC: Raven Witch 2 oz
Through the eye of a raven, a witch studies you with an Eye of Magic when you look upon this intriguing silver collectible. She is a wise woman, an herbalist, an avid protector of nature. Her craft is influenced by the knowledge of generations of women who came before her; her duty is to them and to the Earth. Nature calls her and she answers in a loud, shrill shriek...the call of the Raven Witch.
---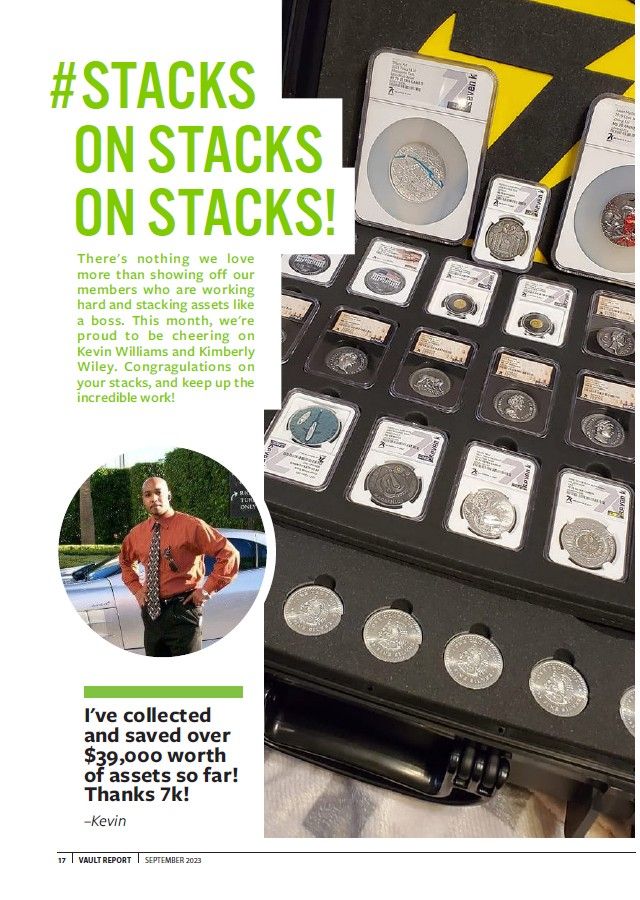 Got #stacksonstacks?
We want to see 'em!
We love to see our members' coin collections! Whether you're just getting started with numismatics or have literal #stacksonstacksonstacks, we're so excited for you to build your legacy with coins!
We'll keep featuring stacks we see on the 7k Exclusive Facebook group, so keep on sharing for a chance to be featured! Time to show off those #stacksonstacks!
---