September 2022 Vault Report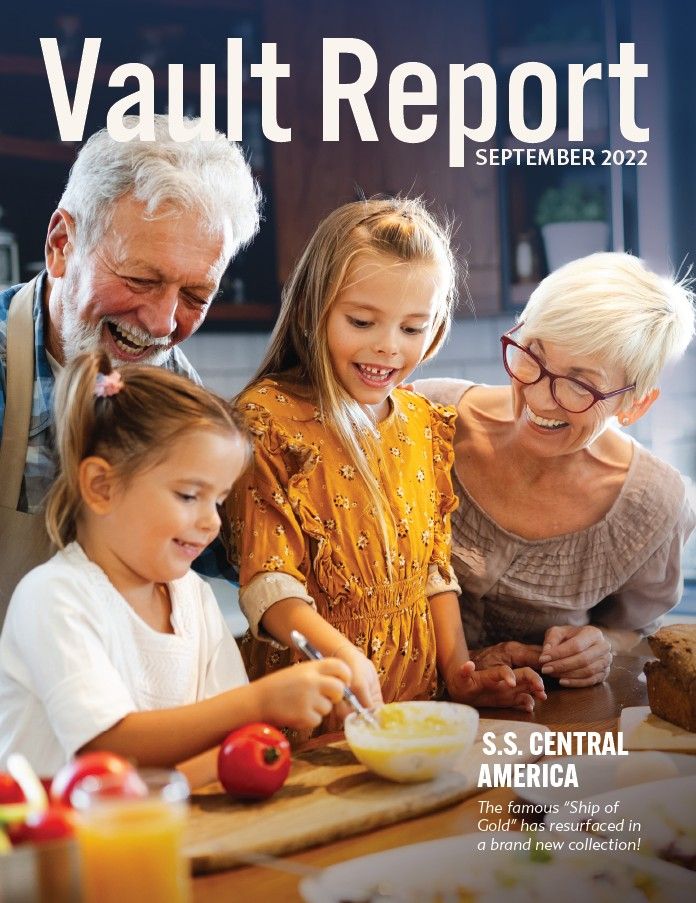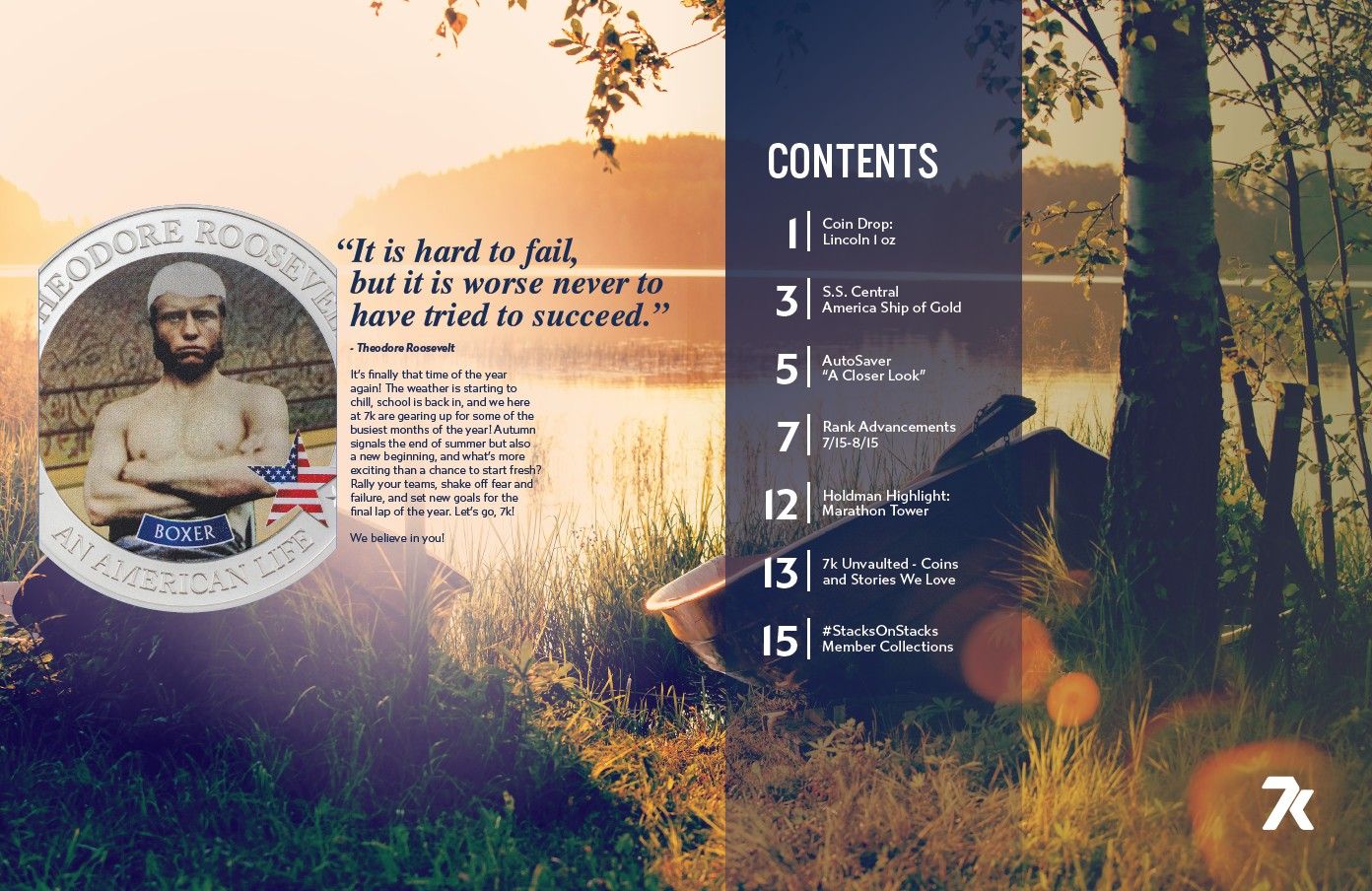 CONTENTS
1 - Coin Drop: Lincoln 1oz
3 - S.S. Central America: Ship of Gold
5 - AutoSaver "A Closer Look"
7 - Rank Advancements 7/15-8/15
12 - Holdman Highlight: Marathon Tower
13 - 7k Unvaulted - Coins and Stories We Love
15 - #StacksOnStacks Member Collections
"It is hard to fail, but it is worse never to have tried to succeed." - Theodore Roosevelt
It's finally that time of the year again! The weather is starting to chill, school is back in, and we here at 7k are gearing up for some of the busiest months of the year! Autumn signals the end of summer but also a new beginning, and what's more exciting than a chance to start fresh? Rally your teams, shake off fear and failure, and set new goals for the final lap of the year. Let's go, 7k! We believe in you!
---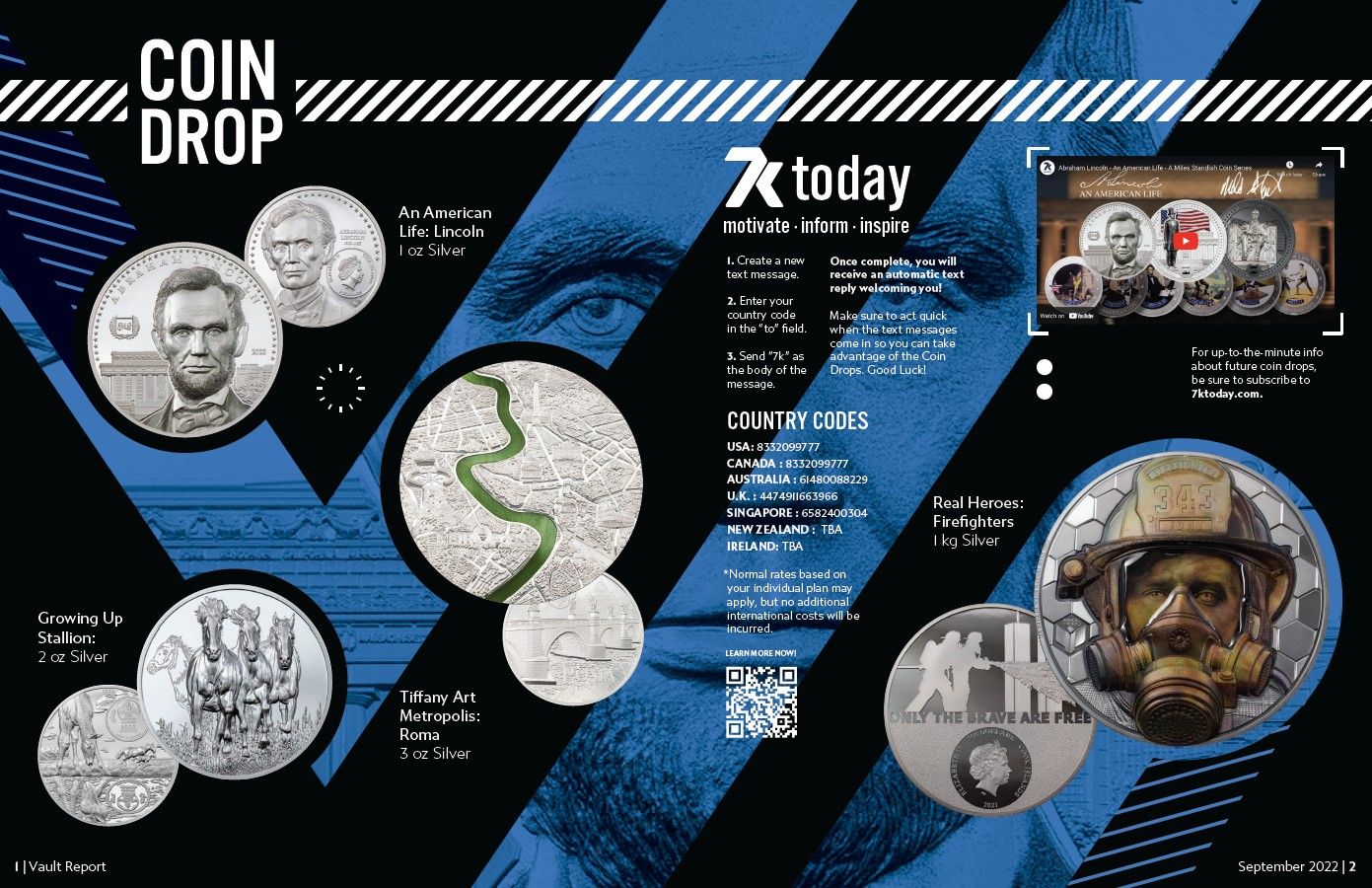 COIN DROP
An American Life: Lincoln 1oz
Growing Up Stallion: 2oz Silver
Tiffany Art Metropolis: Roma 3oz Silver
Real Heroes: Firefighters 1kg Silver
Never Miss Another Coin Drop
1 - Create a new text message.
2 - Enter your country code in the "to" field.
3 - Send "7k" as the body of the message.
Country Codes
USA: 8332099777
CANADA: 8332099777
AUSTRALIA: 61480088229
U.K.: 4474911663966
SINGAPORE: 6582400304
NEW ZEALAND: TBA
IRELAND: TBA
*Normal rates based on your individual plan may apply, but no additional international costs will be incurred.
Once complete, you will receive an automatic text reply welcoming you!
Make sure to act quickly when the text messages come in so you can take advantage of the Coin Drops. Good luck!
---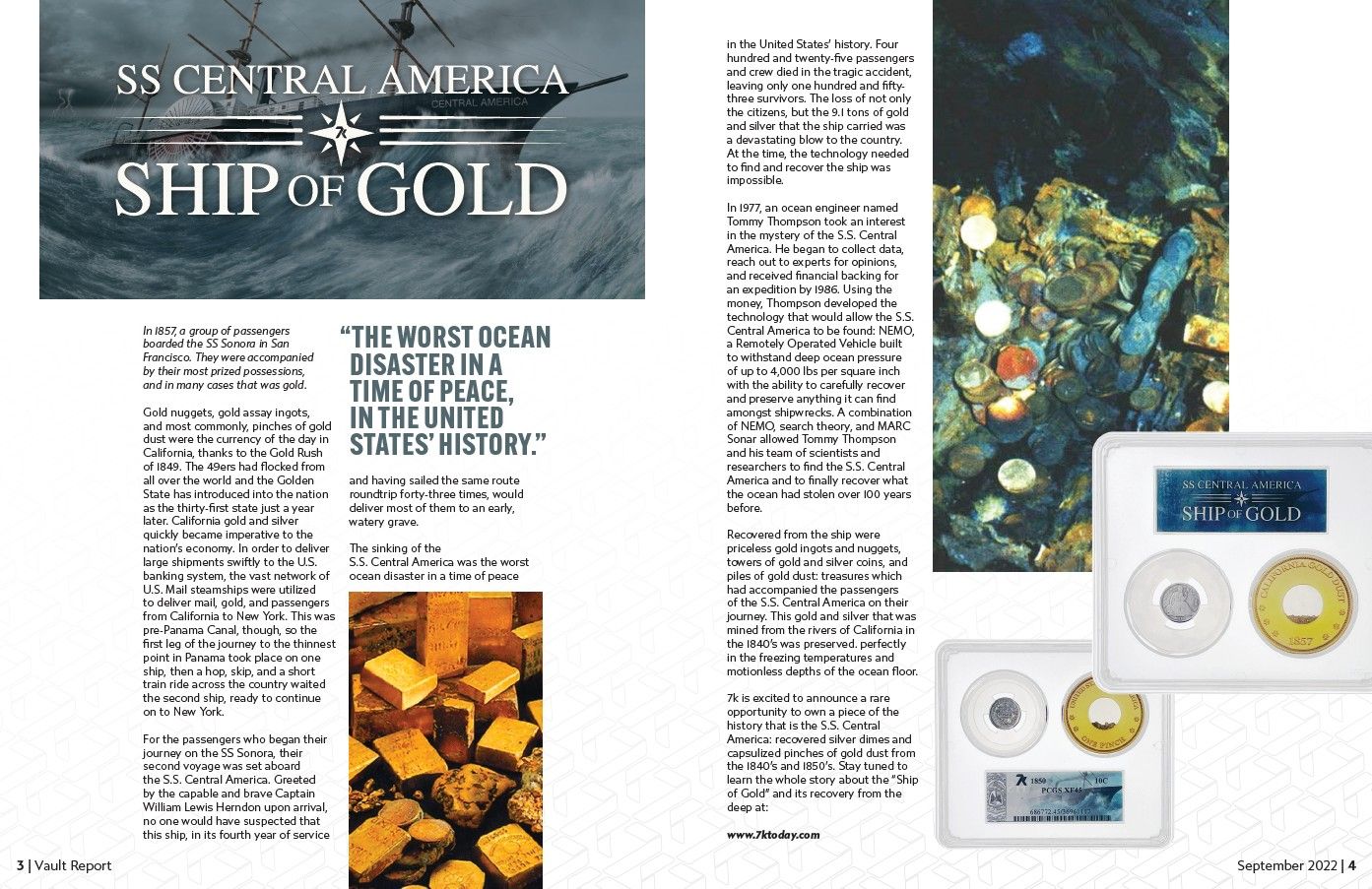 The SS Central America: America's Lost Treasure
In 1857, a group of passengers boarded the SS Sonora in San Francisco. They were accompanied by their most prized possessions, and in many cases that was gold. Gold nuggets, gold assay ingots, and most commonly, pinches of gold dust were the currency of the day in California, thanks to the Gold Rush of 1849. The 49ers had flocked from all over the world and the Gold State had been introduced into the nation as the thirty-first state just a year later. California gold and silver quickly became imperative to the nation's economy. In order to deliver large shipments swiftly to the U.S. banking system, the vast network of U.S. Mail steamships were utilized to deliver mail, gold, and passengers from California to New York. This was pre-Panama Canal, though, so the first leg of the journey to the thinnest point in Panama took place on one ship, then a hop, skip, and a short train ride across the country waited the second ship, ready to continue on to New York.
For the passengers who began their journey on the SS Sonora, their second voyage was set aboard the SS Central America. Greeted by the capable and brave Captain William Lewis Herndon upon arrival, no one would have suspected that this ship, in its fourth year of service and having sailed the same route roundtrip forty-three times, would deliver most of them to an early, watery grave.
The sinking of the SS Central America was the worst ocean disaster in a time of peace in the United States' history. Four hundred and twenty-five passengers and crew died in the tragic accident, leaving only one hundred and fifty-three survivors. The loss of not only the citizens, but the 9.1 tons of gold and silver that the ship carried was a devastating blow to the country. At the time, the technology needed to find and recover the ship was impossible.
In 1977, an ocean engineer named Tommy Thompson took an interest in the mystery of the SS Central America. He began to collect data, reach out to experts for opinions, and received financial backing for an expedition by 1986. Using the money, Thompson developed the technology that would allow the SS Central America to be found: NEMO, a Remotely Operated Vehicle built to withstand deep ocean pressure of up to 4,000 lbs per square inch with the ability to carefully recover and preserve anything it can find amongst shipwrecks. A combination of NEMO, search theory, and MARC Sonar allowed Tommy Thompson and his team of scientists and researchers to find the SS Central America and to finally recover what the ocean had stolen over 100 years before.
Recovered from the ship were priceless gold ingots and nuggets, towers of gold and silver coins, and piles of gold dust: the treasures which had accompanied the passengers of the SS Central America on their journey. Gold and silver mined from the rivers of California in the 1840s, preserved perfectly in the freezing temperatures and motionless depths of the ocean floor.
7k is excited to announce a rare opportunity to own a piece of the history that is the SS Central America: recovered silver dimes and capsulized pinches of gold dust from the 1840's and 1850's. Stay tuned to learn the whole story about the "Ship of Gold" and its recovery from the deep.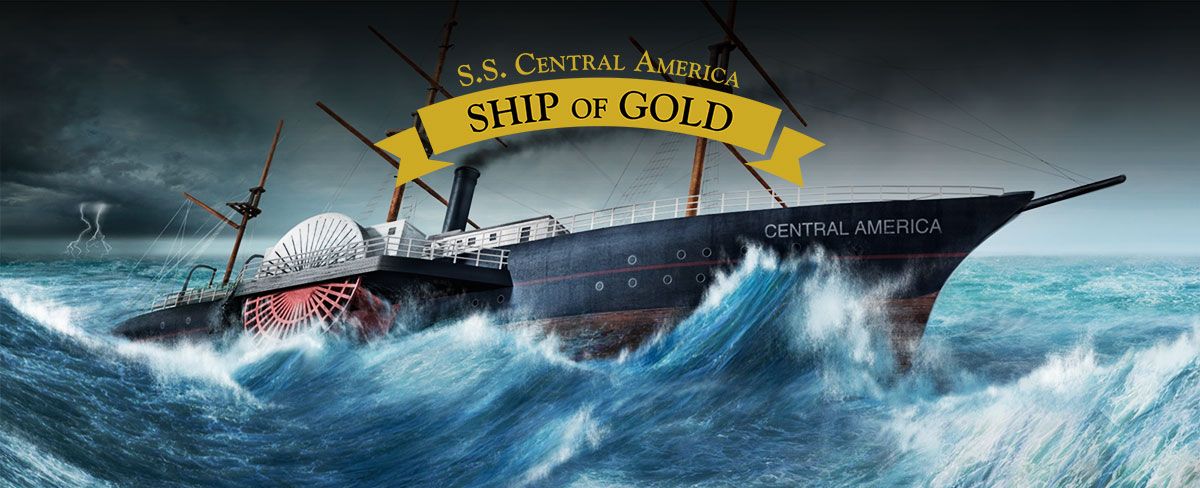 ---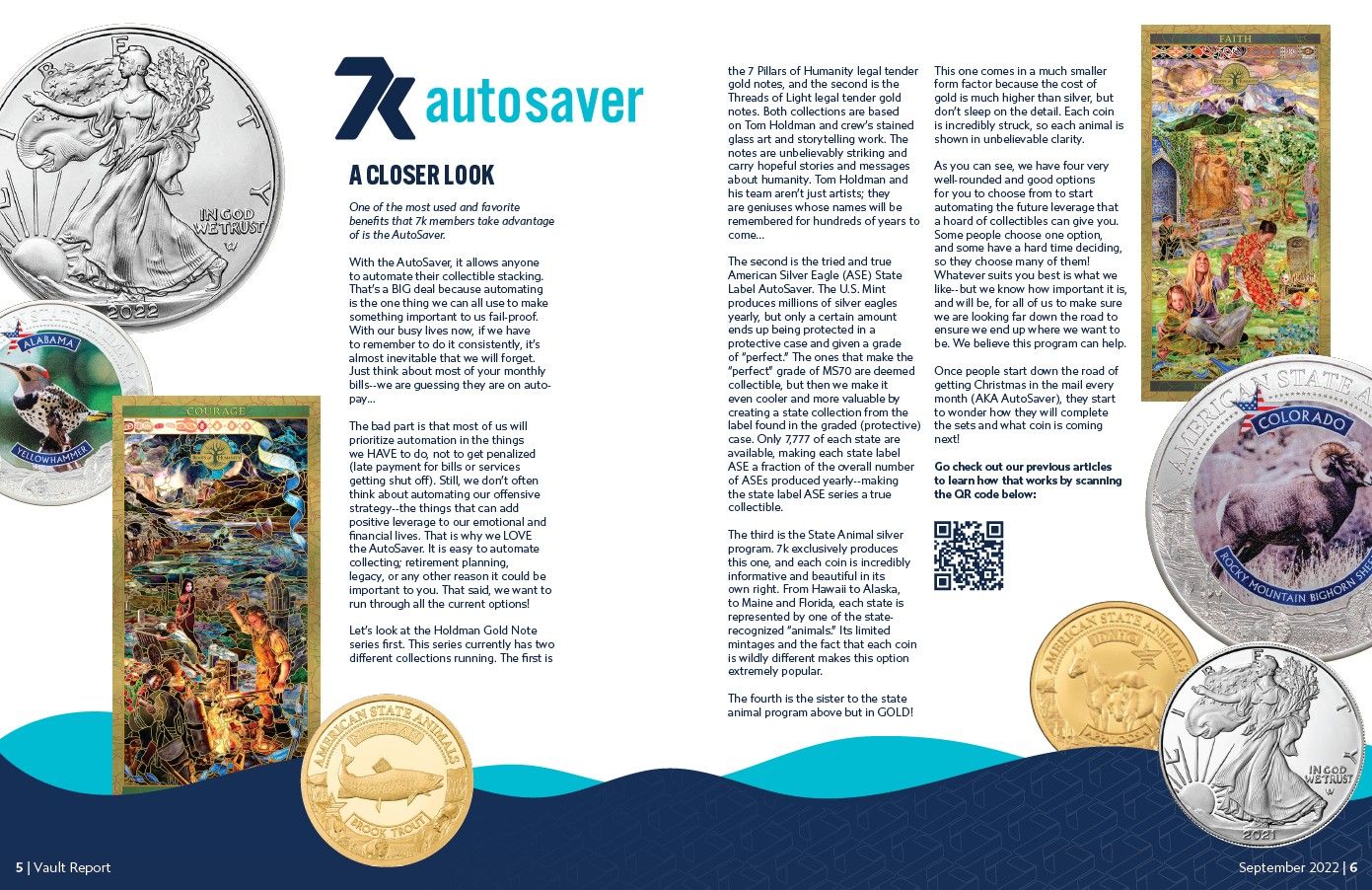 7k AutoSaver: A Closer Look
One of the most used and favorite benefits that 7k members take advantage of is the AutoSaver. With the AutoSaver, it allows anyone to automate their collectible stacking. That's a BIG deal because automating is the one way we all use to make something important to us fail-proof. With our busy lives now, if we have to remember to do it consistently, it's almost inevitable that we will forget. Just think about most of your monthly bills--we are guessing they are on auto-pay...
The bad part is that most of us will prioritize automation in the things we HAVE to do, not to get penalized (late payment for bills or services getting shut off). Still, we don't often think about automating our offensive strategy--the things that can add positive leverage to our emotional and financial lives. That is why we LOVE AutoSaver. It is easy to automate collecting, retirement, legacy, or any other reason it could be important to you. That said, we want to run through all the current options!
Let's look at the Holdman Gold Note Series first. This series currently has two different collections running. The first is the 7 Pillars of Humanity legal tender gold notes, and the second is the Threads of Light legal tender gold notes. Both collections are based on Tom Holdman and crew's stained glass art and storytelling work. The notes are unbelievably striking and carry hopeful stories and messages about humanity. Tom Holdman and his team aren't just artists; they are geniuses whose names will be remembered for hundreds of years to come...
The second is the tried and true American Silver Eagle State Label AutSaver. The U.S. Mint produces millions of silver eagles yearly, but only a certain amount ends up being protected in a protective case and given a grade of "perfect." The ones that make the "perfect" grade of MS70 are deemed collectible, but then we make it even cooler and more valuable by creating a state collection from the label found in the graded (protective) case. Only 7,777 of each state are available, making each state label ASE a fraction of the overall number of ASEs produced yearly--making the state label ASE series a true collectible.
The third is the State Animal silver program. 7k exclusively produces this one, and each coin is incredibly informative and beautiful in its own right. From Hawaii to Alaska, to Maine and Florida, each state is represented by one of the state-recognized "animals." Its limited mintages and the fact that each coin is wildly different makes this option extremely popular.
The fourth is the sister to the sister state animal program above but in GOLD! This one comes in a much smaller form factor because the cost of gold is much higher than silver, but don't sleep on the detail. Each coin is incredibly struck, so each animal is shown in unbelievable detail.
As you can see, we have four very well-rounded and good options for you to choose from to start automating the future leverage that a hoard of collectibles can give you. Some people choose one option, and some have a hard time deciding, so they choose many of them! Whatever suits you best is what we like--but we know how important it is, and will be, for all of us to make sure we are looking far down the road to make sure we end up where we want to be. We believe this program can help.
Once people start down the road of getting Christmas in the Mail every month (AKA AutoSaver), they start to wonder how they will complete the sets and what coin is coming next! Go check out the other articles written on how that works: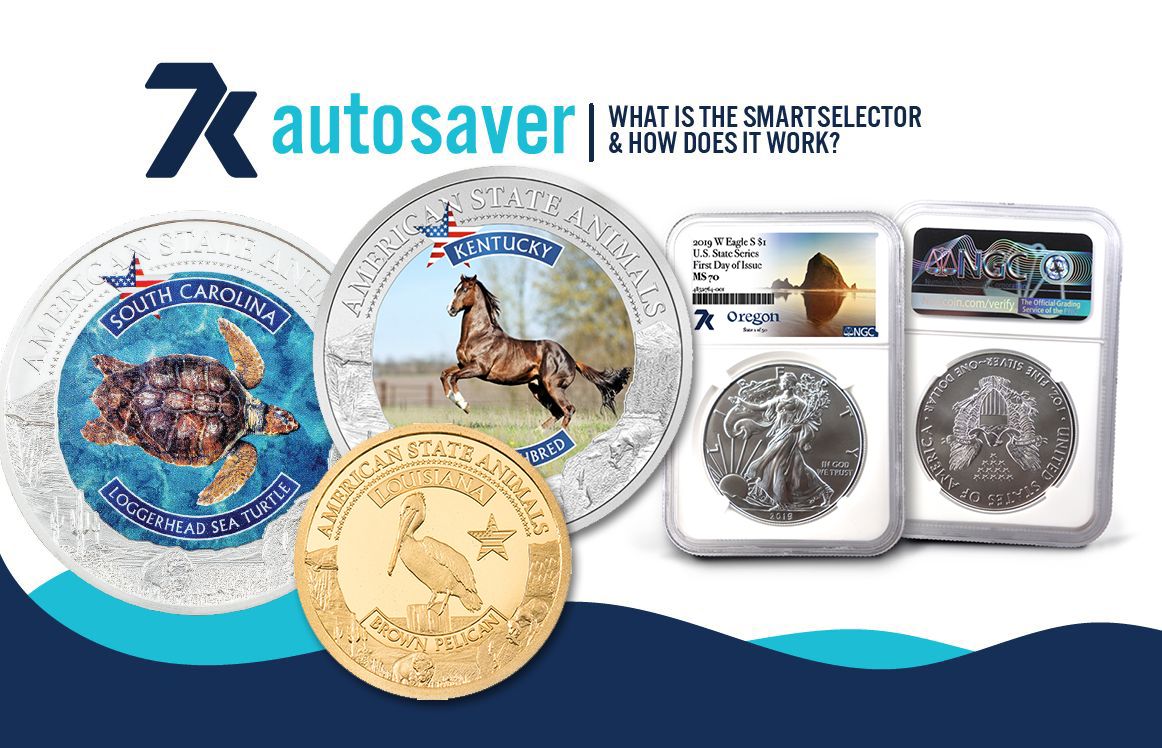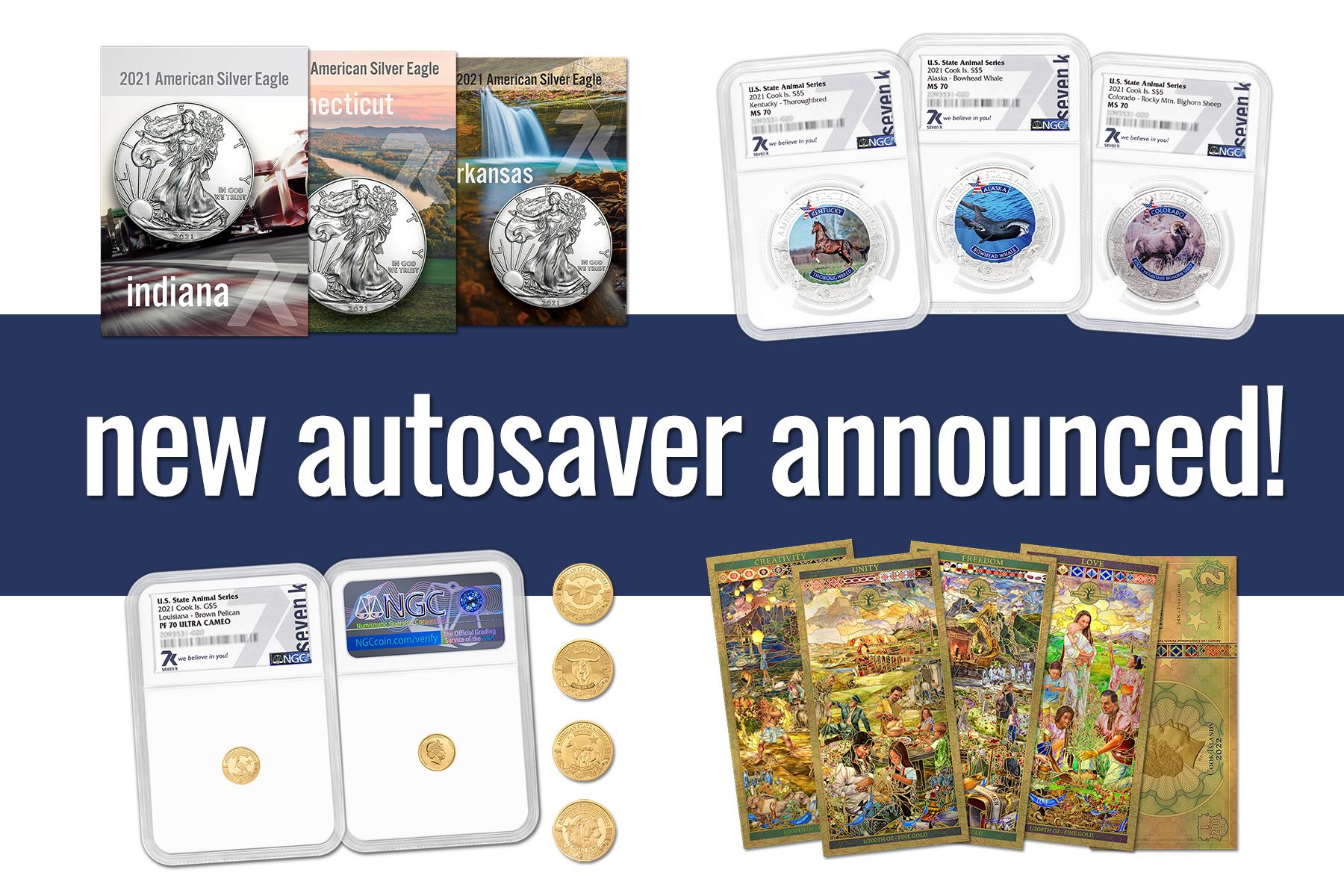 ---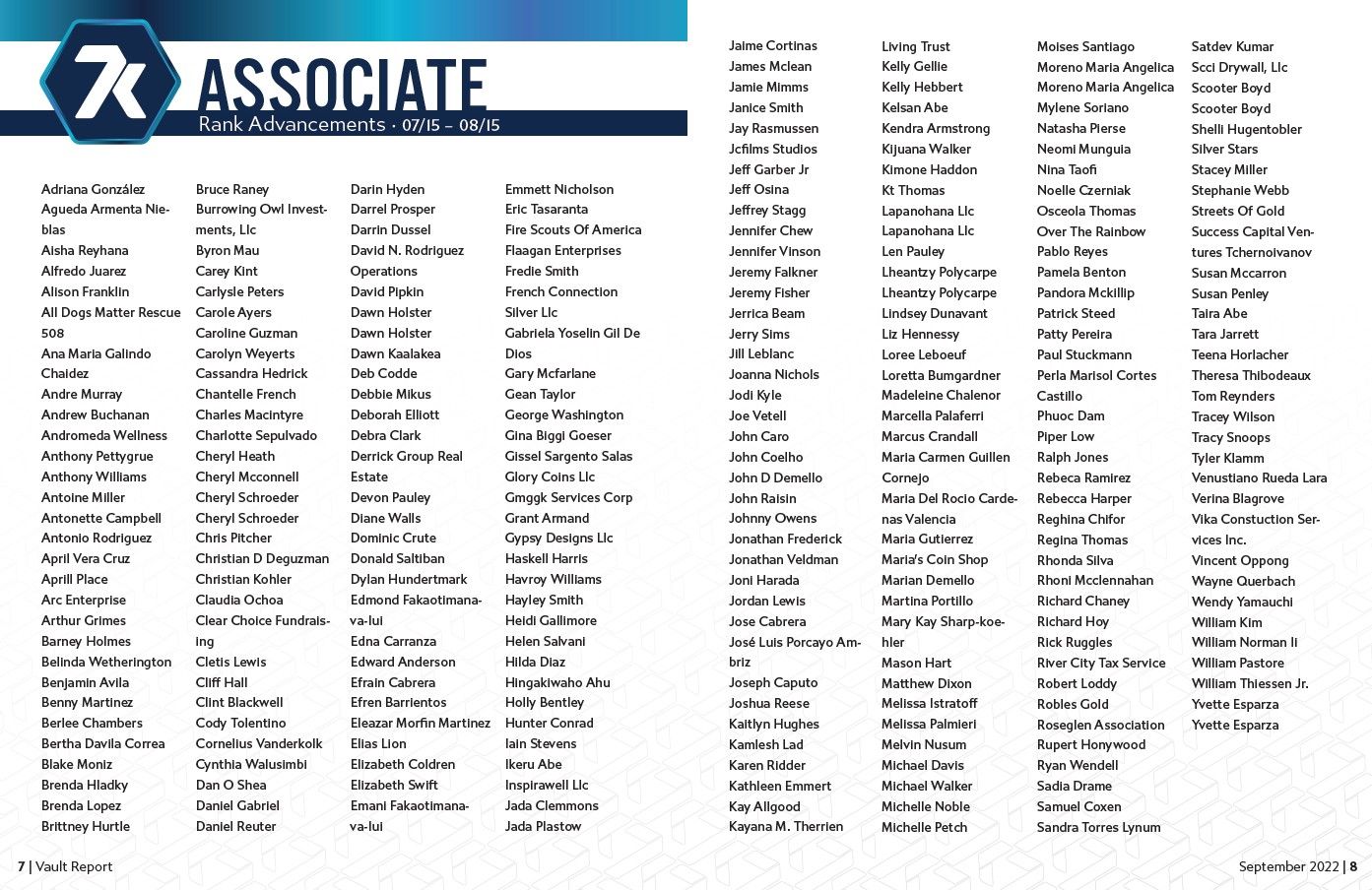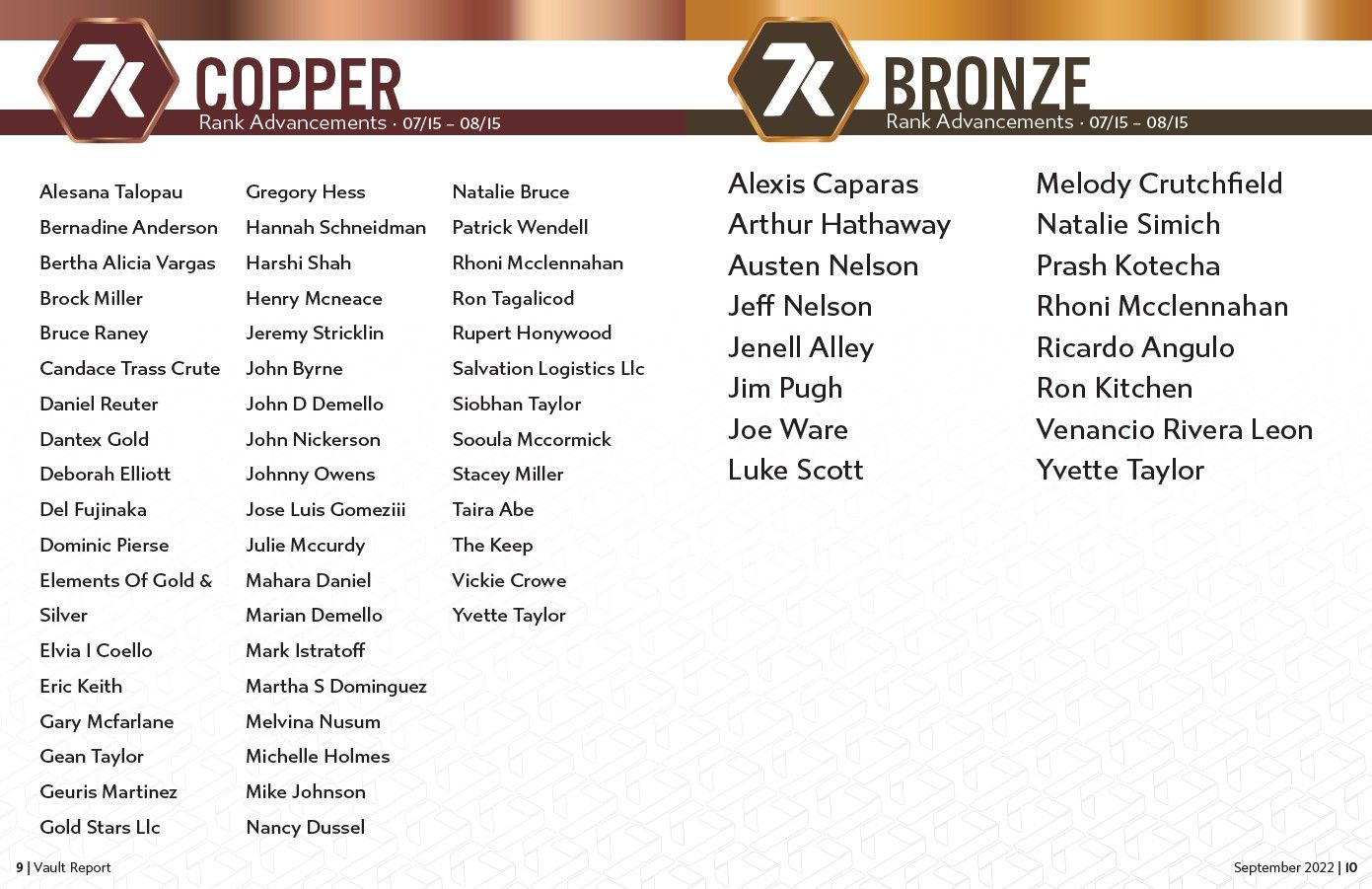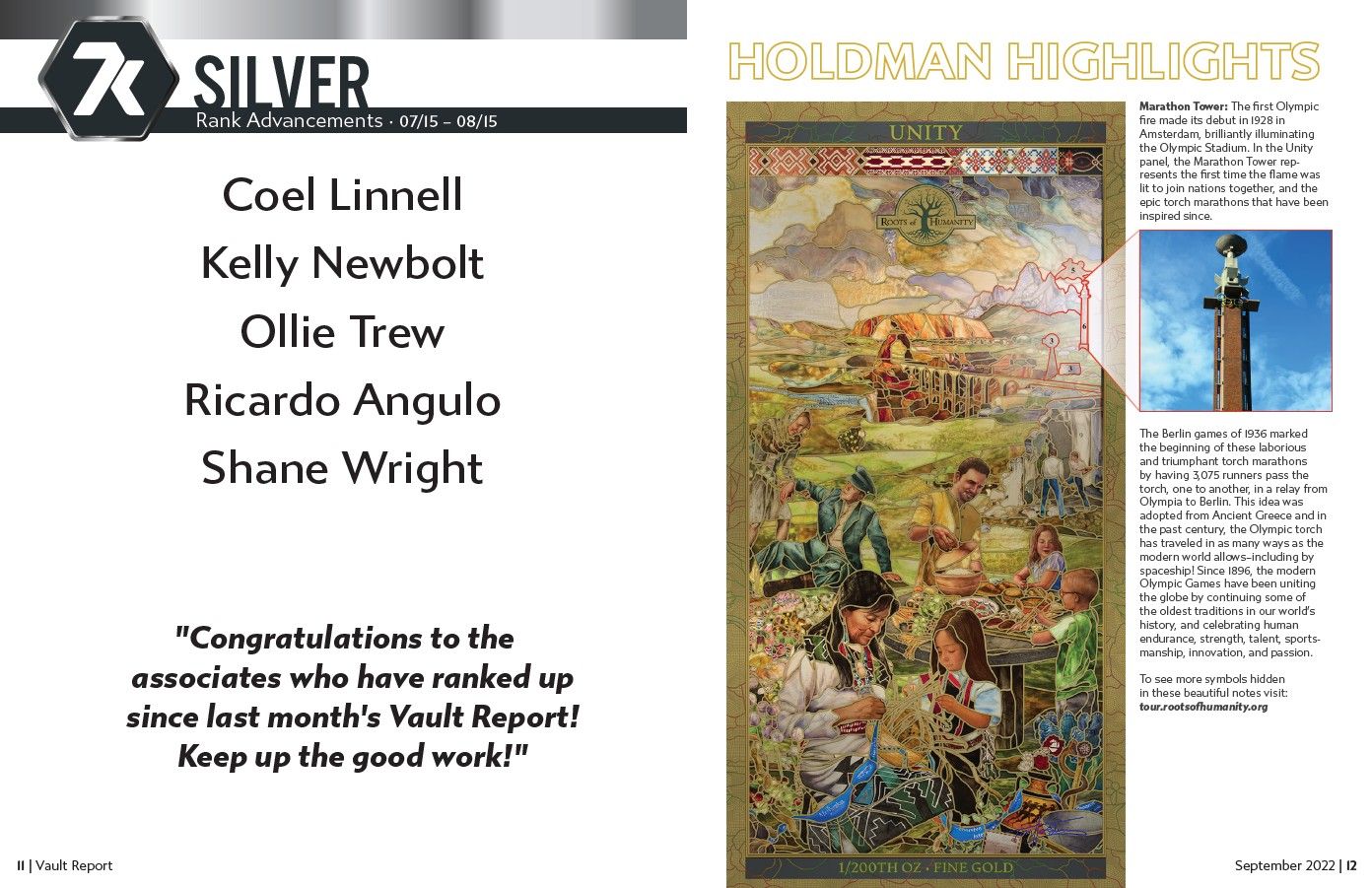 Holdman Highlights: Marathon Tower
The first Olympic fire made its debut in 1928 in Amsterdam, brilliantly illuminating the Olympic Stadium. In the Unity panel, the Marathon tower represents the first time the flame was lit to join nations together, and the epic torch marathons that have been inspired since. The Berlin games of 1936 marked the beginning of these laborious and triumphant torch marathons by having 3,075 runners pass the torch, one to another, in a relay from Olympia to Berlin. This idea was adopted from Ancient Greece and in the past century, the Olympic torch has traveled in as many ways as the modern world allows–including by spaceship! Since 1896, the modern Olympic Games have been uniting the globe by continuing some of the oldest traditions in our world's history, and celebrating human endurance, strength, talent, sportsmanship, innovation, and passion.
To see more symbols hidden in these beautiful notes, visit: tour.rootsofhumanity.org
---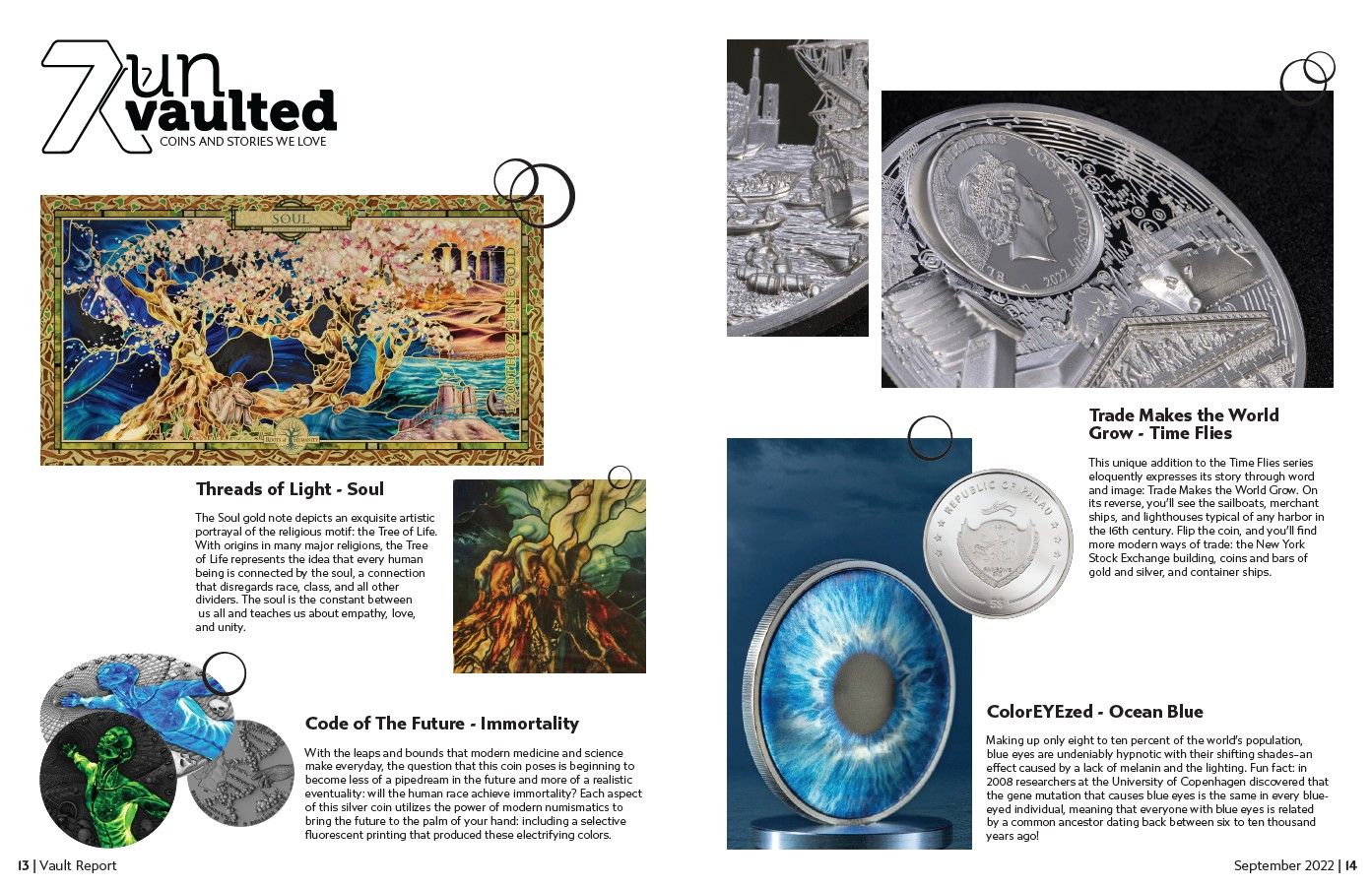 7k Unvaulted: Coins and Stories We Love
Threads of Light: Soul
The Soul gold note depicts an exquisite artistic portrayal of the religious motif: the Tree of Life. With origins in many major religions, the Tree of Life represents the idea that every human being is connected by the soul, a connection that disregards race, class, and all other dividers. The soul is the constant between us all and teaches us about empathy, love, and unity.
Code of the Future: Immortality
With the leaps and bounds that modern medicine and science make everyday, the question that this coin poses is beginning to become less of a pipedream in the future and more of a realistic eventuality: will the human race achieve immortality? Each aspect of this silver coin utilizes the power of modern numismatics to bring the future to the palm of your hand: including a selective fluorescent printing that produced these electrifying colors.
Trade Makes the World Grow: Time Flies
This unique addition to the Time Flies series eloquently expresses its story through word and image: Trade Makes the World Grow. On its reverse, you'll see the sailboats, merchant ships, and lighthouses typical of any harbor in the 16th century. Flip the coin, and you'll find more modern ways of trade: the New York Stock Exchange building, coins and bars of gold and silver, and container ships.
ColorEYEzed: Ocean Blue
Making up only eight to ten percent of the world's population, blue eyes are undeniably hypnotic with their shifting shades–an effect caused by a lack of melanin and the lighting. Fun fact: in 2008 researchers at the University of Copenhagen discovered that the gene mutation that causes blue eyes is the same in every blue-eyed individual, meaning that everyone with blue eyes is related by a common ancestor dating back between six to ten thousand years ago!
---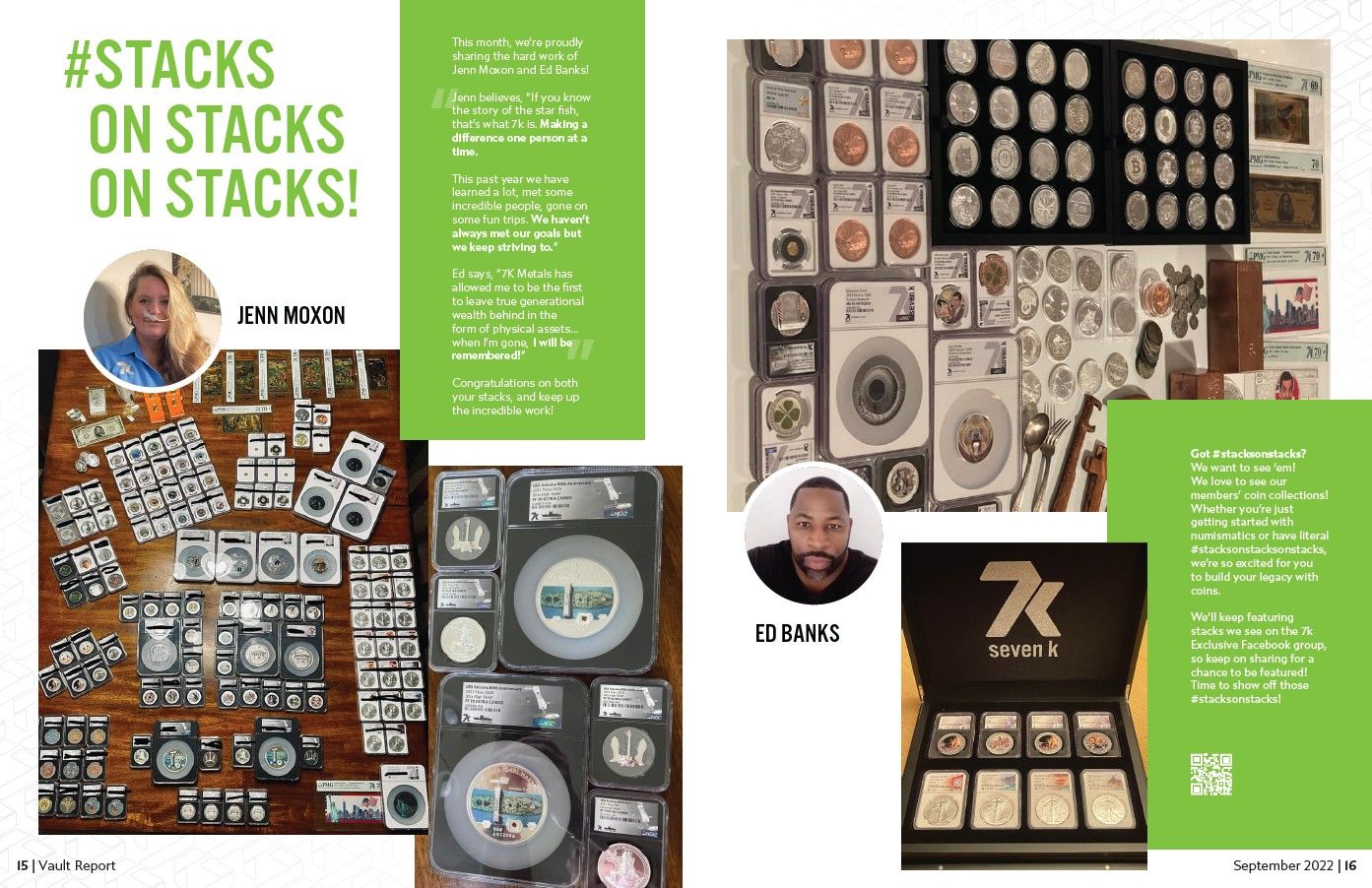 #STACKSONSTACKSONSTACKS!
This month, we're proudly sharing the hard work of Jenn Moxon and Ed Banks!
Jenn believes "If you know the story of the star fish, that's what 7k is. Making a difference one person at a time. This past year we have learned a lot, met some incredible people, gone on some fun trips. We haven't always met our goals but we keep striving to."
Ed says "7k Metals has allowed me to be the first to leave true generational wealth behind in the form of physical assets... when I'm gone, I will be remembered."
Congratulations on both your stacks, and keep up the incredible work!
Got #stacksonstacks?
We want to see 'em!
We love to see our members' coin collections! Whether you're just getting started with numismatics or have literal #stacksonstacksonstacks, we're so excited for you to build your legacy with coins!
We'll keep featuring stacks we see on the 7k Exclusive Facebook group, so keep on sharing for a chance to be featured! Time to show off those #stacksonstacks!
---