September 2020 Vault Report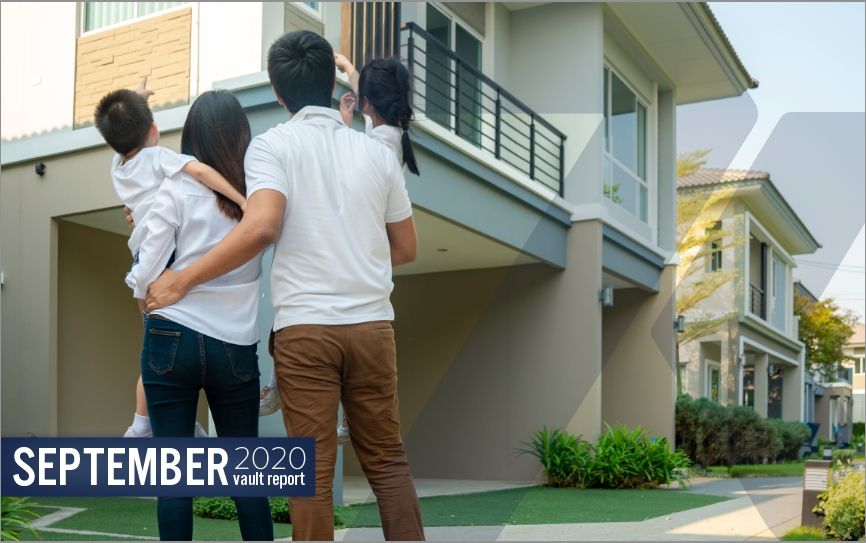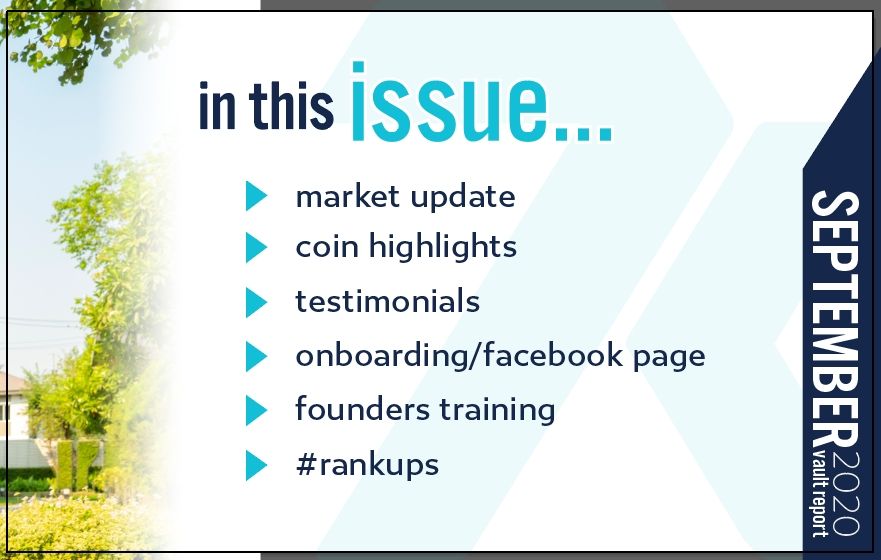 In This Issue:
market update
coin highlights
testimonials
onboarding/facebook page
founders training
rankups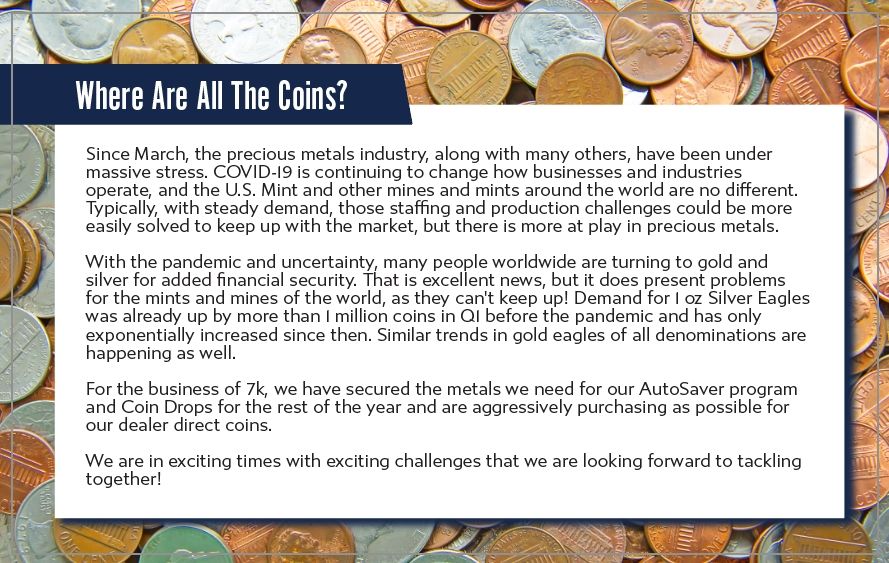 Where Are All The Coins?
Since March, the precious metals industry, along with many others, have been under massive stress. COVID-19 is continuing to change how businesses and industries operate, and the U.S. Mint and other mines and mints around the world are no different. Typically, with steady demand, those staffing and production challenges could be more easily solved to keep up with the market, but there is more at play in precious metals.
With the pandemic and uncertainty, many people worldwide are turning to gold and silver for added financial security. That is excellent news, but does present problems for the mints and mines of the world, as they can't keep up! Demand for 1oz Silver Eagles was already up by more than 1 million coins in Q1 before the pandemic and has only exponentially increaded since then. Similar trends in gold eagles of all denominations are happening as well.
For the business of 7k, we have secured the metals we need for our Auto Saver program and Coin Drops for the rest of the year and are aggressively purchasing as possible for our dealer direct coins.
We are in exciting times with exciting challenges that we are looking forward to tackling together!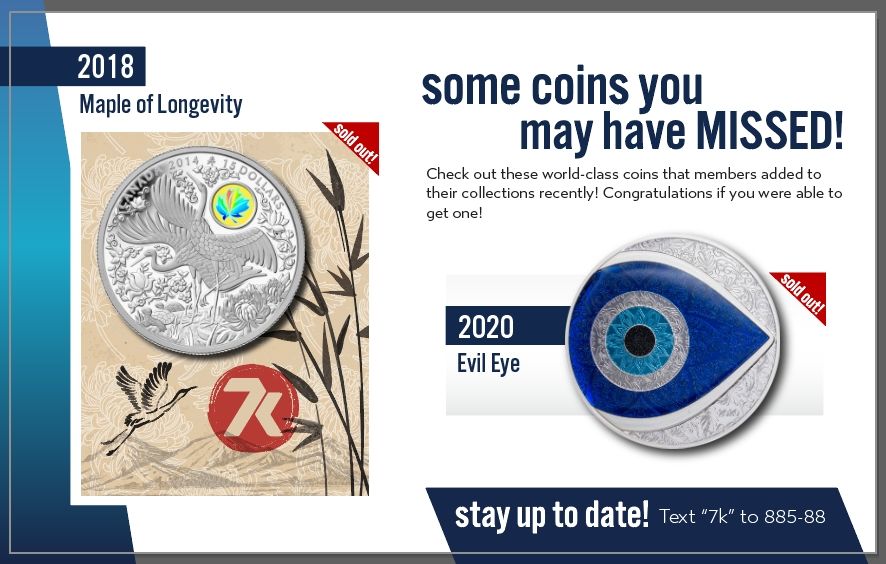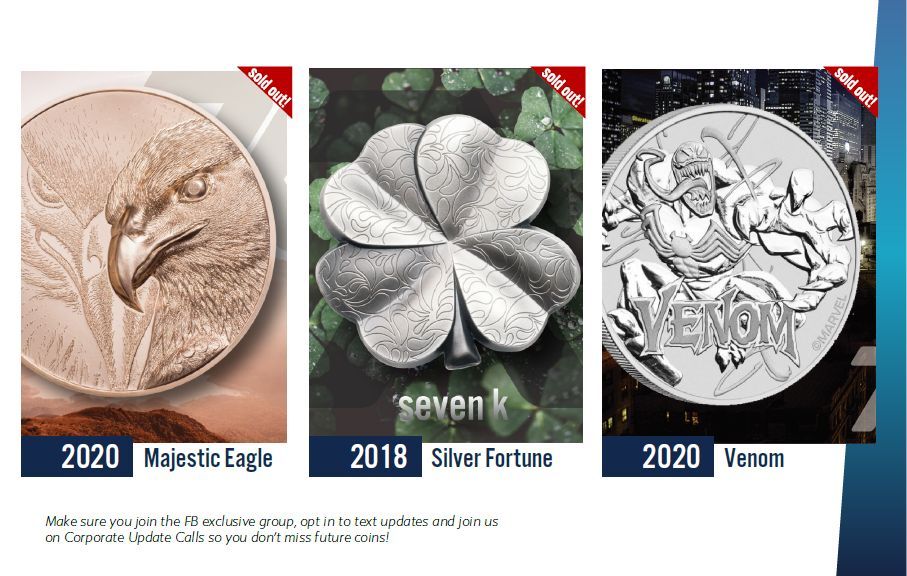 Some Coins You May Have Missed!
Check out these world-class coins that members added to their collections recently! Congratulations if you were able to get one!
2018 Maple of Longevity
2020 Evil Eye
2020 Majestic Eagle
2018 Silver Fortune
2020 Venom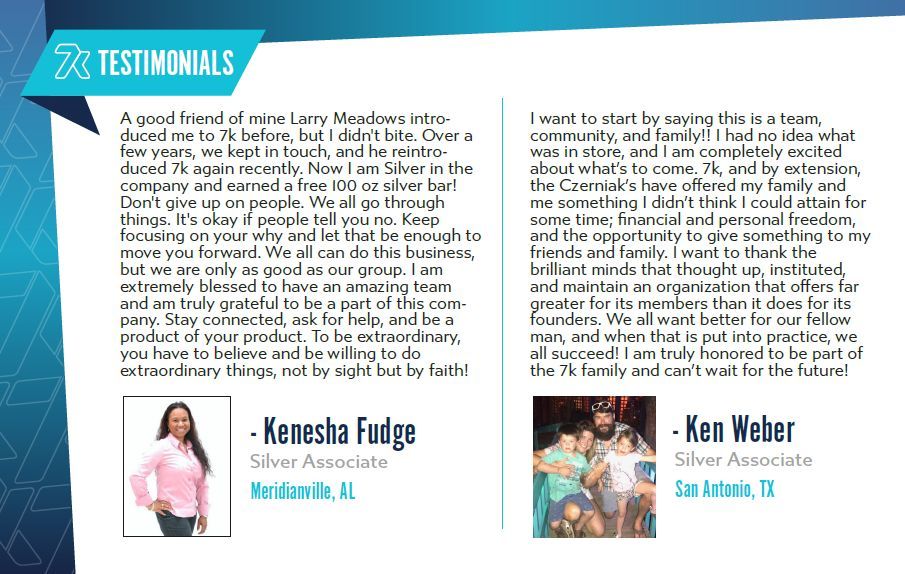 7k Testimonals
"A good friend of mine Larry Meadows introduced me to 7k before, but I didn't bite. Over a few years we kept in touch, and he reintroduced 7k again recently. Now I am a Silver in the company and earned a free 100oz silver bar! Don't give up on people. We all go through things. It's okay if people tell you no. Keep focusing on your why and let that be enough to move you forward. We all can do this business, but we are only as good as our group. I am extremely blessed to have an amazing team and am truly grateful to be a part of this company. Stay connected, ask for help, and be a product of your product. To be extraordinary, you have to believe and be willing to do extraordinary things, no by sight but by faith!
Kenesha Fudge
Silver Associate
Meridianville, AL
"I want to start by saying this is a team, community, and family! I had no idea what was in store, and I am completely excited about what's to come. 7k, and by extension, the Czerniak's have offered my family and me something I didn't think I could attain for some time; financial and personal freedom, and the opportunity to give something to my friends and family. I want to thank the brilliant minds that thought up, instituted, and maintain an organization that offers far greater for its members than it does for its founders. We all want better for our fellow man, and when that is put into practice, we all succeed! I am truly honored to be part of the 7k family and can't wait for the future!
Ken Weber
Silver Associate
San Antonio, TX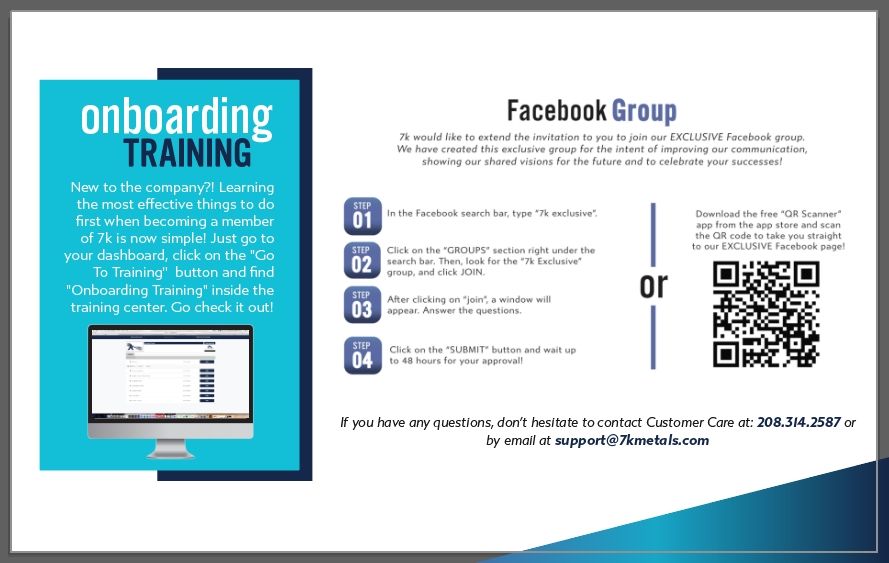 Onboarding Training
New to the company?! Learning the most effective things to do first when becoming a member of 7k is now simple! Just go to your dashboard, click on the "Go To Training" button and find "Onboarding Training" inside the training center. Go check it out!
Facebook Group
7k would like to extend the invitation to you to join our EXCLUSIVE Facebook group. We have created this exclusive group with the intent of improving communication, showing our shared visions for the future and to celebrate your successes!
Step 1: In the Facebook search bar, type "7k Exclusive".
Step 2: Click on the "GROUPS" section right under the search bar. Then, look for the "7k Exclusive" group, and click JOIN.
Step 3: After clicking on "join", a window will appear. Answer the questions.
Step 4: Click on the "SUBMIT" button and wait up to 48 hours for your approval!
OR open your camera on any smartphone and scan the QR code in the image above to take you straight to our EXCLUSIVE Facebook group page.
If you have any questions, don't hesitate to contact Customer Care at: 208.314.2587 or by email at support@7kmetals.com.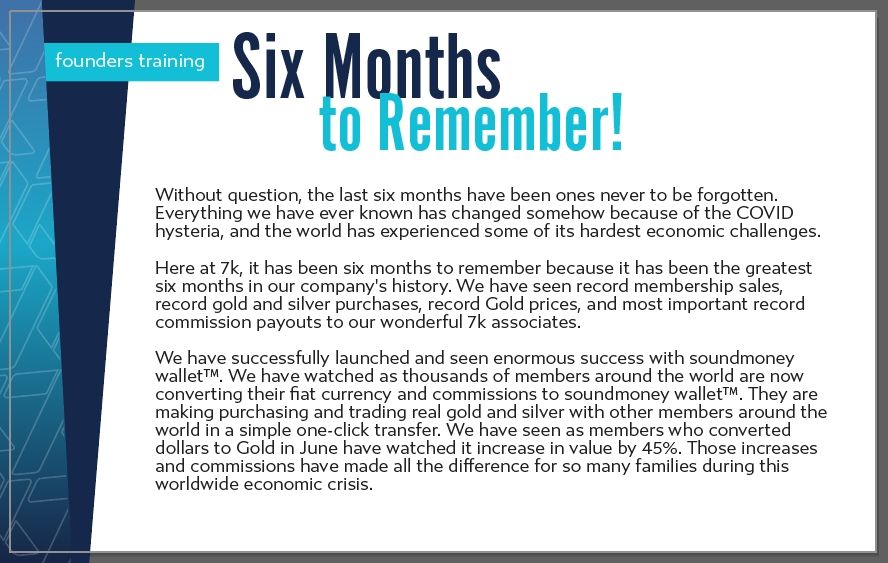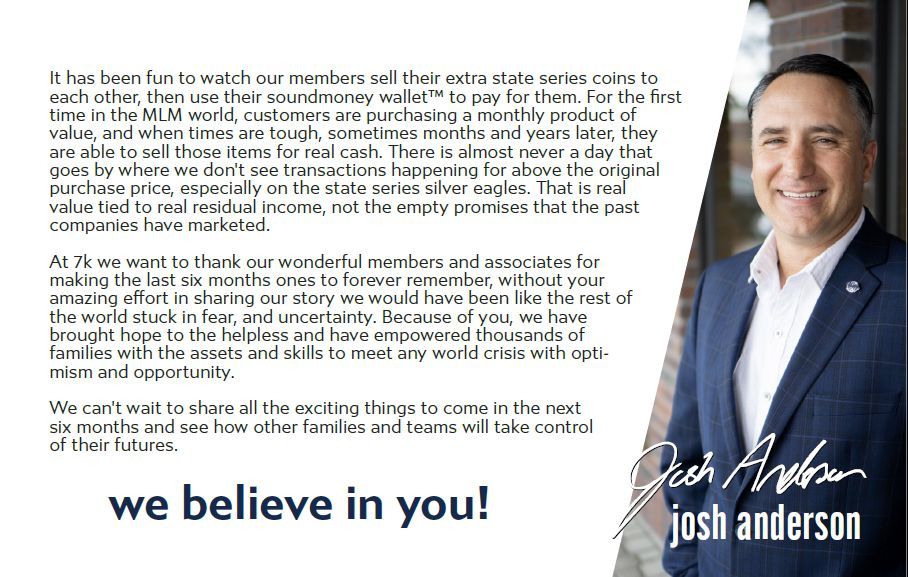 Founders Training
Six Months to Remember!
Without question, the last six months have been ones never to be forgotten. Everything we have ever known has changed somehow because of the COVID hsyteria, and the world has experienced some of its hardest economic challenges.
Here at 7k, it has been six months to remember because it has been the greatest six months in our company's history. We have seen record membership sales, record gold and silver purchases, record Gold prices, and most important record commission payouts to our wonderful 7k associates.
We have successfully launched and seen enormous success with soundmoney wallet. They are making purchasing and trading real gold and silver with other members around the world in a simple one-click transfer. We have seen as members who converted dollars to Gold in June have watched it increase in value by 45%. Those increases and commissions have made all the difference for so many families during this worldwide economic crisis.
It has been fun to watch our member sell their extra state series coins to each other, then use their soundmoney wallet to pay for them. For the first time in the MLM world, customers are purchasing a monthly product of value, and when times are tough, sometimes months and years later, they are able to sell those items for real cash. There is almost never a day that goes by where we don't see transactions happening for above the original purchase price, especially on the state series silver eagles. That is real value tied to real residiual income, not the empty promises that the past companies have marketed.
At 7k we want to thank our wonderful members and associates for making the last six months ones to forever remember, without your amazing effort in sharing our story we would have been like the rest of the world--stuck in fear and uncertainty. Because of you, we have brought hope to the helpless and have empowered thousands of families with the assets and skills to meet any world crisis with optimism and opportunity.
We can't wait to share all the exciting things to come in the next six months and see how other families and teams will take control of their futures.
We Believe in YOU!
Josh Anderson
Co-Founder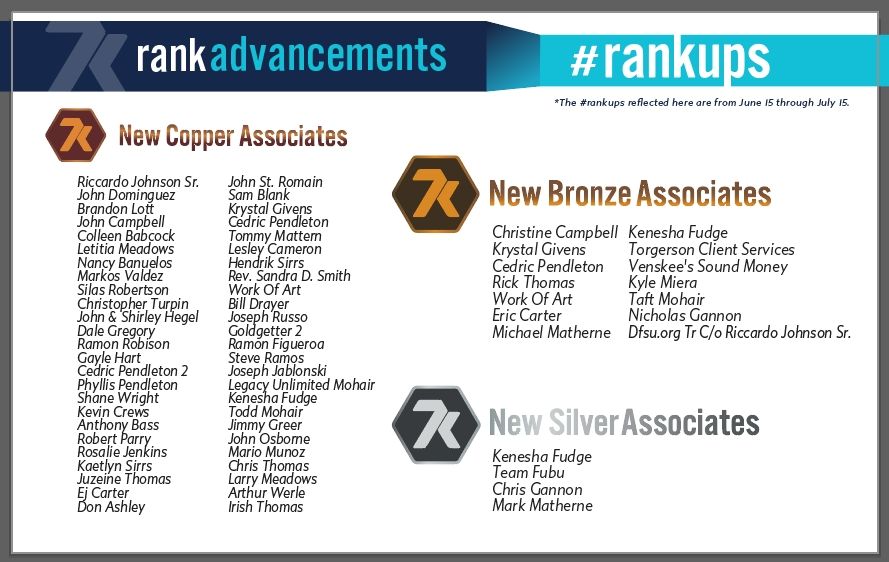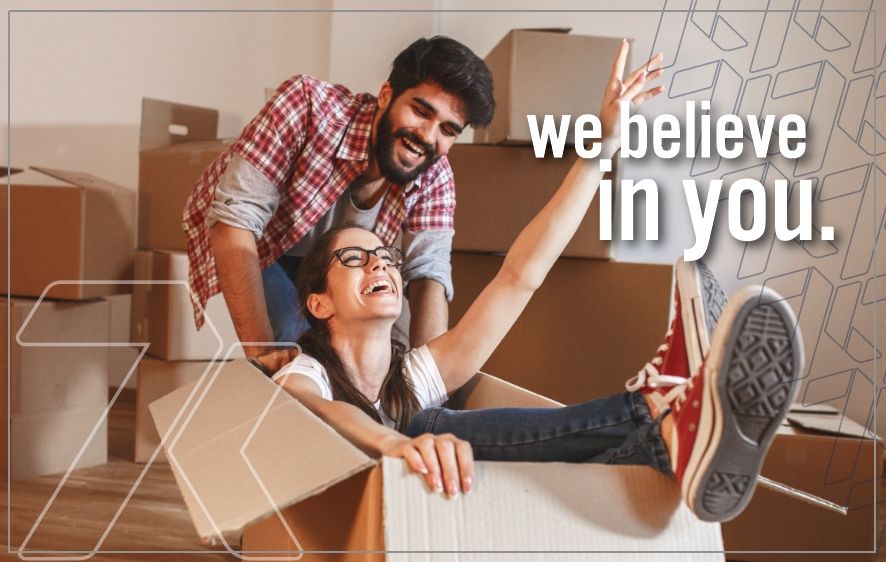 ---
Next Month's Vault Report