A Very Colorful Coin Drop!
Silver is beautiful and we all love it, but sometimes it's nice to add some other colors to the mix. This coin drop should just about do the trick!
But first, if you saw the Mandala Turtle coin we released, you know what a cool collection it comes from. If not, check out the Mandala Animals Coin Collection here. Well, coin #2 in the series is dropping next.
Not only that, but we're also dropping several other exciting coins.
Who's ready for a great big coin drop with plenty of colorful options to choose from?
Set your reminder alarms for...
Thursday, February 17th @ 11am
Mountain Time
Coin #1:
2020 Mandala Animals Bear 1/2oz Silver Coin MS70
Year of Issue: 2020
Country of Issue: Republic of Ghana
Mint: Mint of Poland
Face Value: 2 Credis
Coin Weight: 1/2 Troy Ounce
Metal Purity: 0.999
Metal Composition: Fine Silver
Mintage: 3,000
Features: Swarovski Crystal
Did you know that bears are native to most continents on Earth? These apex predators may look cute and cuddly, but don't underestimate the power behind one swat of their gigantic paws! Take a look at how the scarlet, emerald, and magenta in the Mandala bear contrast and complement one another. This is truly a special coin for a special animal.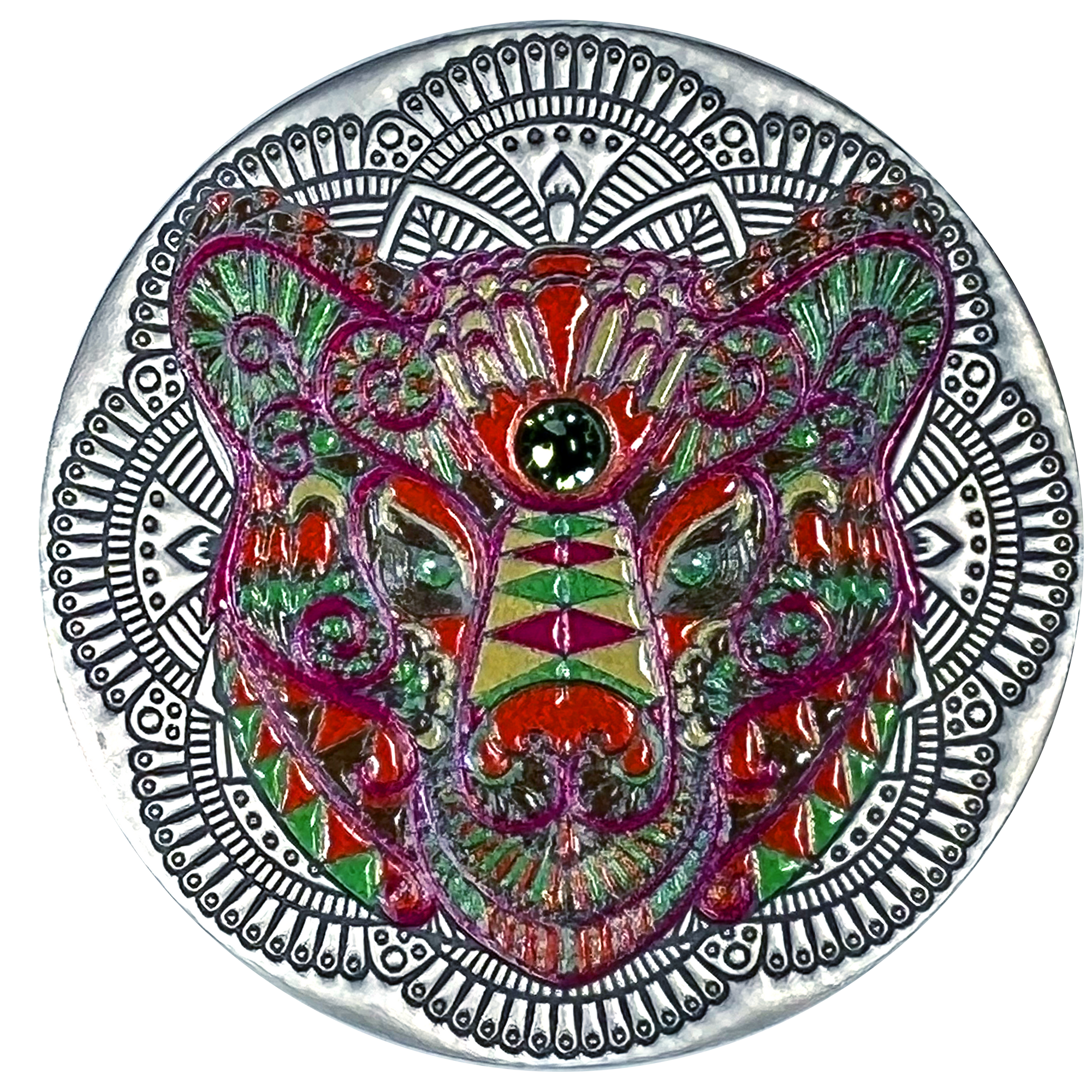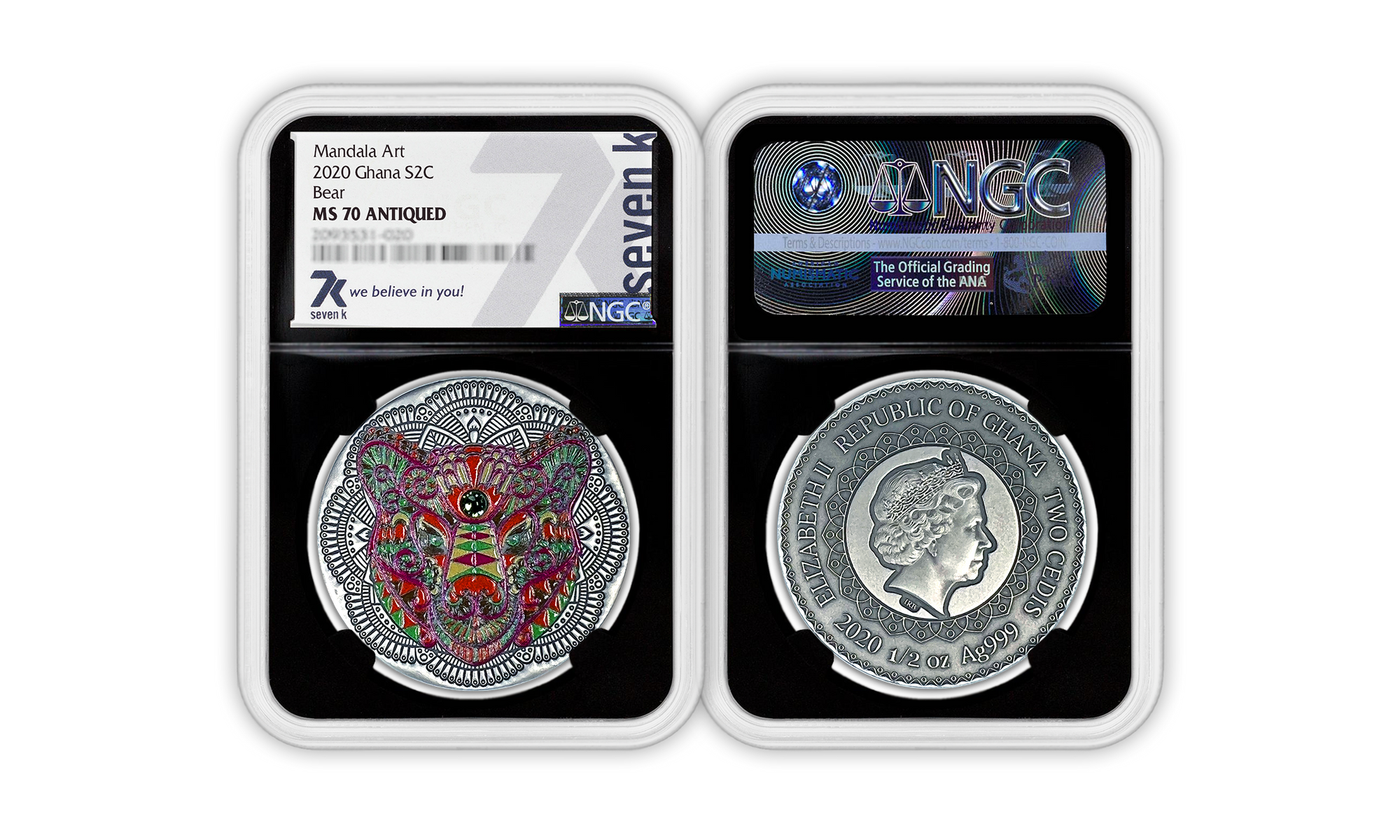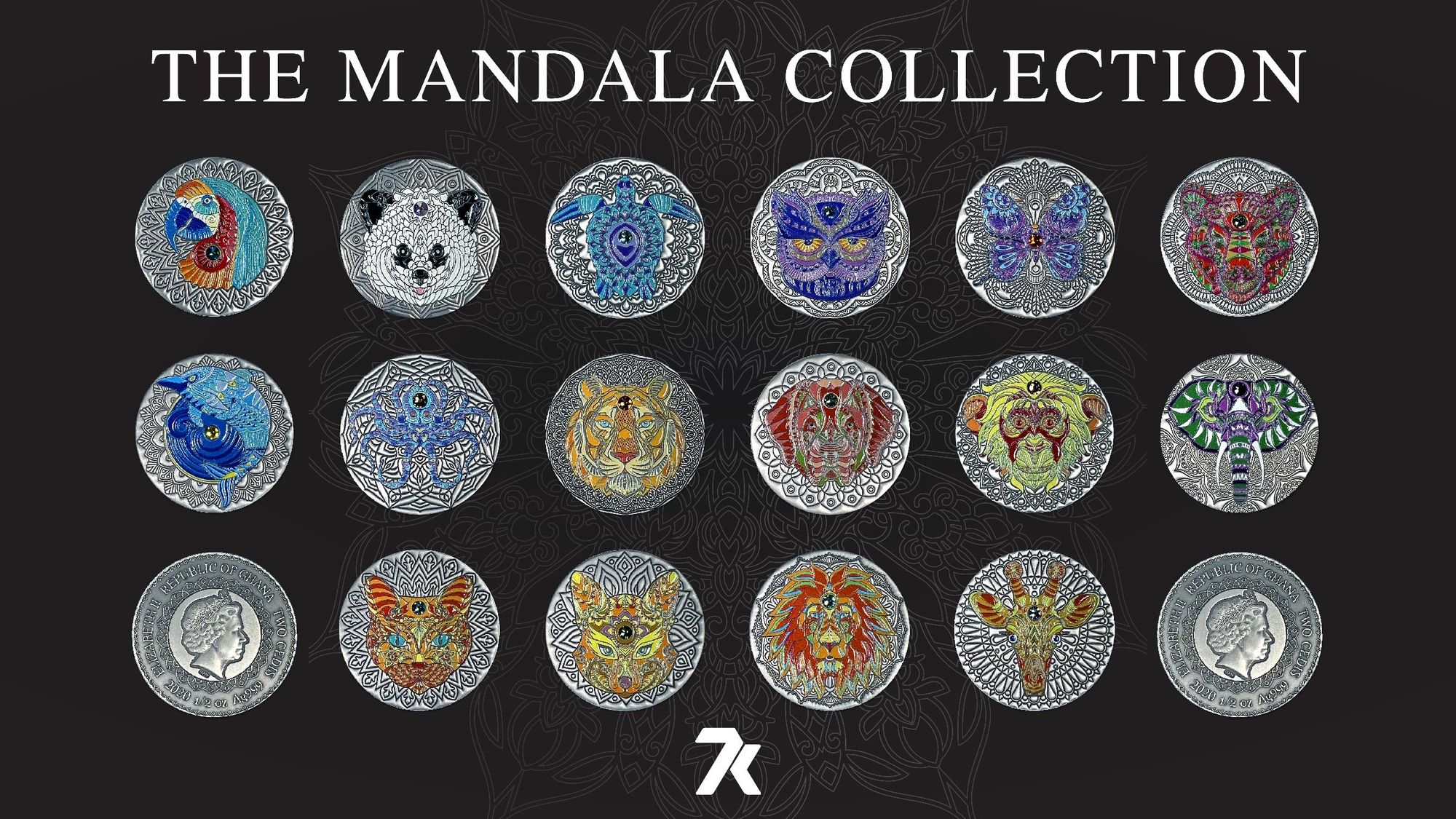 ---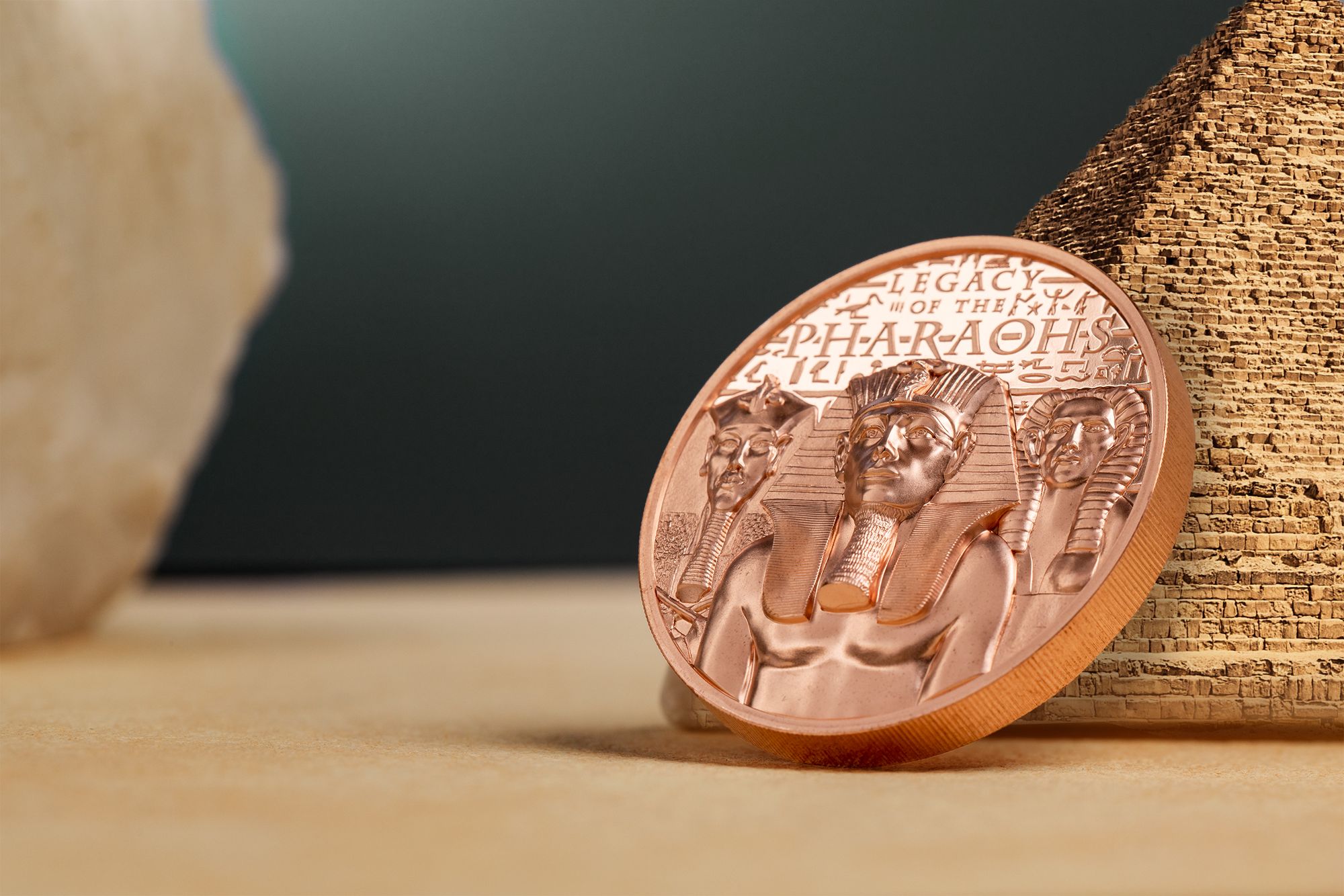 Coin #2:
2022 Legacy of the Pharaohs 50g Copper Coin PF70
Year of Issue: 2022
Country of Issue: Cook Islands
Mint: Mayer Mint
Face Value: 1 Dollar
Coin Weight: 50 Grams
Metal Purity: 0.999
Metal Composition: Fine Copper
Mintage: 5000
Features: Ultra High Relief
Mummies? Nah, silly! It's the Ancient Egyptian Pharaohs Akhenaten, Thutmosis III, and Sobekneferu, one 50 grams of pure copper. These guys and gal—yes, you heard us right, Queen Sobekneferu was a lady—were pretty influential leaders in their day. Pyramids were constructed under their rule. Enjoy the bird's eye view of the legacy of some of the greatest Egyptian Pharaohs on the obverse of the coin as well. It's not bad on the eyes!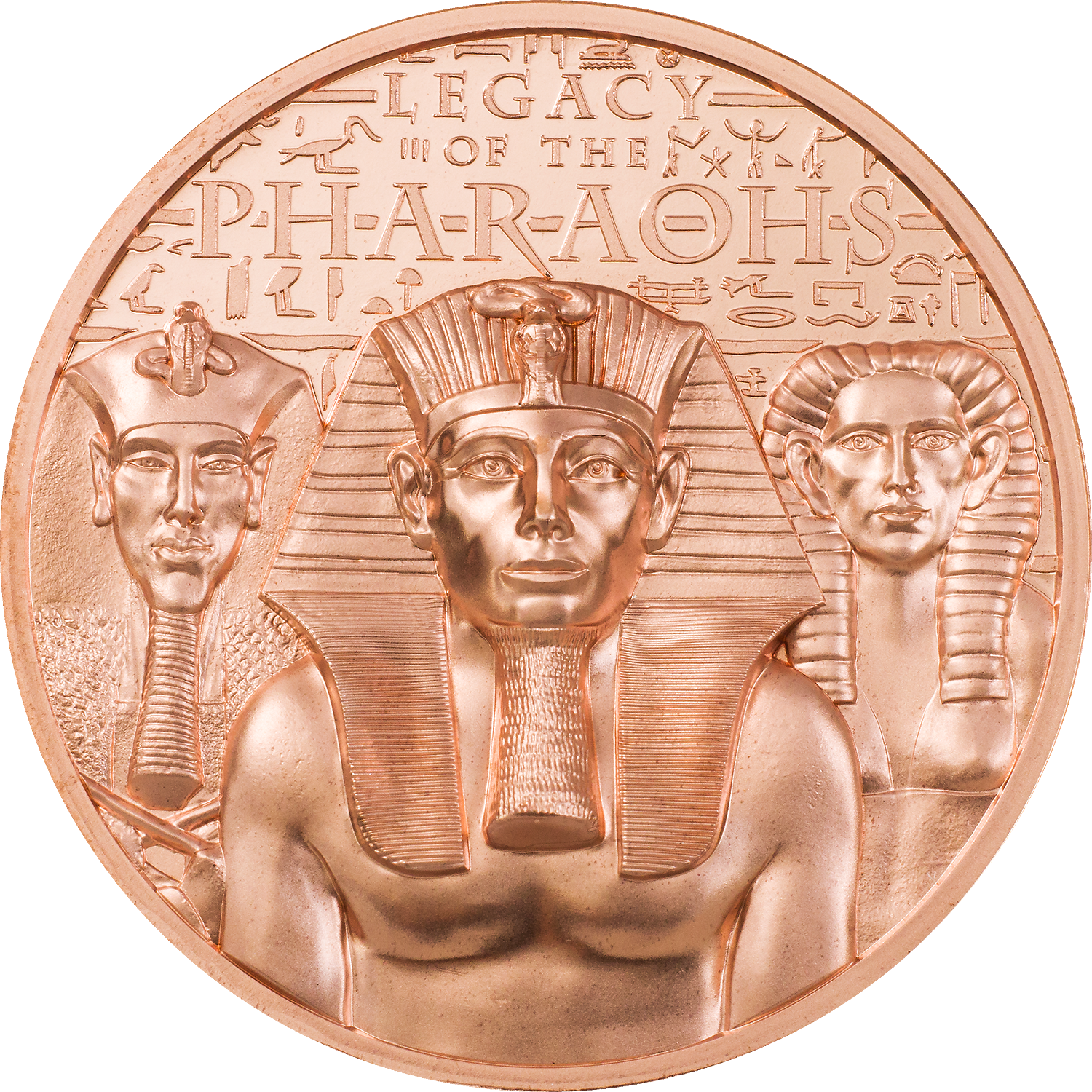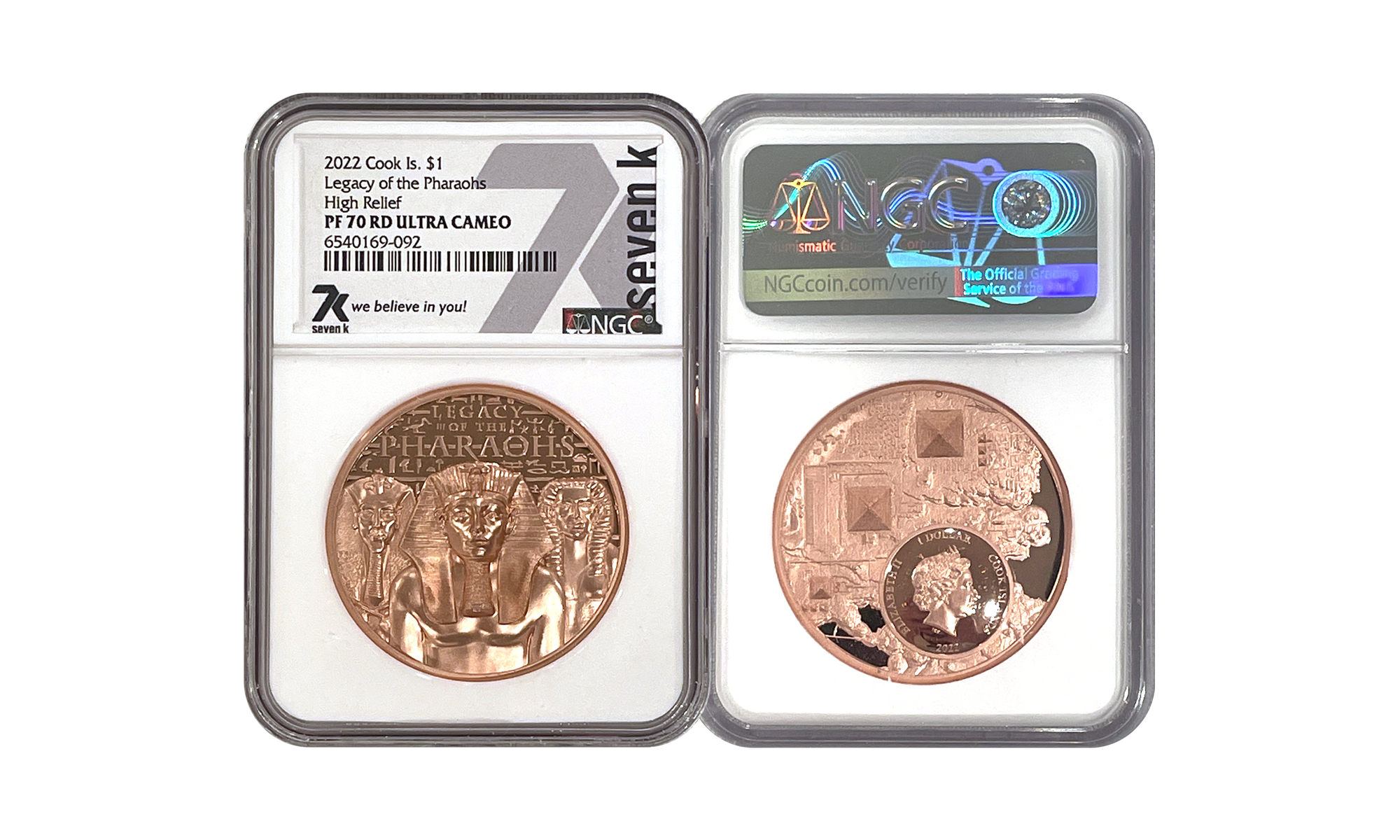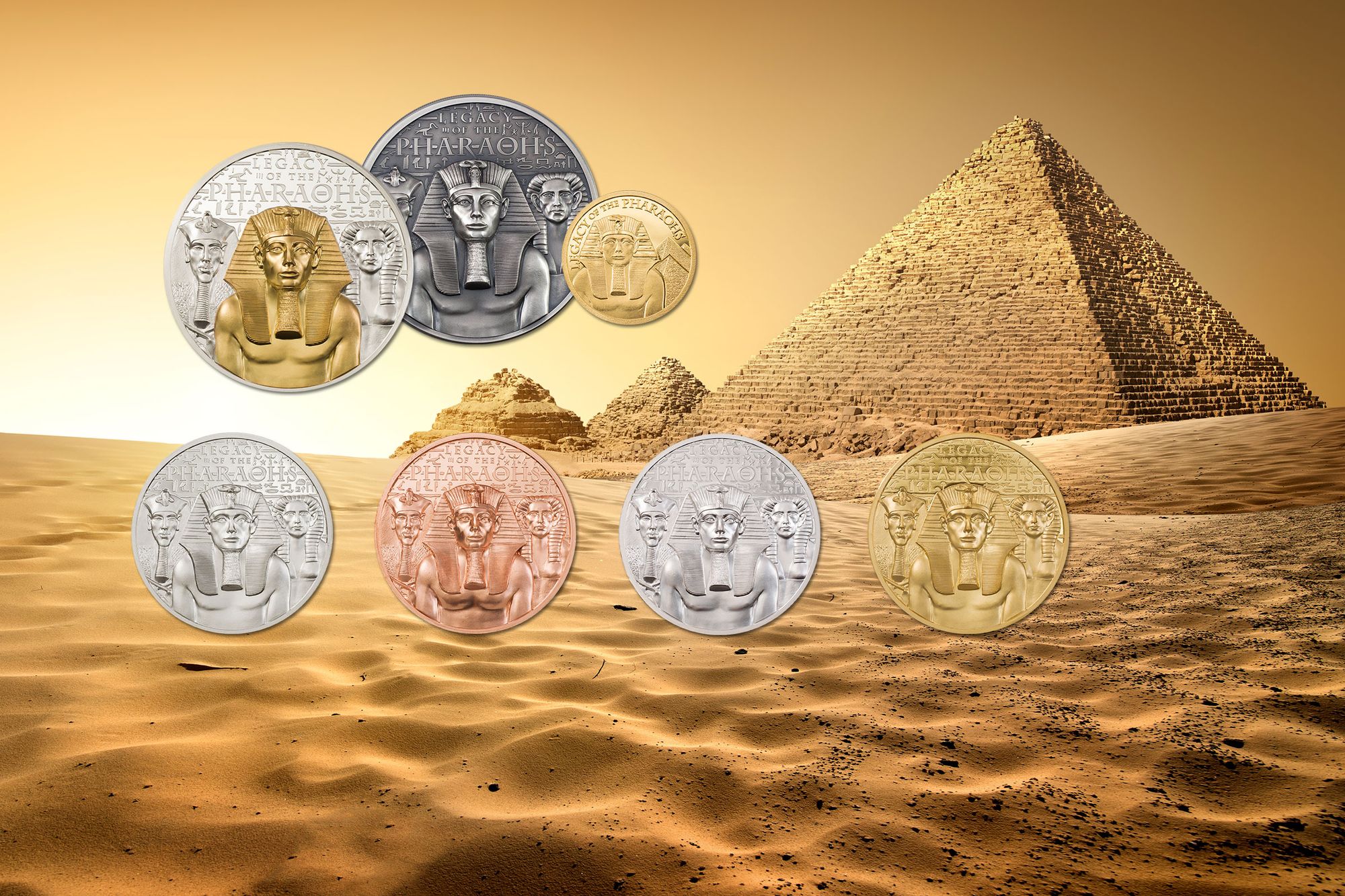 ---
Coin #3:
2022 Ancient Gods Shiva Protector of the Universe Gilded 3oz Silver Coin MS70
Year of Issue: 2022
Country of Issue: Cook Islands
Mint: BH Mayer
Face Value: 20 Dollars
Coin Weight: 3oz
Metal Purity: .999
Metal Composition: Silver
Mintage: 99 pcs
Features: Antiqued enhanced with dark highlights and partial pure gold gilding
Did you know you're holding a member of the Holy Trinity of Hinduism? Shiva, Protector of the Universe, Creator and Destroyer, is in charge of the cycle of the universe. When one cycle is over, Shiva destroys the world and then allows a new cycle to begin. Seems like a pretty big job for one guy, but I guess having endless arms would make things easier!
This is a 7k Exclusive. We have the entire mintage for the entire series. These coins aren't sold anywhere else in the world!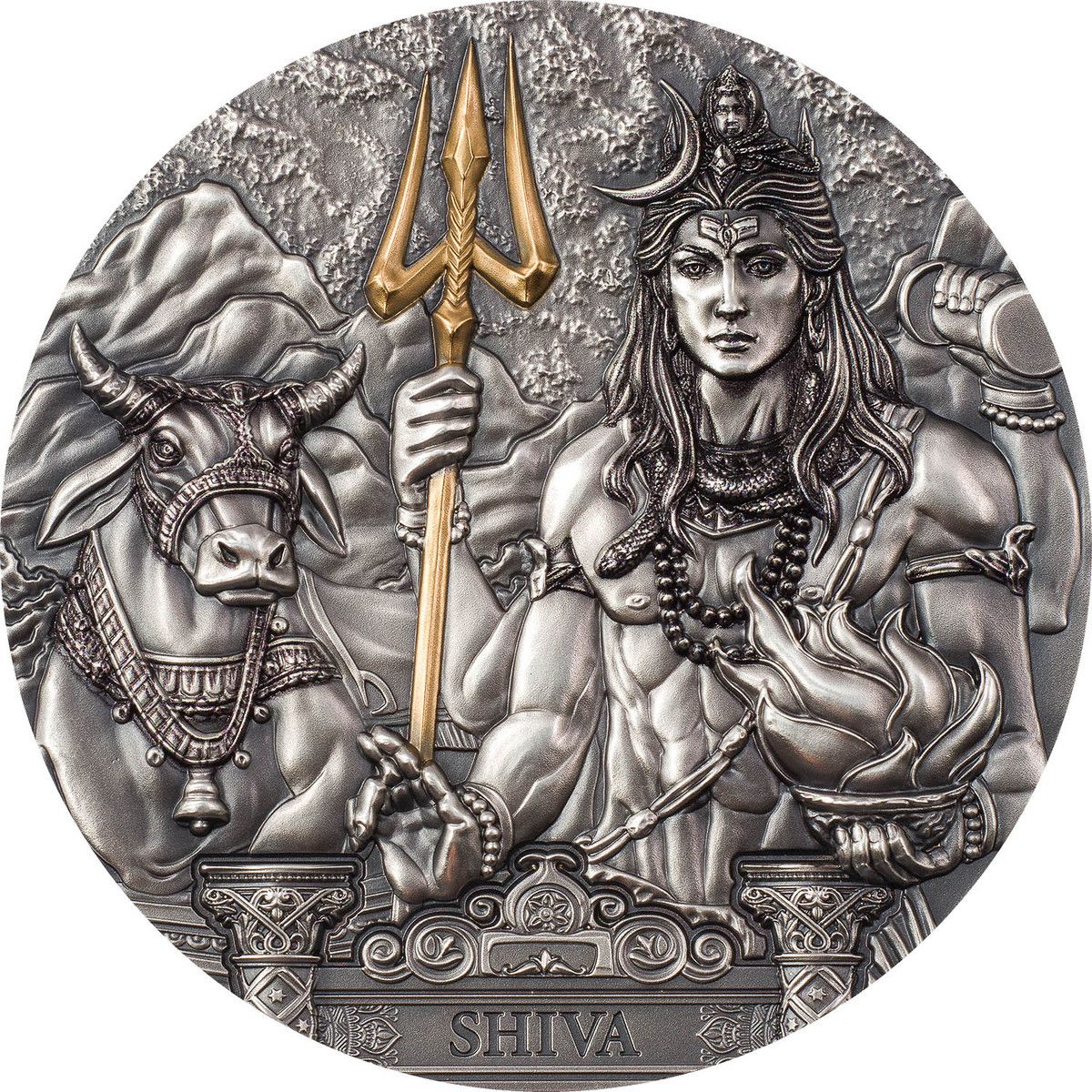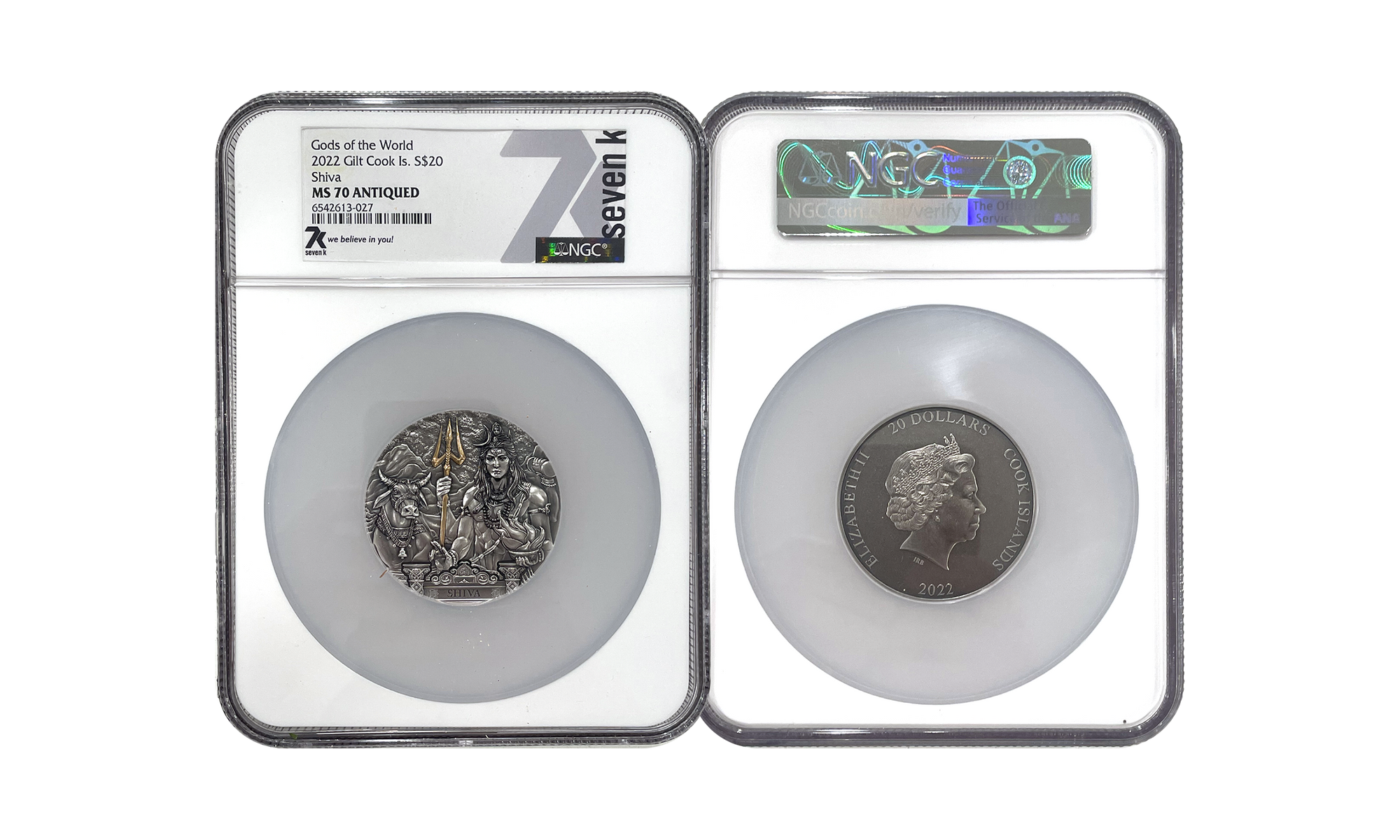 ---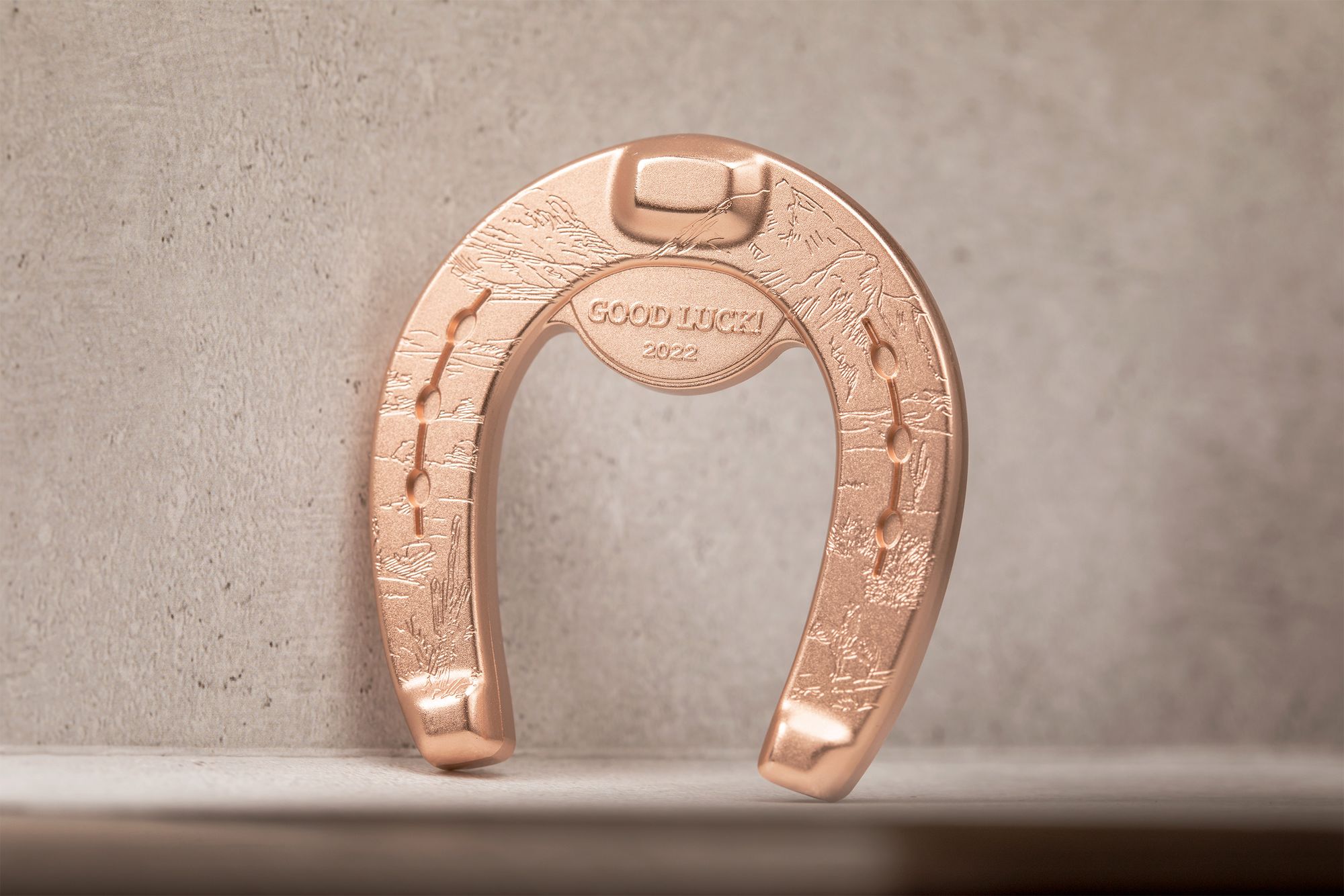 Coin #4:
2022 Silver Charms Rosy Horseshoe 1oz Silver Coin MS70
Year of Issue: 2022
Country of Issue: Palau
Mint: Mayer Mint
Face Value: 5 Dollars
Coin Weight: 1 Troy Ounce
Metal Purity: 0.999
Metal Composition: Fine Silver
Mintage: 999
Features: Special Shape & Red Rose Gold Plating
The "Rosy Horseshoe" is a 1 ounce silver addition to the lucky collection, 'Silver Charms'! Legend says you can hold your horseshoe in a 'U' shape to catch good luck as it falls, or flip it down over your head to let good luck fall down onto you. How will you let your new luck charm work for you? The decision is yours!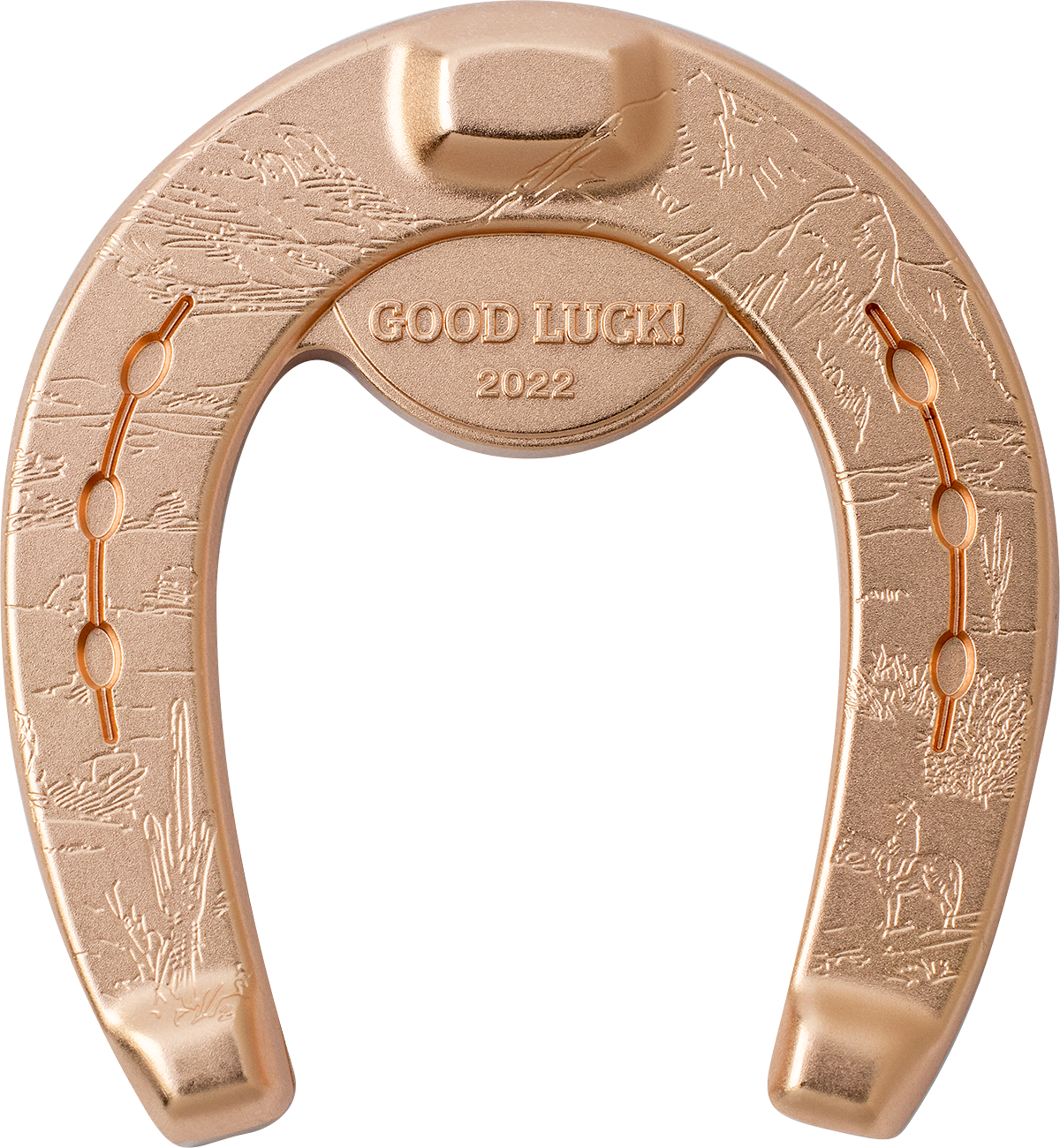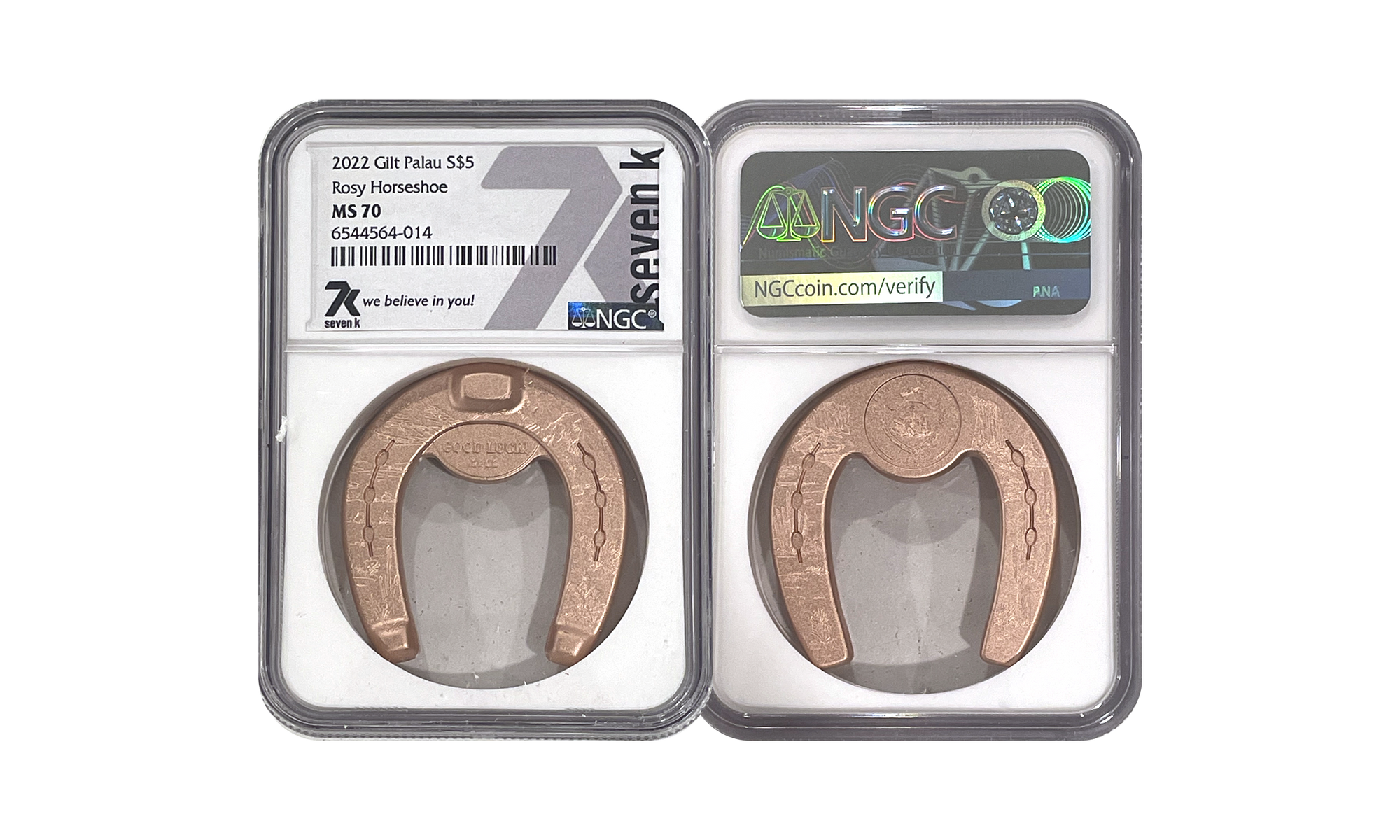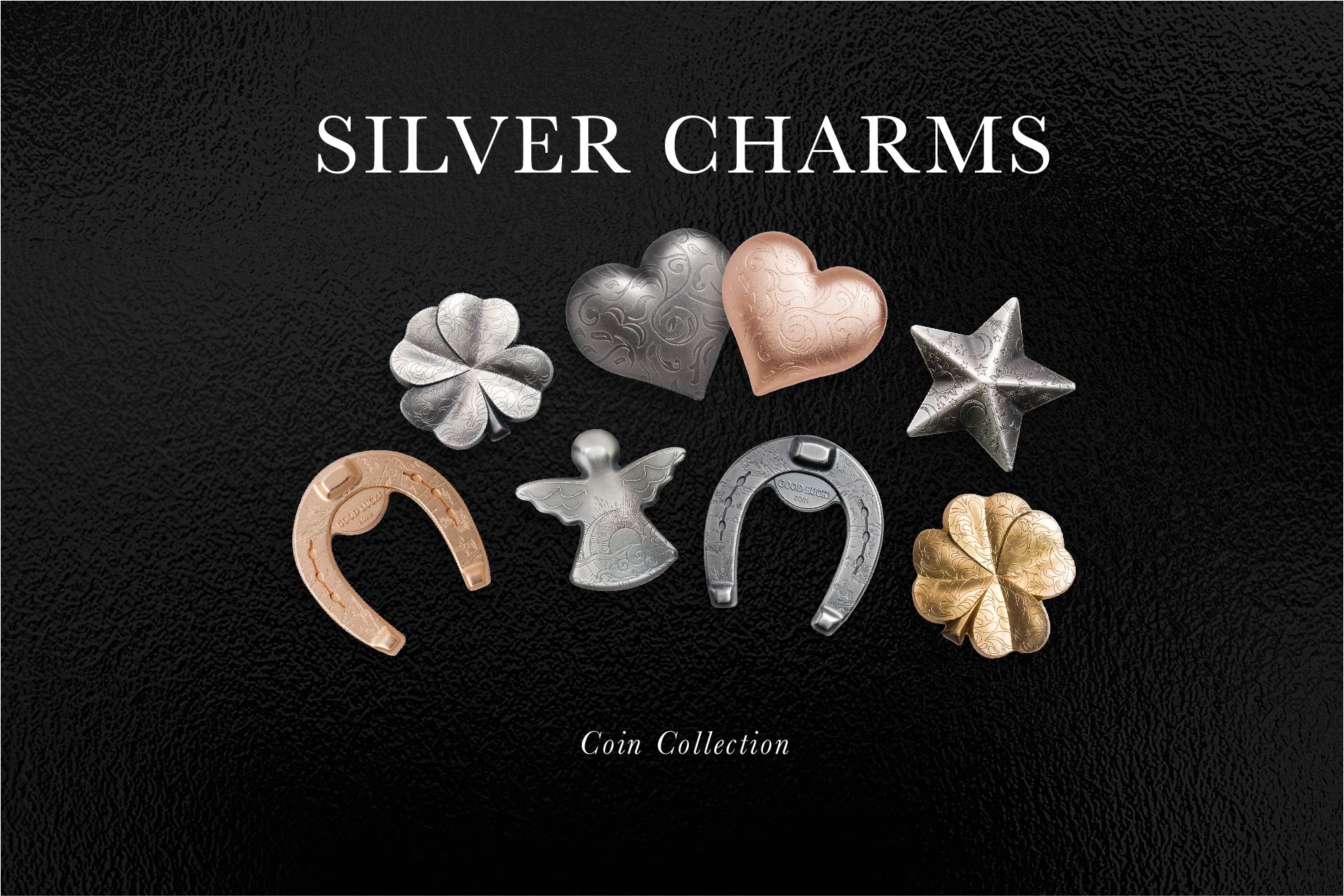 ---
Coin #5:
2021 Lions Growing Up Obsidian Black Proof 2oz Silver Coin PF70 & PF69
Year of Issue: 2021
Country of Issue: Tanzania
Mint: Mayer Mint
Face Value: 1500 Shillings
Coin Weight: 2 Troy Ounces
Metal Purity: 0.999
Metal Composition: Fine Silver
Mintage: 111
Feature: Obsidian Black Proof
This is a 7k Exclusive! That means we are the only ones selling these in the world. We got all 111 of the mintage and this drop is the only opportunity to buy them. Is 7k membership awesome or what?!
You hold a very special coin in your hand. This coin is exclusive to 7k, no other retailer in the world sells it! And with a limited mintage of 111, it's pretty unlikely you'll stumble into another owner of this coin. But if you do, you can connect over your obsession with the king of the wild in lush Obsidian Black Proof and watching the mighty lion grow from a young cub into his majestic self as you turn over your treasure.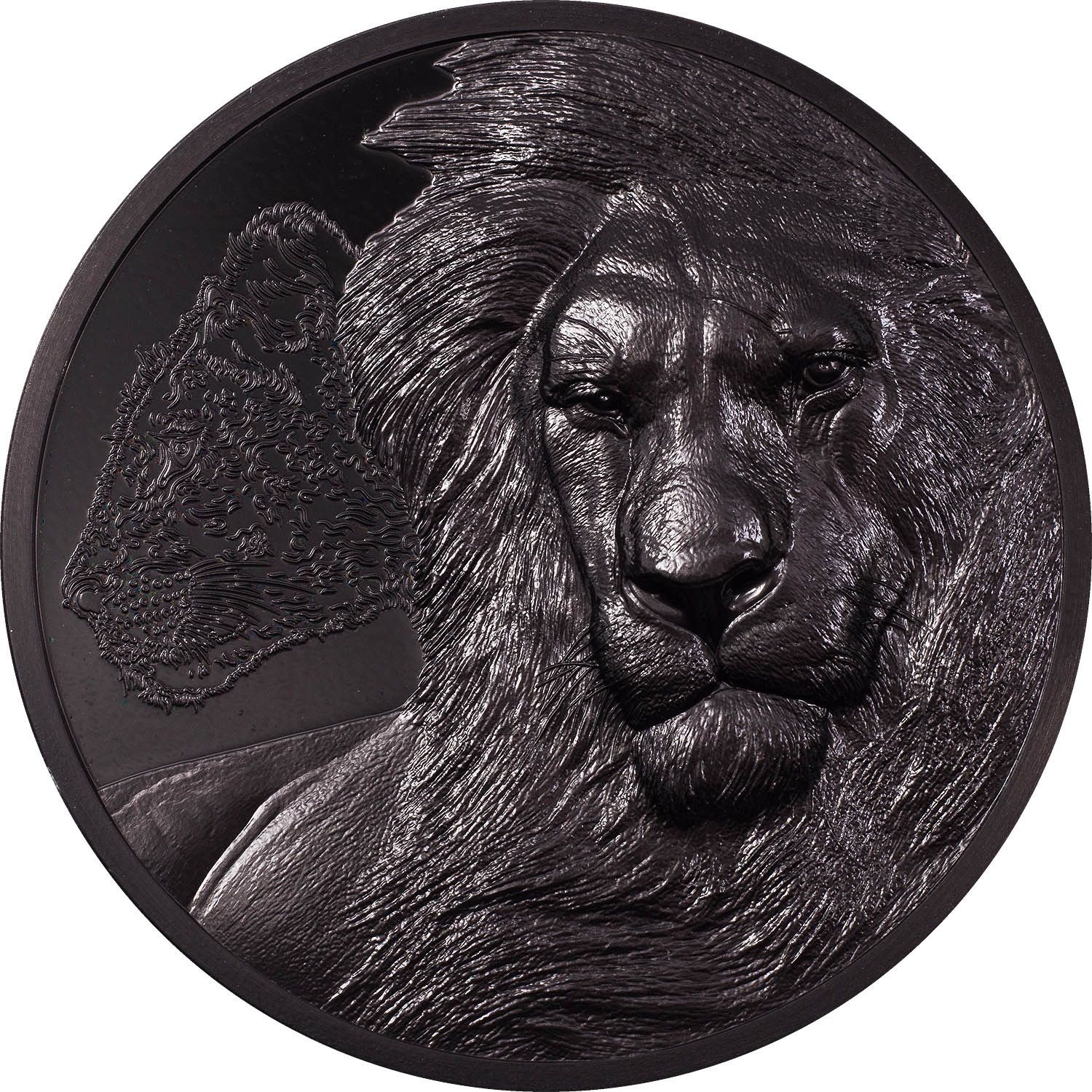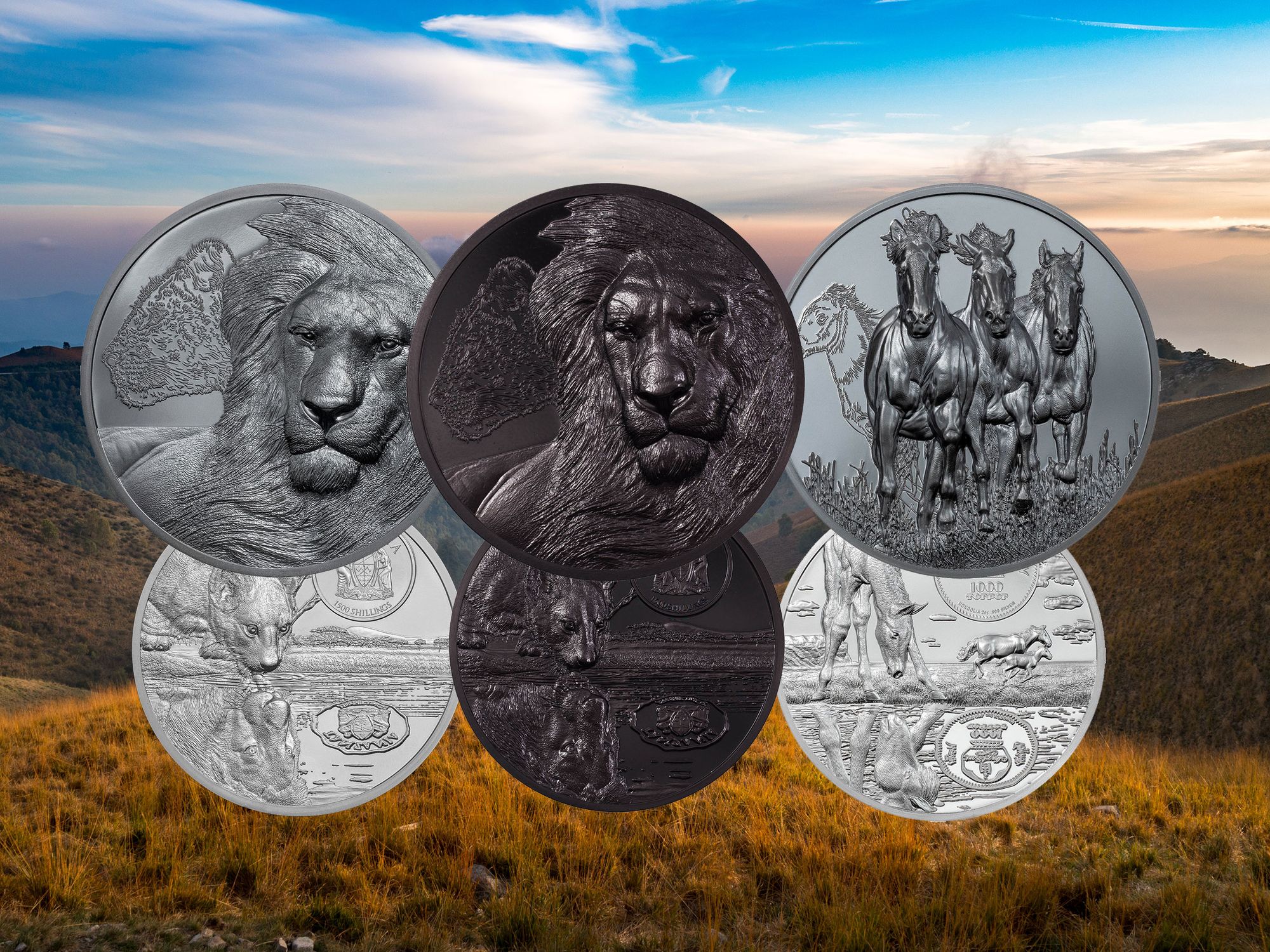 ---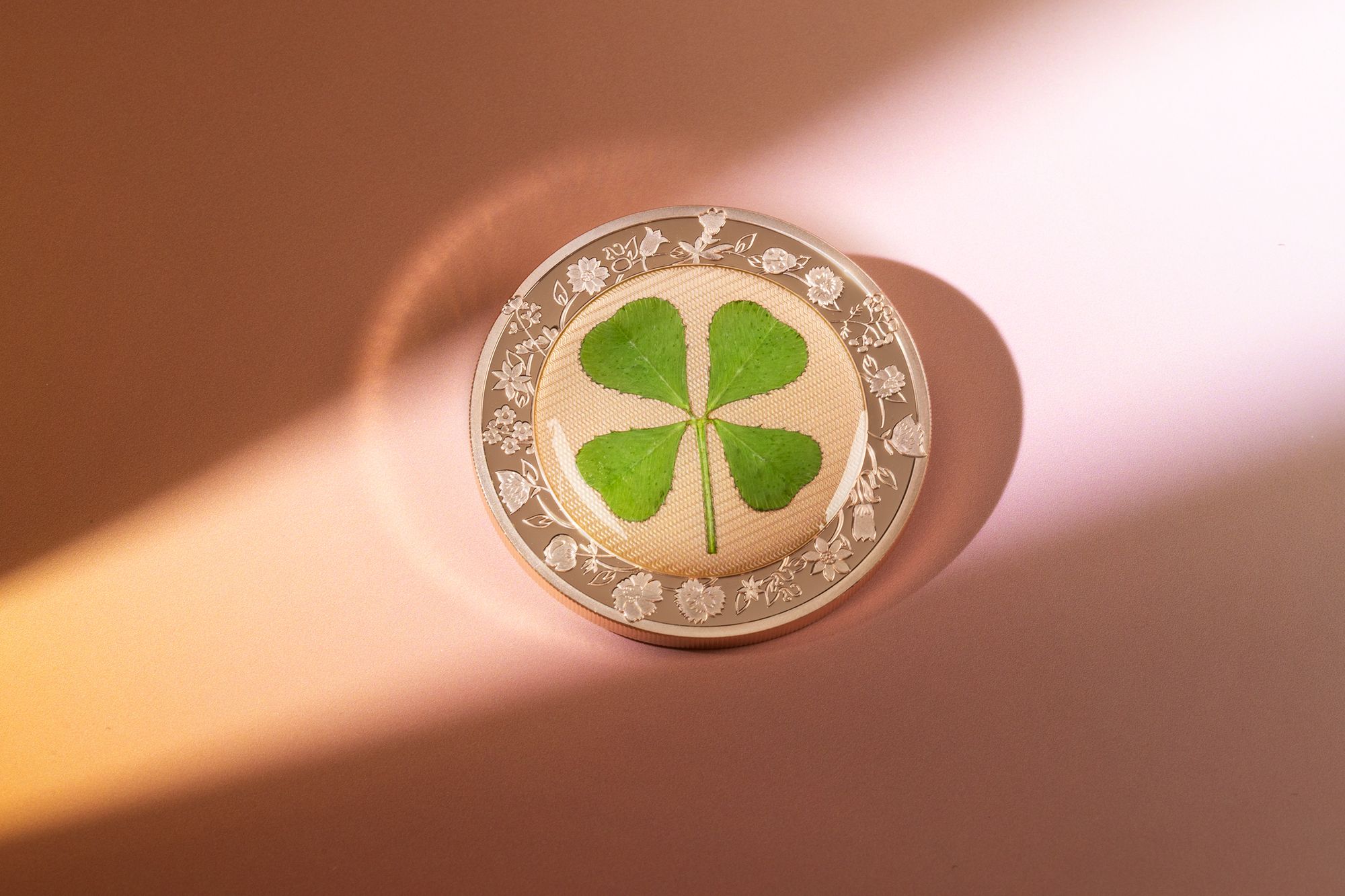 Coin #6:
2022 Ounce of Luck 1oz Rose Gold-Plated Silver Coin MS70
Year of Issue: 2022
Country of Issue: Palau
Face Value: 5 Dollars
Mint: Mayer Mint
Coin Weight: 1 Troy Ounce
Metal Purity: 0.925
Metal Composition: Rose Gold Plated Silver
Mintage: 2022
Features: Real Four-Leaf Clover
You won't find a better luck charm than this 1 ounce silver piece inlaid with a real 4 leaf clover! Legend promises luck to those who find the elusive clover, so to have your own encased in silver? Well that's the best luck there is! Keep it close and enjoy the bounty of blessings it brings.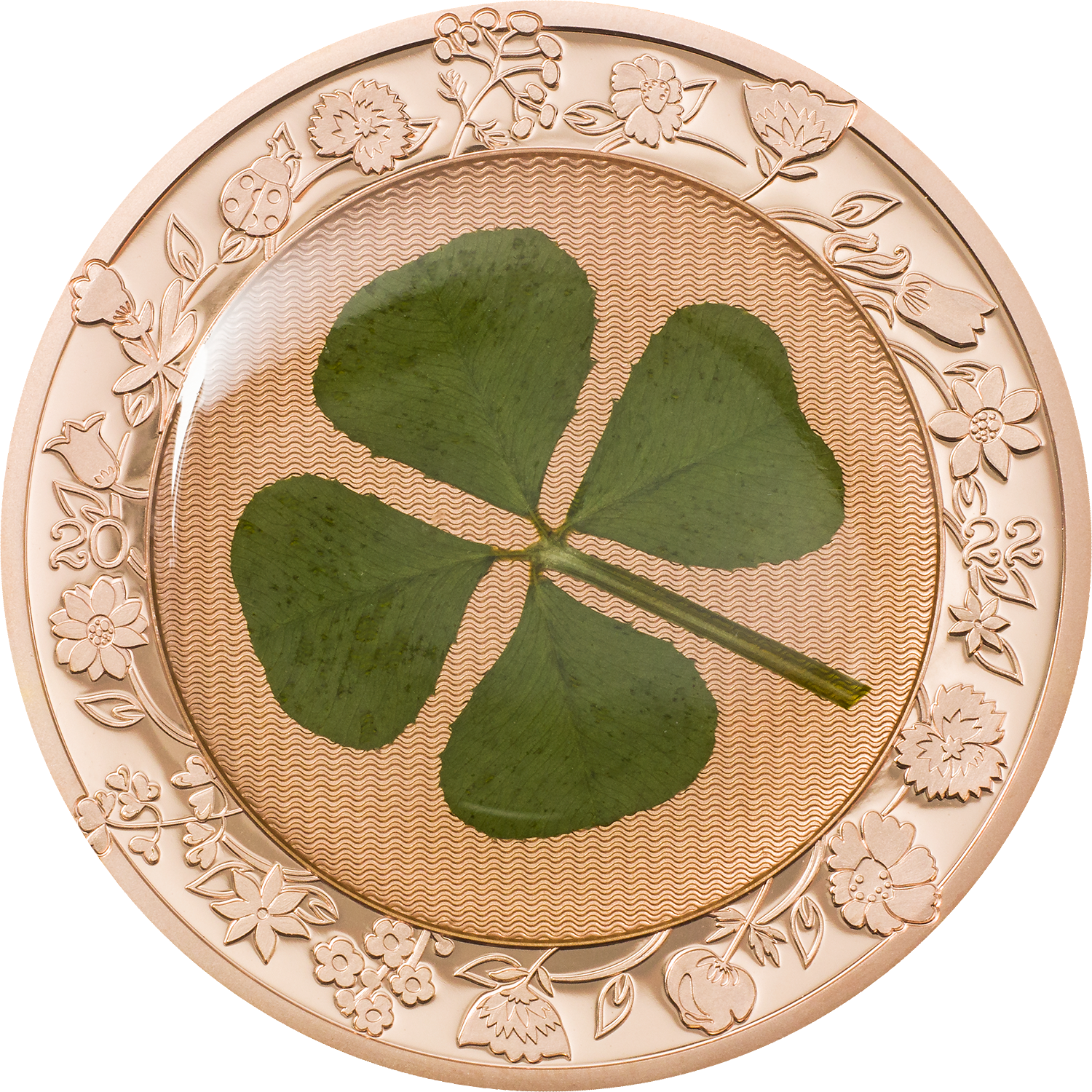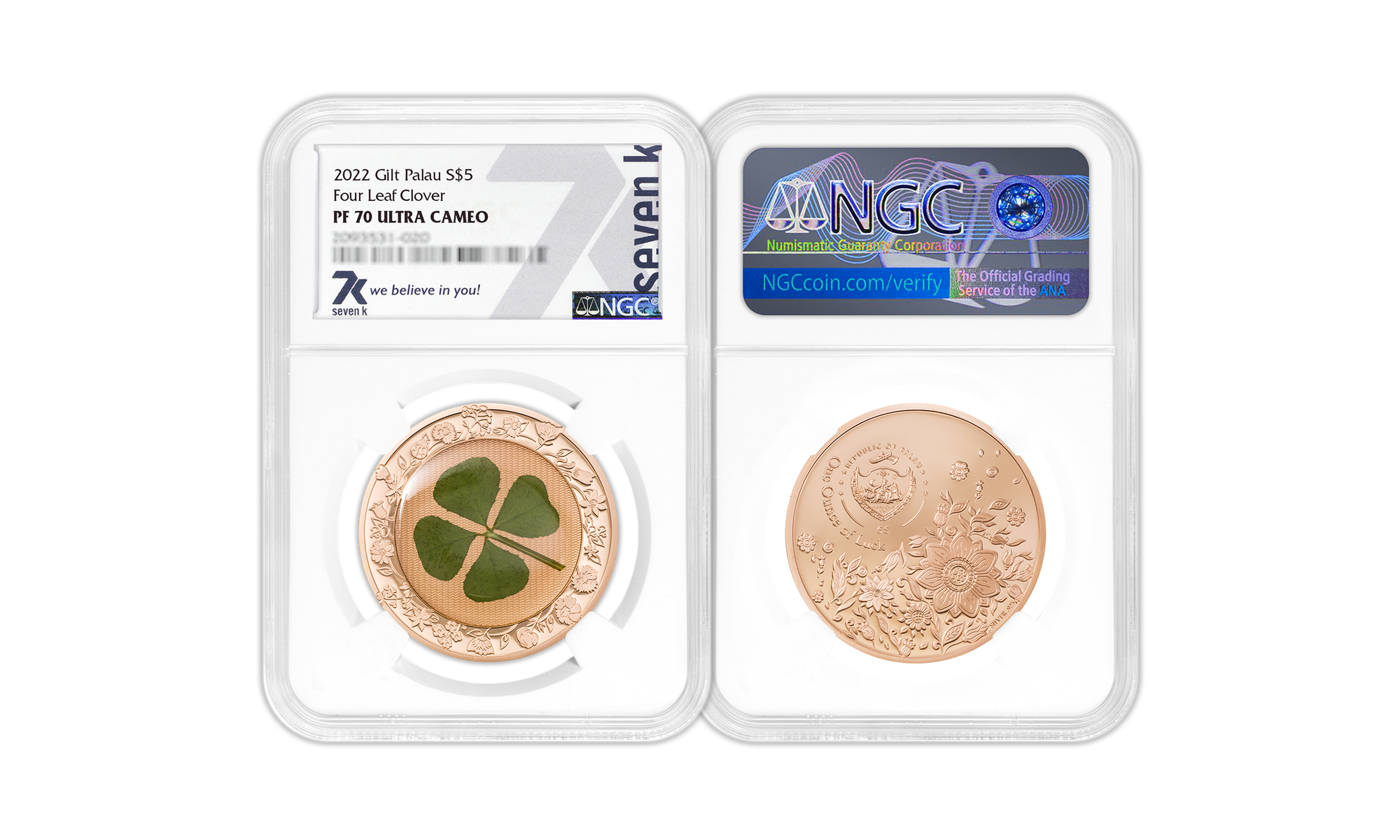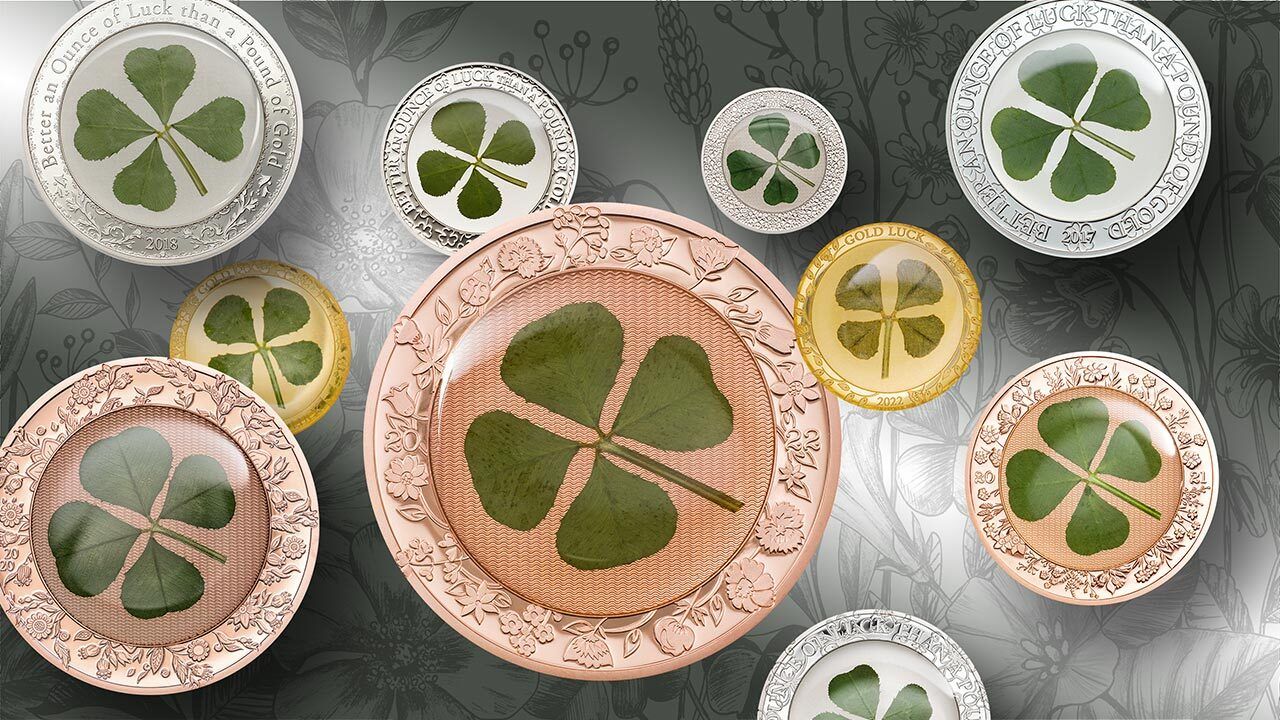 ---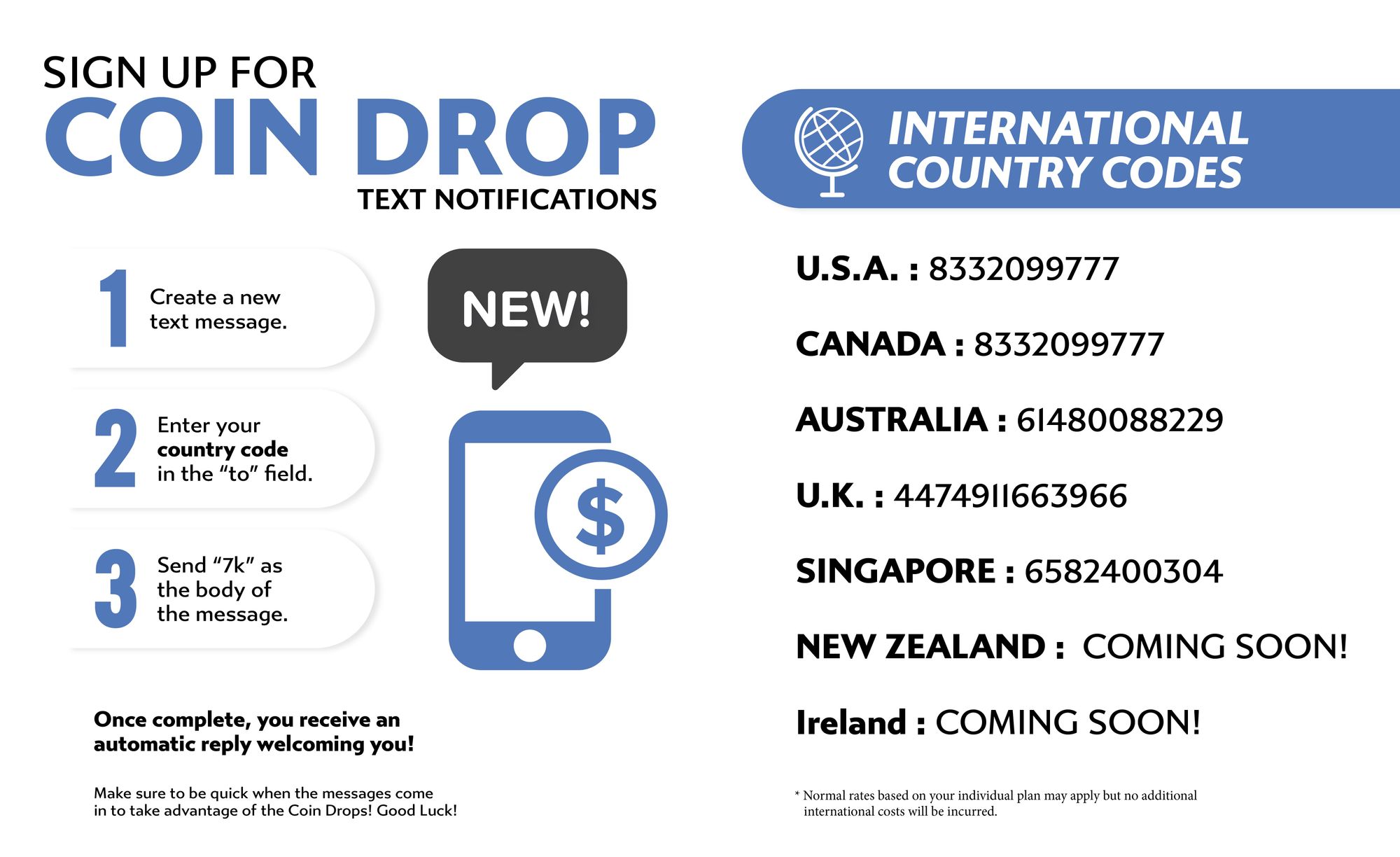 Not sure how to get in on a Coin Drop?
First, make sure you're on our text list.
Here's how:
International Texting
USA: 8332099777
Canada: 8332099777
Australia: 61480088229
U.K.: 4474911663966
Singapore: 6582400304
New Zealand: Coming Soon!
Ireland: Coming Soon!
Instructions:
Open your text message application on your cell phone.
Start a new text message.
Enter the number for your specific country in the "to" field.
Type "7k" into the body of the message.
Hit send and wait for an auto reply welcoming you.
Make sure to be quick the messages come in to take advantage of Coin Drops!
Please note: normal rates based on your individual plan may apply but no additional international costs will be incurred
Next, make sure you're a member of the 7k Exclusive Group on Facebook:
Step 1: In the Facebook search bar, type "7k Exclusive".
Step 2: Click on the "GROUPS" section right under the search bar. Then, look for the "7k Exclusive" group, and click JOIN.
Step 3: After clicking on "join", a window will appear. Answer the questions.
Step 4: Click on the "SUBMIT" button and wait up to 48 hours for your approval!
OR open your camera on any smartphone and scan the QR code in the image above to take you straight to our EXCLUSIVE Facebook group page.
If you have any questions, don't hesitate to contact Customer Care at: 208.314.2587 or by email at support@7kmetals.com.
And finally, log in to your 7k back office before the time of the Coin Drop. At exactly the appointed time, input the access code that you got from the timer on this page, your text or on the FB group, and race to get the coin or coins you want!
We understand that some people don't receive the texts immediately when we send them, so we've added a handy countdown to the top of this page. When the timer reaches zero, the code will automatically display, giving you instant access to the info you need to get the coins you want.
Best of Luck!
Team 7k