It's gonna be a WILD one, people! Or should we say, a 'wild two'? This week we're dropping TWO very exclusive, sought-after coins in FIVE different grades. All dropping on 12-2-22 at 2pm! Check them out below and mark your calendars. This is one you won't want to miss out on!
Friday, December 2nd @ 2pm
Mountain Time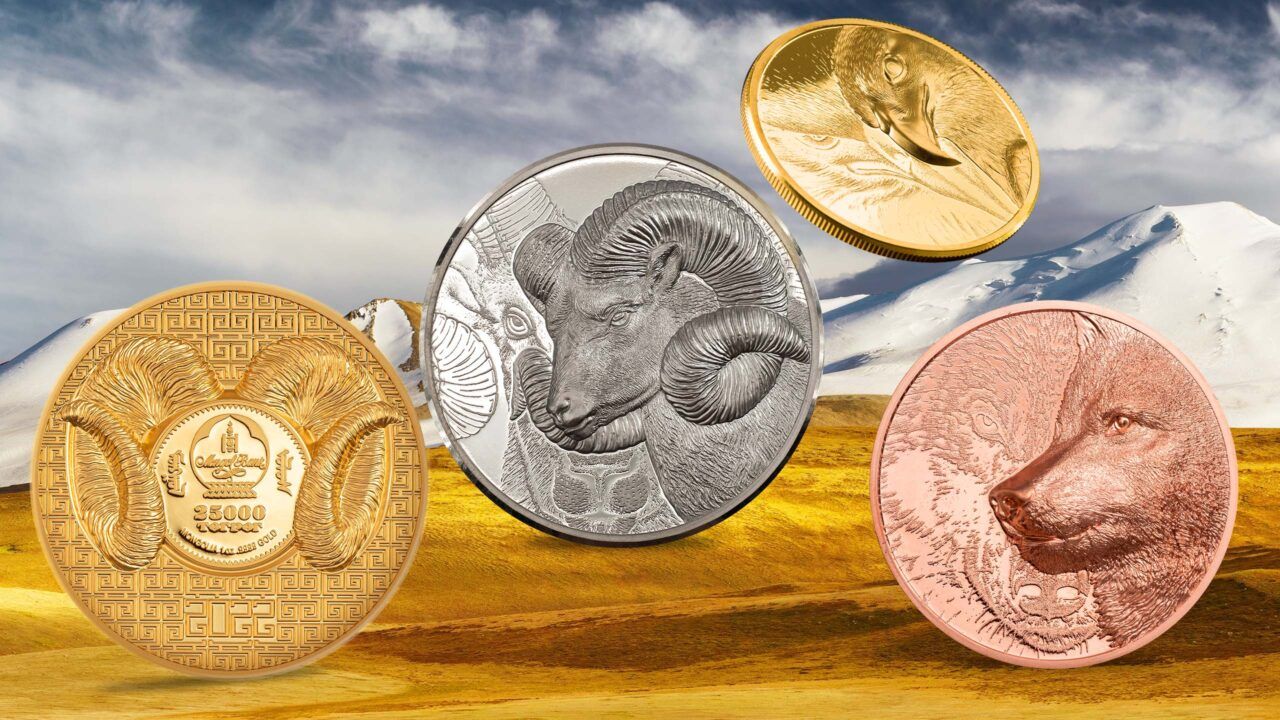 2021 Wild Mongolia Mystic Wolf Obsidian Black 5oz Silver Coin PF70
Year of Issue: 2021
Country of Issue: Mongolia
Mint: Mayer Mint
Face Value: 5000 Togrog
Coin Weight: 5 Troy Ounces
Metal Purity: 0.999
Metal Composition: Fine Silver
Mintage: 500
Feature: Obsidian Black Proof
The Wild Mongolia series released this exceptional 5 oz edition of the Mystic Wolf using an Obsidian Black Proof quality against minting techniques that are guaranteed to get a double take. Keeping with tradition, the Mystic Wolf scans its surroundings from two angles on the reverse of this coin while the snapping jaws on the obverse close in a snarl. All parts of this coin are sleek, gripping, and leave you hungry for more.
Exclusive!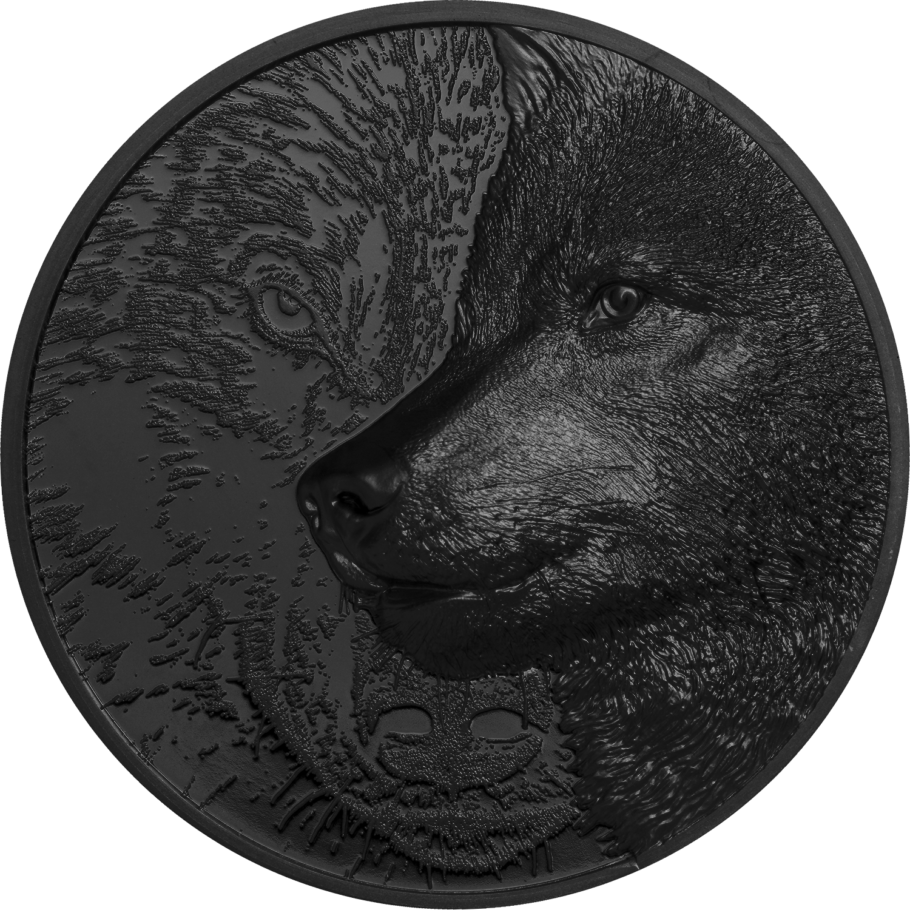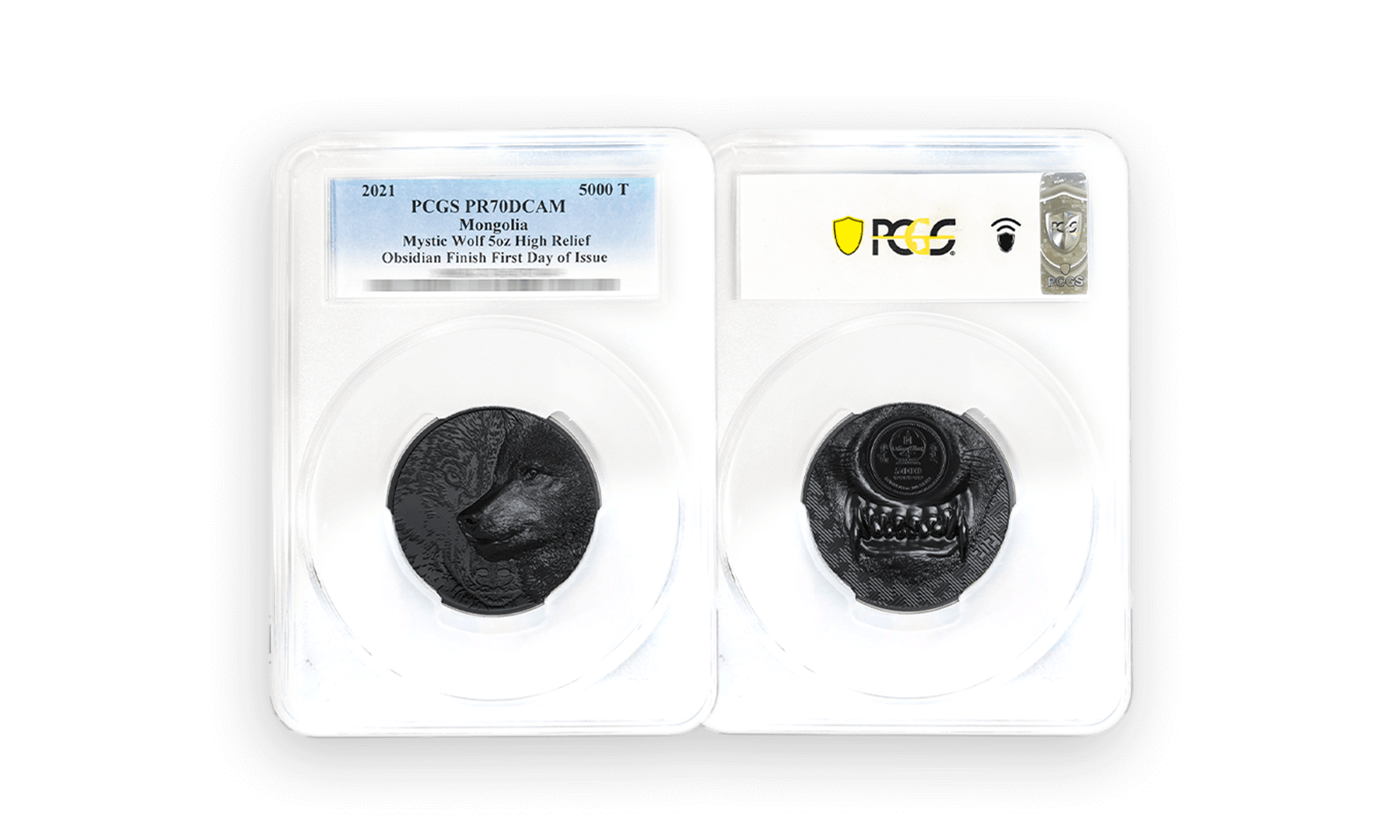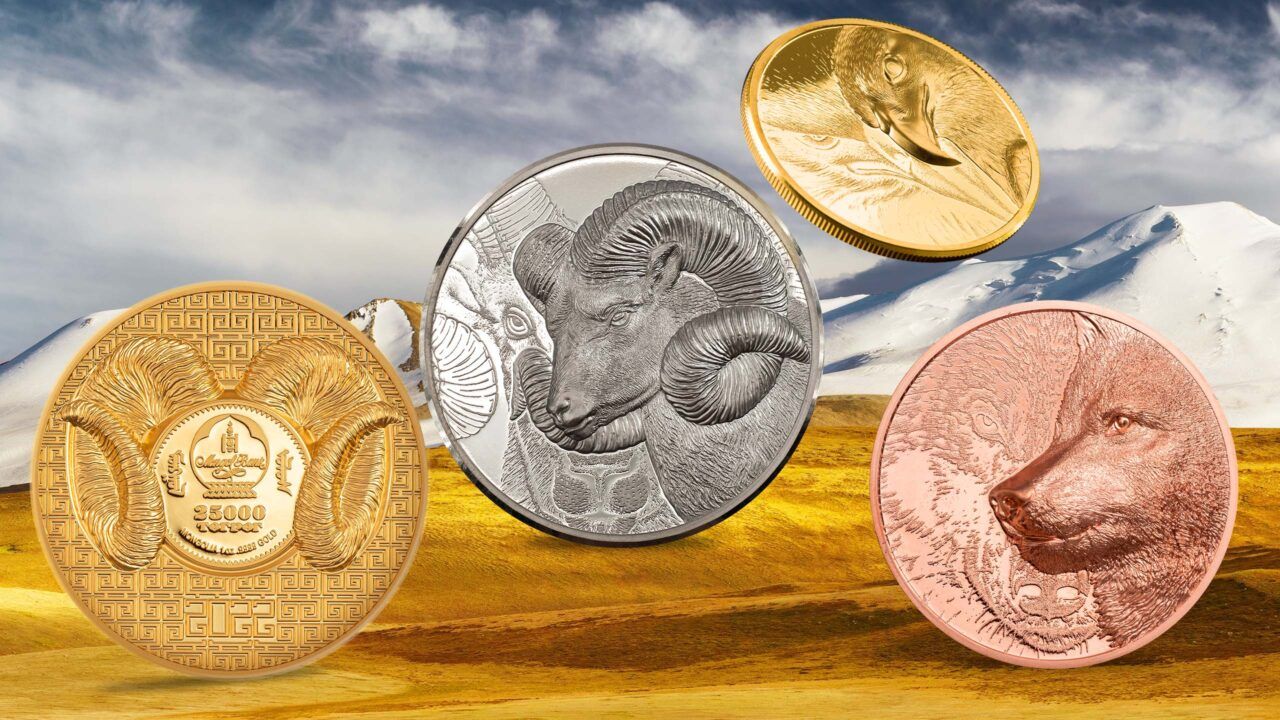 ---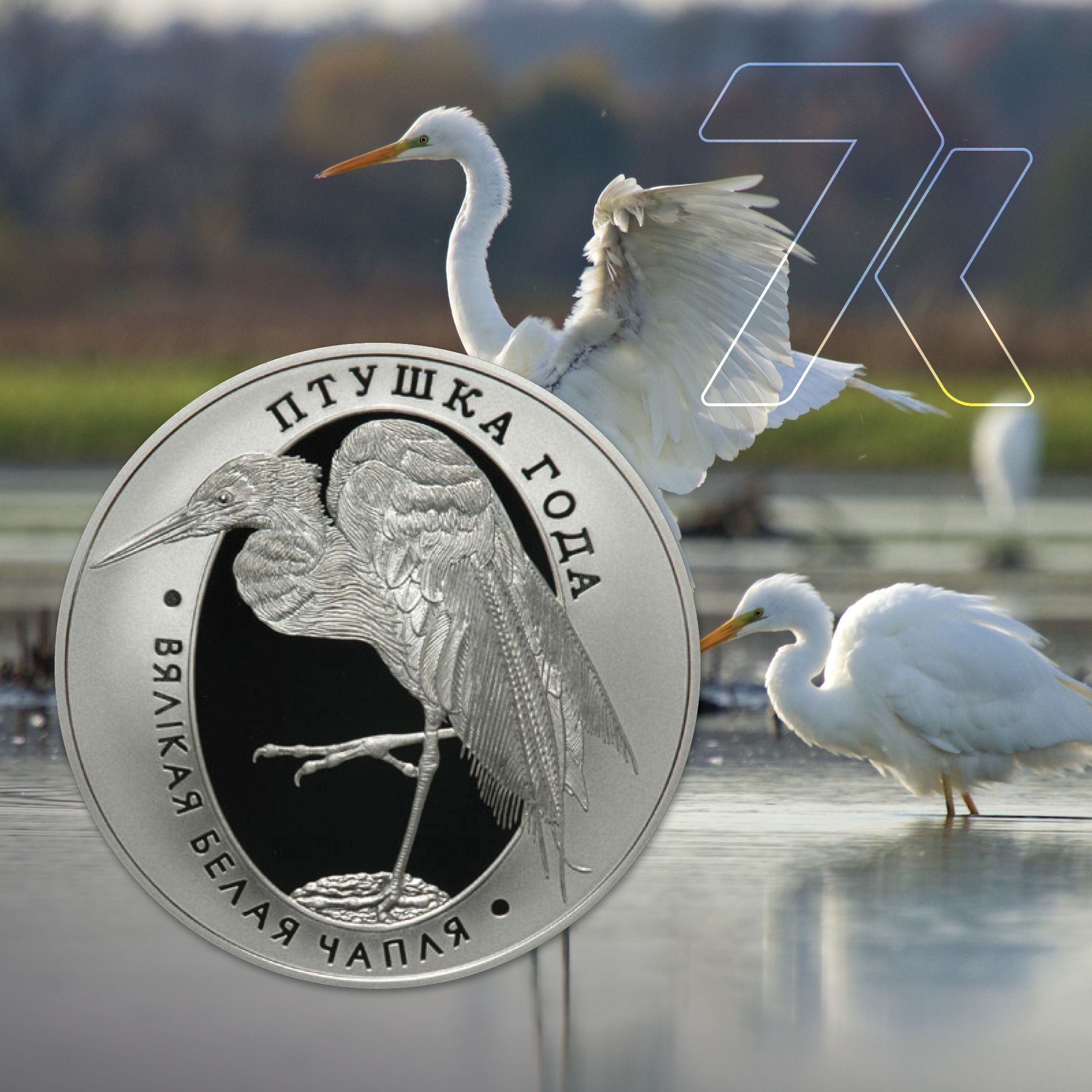 2008 Belarus Great White Egret 1/2 oz Silver Coin PL69/70 & PF69/70
Country of Issue: Republic of Belarus
Mint: Kazakhstan Mint
Face Value: 10 Roubles
Coin Weight: 1/2 Troy Ounce
Metal Purity: 0.925
Metal Composition: Silver
Mintage: 5,000
Only 3,900 of the 5,000 minted
A beautiful series dedicated to enjoying and preserving nature, the Belarus Bird of the Year collection has consistently released a coin annually since 2007. 2008's winner was the Great White Egret, showcased on this impressive half-ounce silver coin. The fine fowls grow gorgeous colorful plumage during mating season, for which they were hunted to near extinction. They are now protected by the National Audubon Society.
Four grades to choose from! PF= Proof, PL= Proof-like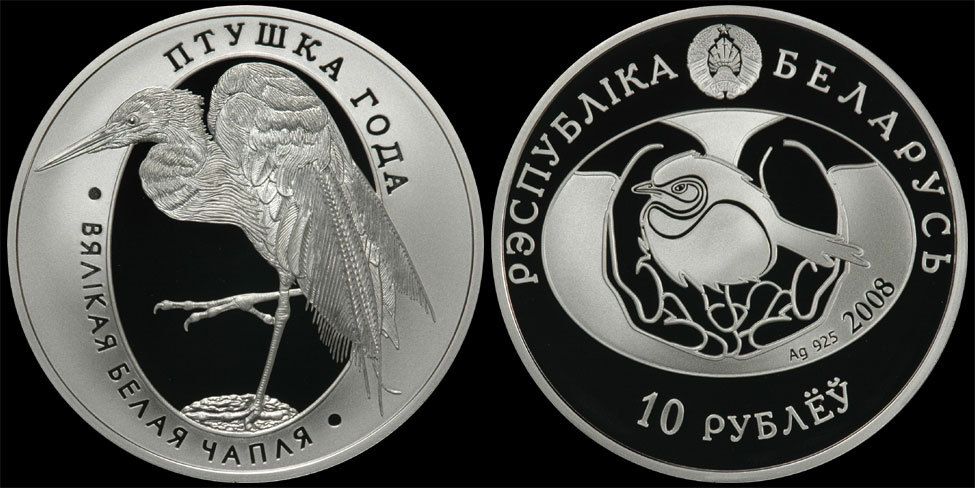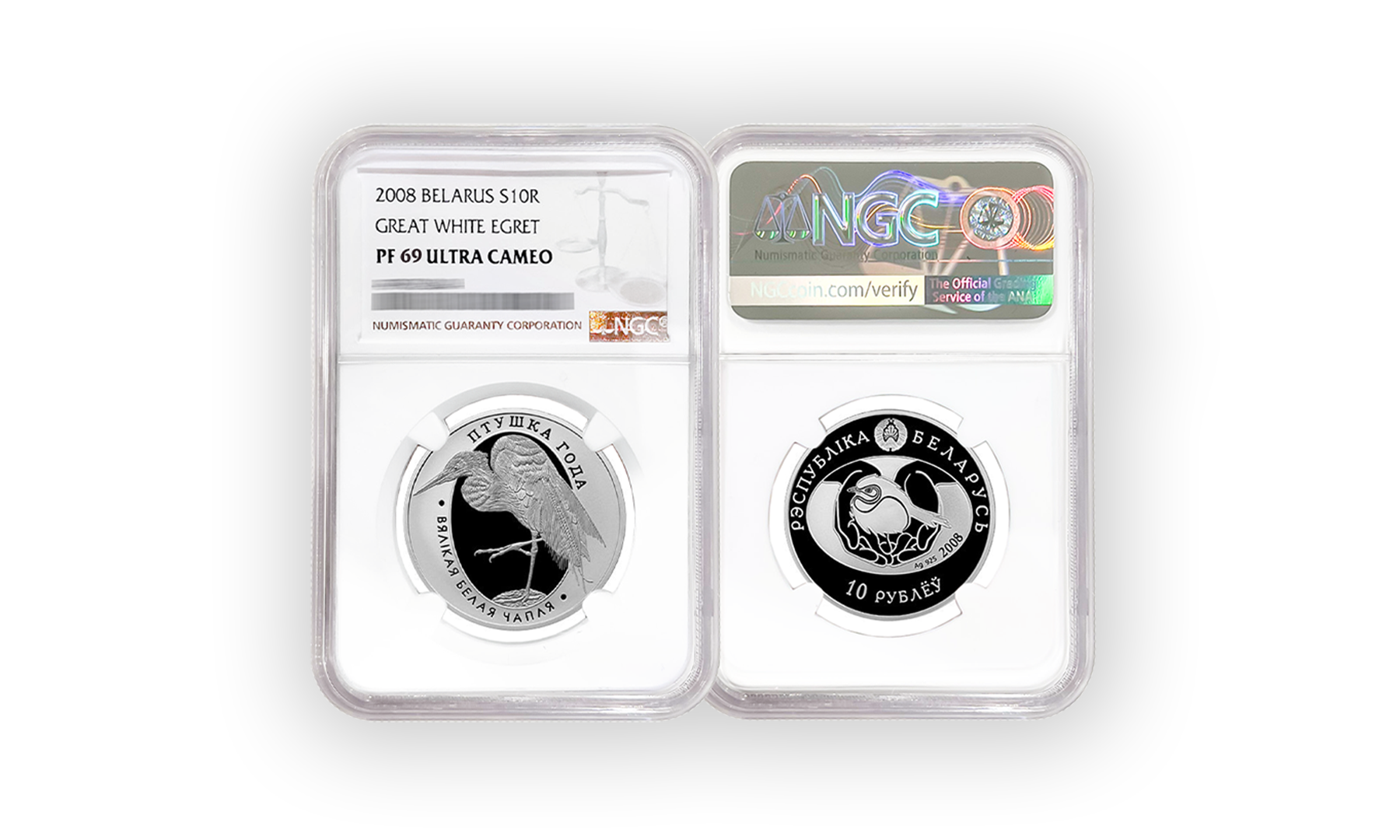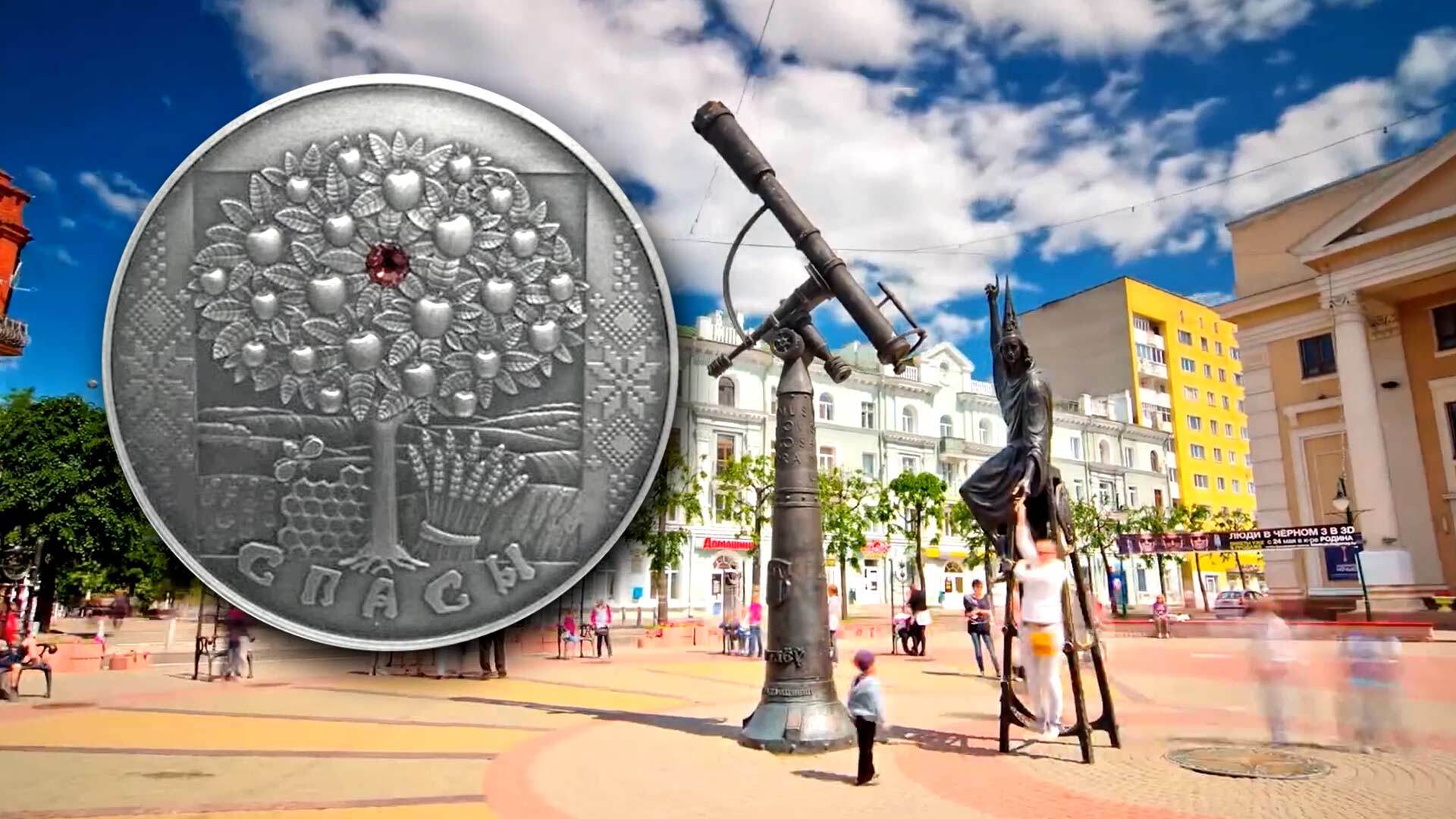 ---
Not Sure How A Coin Drop Works?
We've simplified the process even more to help out. Just follow these steps:
A few minutes before the time of the coin drop, log in to your account on 7kmetals.com.

Click the "Check it out" button in the coin drop box on your account page.


When the timer counts down to zero you'll see the coin drop interface appear. Swipe left until you see (on a touchscreen device), or click on the image (on a computer) of the coin you want.


Click the "I WANT ONE" button underneath the coin description.


Do this for all the coins you want to purchase.
That's it! That's all there is to it!
A few things to note:
THERE IS NO CODE NEEDED!
If there are multiple grades of a coin, you'll need to select the one you want. Make sure it's highlighted. The system defaults to the PF or MS69, so if you want the PF or MS70, you need to select it.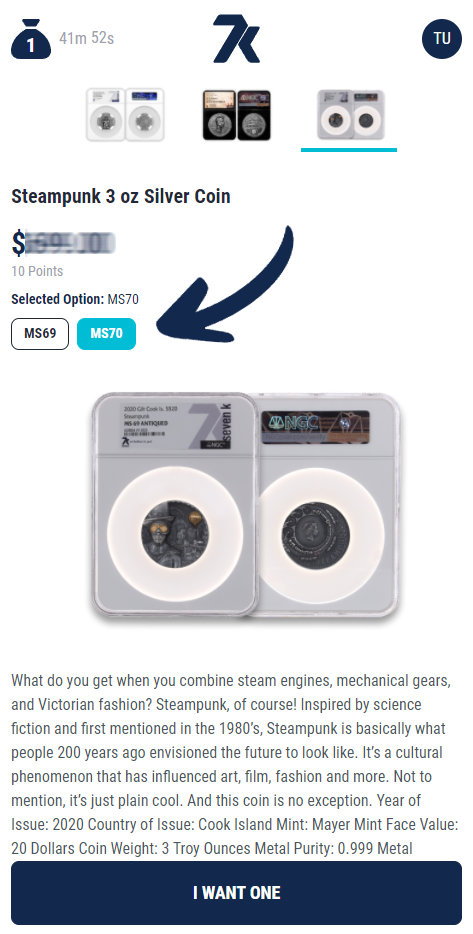 You need to act FAST! The reason we do coin drops is because so many people want a limited number of coins. This is the fairest way we have found to offer these coins. If you see the button underneath a coin flickering between "I Want One" and "Sold Out" it's because people are claiming and then changing their minds about the last few coins.

PRO TIP: People continue to "unshop" throughout the duration of the coin drop. Don't give up if the coin you want sells out in minutes (or seconds!). People will grab them and then change their minds so coins often become available all throughout the drop. KEEP TRYING!
Never Miss Another Coin Drop
1 - Create a new text message.
2 - Enter your country code in the "to" field.
3 - Send "7k" as the body of the message.
Country Codes
USA: 8332099777
CANADA: 8332099777
AUSTRALIA: 61480088229
U.K.: 4474911663966
SINGAPORE: 6582400304
NEW ZEALAND: TBA
IRELAND: TBA
MEXICO: TBA
*Normal rates based on your individual plan may apply, but no additional international costs will be incurred.
Once complete, you will receive an automatic text reply welcoming you!
Make sure to act quickly when the text messages come in so you can take advantage of the Coin Drops. Good luck!