October 2021 Vault Report
Special 5th Anniversary Edition of the 7k Vault Report!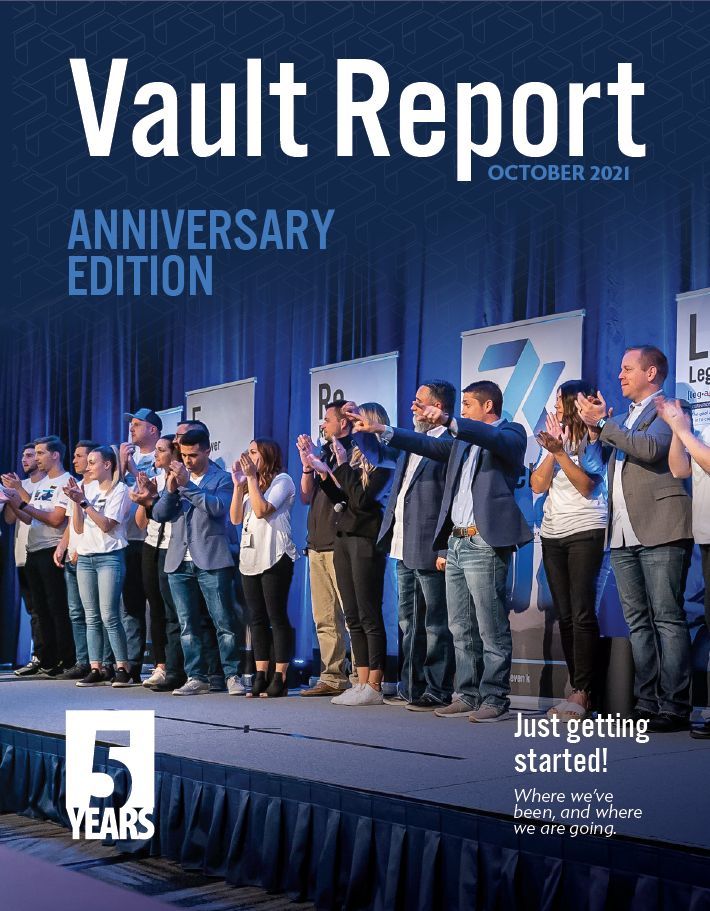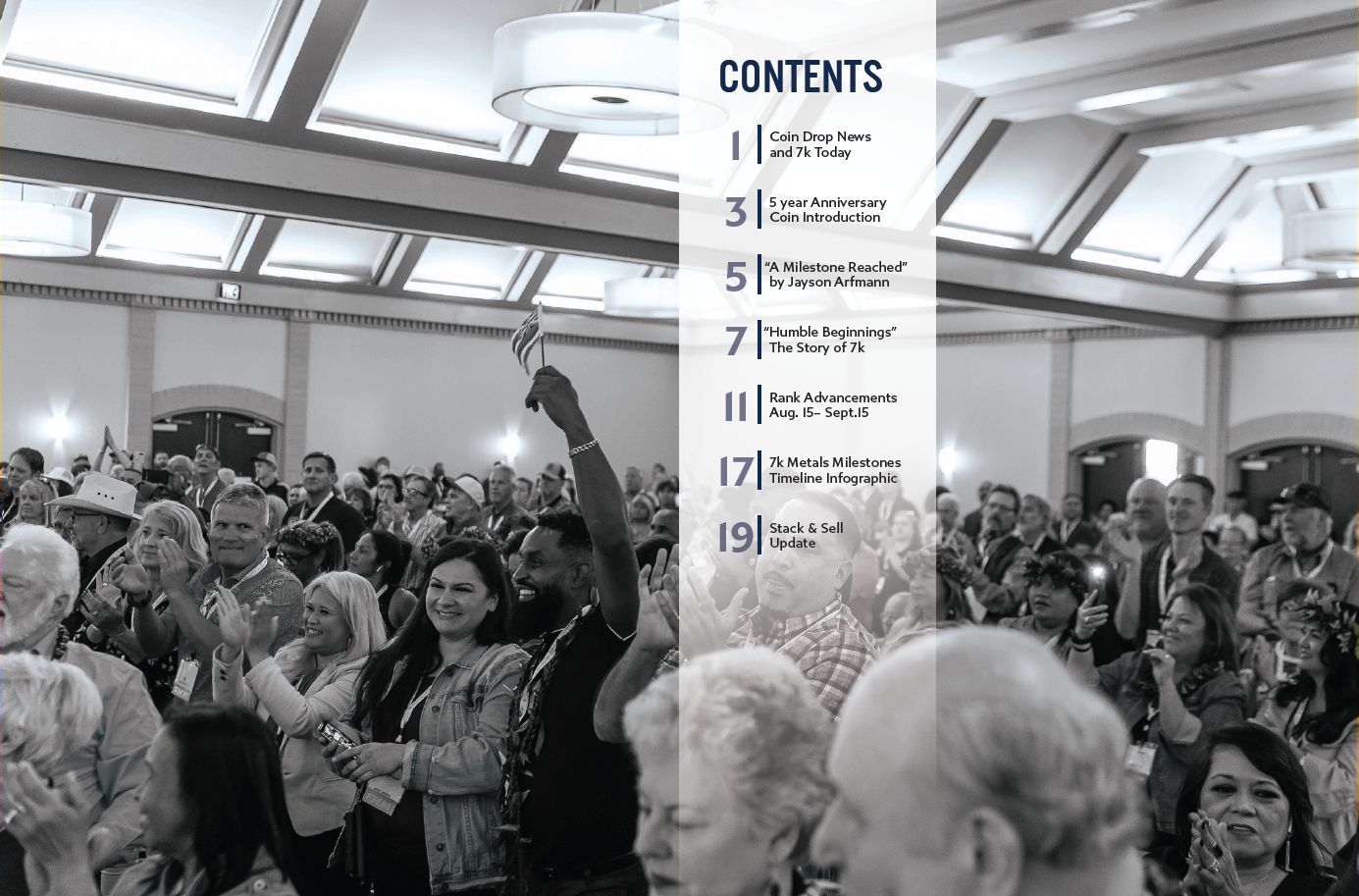 CONTENTS
1 | Coin Drop News and 7k Today
3 | 5 Year Anniversary Coin Intro
5 | "A Milestone Reached" by Jayson Arfmann, CEO
7 | "Humble Beginnings" The Story of 7k
11 | Rank Advancements Aug. 15 - Sept. 15
17 | 7k Metals Milestones Timeline Infographic
19 | Stack & Sell Update
---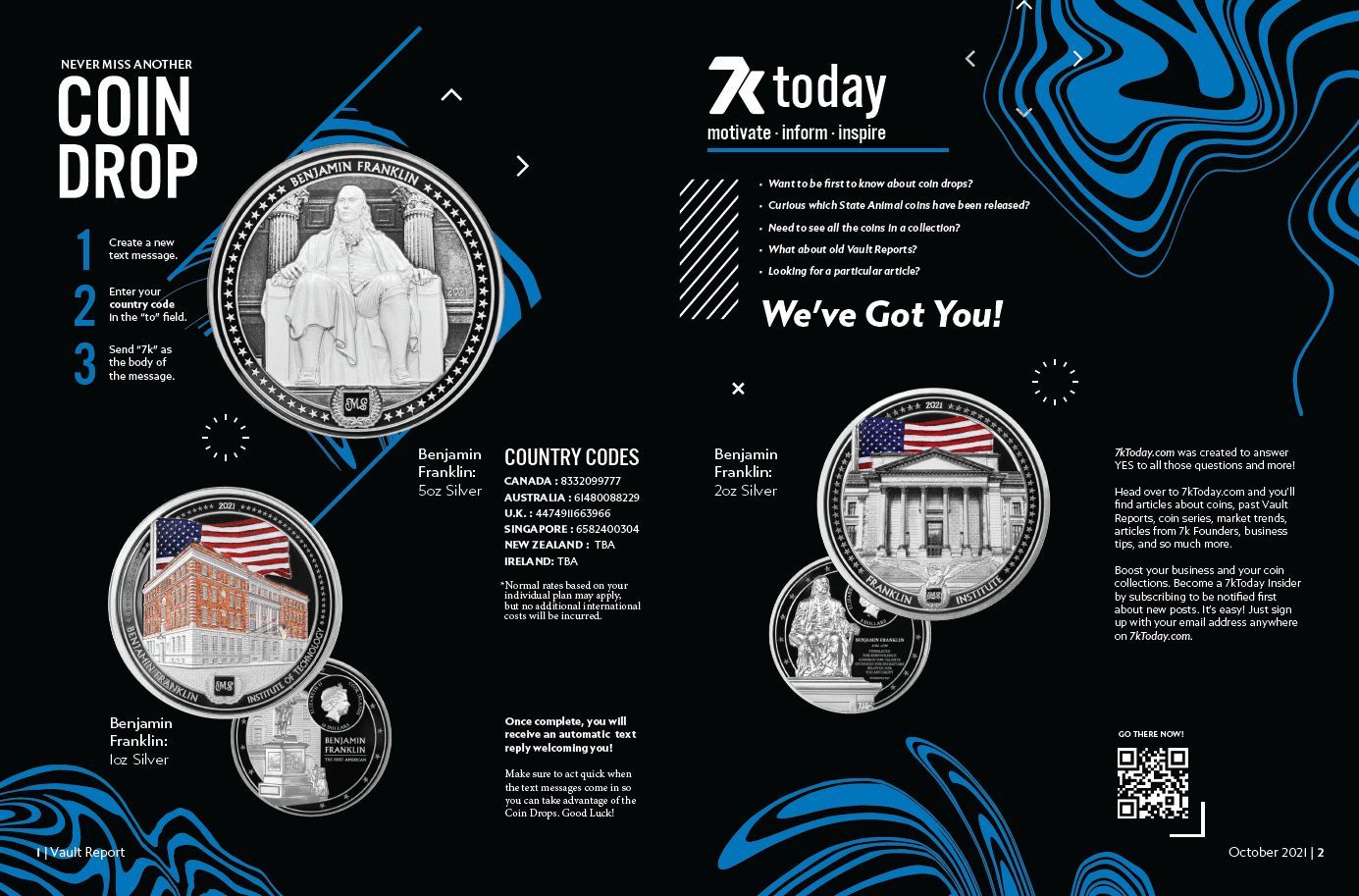 Never Miss Another Coin Drop
1 - Create a new text message.
2 - Enter your country code in the "to" field.
3 - Send "7k" as the body of the message.
Country Codes
USA: 8332099777
CANADA: 8332099777
AUSTRALIA: 61480088229
U.K.: 4474911663966
SINGAPORE: 6582400304
NEW ZEALAND: TBA
IRELAND: TBA
*Normal rates based on your individual plan may apply, but no additional international costs will be incurred.
Once complete, you will receive an automatic text reply welcoming you!
Make sure to act quickly when the text messages come in so you can take advantage of the Coin Drops. Good luck!
7k Today
Want to be the first to know about coin drops?
Curious which State Animal coins have been released?
Need to see all the coins in a collection?
What about old Vault Reports?
Looking for a particular article?
We've got you!
7kToday.com was created to answer YES to all those questions and more!
Head over to 7kToday.com and you'll find articles about coins, past Vault Reports, coin series, market trends, articles from 7k Founders, business tips and so much more.
Boost your business and your coin collections. Become a 7kToday Insider by subscribing to be notified first about new posts. It's easy! Just sign up with your email address anywhere on the 7kToday.com.
---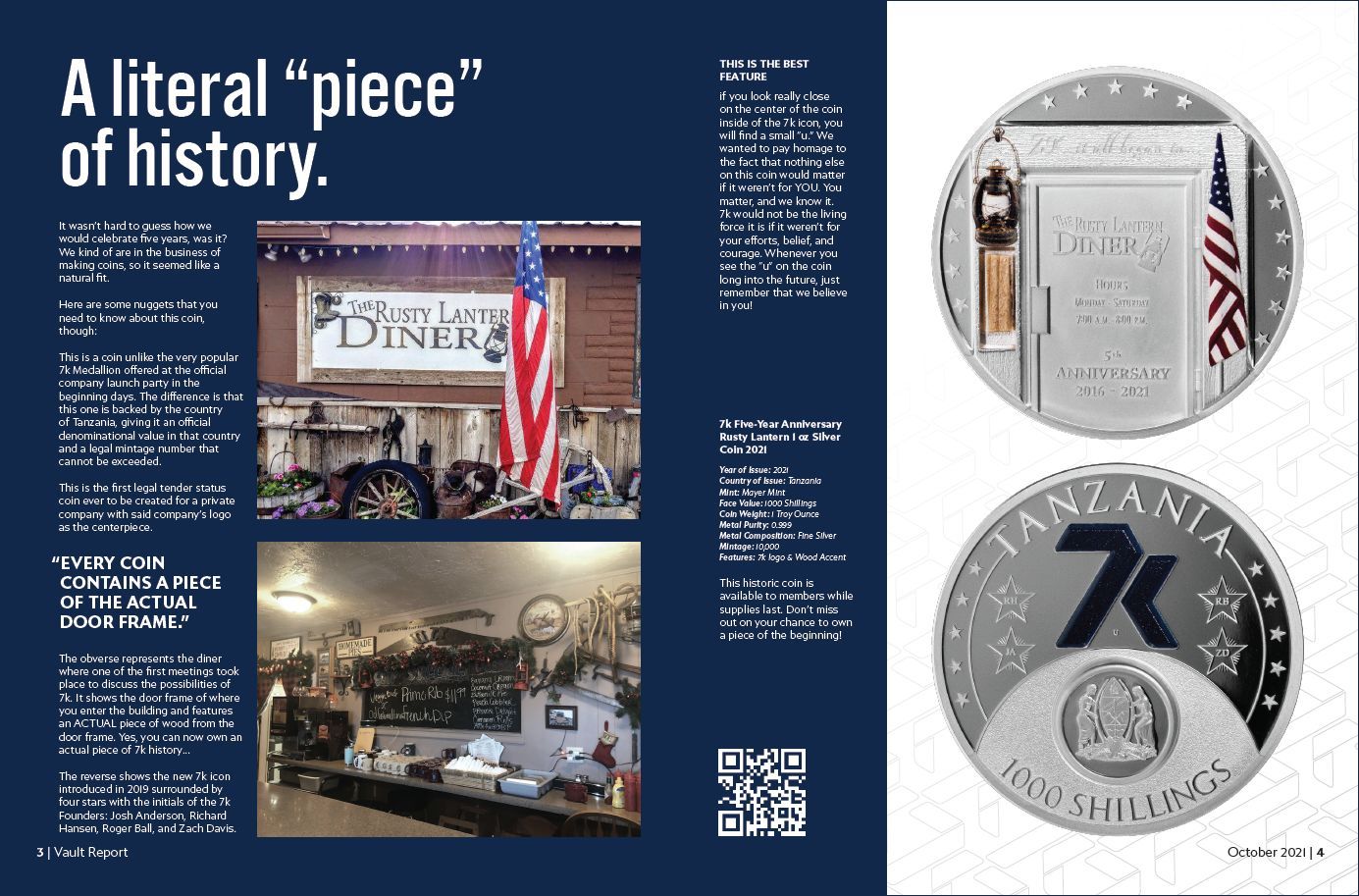 A Literal "Piece" of History
It wasn't hard to guess how we would celebrate five years, was it?
We kind of are in the business of making coins, so it seemed like a natural fit.
Here are some nuggets that you need to know about this coin, though:
This is a coin unlike the very popular 7k Medallion offered at the official company launch party in the beginning days. The difference is that this one is backed by the country of Tanzania, giving it an official denominational value in that country and a legal mintage number that cannot be exceeded.
This is the first legal tender status coin ever to be created for a private company with said company's logo as the centerpiece.
The obverse represents the diner where one of the first meetings took place to discuss the possibilities of 7k. It shows the door frame of where you enter the building and features an ACTUAL piece of wood from the door frame. Yes, you can now own an actual piece of 7k history...
The reverse shows the new 7k icon introduced in 2019 surrounded by four stars with the initials of the 7k Founders, Josh Anderson, Richard Hansen, Roger Ball, and Zach Davis.
THIS IS THE BEST FEATURE--if you look really close on the center of the coin inside of the 7k icon, you will find a small "u." We wanted to pay homage to the fact that nothing else on this coin would matter if it weren't for YOU. You matter, and we know it. 7k would not be the living force it is if it weren't for your efforts, belief, and courage. Whenever you see the "u" on the coin long into the future, just remember that We Believe in You!
7k Five Year Anniversary Rusty Lantern 1oz Silver Coin 2021
Year of Issue: 2021
Country of Issue: Tanzania
Mint: Mayer Mint
Face Value: 1000 Shillings
Coin Weight: 1 Troy Ounce
Metal Purity: 0.999
Metal Composition: Fine Silver
Mintage: 10,000
Features: 7k logo & Wood Accent
This historic coin is available to members while supplies last. Don't miss out on your chance to own a piece of the beginning!
---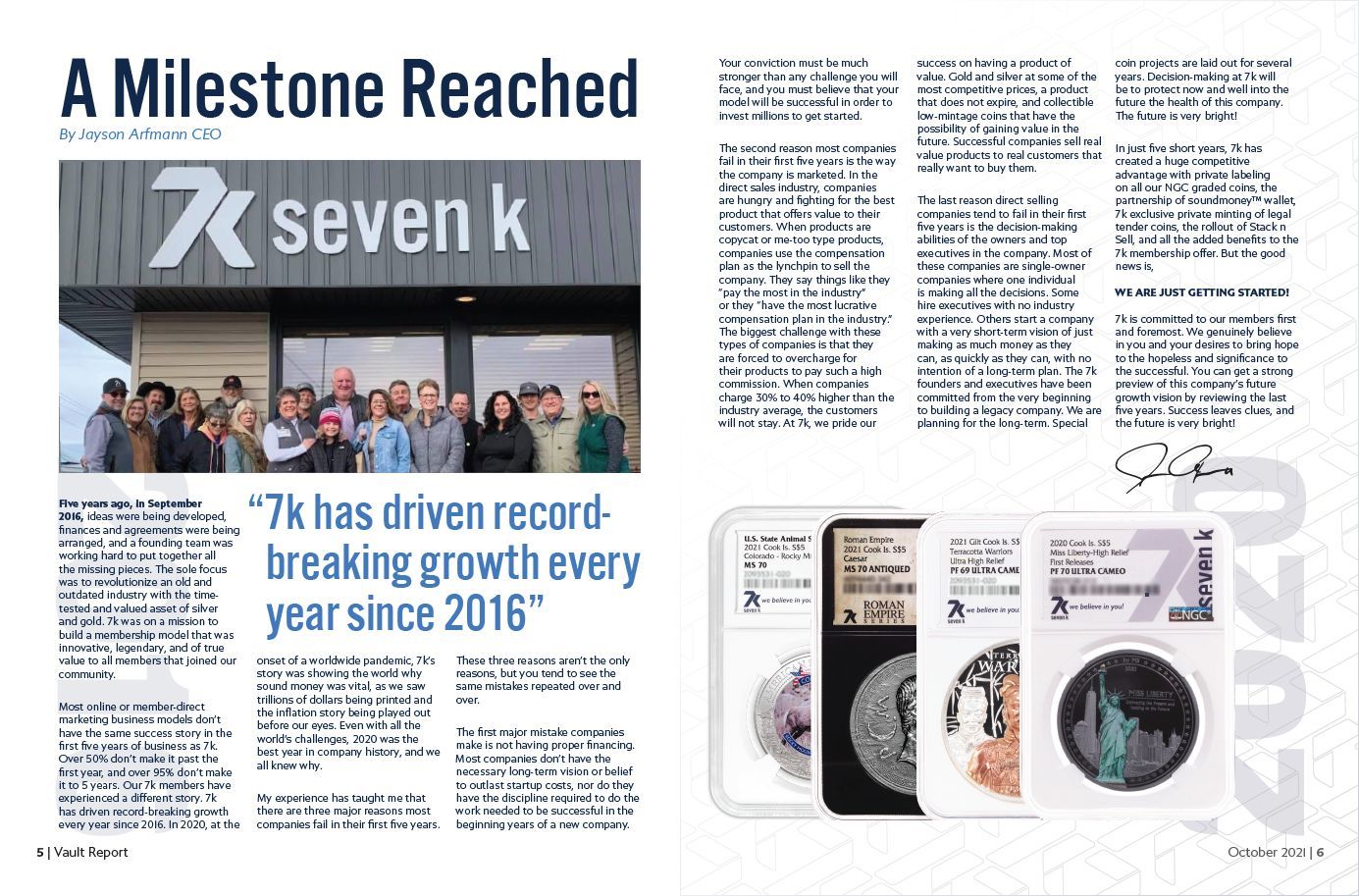 A Milestone Reached
By Jayson Arfmann, CEO
Five years ago, in September 2016, ideas were being developed, finances and agreements were being arranged, and a founding team was working hard to put together all the missing pieces. The sole focus was to revolutionize an old and outdated industry with the time-tested and valued asset of silver and gold. 7k was on a mission to build a membership model that was innovative, legendary, and of true value to all members that joined our community.
Most online or member-direct marketing business models don't have the same success story in the first five years of business as 7k. Over 50% don't make it past the first year, and over 95% don't make it to 5 years. Our 7k members have experienced a different story. 7k has driven record-breaking growth every year since 2016. In 2020, at the onset of a worldwide pandemic, 7k's story was showing the world why sound money was vital as we saw trillions of dollars being printed and the inflation story being played out before our eyes. Even with all the world's challenges, 2020 was the best year in company history, and we all knew why.
My experience has taught me that there are three major reasons most companies fail in their first five years. These three reasons aren't the only reasons, but you tend to see the same mistakes repeated over and over. The first major mistake companies make is not having proper financing. Most companies don't have the necessary long-term vision or belief to outlast startup costs, nor do they have the discipline required to do the work needed to be successful in the beginning years of a new company. Your conviction must be much stronger than any challenge you will face, and you must believe that your model will be successful in order to invest millions to get started.
The second reason most companies fail in their first five years is the way the company is marketed. In the direct sales industry, companies are hungry and fighting for the best product that offers value to their customers. When products are copycat or me-too type products, companies use the compensation plan as the lynchpin to sell the company. They say things like they "pay the most in the industry" or they "have the most lucrative compensation plan in the industry." The biggest challenge with these types of companies is that they are forced to overcharge for their products to pay such a high commission. When companies charge 30% to 40% higher than the industry average, the customers will not stay. At 7k, we pride our success on having a product of value. Gold and silver at some of the most competitive prices, a product that does not expire, and collectible low-mintage coins that have the possibility of gaining value in the future. Successful companies sell real value products to real customers that really want to buy them.
The last reason direct selling companies tend to fail in their first five years is the decision-making abilities of the owners and top executives in the company. Most of these companies are single-owner companies where one individual is making all the decisions. Some hire executives with no industry experience. Others start a company with a very short-term vision of just making as much money as they can, as quickly as they can, with no intention of a long-term plan. The 7k founders and executives have been committed from the very beginning to building a legacy company. We are planning for the long-term. Special coin projects are laid out for several years. Decision-making at 7k will be to protect now and well into the future the health of this company. The future is very bright!
In just five short years, 7k has created a huge competitive advantage with private labeling on all our NGC graded coins, the partnership of soundmoney™ wallet, 7k exclusive private minting of legal tender coins, the rollout of Stack n Sell, and all the added benefits to the 7k membership offer. But the good news is, WE ARE JUST GETTING STARTED!
7k is committed to our members first and foremost. We genuinely believe in you and your desires to bring hope to the hopeless and significance to the successful. You can get a strong preview of this company's future growth vision by reviewing the last five years. Success leaves clues, and the future is very bright!
To the next five years!
---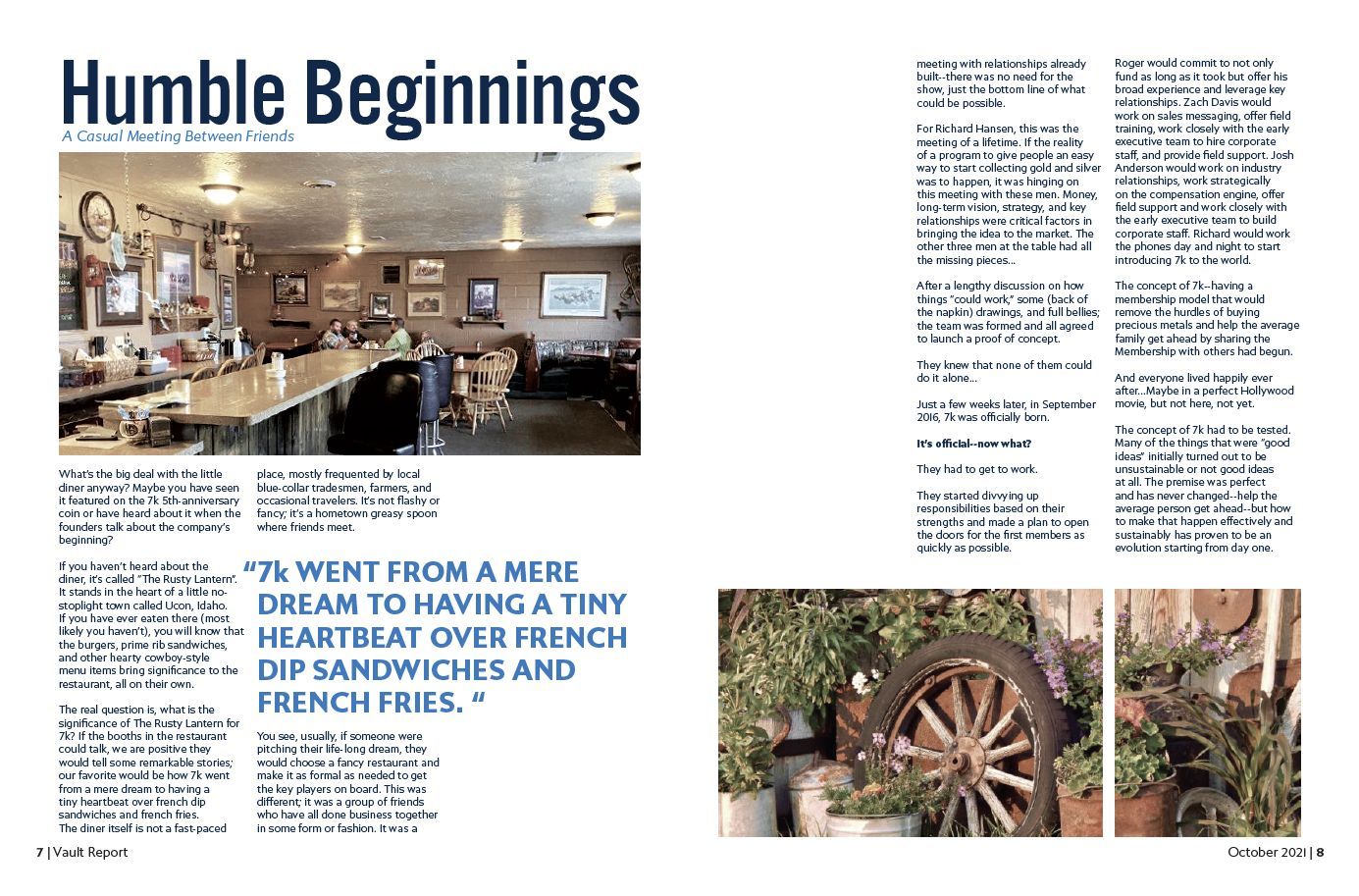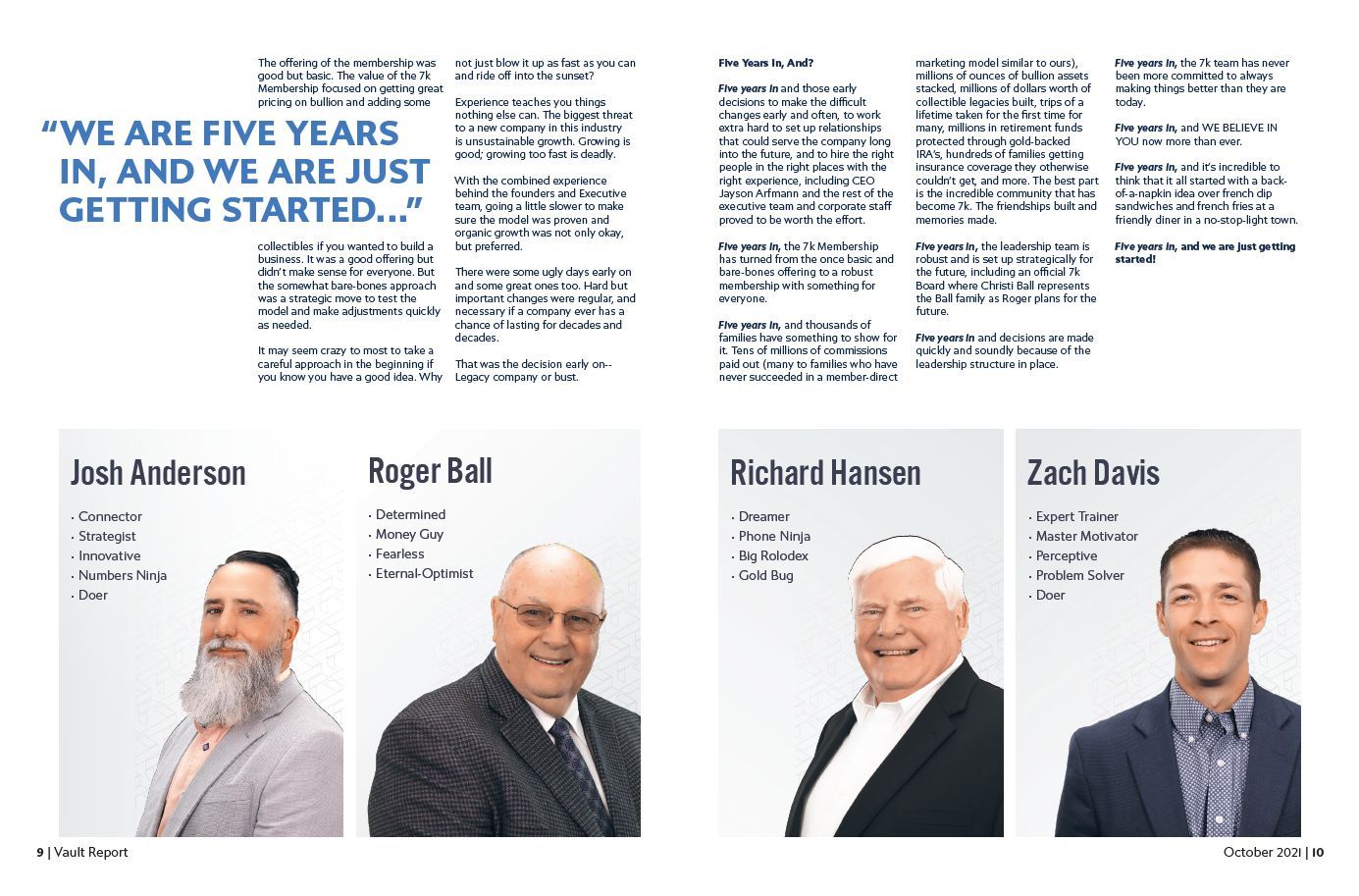 Humble Beginnings
A Casual Meeting Between Friends
What's the big deal with the little diner anyway? Maybe you have seen it featured on the 7k 5th-anniversary coin or have heard about it when the founders talk about the company's beginning?
If you haven't heard about the diner, it's called The Rusty Lantern. It stands in the heart of a little no stoplight town called Ucon, Idaho. If you have ever eaten there (most likely you haven't), you will know that the burgers, prime rib sandwiches, and other hearty cowboy-style menu items bring significance to the restaurant all on their own.
The real question is, what is the significance of The Rusty Lantern for 7k? If the booths in the restaurant could talk, we are positive they would tell some remarkable stories; our favorite would be how 7k went from a mere dream to having a tiny heartbeat over french dip sandwiches and french fries.
The diner itself is not a fast-paced place, mostly frequented by local blue-collar tradesmen, farmers, and occasional travelers. It's not flashy or fancy; it's a hometown greasy spoon where friends meet.
You see, usually, if someone were pitching their life-long dream, they would choose a fancy restaurant and make it as formal as needed to get the key players on board. This was different; it was a group of friends who have all done business together in some form or fashion. It was a meeting with relationships already built--there was no need for the show, just the bottom line of what could be possible.
For Richard Hansen, this was the meeting of a lifetime. If the reality of a program to give people an easy way to start collecting gold and silver was to happen, it was hinging on this meeting with these men. Money, long-term vision, strategy, and key relationships were critical factors in bringing the idea to the market. The other three men at the table had all the missing pieces...
After a lengthy discussion on how things "could work," some back of the napkin drawings and full bellies, the team was formed, and all agreed to launch a proof of concept.
They knew that none of them could do it alone...
Just a few weeks later, in September 2016, 7k was officially born.
It's Official--Now What?
They had to get to work.
They started divvying up responsibilities based on their strengths and made a plan to open the doors for the first members as quickly as possible.
Roger would commit to not only fund as long as it took but offer his broad experience and leverage key relationships. Zach Davis would work on sales messaging, offer field training, work closely with the early executive team to hire corporate staff, and provide field support. Josh Anderson would work on industry relationships, work strategically on the compensation engine, offer field support and work closely with the early executive team to build corporate staff. Richard would work the phones day and night to start introducing 7k to the world.
The concept of 7k--having a membership model that would remove the hurdles of buying precious metals and help the average family get ahead by sharing the Membership with others had begun.
And everyone lived happily ever after...
Maybe in a perfect Hollywood movie, but not here, not yet.
The concept of 7k had to be tested. Many of the things that were "good ideas" initially turned out to be unsustainable or not good ideas at all. The premise was perfect and has never changed--help the average person get ahead--but how to make that happen effectively and sustainably has proven to be an evolution starting from day one.
The offering of the Membership was good but basic. The value of the 7k Membership focused on getting great pricing on bullion and adding some collectibles if you wanted to build a business. It was a good offering but didn't make sense for everyone. But the somewhat bare-bones approach was a strategic move to test the model and make adjustments quickly as needed.
It may seem crazy to most to take a careful approach in the beginning if you know you have a good idea. Why not just blow it up as fast as you can and ride off into the sunset?
Experience teaches you things nothing else can. The biggest threat to a new company in this industry is unsustainable growth. Growing is good; growing too fast is deadly.
With the combined experience behind the Founders and Executive Team, going a little slower to make sure the model was proven and organic growth was not only ok but preferred.
There were some ugly days early on and some great ones too. Hard but necessary changes were regular. Necessary if a company ever has a chance of lasting for decades and decades.
That was the decision early on--Legacy company or bust.
Five Years In, And?
Five years in and those early decisions to make the difficult changes early and often, to work extra hard to set up relationships that could serve the company long into the future, and to hire the right people in the right places with the right experience, including CEO Jayson Arfmann and the rest of the executive team and corporate staff proved to be worth the effort.
Five years in, the 7k Membership has turned from the once basic and bare-bones offering to a robust membership with something for everyone.
Five years in, and thousands of families have something to show for it. Tens of millions of commissions paid out (many to families who have never succeeded in a member-direct marketing model similar to ours), millions of ounces of bullion assets stacked, millions of dollars worth of collectible legacies built, trips of a lifetime taken for the first time for many, millions in retirement funds protected through gold-backed IRA's, hundreds of families getting insurance coverage they otherwise couldn't get, and more. The best part is the incredible community that has become 7k. The friendships built and memories made.
Five years in, the leadership team is robust and is set up strategically for the future, including an official 7k Board where Christi Ball represents the Ball family as Roger plans for the future.
Five years in and decisions are made quickly and soundly because of the leadership structure in place.
Five years in, the 7k team has never been more committed to always making things better than they are today.
Five years in, and WE BELIEVE IN YOU now more than ever.
Five years in, and it's incredible to think that it all started with a back-of-a-napkin idea over french dip sandwiches and french fries at a friendly diner in a no-stop-light town.
Five years in, and we are just getting started...
7k Team
Josh Anderson
Connector
Strategist
Innovative
Numbers Ninja
Doer
Roger Ball
Determined
Money Guy
Fearless
Eternal-Optimist
Richard Hansen
Dreamer
Phone Ninja
Big Rolodex
Gold Bug
Zach Davis
Expert Trainer
Master Motivator
Perceptive
Problem Solver
Doer
---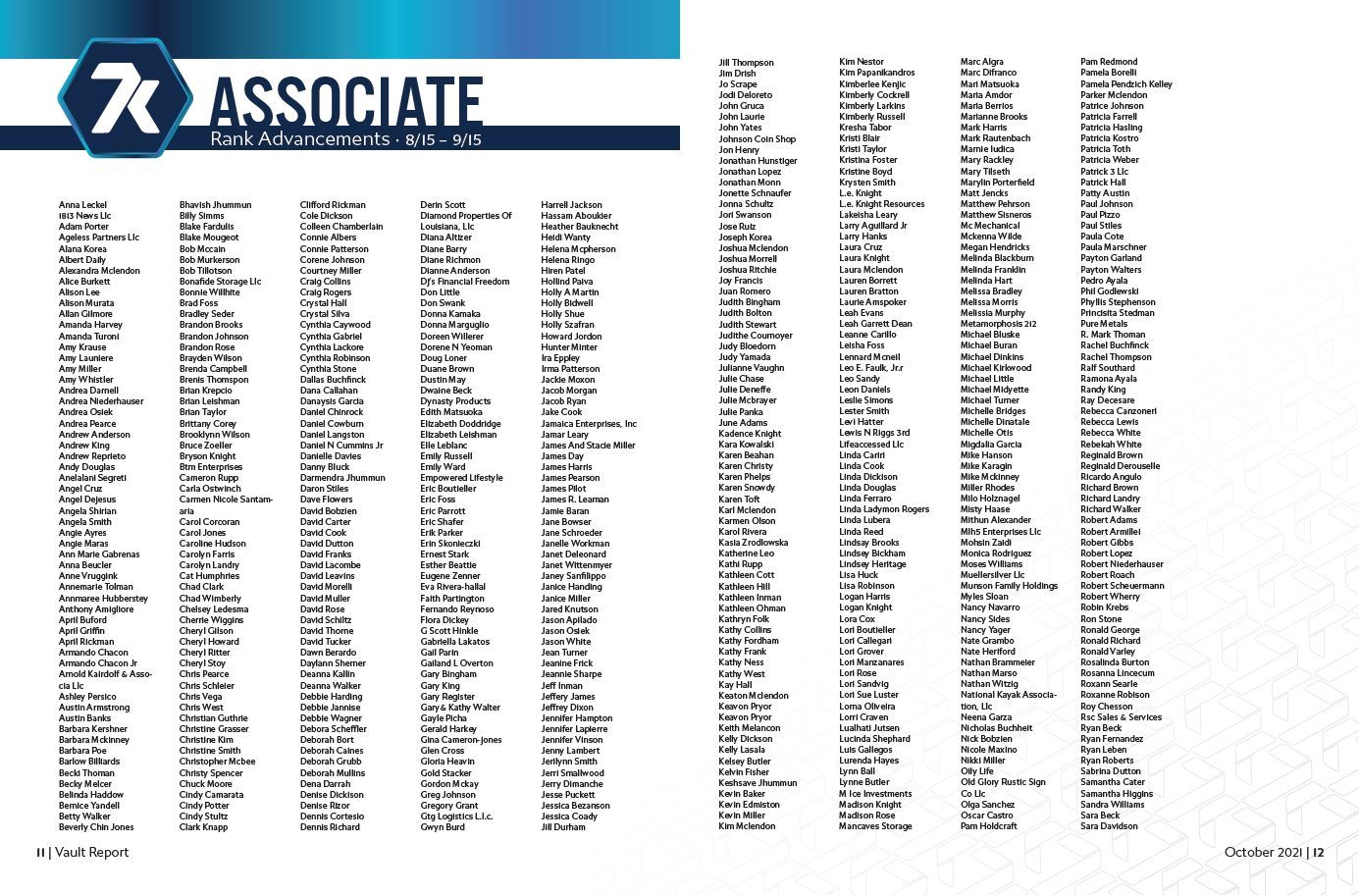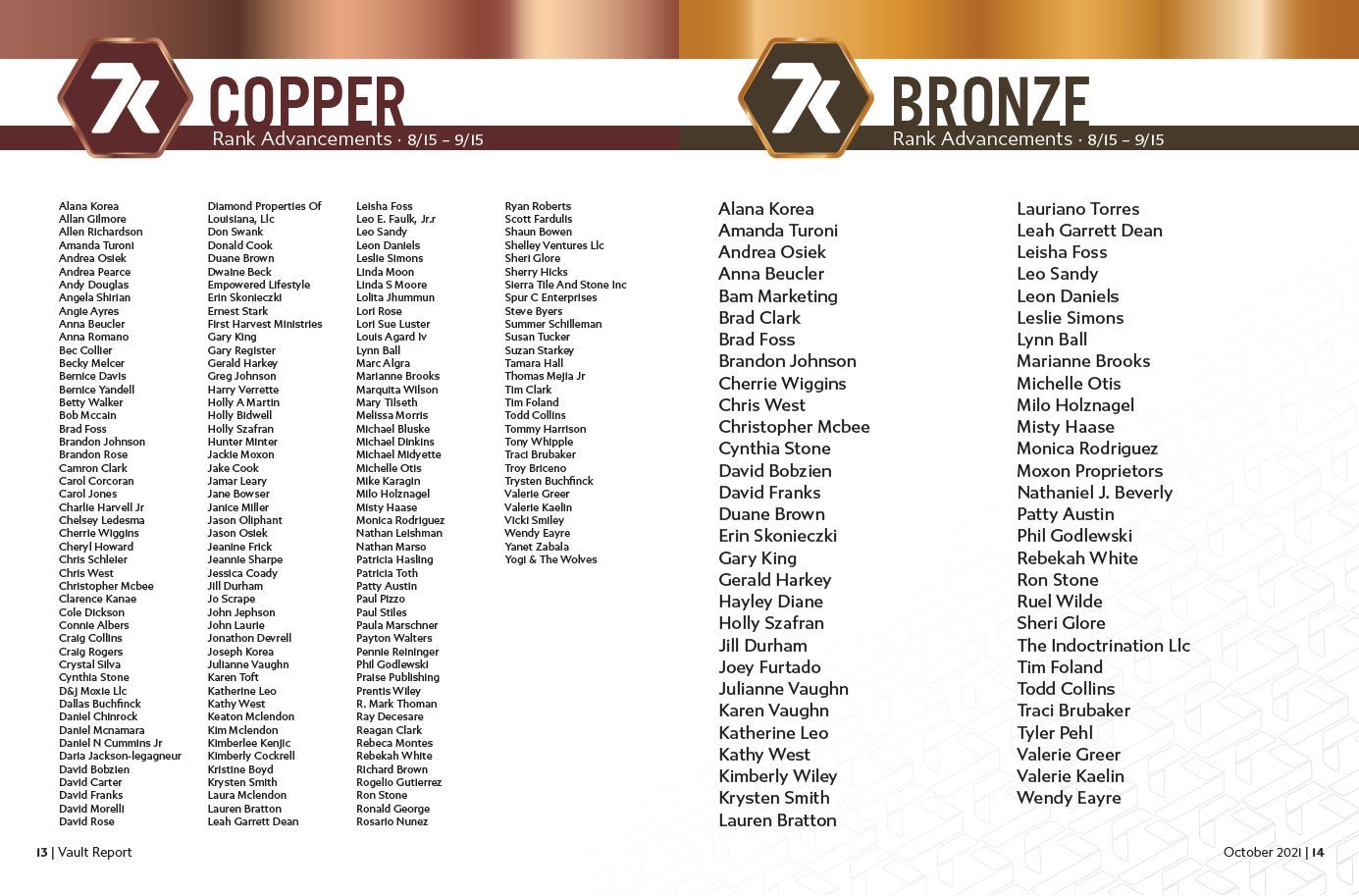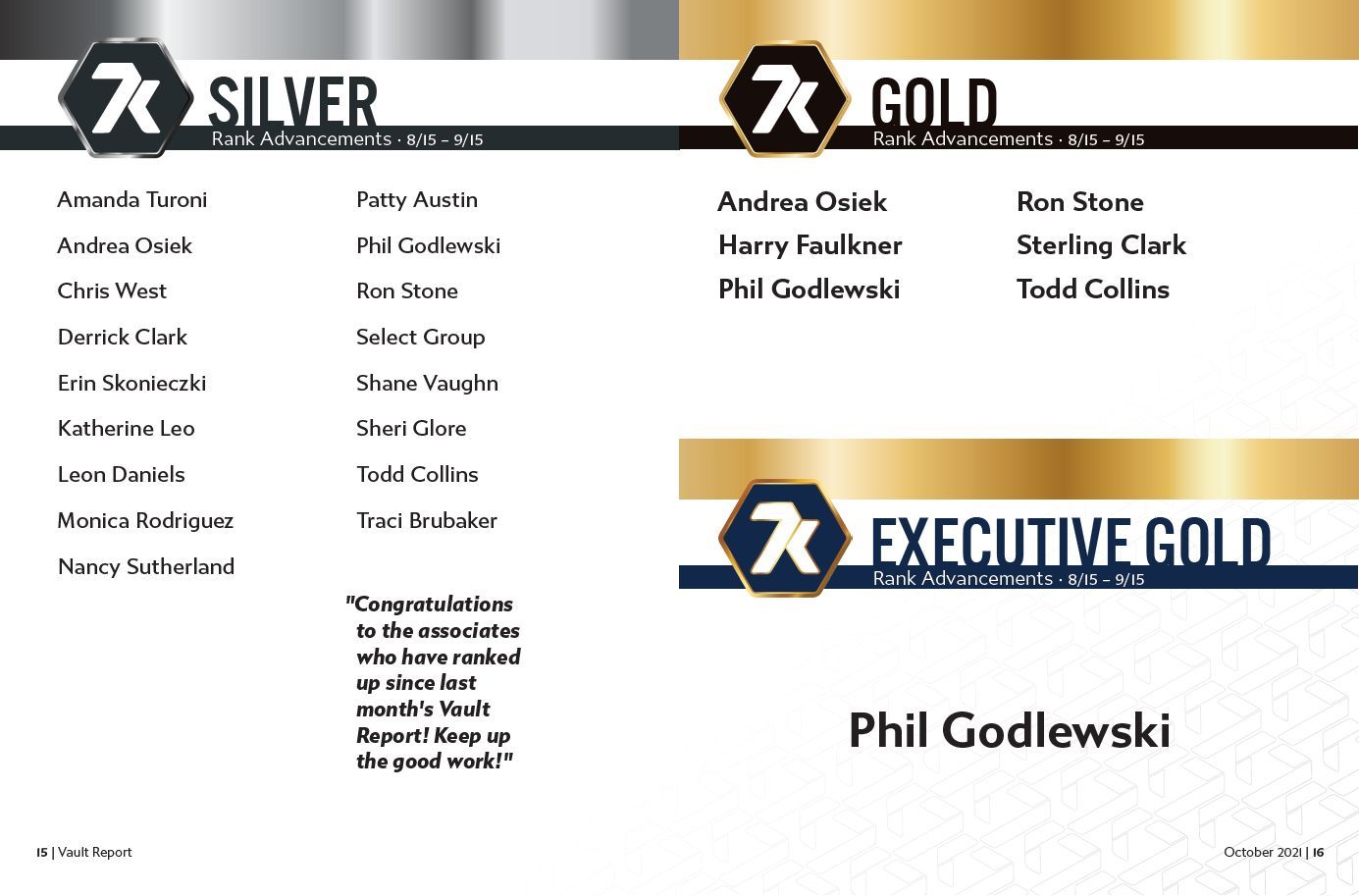 ---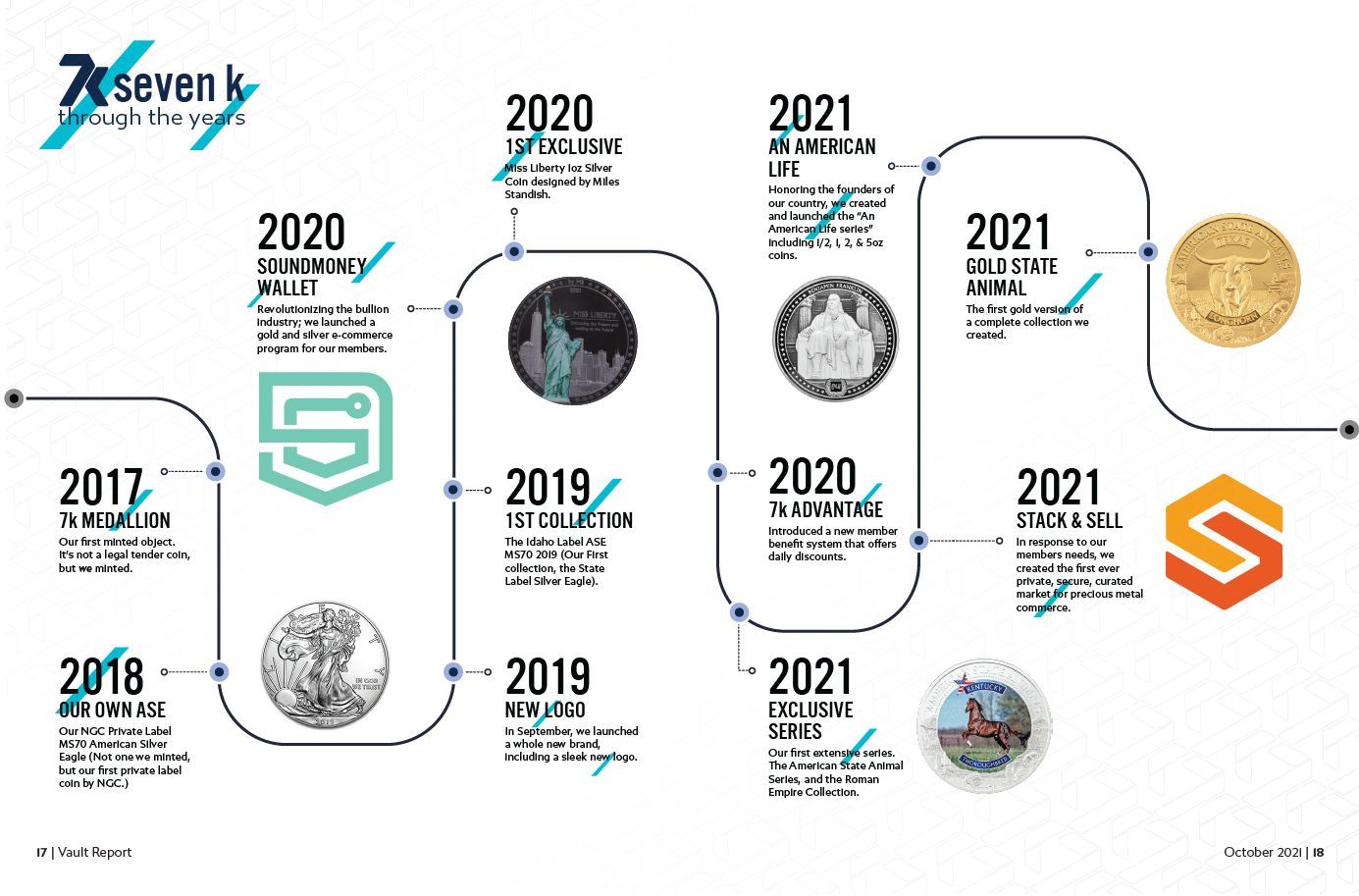 ---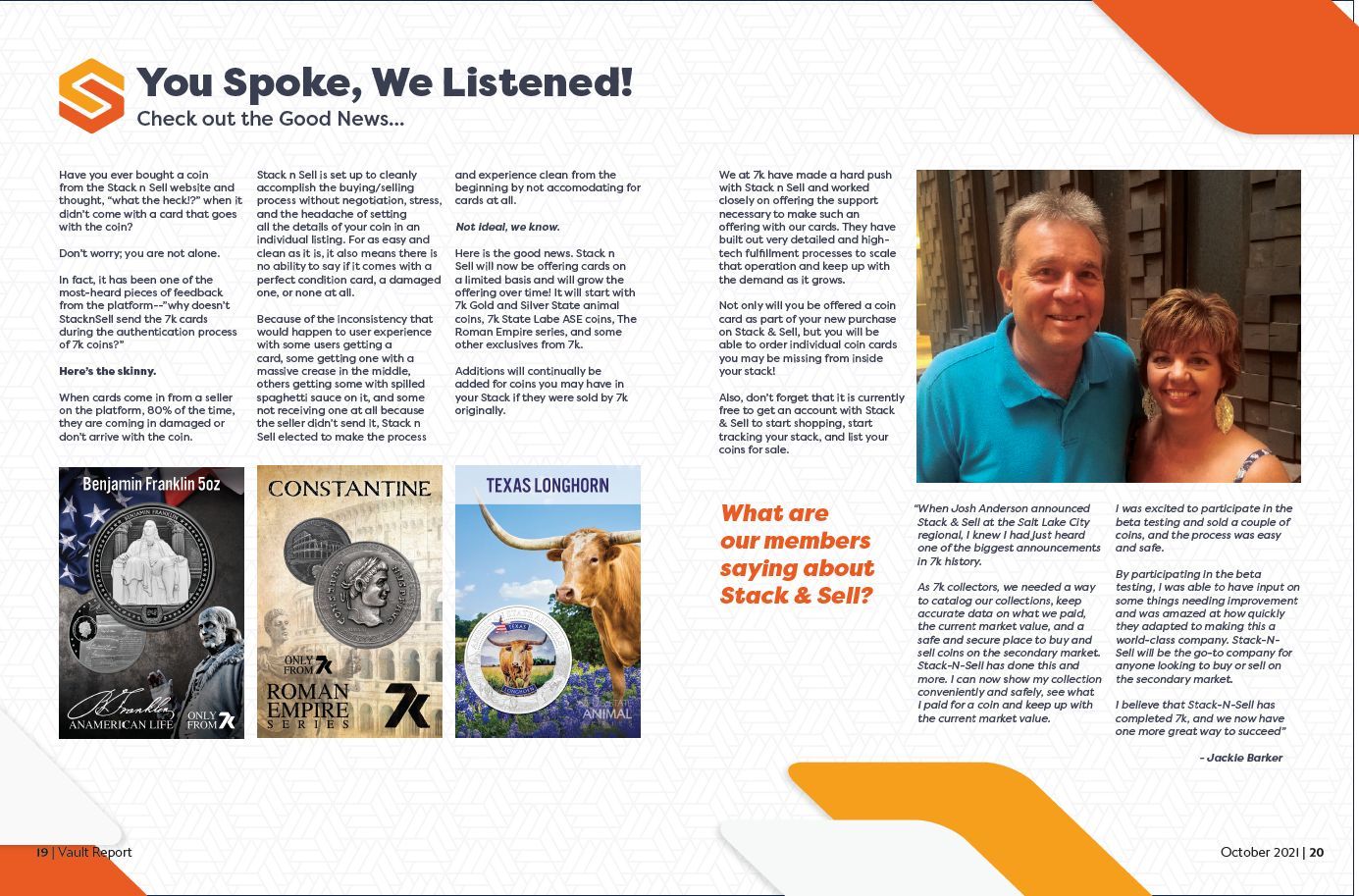 You Spoke, We Listened!
Check out the Good News!
Have you ever bought a coin from the Stack n Sell website and thought, "what the heck!?" when it didn't come with a card that goes with the coin?
Don't worry; you are not alone.
In fact, it has been one of the most-heard pieces of feedback from the platform--"why doesn't StacknSell send the 7k cards during the authentication process of 7k coins?"
Here's the skinny.
When cards come in from a seller on the platform, 80% of the time, they are coming in damaged or don't arrive with the coin.
Stack n Sell is set up to cleanly accomplish the buying/selling process without negotiation, stress, and the headache of setting all the details of your coin in an individual listing. For as easy and clean as it is, it also means there is no ability to say if it comes with a perfect condition card, a damaged one, or none at all.
Because of the inconsistency that would happen to user experience with some users getting a card, some getting one with a massive crease in the middle, others getting some with spilled spaghetti sauce on it, and some not receiving one at all because the seller didn't send it, Stack n Sell elected to make the process and experience clean from the beginning by not accomodating for cards at all.
Not ideal, we know.
Here is the good news. Stack n Sell will now be offering cards on a limited basis and will grow the offering over time! It will start with 7k Gold and Silver State animal coins, 7k State Labe ASE coins, The Roman Empire series, and some other exclusives from 7k.
Additions will continually be added for coins you may have in your Stack if they were sold by 7k originally.
We at 7k have made a hard push with Stack n Sell and worked closely on offering the support necessary to make such an offering with our cards. They have built out very detailed and high-tech fulfillment processes to scale that operation and keep up with the demand as it grows.
Not only will you be offered a coin card as part of your new purchase on Stack n Sell, but you will be able to order individual cards you may be missing inside of your Stack!
Also, don't forget that it is currently free to get an account with Stack n Sell to start shopping, start tracking your Stack, and list your coins for sale.
Check it out: Stacknsell.com
What Are Members Saying About Stack & Sell?
"When Josh Anderson announced "Stack-N-Sell" at the Salt Lake City regional, I knew I had just heard one of the biggest announcements in 7k history.
As 7k collectors, we needed a way to catalog our collections, keep accurate data on what we paid, the current market value, and a safe and secure place to buy and sell coins on the secondary market.
Stack-N-Sell has done this and more. I can now show my collection conveniently and safely, see what I paid for a coin and keep up with the current market value.
I was excited to participate in the beta testing and sold a couple of coins, and the process was easy and safe.
By participating in the beta testing, I was able to have input on some things needing improvement and was amazed at how quickly they adapted to making this a world-class company. Stack-N-Sell will be the go-to company for anyone looking to buy or sell on the secondary market.
I believe that Stack-N-Sell has completed 7k, and we now have one more great way to be successful as collectors and businesses builders."
Jackie Barker
---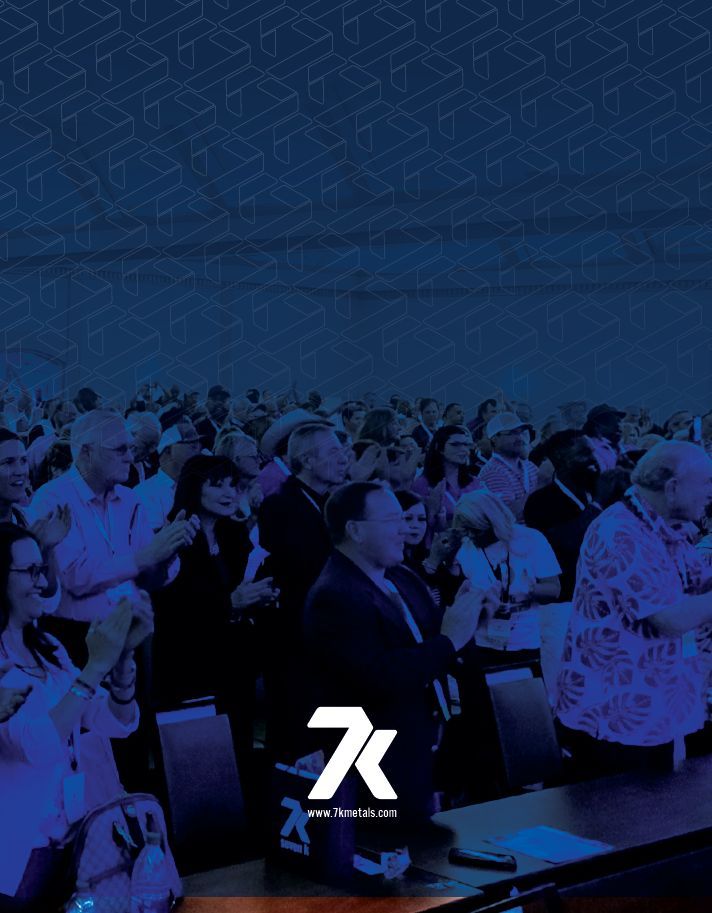 ---