Member Benefits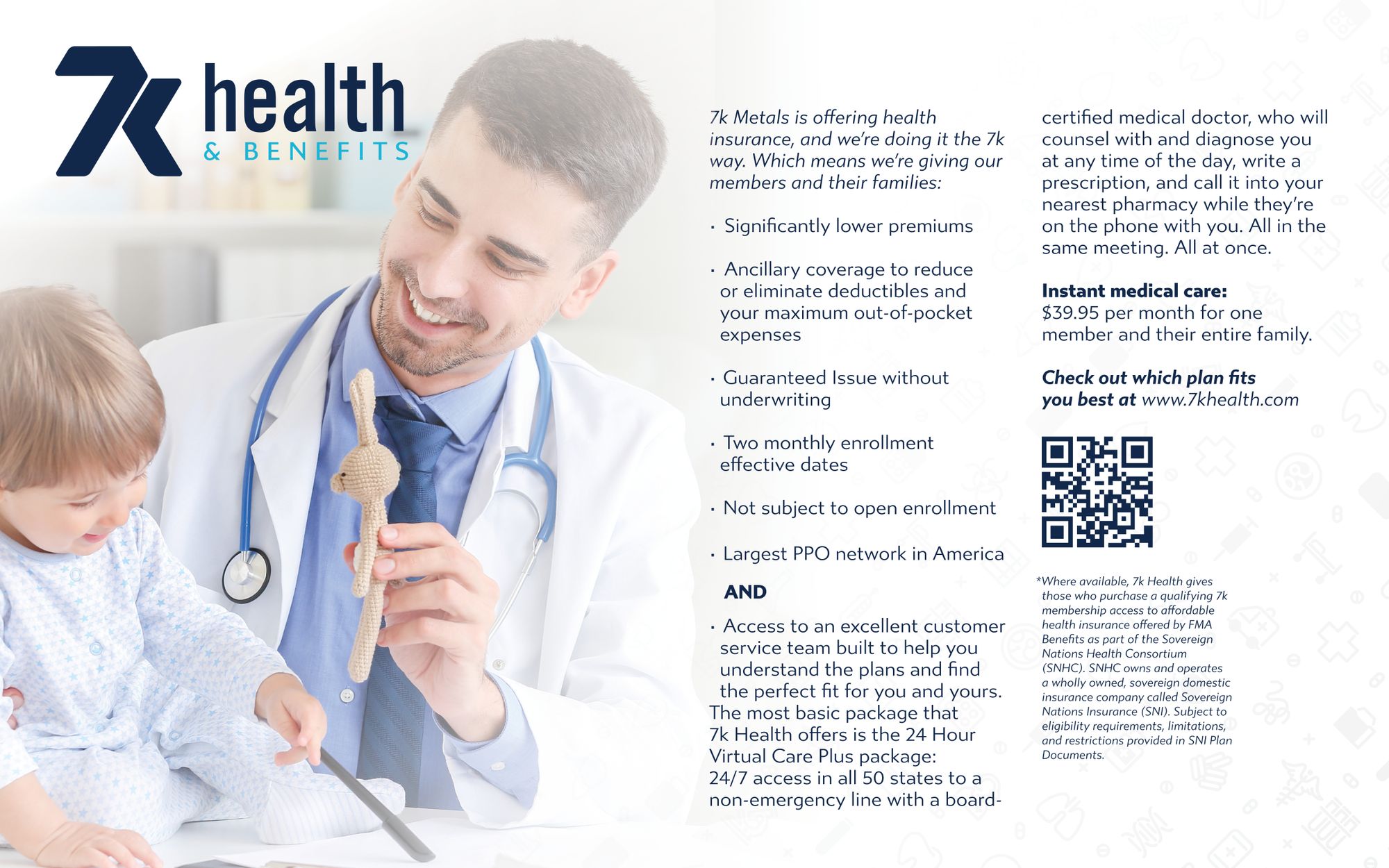 7k Health & Benefits
7k Metals is offering health insurance, and we're doing it the 7k way. Which means we're giving our members and their families:
Significantly lower premiums
Ancillary coverage to reduce or eliminate deductibles and your maximum out-of-pocket expenses
Guaranteed issue without underwriting
Two monthly enrollment effective dates
Not subject to open enrollment
Largest PPO network in America
AND
Access to an excellent customer service team built to help you understand the plans and find the perfect fit for you and yours.
The most basic package that 7k Healthcare offers is the 24 Hour Virtual Care Plus package: 24/7 access in all 50 states to a non-emergency line with a board-certified medical doctor, who will counsel with and diagnose you at any time of the day, write a prescription, and call it into your nearest pharmacy while they're on the phone with you. All in the same meeting. All at once.
Instant Medical Care:
$39.99 per month for one member and their entire family.
Check out which plan fits you best at: www.7khealth.com
---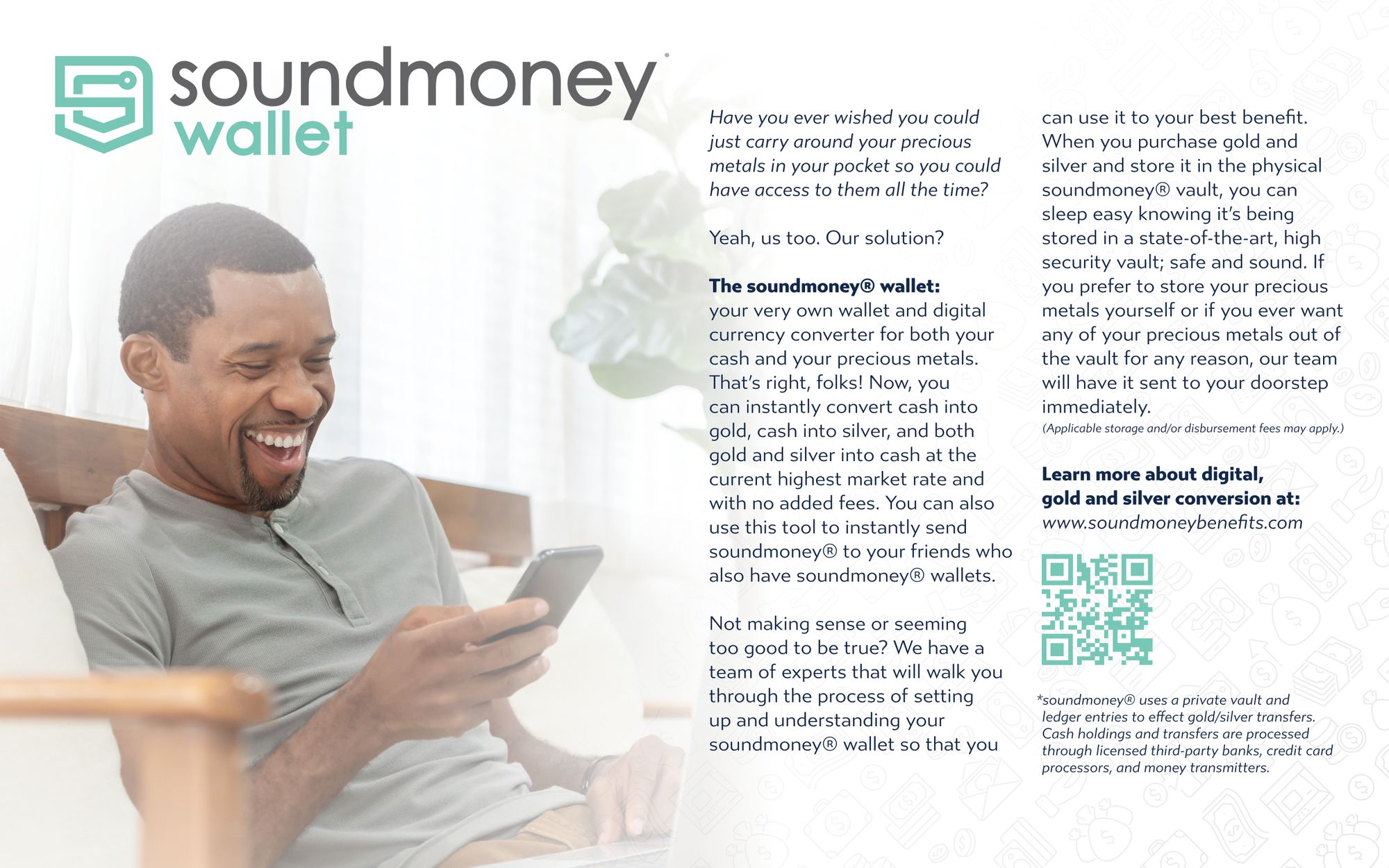 soundmoney® wallet
Have you ever wished you could just carry around your precious metals in your pocket so you could have access to them all the time?
Yeah, us too. Our solution?
The soundmoney® wallet:
Your very own wallet and digital currency converter for both your cash and your precious metals. That's right, folks! Now, you can instantly convert cash into gold, cash into silver, and both gold and silver into cash at the current highest market rate and with no added fees. You can also use this tool to instantly send soundmoney® to your friends who also have soundmoney® wallets.
Not making sense or seeming too good to be true? We have a team of experts that will walk you through the process of setting up and understanding your soundmoney® wallet so that you can use it to your best benefit. When you purchase gold and silver and store it in the physical soundmoney® vault, you can sleep easy knowing it's being stored in a state-of-the-art, military-grade vault, safe and sound. If you prefer to store your precious metals yourself or if you ever want any of your precious metals out of the vault for any reason, our team will have it sent to your doorstep immediately.
Learn more about digital gold and silver conversion at: [https://sound.money/)
---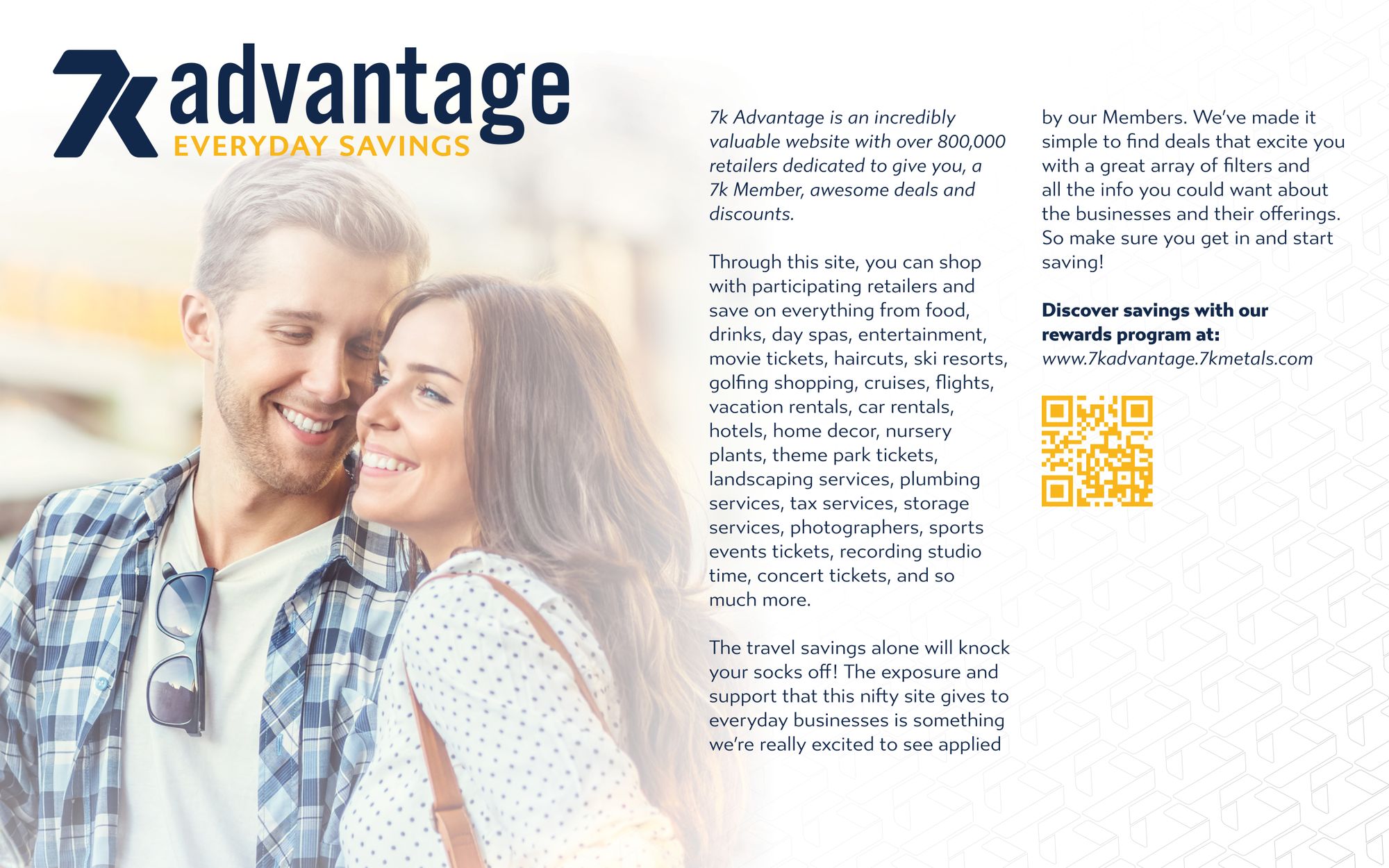 7k Advantage: Everyday Savings
7k Advantage is an incredibly valuable website with over 800,000 retailers dedicated to give you, a 7k Member, awesome deals and discounts.
Through this site, you can shop for everything! You'll find yourself saving on food, drinks, day spas, entertainment, movie tickets, haircuts, ski resorts, golfing, shopping, cruises, flights, vacation rentals, car rentals, hotels, home decor, nursery plants, theme park tickets, landscaping services, plumbing services, tax services, storage services, photographers, sports events tickets, recording studio time, concert tickets, and so. Much. More.
The travel savings alone will knock your socks off! The exposure and support that this nifty site gives to everyday businesses is something we're really excited to see applied by our Members. We've made it simple to find deals that excite you with a great array of filters and all the info you could want about the businesses and deals. So make sure you get in and start saving!
---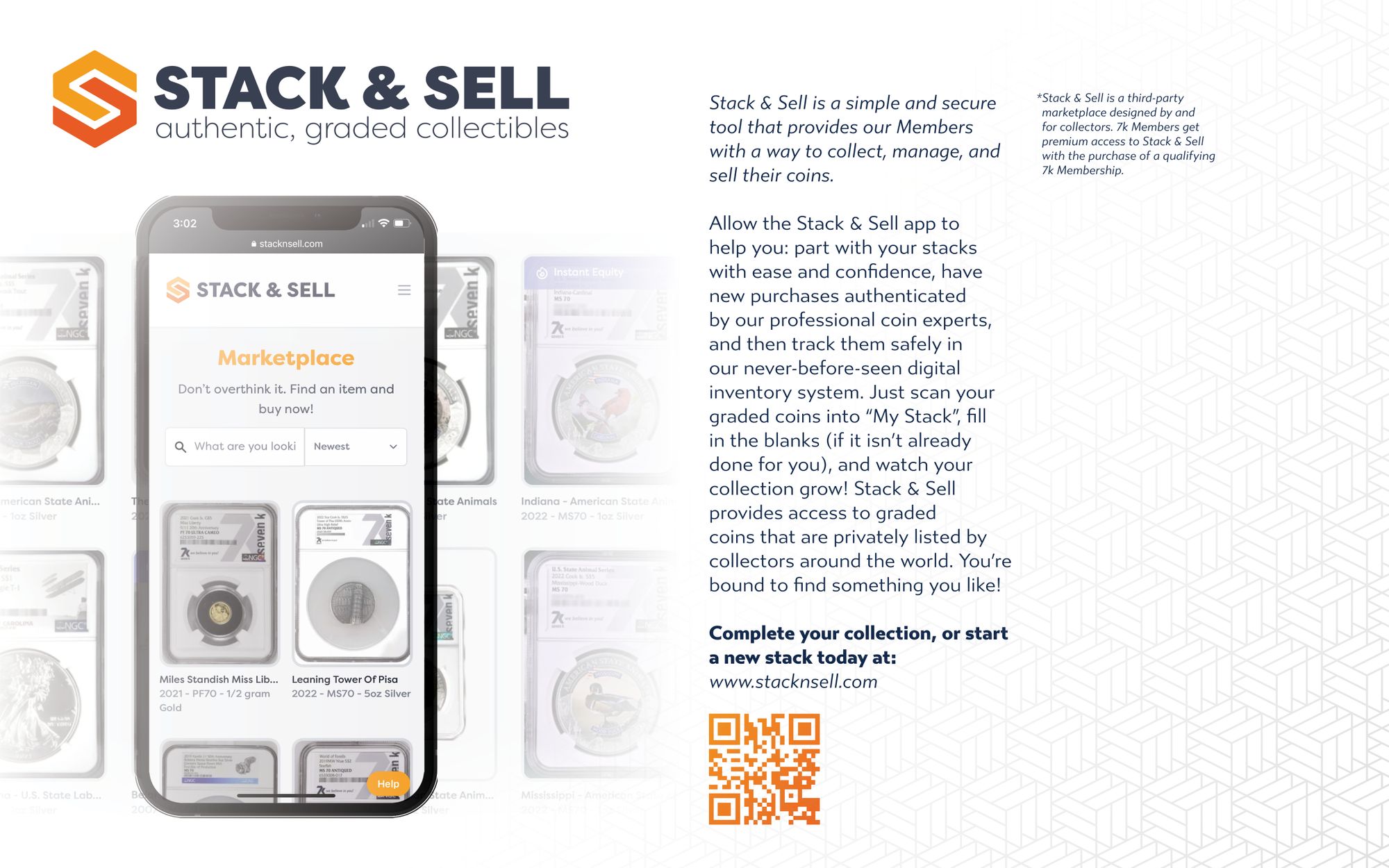 Stack & Sell: Authentic, Graded Collectibles
Stack & Sell is one of the simplest and most secure tools we have to provide our Members with a way to collect, manage, and sell their coins.
Allow the Stack & Sell app to help you: part with your stacks with ease and confidence, have new purchases authenticated by our professional coin experts, and then store them safely in our never-before-seen digital inventory system. Just scan your graded coins into "My Stack", fill in the blanks (if it isn't already done for you), and watch your collection grow! Stack & Sell provides access to graded coins from collectors around the world. You're bound to find something you like!
Complete your collection, or start a new stack today at: https://www.stacknsell.com/
---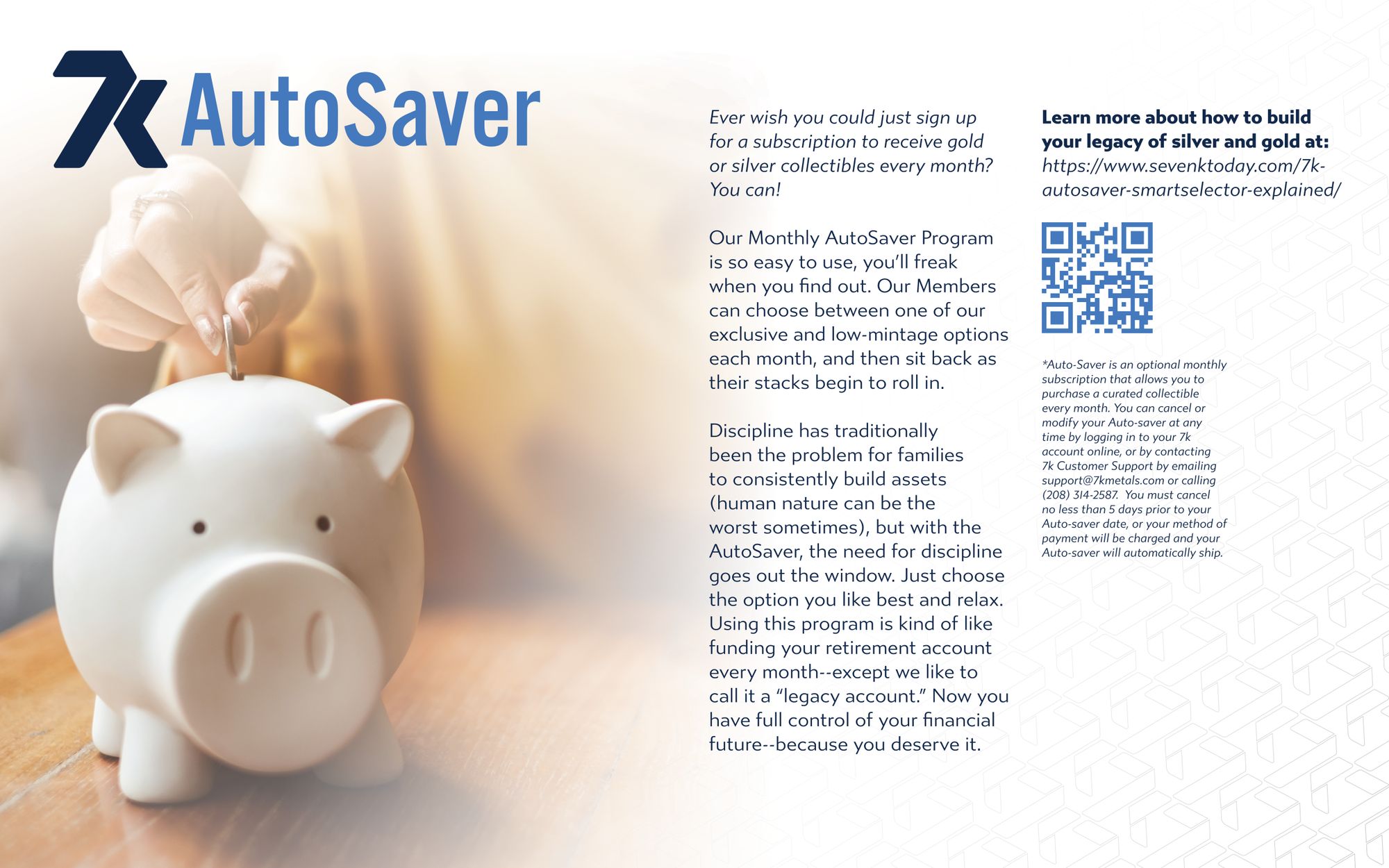 7k AutoSaver
Ever wish you could just sign up for a subscription to receive gold or silver collectibles every month? You can!
Our Monthly Auto Saver Program is so easy to use, you'll freak when you find out. Our Members can choose between one of our exclusive and low-mintage options each month, and then sit back as their stacks begin to roll in.
Discipline has traditionally been the problem for families to consistently build assets (human nature can be the worst sometimes), but with the AutoSaver, the need for discipline goes out the window. Just choose the option you like best and relax. Using this program is kinda like funding your retirement account every month--except we like to call it a "legacy account." Now you have full control of your financial future--because you deserve it.
Learn more about how to build your legacy of silver and gold at: 7k Auto Saver Explained
---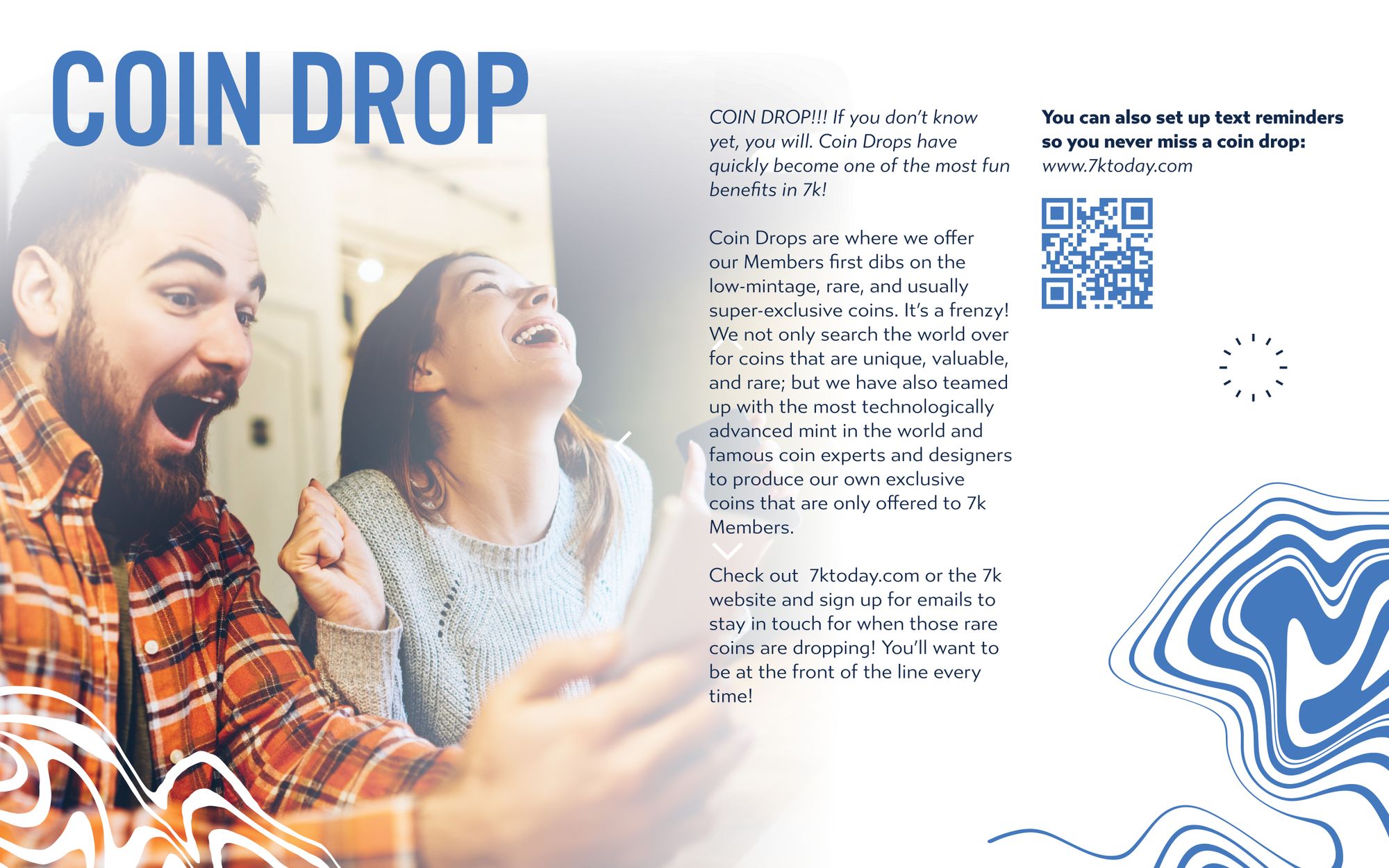 7k Coin Drop
COIN DROP!!! If you don't know yet, you will. Coin Drops have quickly become one of the most fun benefits in 7k!
Coin Drops are when we offer our Members first dibs on low-mintage, rare, and usually super-exclusive coins. It's a frenzy! How do we get those coins? We search the world over for coins that are unique, valuable, and rare, but we have also teamed up with the most technologically advanced Mints in the world, alongside famous coin experts and designers to produce our own exclusive coins that are only offered to 7k Members.
Check out 7ktoday.com or the 7k website and sign up for emails to stay in touch for when those rare coins are dropping. You'll want to be at the front of the line every time!
You can also set up text reminders so you never miss a coin drop: https://www.7ktoday.com/
Membership in 7k is about more than just precious metals. It's an opportunity to have new experiences and explore new heights! It's a chance to build a legacy for yourself and future generations.
Daily Benefits
These benefits should be used every day that you are a member of 7k. From micro silver and gold purchases, to our curated market and discount program, the stress and frustration about collecting precious metals just melts away.
Recurring Benefits
Set it and forget about it with the autosaver. Save big for better coverage with 7k Health. Send bullion directly to your door. Have fun trying to get one of the
low-mintage coins on the Coin Drops. Each of these recurring benefits is designed to get you where you want to go, just faster!
Legacy Benefits
Legacies aren't built in a day and having the right tools to build it right are key. These benefits can help set you up for the long-haul. From potential long-term income by sharing the 7k message, to a true gold-backed IRA and more.