February 2023 Vault Report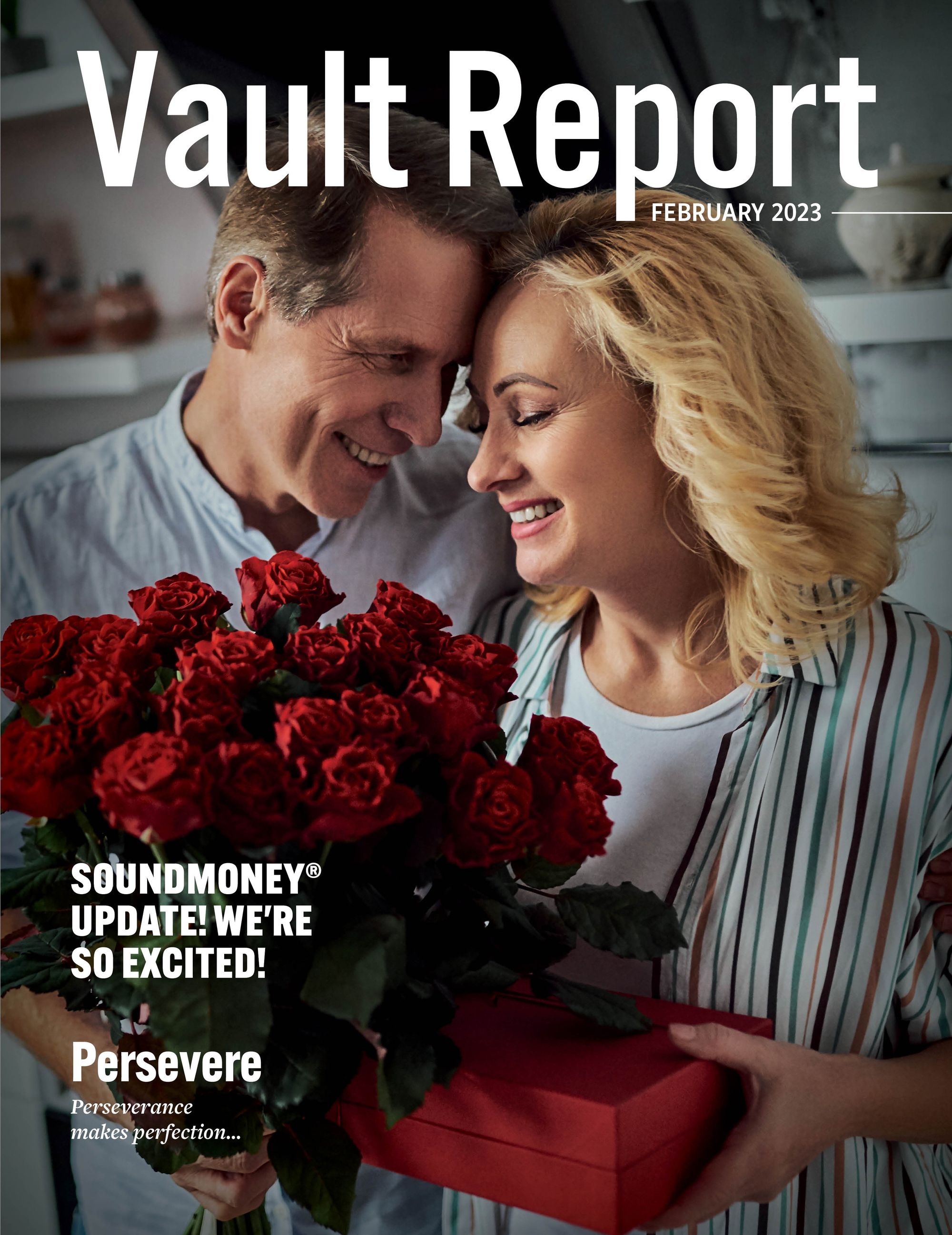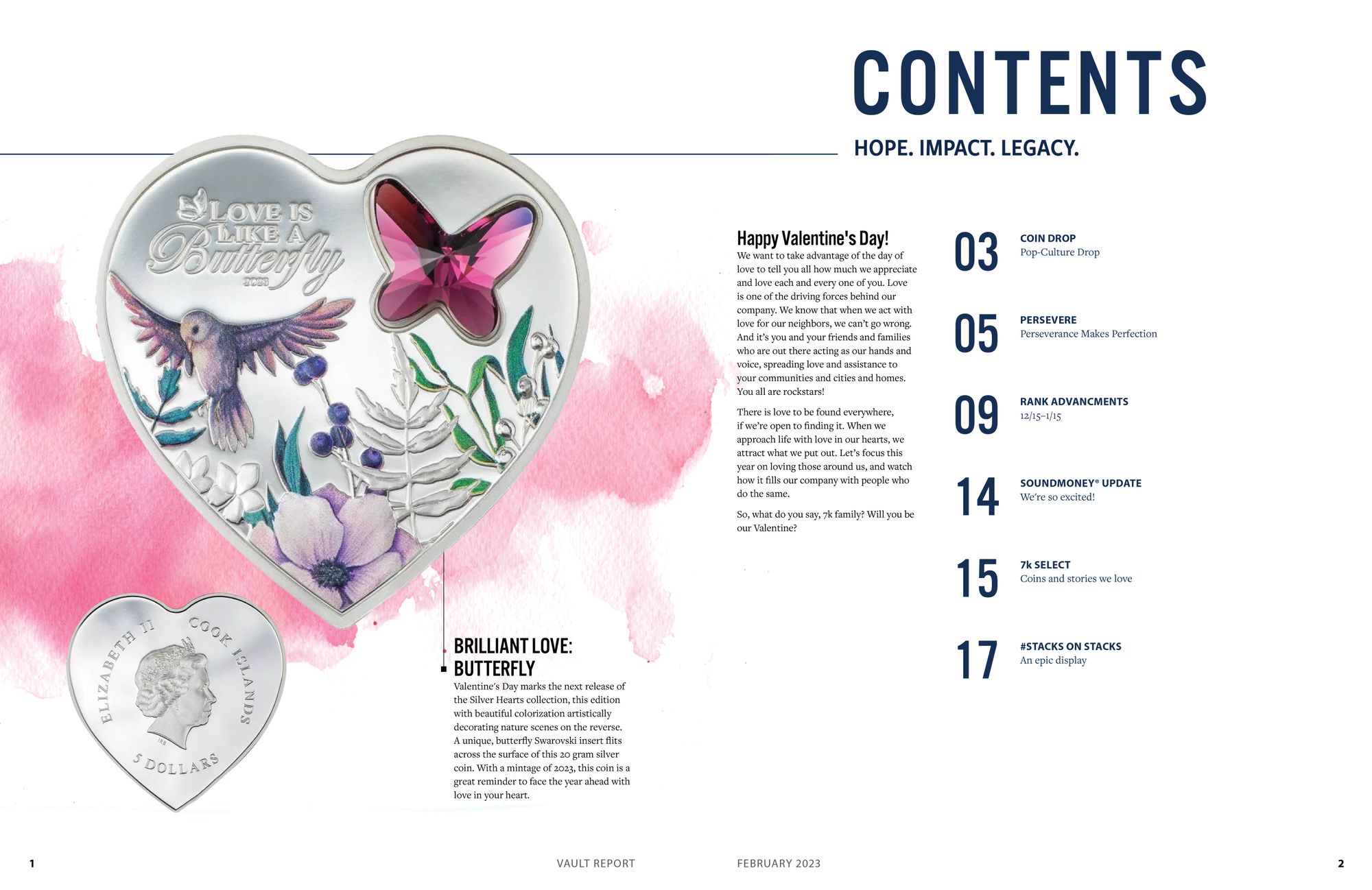 CONTENTS
HOPE. IMPACT. LEGACY.
Happy Valentine's Day, 7k Family!
We want to take advantage of the day of love to tell you all how much we appreciate and love each and every one of you. Love is one of the driving forces behind our company. We know that when we act with love for our neighbors, we can't go wrong. And it's you and your friends and families who are out there acting as our hands and voice, spreading love and assistance to your communities and cities and homes. You all are rockstars!
There is love to be found everywhere, if we're open to finding it. When we approach life with love in our hearts, we attract what we put out. Let's focus this year on loving those around us, and watch how it fills our company with people who do the same.
What do you say? Will you be our Valentine? 🙂
BRILLIANT LOVE: BUTTERFLY
Valentine's Day marks the next release of the Silver Hearts collection, this edition with beautiful colorization artistically decorating nature scenes on the revers. A unique butterfly Swarovski insert flits across the surface of this 20 gram silver coin. With a mintage of 2023, this coin is a great reminder to face the year ahead with love in your heart.
03 - COIN DROP
Pop Culture Drop
05 - PERSEVERE
Perseverance Makes Perfection
09 - RANK ADVANCEMENTS
12/12 - 1/15
14 - SOUNDMONEY UPDATE
We're so excited!
15 - 7k SELECT
Coins and stories we love
17 - #STACKSONSTACKS
An epic display
---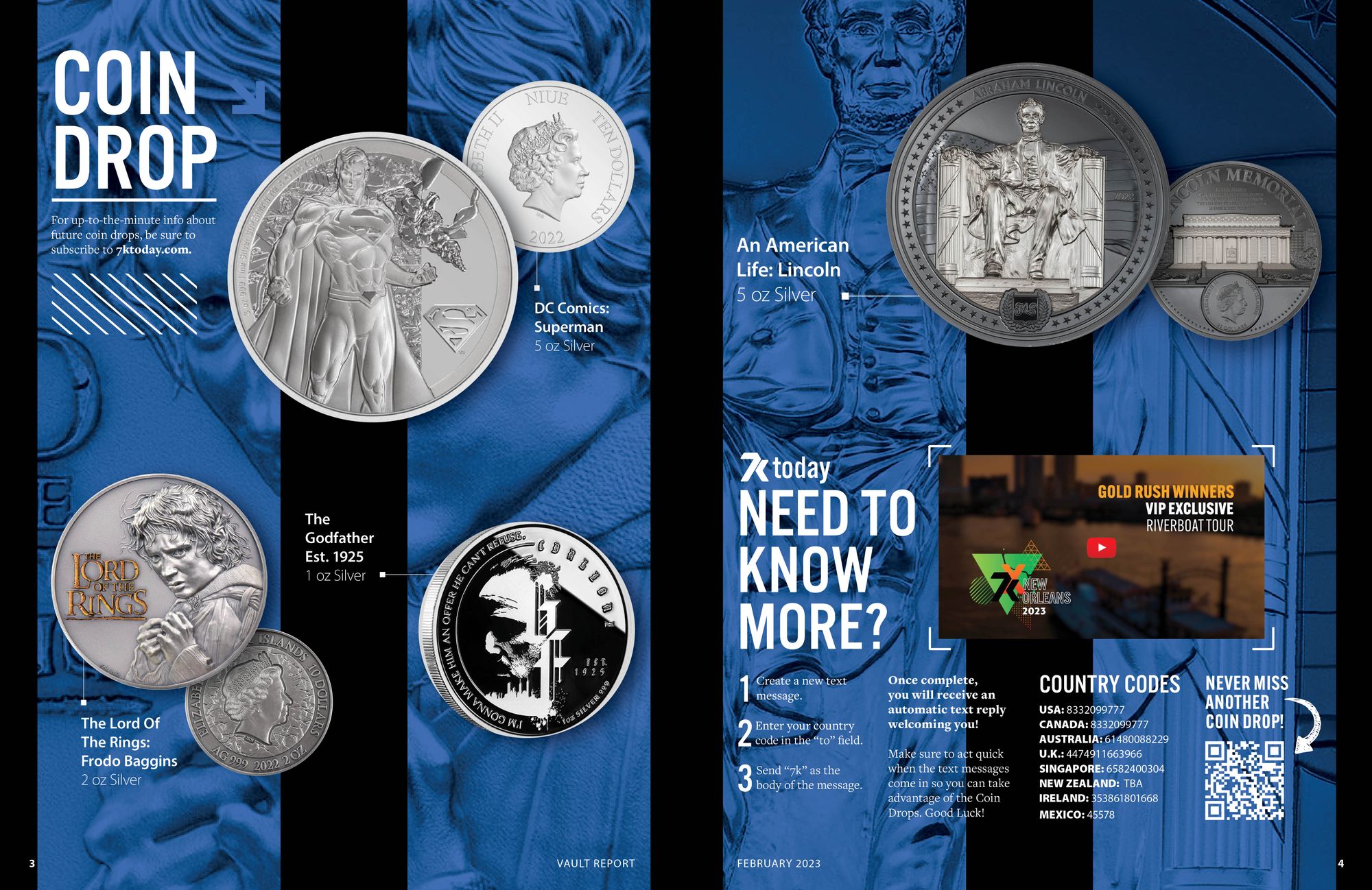 COIN DROP
For up-to-the-minute info about future coin drops, be sure to subscribe to 7ktoday.com.
DC Comics: Superman 5oz Silver
An American Life: Lincoln 5oz Silver
The Godfather: Est. 1925 1oz Silver
The Lord of the Rings: Frodo Baggins 2oz Silver
NEED TO KNOW MORE?
1 - Create a new text message.
2 - Enter your country code in the "to" field.
3 - Send "7k" as the body of the message.
Country Codes
USA: 8332099777
CANADA: 8332099777
AUSTRALIA: 61480088229
U.K.: 4474911663966
SINGAPORE: 6582400304
NEW ZEALAND: TBA
IRELAND: TBA
*Normal rates based on your individual plan may apply, but no additional international costs will be incurred.
Once complete, you will receive an automatic text reply welcoming you!
Make sure to act quickly when the text messages come in so you can take advantage of the Coin Drops. Good luck!
---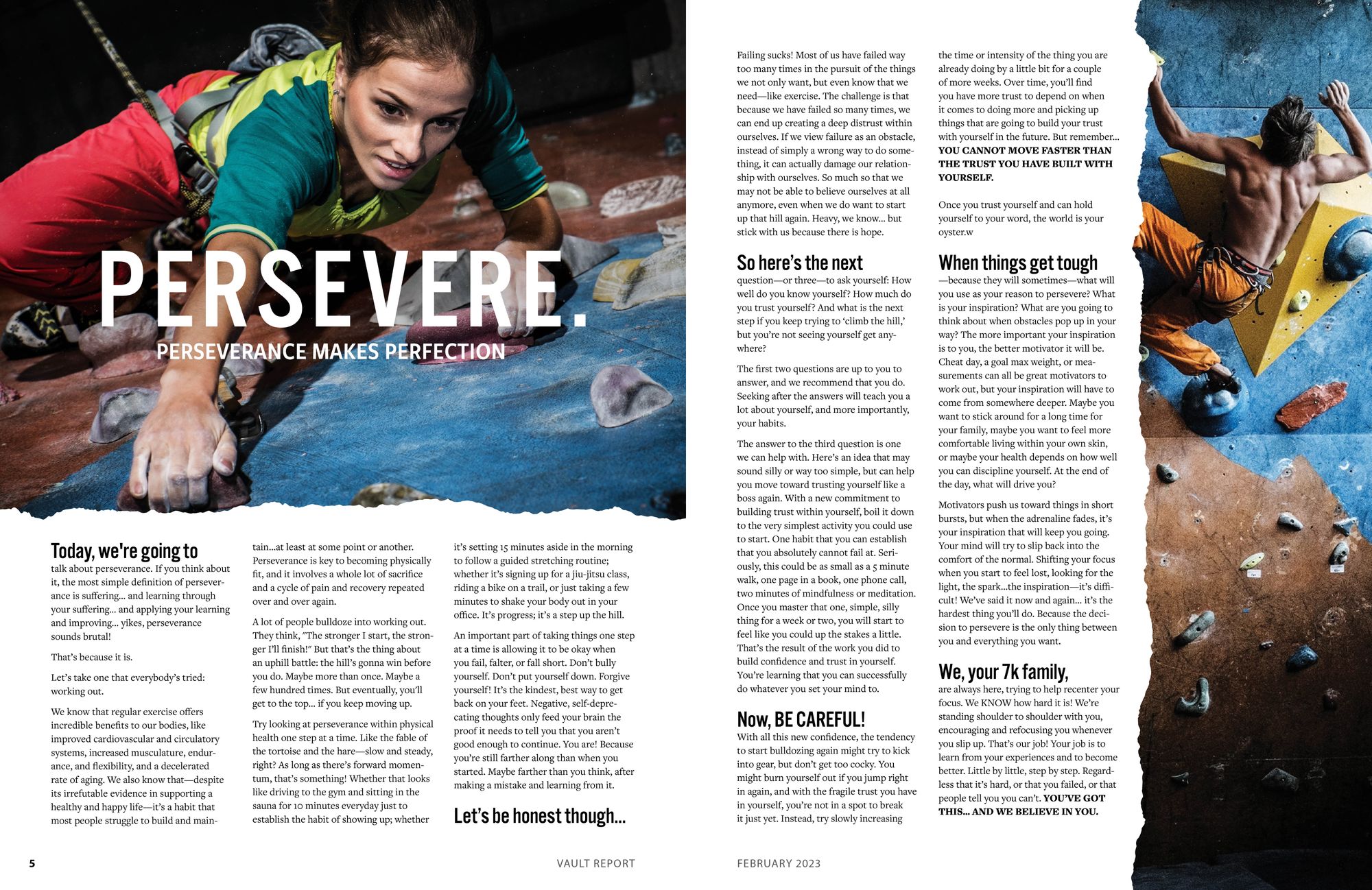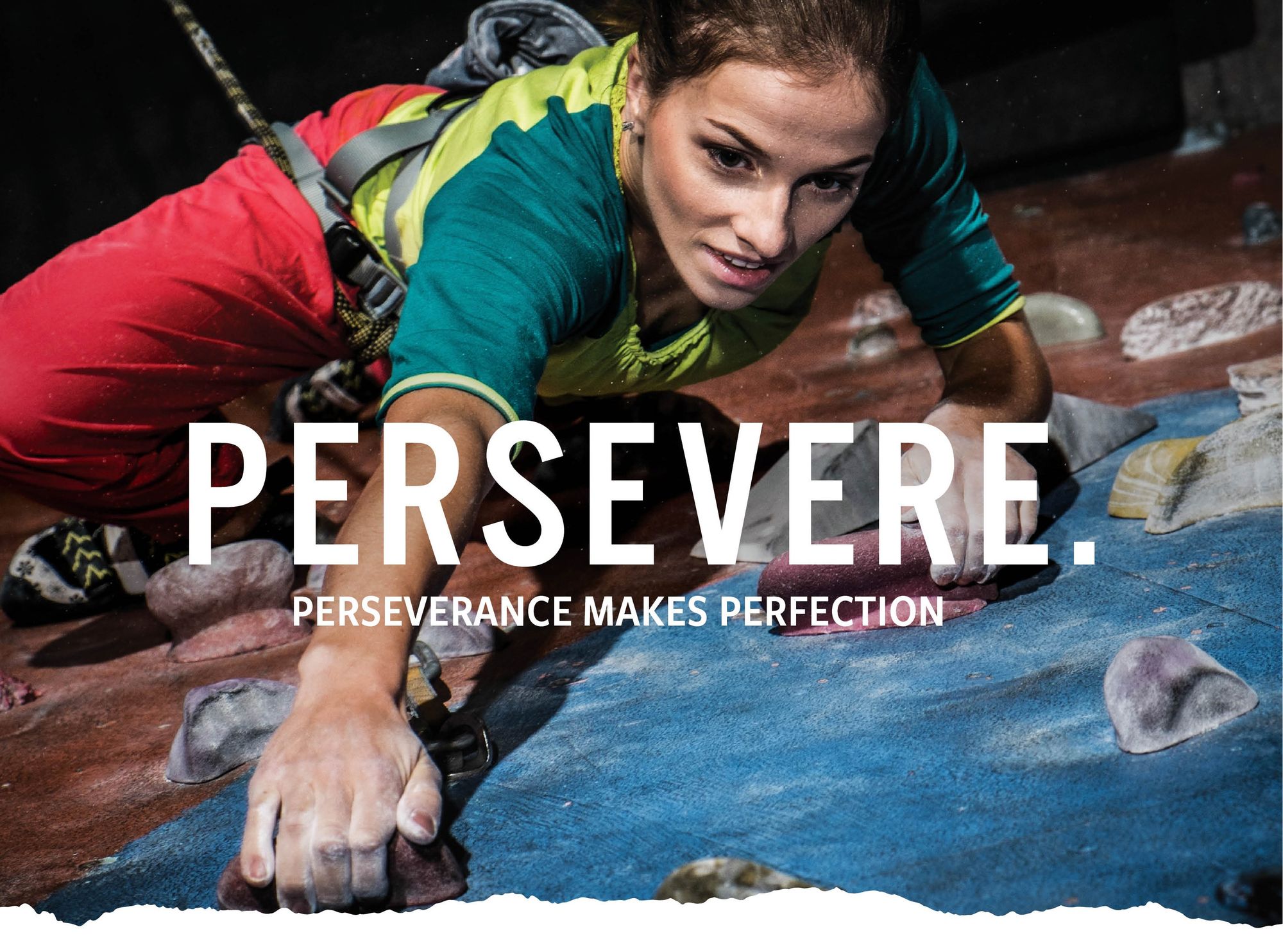 ---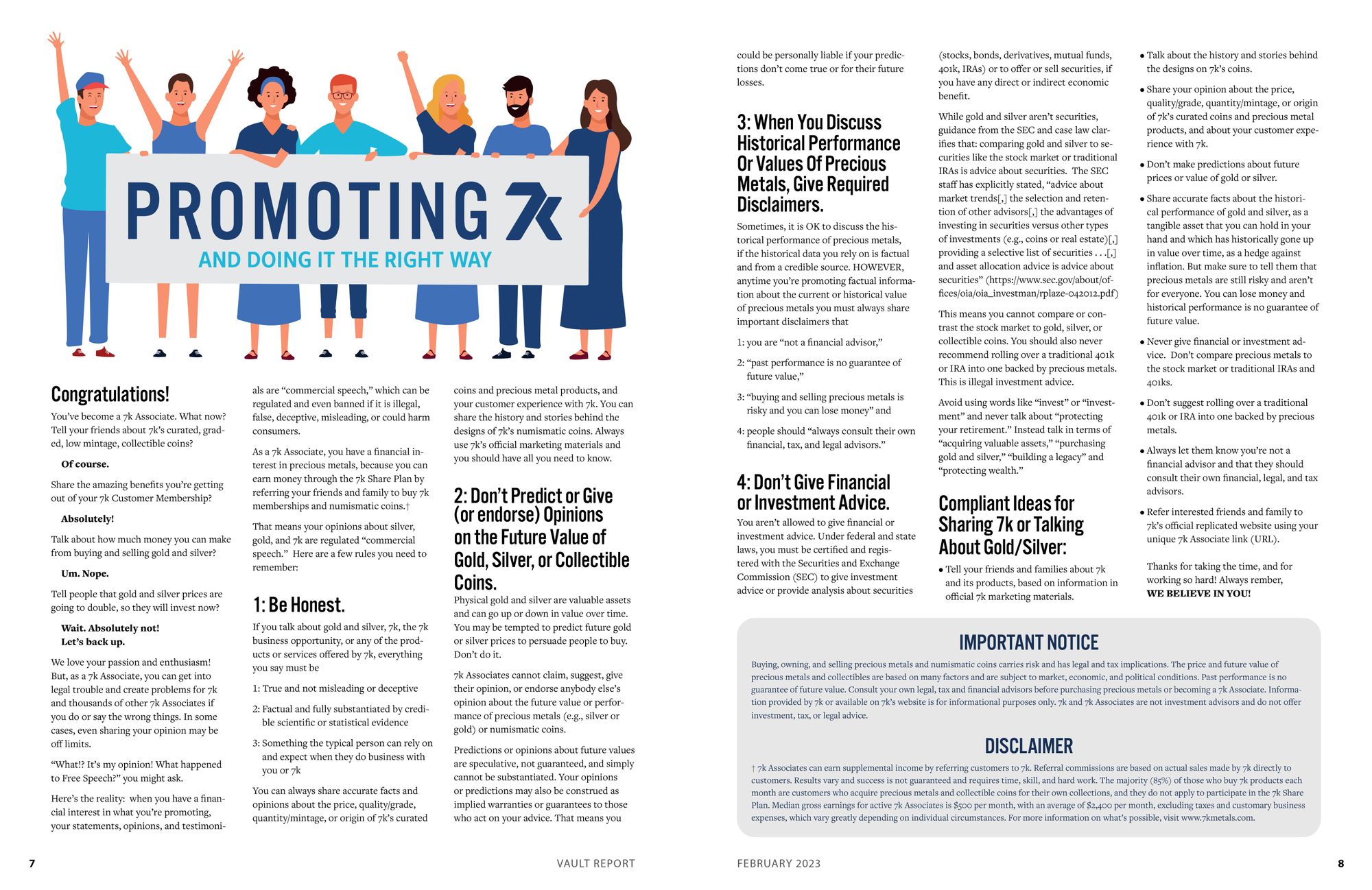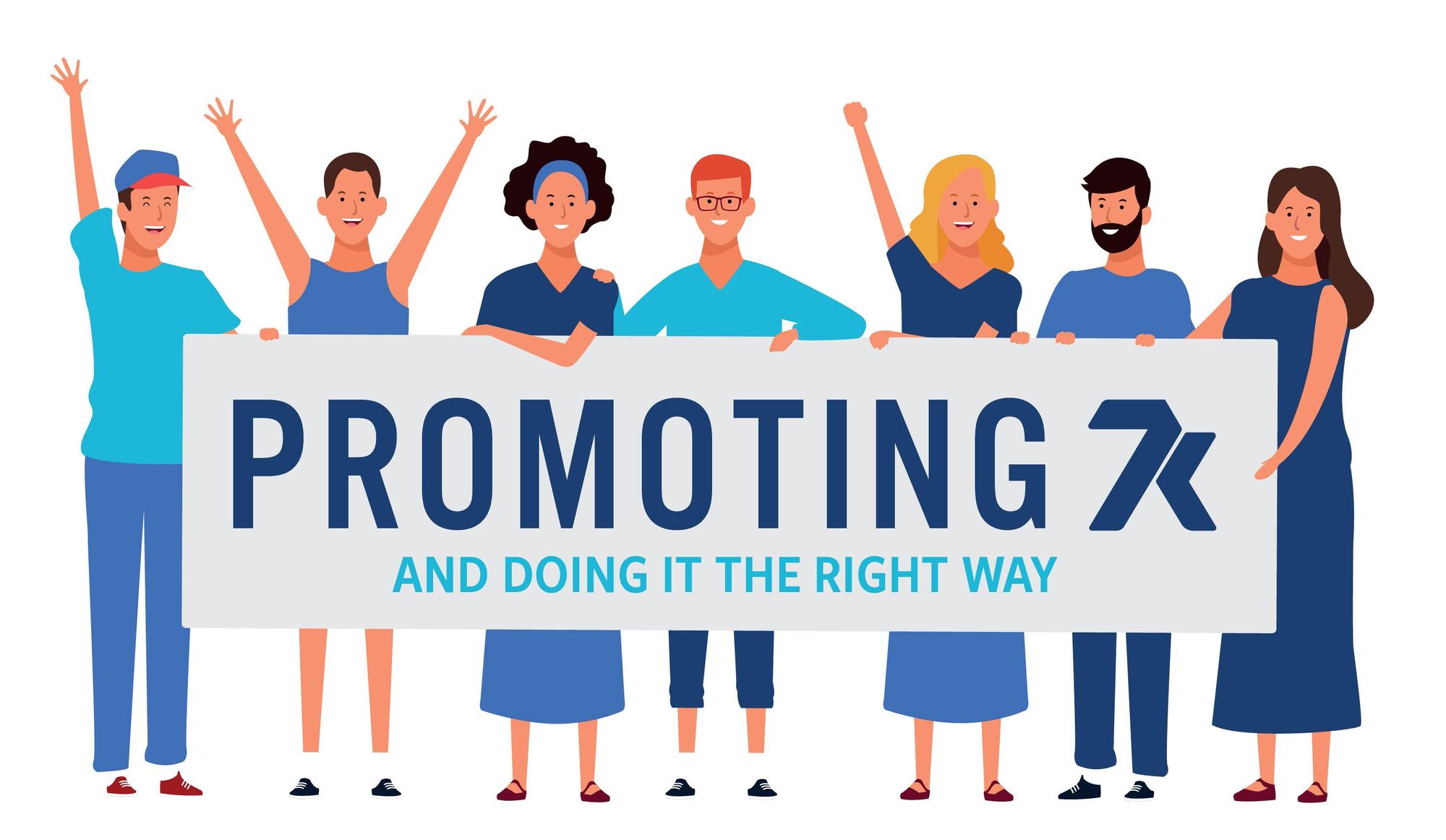 ---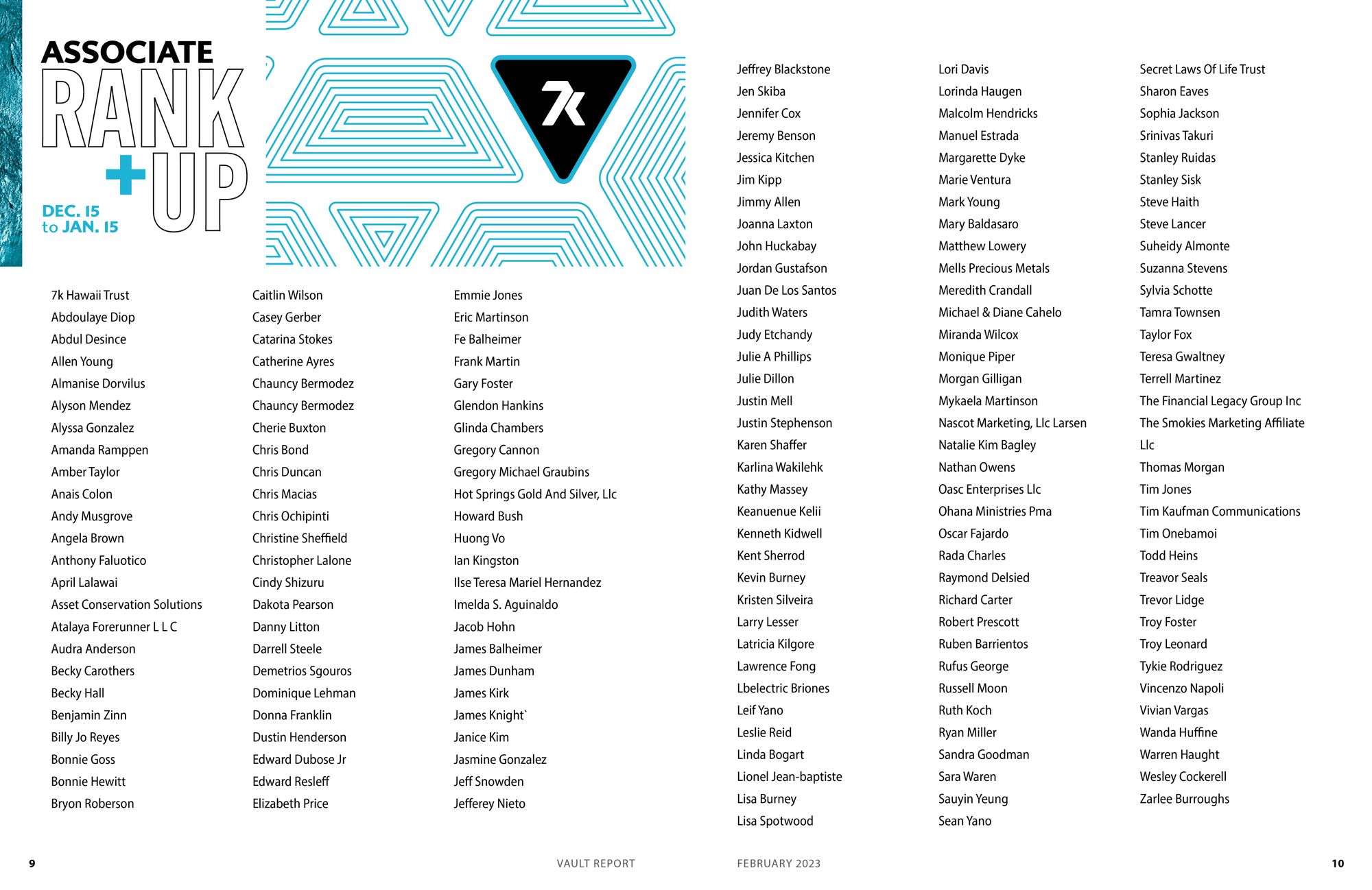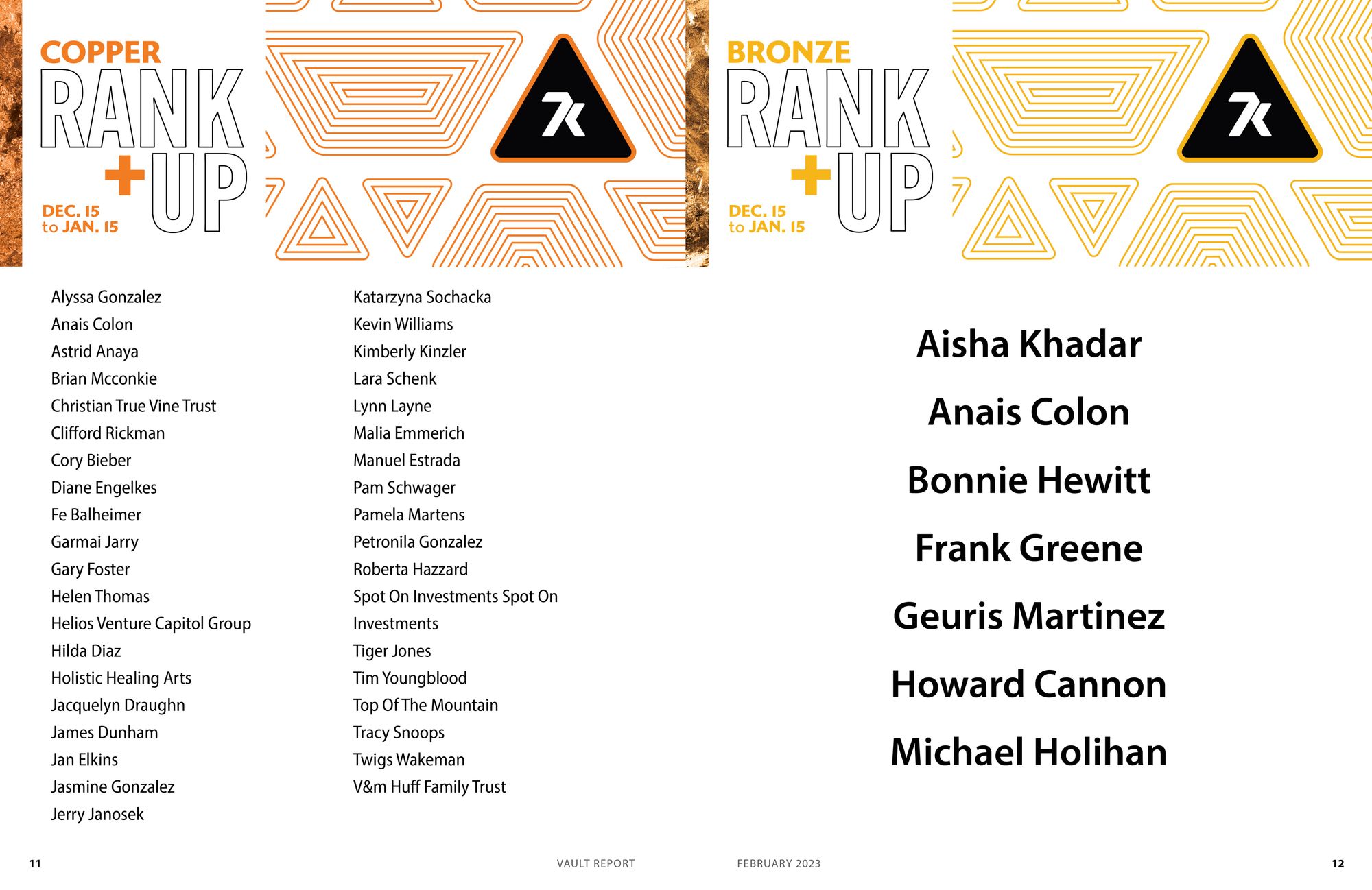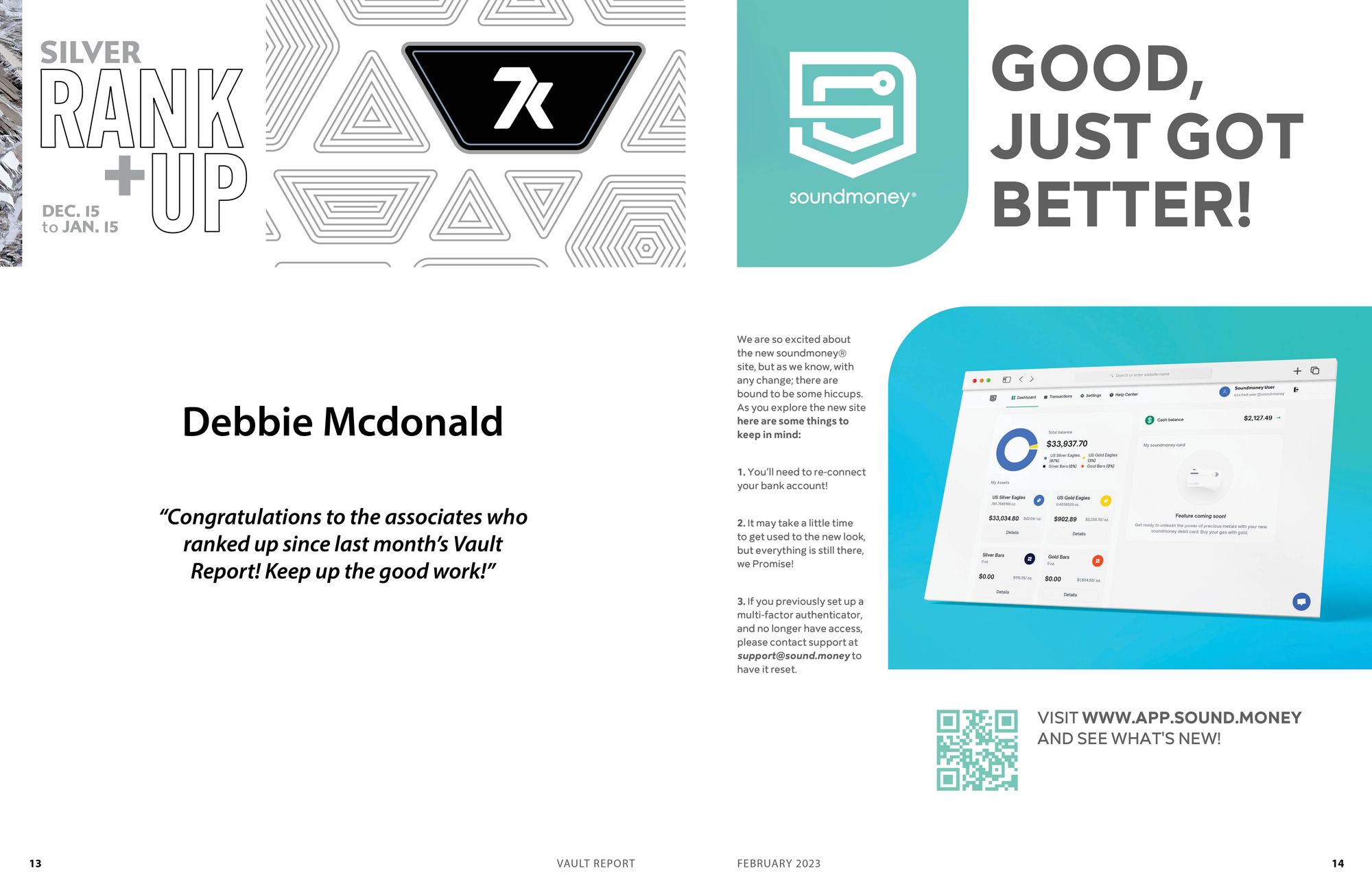 Good Just Got Better!
We're so excited about the new soundmoney site, but as we know, with any change; there are bound to be some hiccups. As you explore the new site here are some things to keep in mind:
You'll need to re-connect your bank account!
It may take a little time to get used to the new look, but everything is still there - Promise!
If you previously set up a multi-factor authenticator, and no longer have access, please contact support at [support@sound.money] to have it reset.
---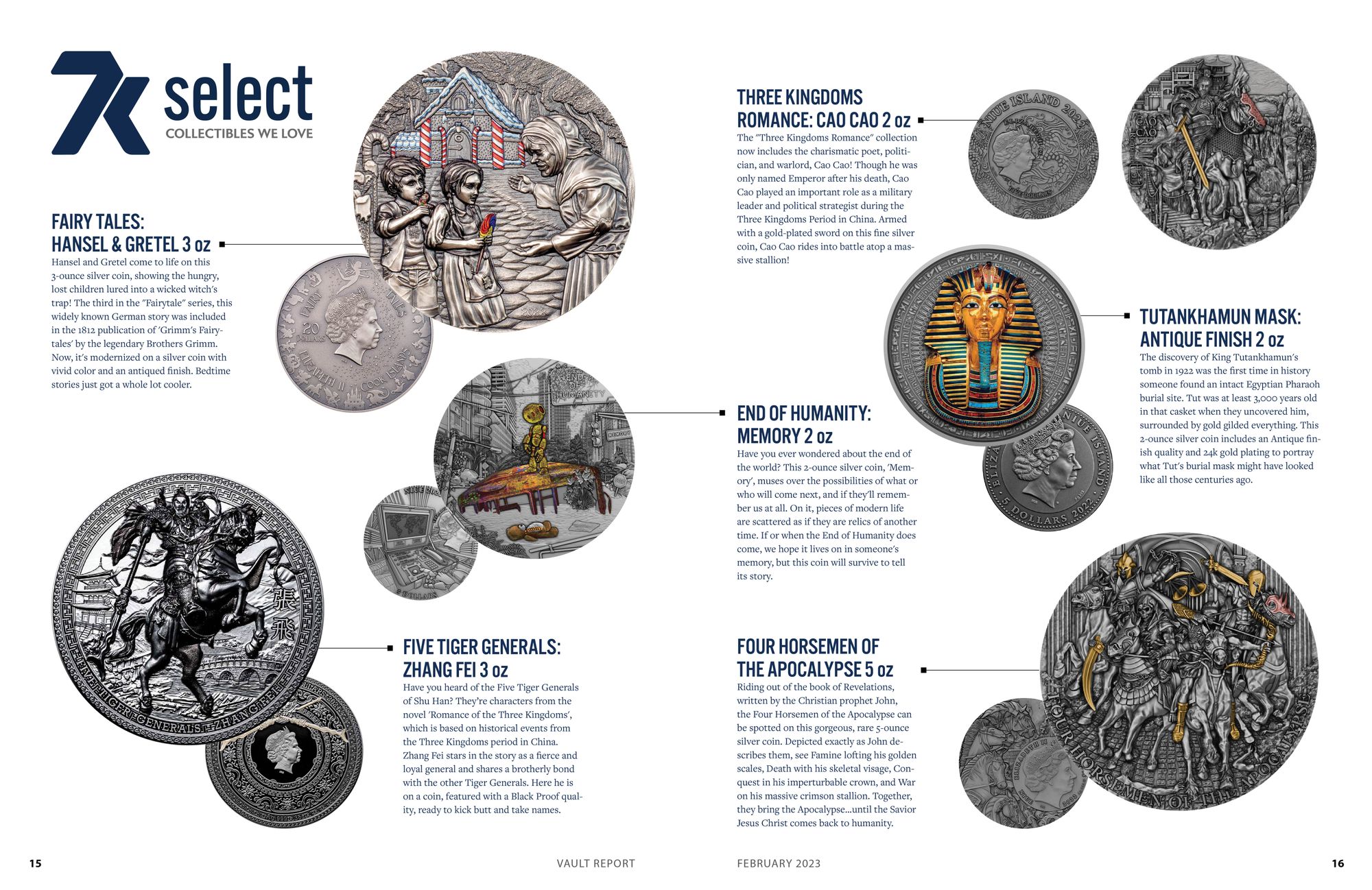 7k Select
Collectibles We Love
FAIRY TALES: HANSEL & GRETEL 3oz
Hansel and Gretel come to life on this 3-ounce silver coin, showing the hungry, lost children lured into a wicked witch's trap! The third in the "Fairytale" series, this widely known German story was included in the 1812 publication of 'Grimm's Fairytales' by the legendary Brothers Grimm. Now, it's modernized on a silver coin with vivid color and an antiqued finish. Bedtime stories just got a whole lot cooler.
END OF HUMANITY: MEMORY 2oz
Have you ever wondered about the end of the world? This 2 ounce silver coin, 'Memory', muses over the possibilities of what or who will come next, and if they'll remember us at all. On it, pieces of modern life are scattered as if they are relics of another time. If or when the End of Humanity does come, we hope it lives on in someone's memory, but this coin will survive to tell its story.
FIVE TIGER GENERALS: ZHANG FEI 3oz
Have you heard of the Five Tiger Generals of Shu Han? They're characters from the novel 'Romance of the Three Kingdoms', which is based on historical events from the Three Kingdoms period in China. Zhang Fei stars in the story as a fierce and loyal general and shares a brotherly bond with the other Tiger Generals. Here he is on a coin, featured with a Black Proof quality, ready to kick butt and take names.
THREE KINGDOMS ROMANCE: CAO CAO 2oz
The "Three Kingdoms Romance" collection now includes the charismatic poet, politician, and warlord, Cao Cao! Though he was only named Emperor after his death, Cao Cao played an important role as a military leader and political strategist during the Three Kingdoms Period in China. Armed with a gold-plated sword on this fine silver coin, Cao Cao rides into battle atop a massive stallion!
TUTANKHAMUN'S MASK: ANTIQUE FINISH 2oz
The discovery of King Tutankhamun's tomb in 1922 was the first time in history someone found an intact Egyptian Pharaoh burial site. Tut was at least 3,000 years old in that casket when they uncovered him, surrounded by gold gilded everything. This 2 oz silver coin includes an Antique finish quality and 24k gold plating to portray what Tut's burial mask might have looked like all those centuries ago.
FOUR HORSEMEN OF THE APOCALYPSE 5oz
Riding out of the book of Revelations, written by the Christian prophet John, the Four Horsemen of the Apocalypse can be spotted on this gorgeous, rare 5 oz silver coin. Depicted exactly as John describes them, see Famine lofting his golden scales, Death with his skeletal visage, Conquest in his imperturbable crown, and War on his massive crimson stallion. Together, they bring the Apocalypse...until the Savior Jesus Christ comes back to humanity.
---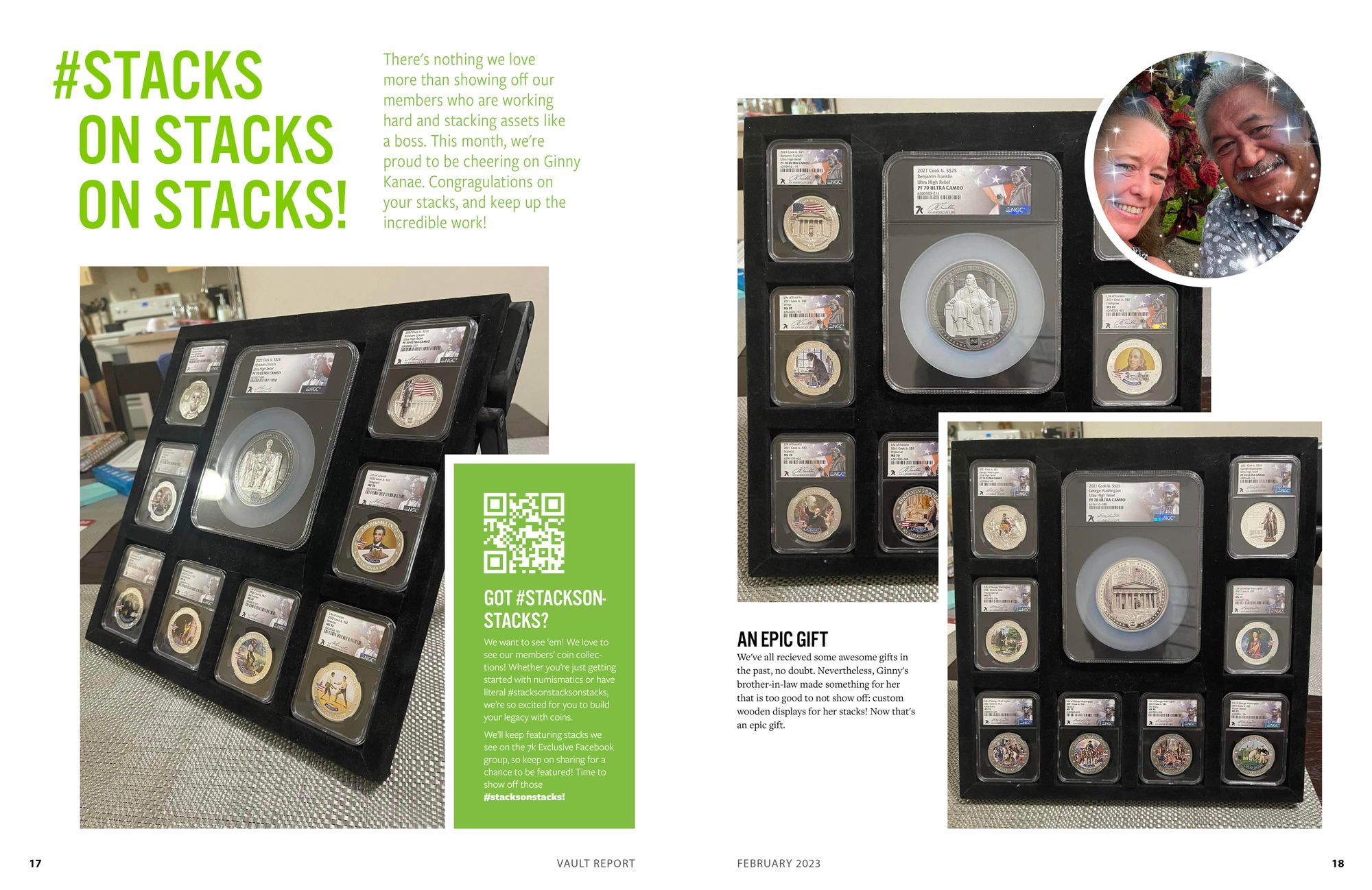 #STACKS ON STACKS ON STACKS!
There's nothing we love more than showing off our members who are working hard and stacking assets like a boss. This month, we're proud to be cheering on Ginny Kanae. Congratulations on your stacks, and keep up the incredible work!
An Epic Gift
We've all received some awesome gifts in the past, no doubt. Nevertheless, Ginny's brother-in-law made something for her that is too good to not show off: custom wooden displays for her stacks! Now that's an epic gift.
Got #stacksonstacks?
We want to see 'em!
We love to see our members' coin collections! Whether you're just getting started with numismatics or have literal #stacksonstacksonstacks, we're so excited for you to build your legacy with coins!
We'll keep featuring stacks we see on the 7k Exclusive Facebook group, so keep on sharing for a chance to be featured! Time to show off those #stacksonstacks!
---