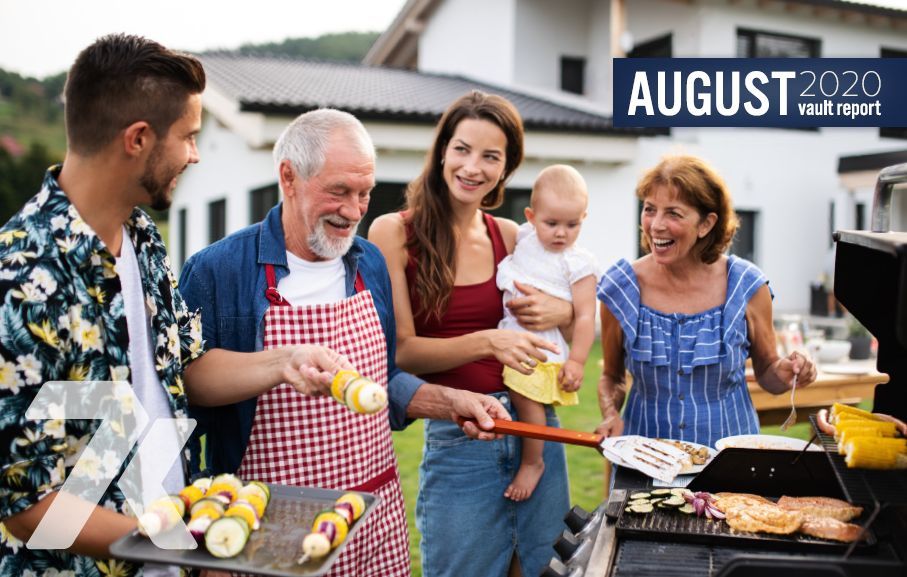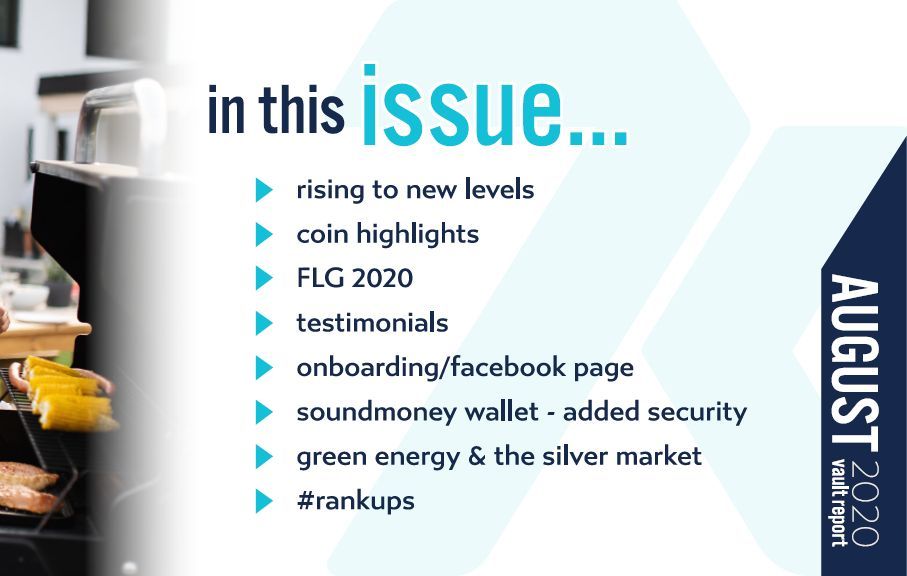 In This Issue:
rising to new levels
coin highlights
FLG 2020
testimonials
onboarding/facebook page
soundmoney wallet - added security
green energy & the silver market
rankups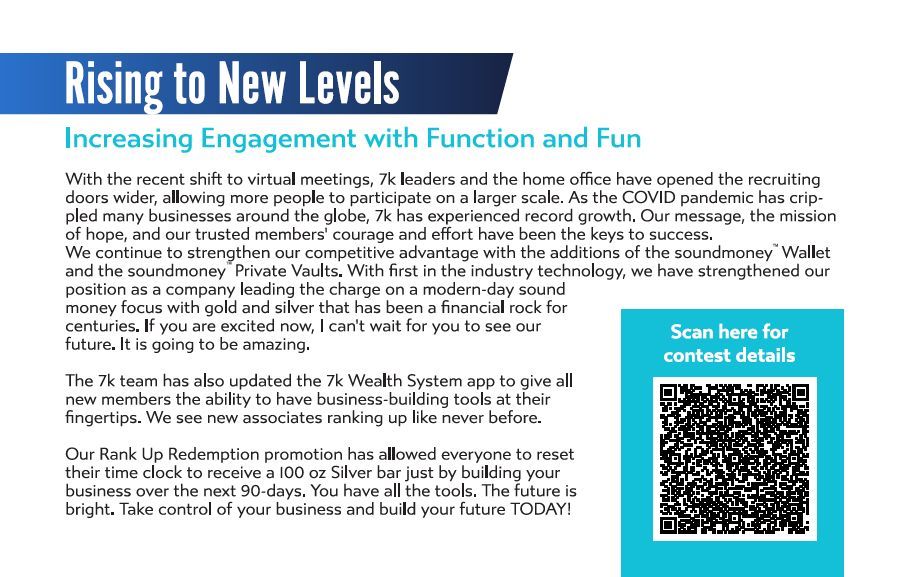 Rising to New Levels
Increasing Engagement with Function and Fun
With the recent shift to virtual meetings, 7k leaders and the home office have opened the recruiting doors wider, allowing more people to participate on a larger scale. As the COVID pandemic has crippled many businesses around the globe, 7k has experienced record growth. Our message, the mission of hope, and our trusted members' courage and effort have been the keys to success.
We continue to strengthen our competitive advantage with the additions of the soundmoney wallet and the soundmoney private vaults. With first in the industry technology, we have strengthened our position as a company leading the charge on a modern-day sound money focus with gold and silver that has been a financial rock for centuries. If you are excited now, I can't wait for you to see our future. It is going to be amazing.
The 7k team has also updated the 7k Wealth System app to give all new members the ability to have business-building tools at their fingertips. We see new associates ranking up like never before.
Our Rank Up Redemption promotion has allowed everyone to reset their time clock to receive a 100oz Silver bar just by building your business over the next 90 days. You have all the tools. The future is bright. Take control of your business and build your future TODAY!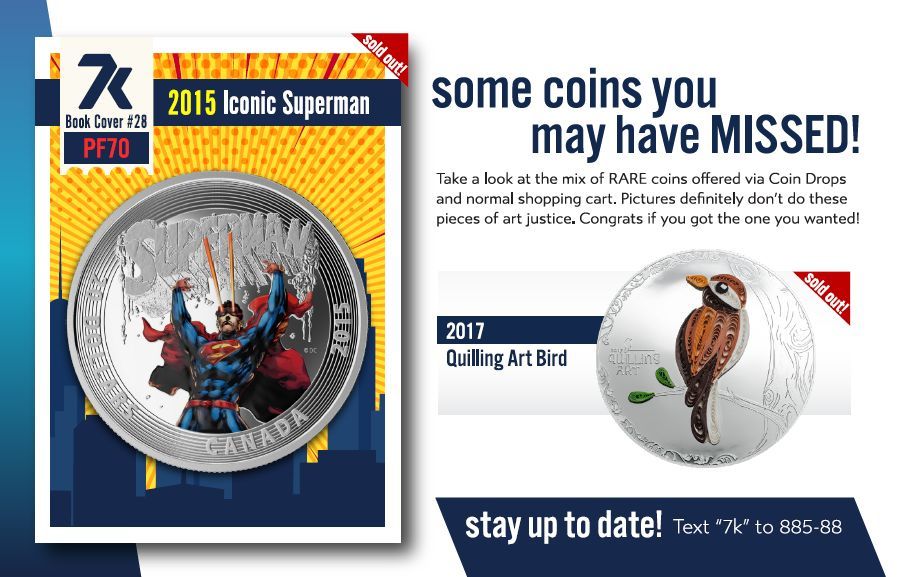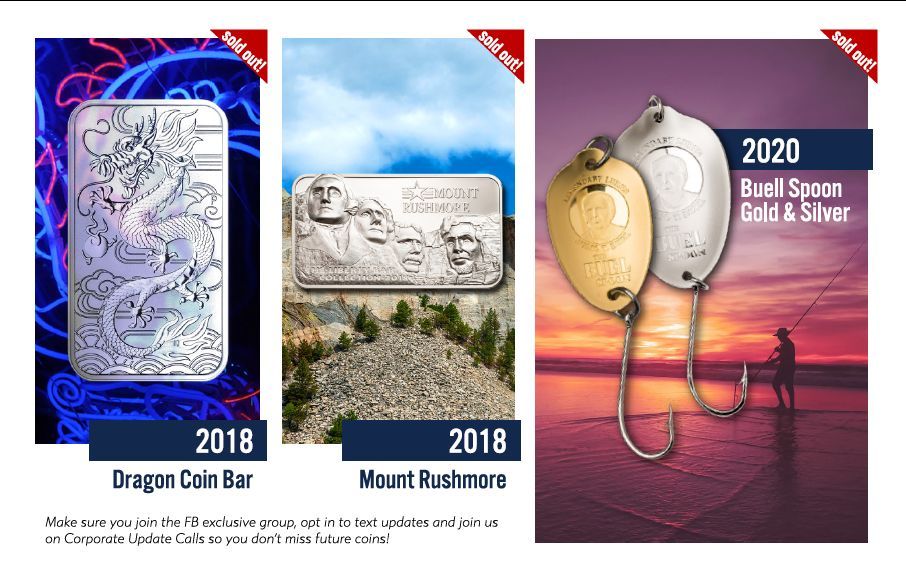 Some Coins You May Have Missed!
Check out these world-class coins that members added to their collections recently! Congratulations if you were able to get one!
2015 Iconic Superman
2017 Quilling Art Bird
2018 Dragon Coin Bar
2018 Mount Rushmore
2020 Buell Spoon Gold & Silver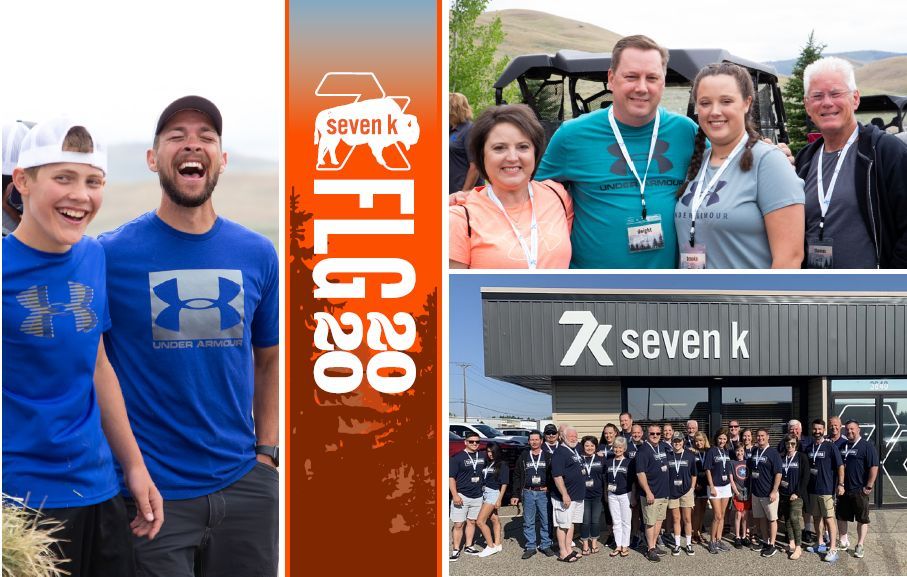 Founder's Lifestyle Getaway 2020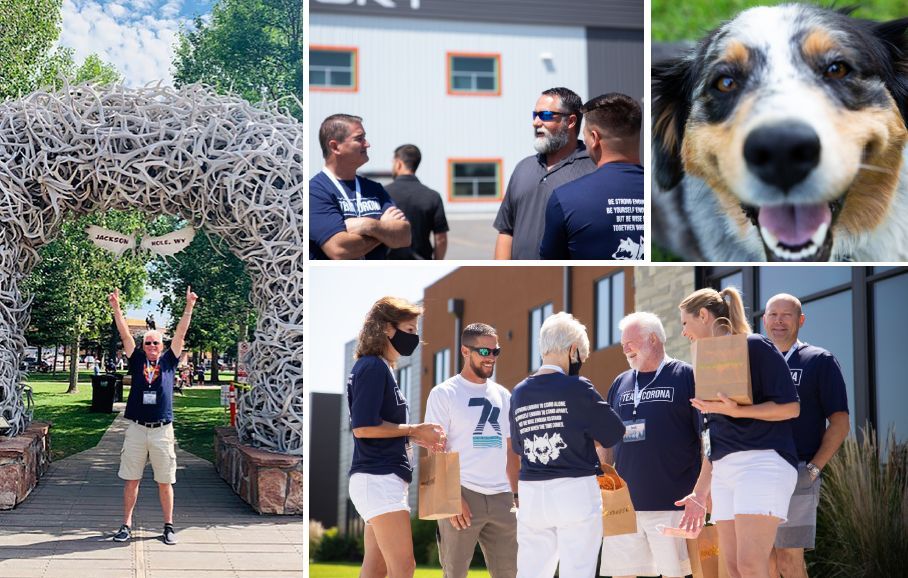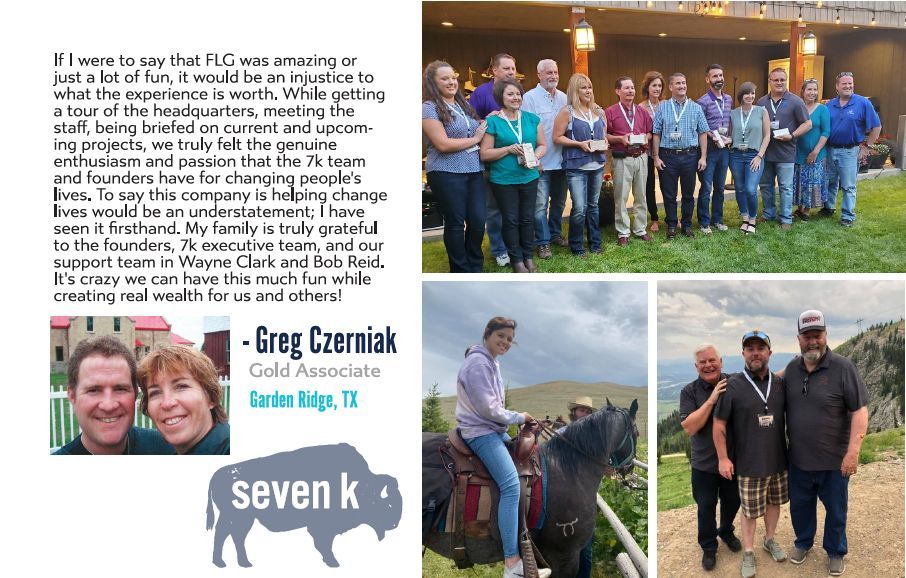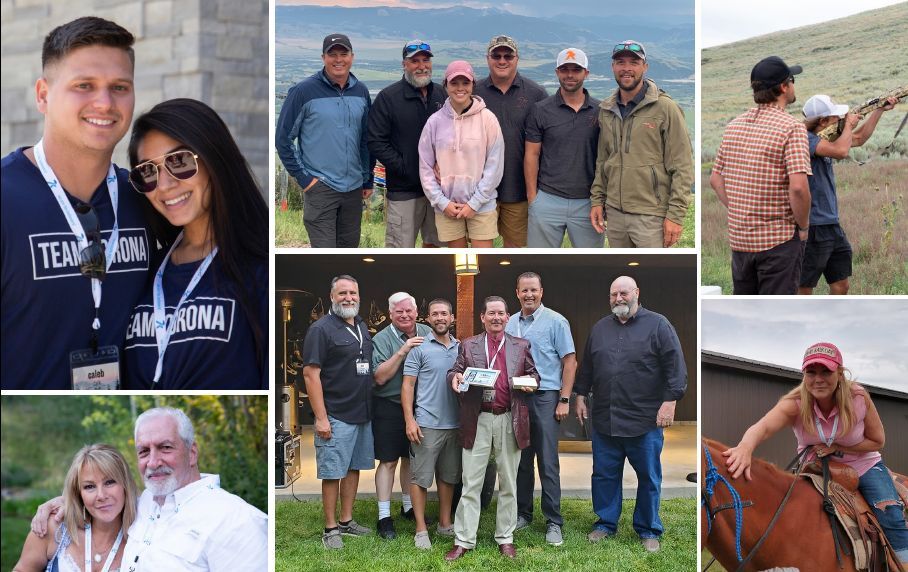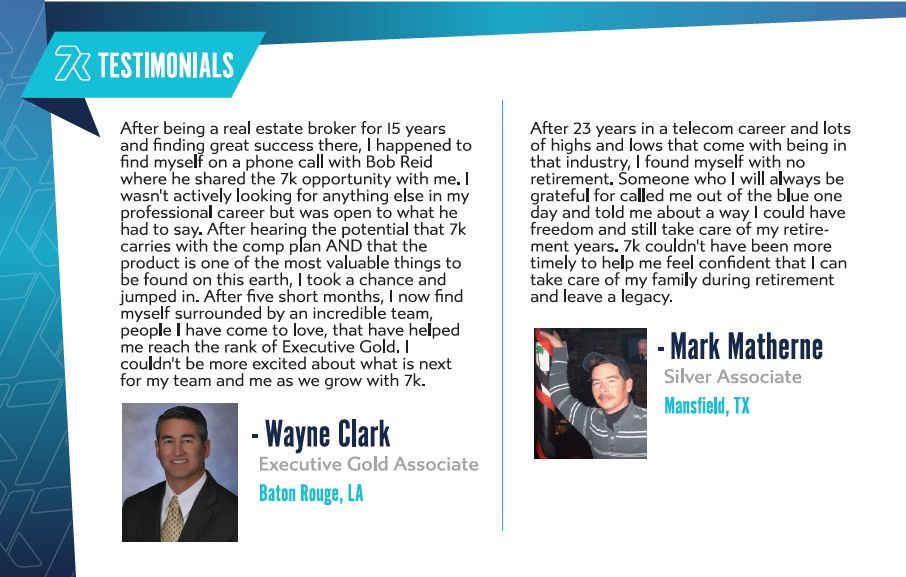 7k Testimonals
After being a real estate broker for 15 years and finding great success there, I happened to find myself on a phone call with Bob Reid where he shared the 7k opportunity with me. I wasn't actively looking for anything else in my professional career but was open to what he had to say. After hearing the potential that 7k carries with the comp plan AND that the product is one of the most valuable things to be found on this earth, I took the chance and jumped in. After five short months, I now find myself surrounded by an incredible team, people I have come to love, that have helped me reach the rank of Executive Gold. I couldn't be more excited about what is next for my team and me as we grow with 7k.
Wayne Clark
Executive Gold Associate
Baton Rouge, LA
After 23 years in a telecom career and lots of highs and lows that come with being in that industry, I found myself iwth no retirement. Someone who I will always be grateful to called me out of the blue one day and told me about a way I could have freedom and still take care of my retirement years. 7k couldn't have been more timely to help me feel confident that I can take care of my family during retirement and leave a legacy.
Mark Matherne
Silver Associate
Mansfield, TX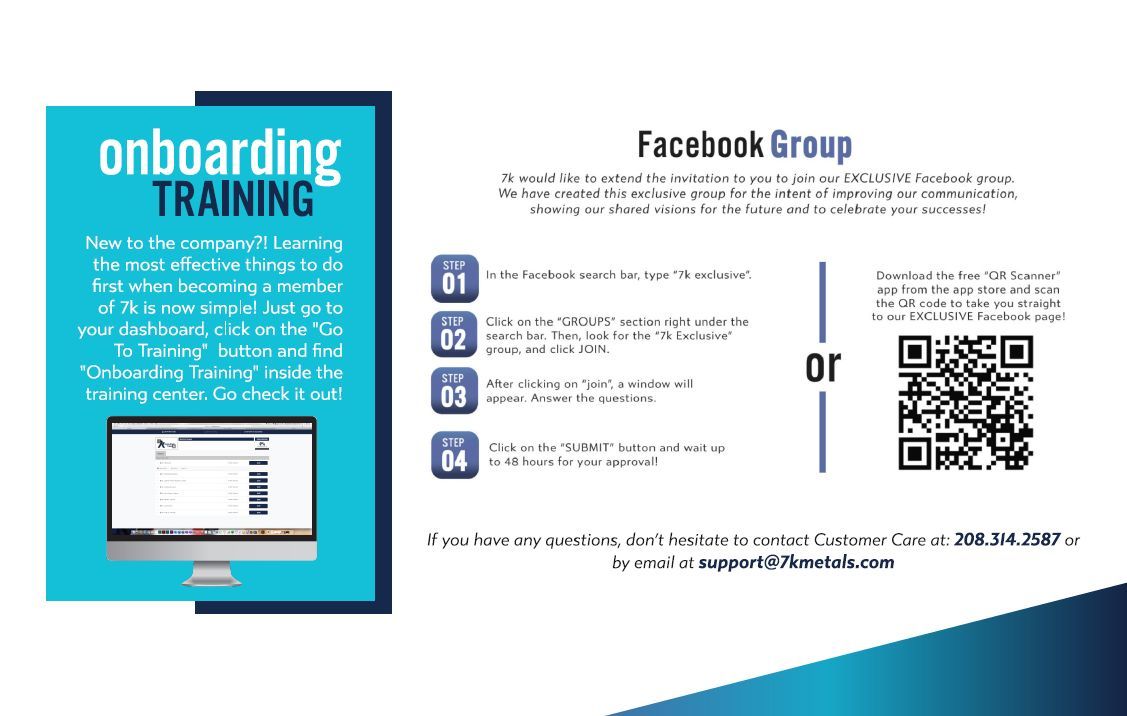 Onboarding Training
New to the company?! Learning the most effective things to do first when becoming a member of 7k is now simple! Just go to your dashboard, click on the "Go To Training" button and find "Onboarding Training" inside the training center. Go check it out!
Facebook Group
7k would like to extend the invitation to you to join our EXCLUSIVE Facebook group. We have created this exclusive group with the intent of improving communication, showing our shared visions for the future and to celebrate your successes!
Step 1: In the Facebook search bar, type "7k Exclusive".
Step 2: Click on the "GROUPS" section right under the search bar. Then, look for the "7k Exclusive" group, and click JOIN.
Step 3: After clicking on "join", a window will appear. Answer the questions.
Step 4: Click on the "SUBMIT" button and wait up to 48 hours for your approval!
OR open your camera on any smartphone and scan the QR code in the image above to take you straight to our EXCLUSIVE Facebook group page.
If you have any questions, don't hesitate to contact Customer Care at: 208.314.2587 or by email at support@7kmetals.com.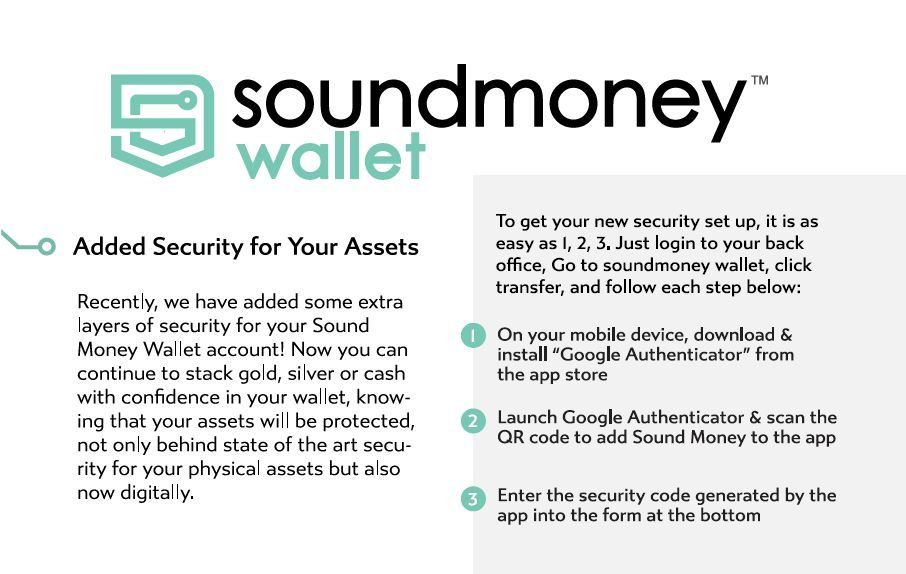 soundmoney wallet
Added Security for Your Assets
Recently, we have added some extra layers of security for your soundmoney wallet account! Now you can continue to stack gold, silver, or cash with confidence in your wallet, knowing that your assets will be protected, not only behind state of the art security for your physical assets but also now digitally.
To get your new security set up, it is as easy as 1, 2, 3. Just login to your back office, go to soundmoney wallet, click transfer, and follow each step below:
On your mobile device, download and install "Google Authenticator" from the app store
Launce Google Authenticator and scan the QR code to add soundmoney to the app
Enter the security code generated by the app into the form at the bottom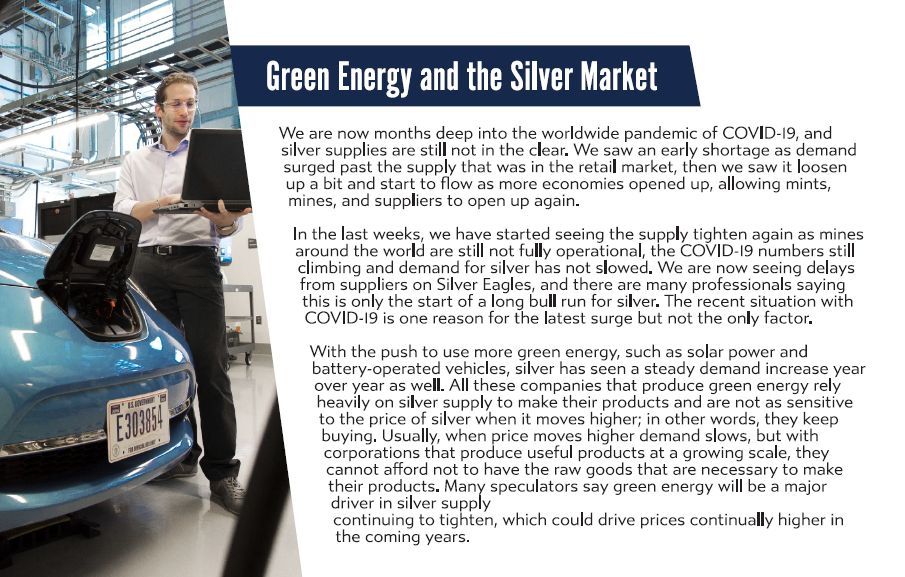 Green Energy and the Silver Market
We are now months deep into the worldwide pandemic of COVID-19, and silver supplies are still not in the clear. We saw an early shortage as demand surged past the supply that was in the retail market, then we saw it loosen up a bit and start to flow as more economies opened up, allowing mints, mines, and suppliers to open up again.
In the last weeks, we have started seeing the supply tighten again as mines around the world are still not fully operational, the COVID-19 numbers still climbing and demand for silver has not slowed. We are now seeing delays from suppliers on Silver Eagles, and there are many professionals saying this is only the start of a long bull run for silver. The recent situation with COVID-19 is one reason for the lates surge but not the only factor.
With the push to use more green energy, such as solar power and battery-operated vehicles, silver has seen a steady demand increase year over year as well. All these companies that produce green energy rely heavily on silver supply to make their products and are not as sensitive to the price of silver when it moves higher; in other words, they keep buying. Usually, when price moves higher demand slows, but with corporations that produce useful products at a growing scale, they cannot afford not to have the raw goods that are necessary to make their products. Many speculators say green energy will be a major driver in silver supply continuing to tighten, which could drive prices continually higher in the coming years.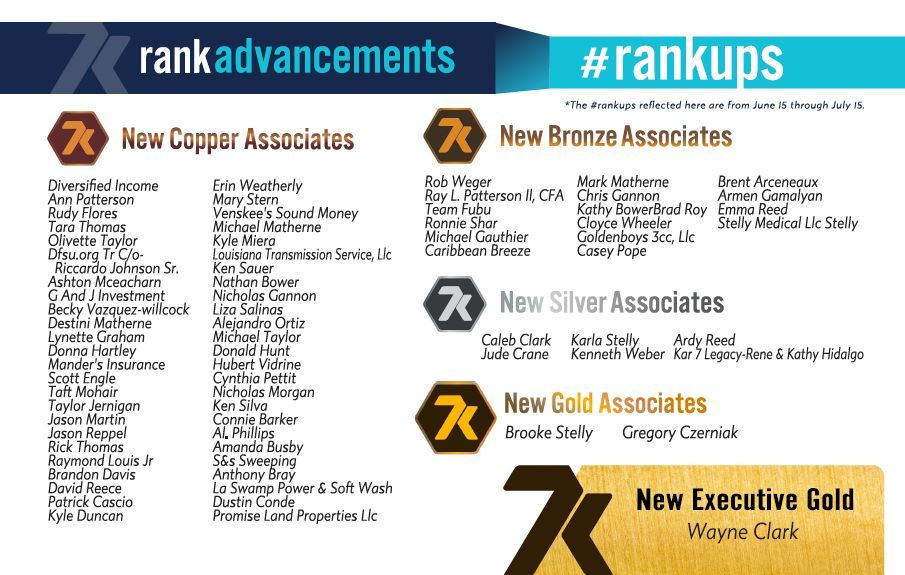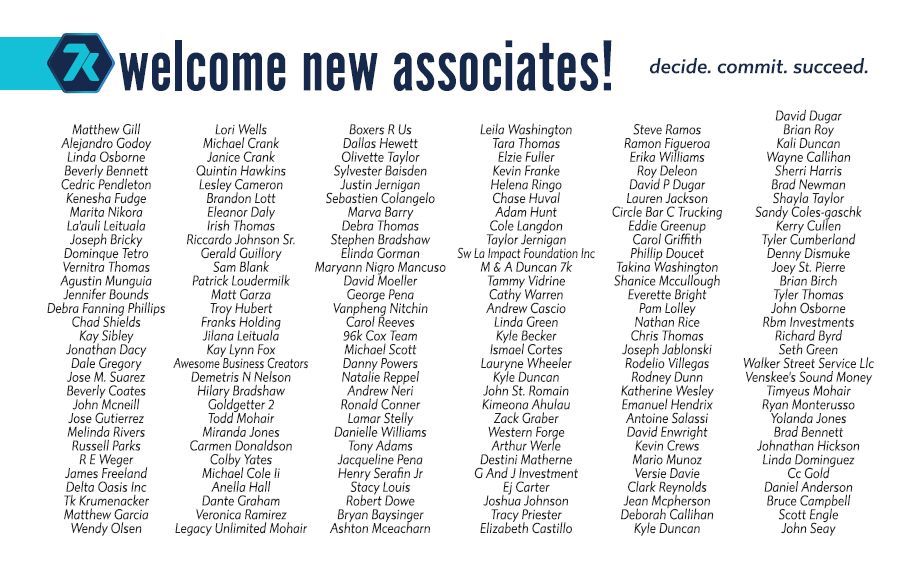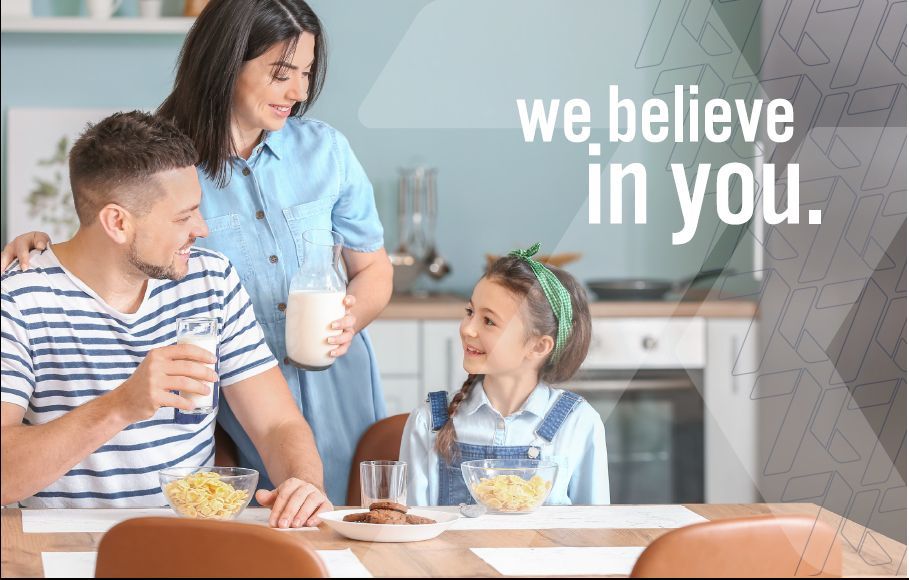 ---
Next Month's Issue...