Teddy Roosevelt & Aviation
Just a year and a half out of the Presidential office, Teddy Roosevelt was traveling through Missouri on a visit to St. Louis. He made a stop along the way at Kinloch Field, where the Wright Model B was just returning to the ground, flown by pilot and flight demonstrator, Alex Hoxsey.
Upon meeting the ex-President, Hoxsey invited Teddy for a flight. True to character and without hesitation, Teddy hopped up and strapped in. The engine roared to life!
The Wright Brothers had taken their first flight only seven years before. No President had ever flown in one of the fancy new airplanes! It took the spectators a while to realize who Hoxsey's new passenger was, but soon there was a crowd of people packing themselves close together to get a good look.
They watched as their beloved Teddy took flight and looped around the field once…twice. On the turn closest to the crowd, he leaned toward the open side of the aircraft and waved. The crowd was frozen in place, holding their breath until Roosevelt's feet hit the sturdy ground once again. Then they broke out into wild cheering and applause.
"It was great! First class! It was the finest experience I have ever had," Teddy bellowed to Hoxsey, shaking his hand and grinning widely.
That's how, on October 11, 1910, Teddy Roosevelt became the first (...ex) American President to fly in an airplane! As the man himself used to say, "I put myself in the way of things happening, and they happen."
7k is proud to present the last in the An American Life series 1/2 oz coins… Aviation, featuring Theodore Roosevelt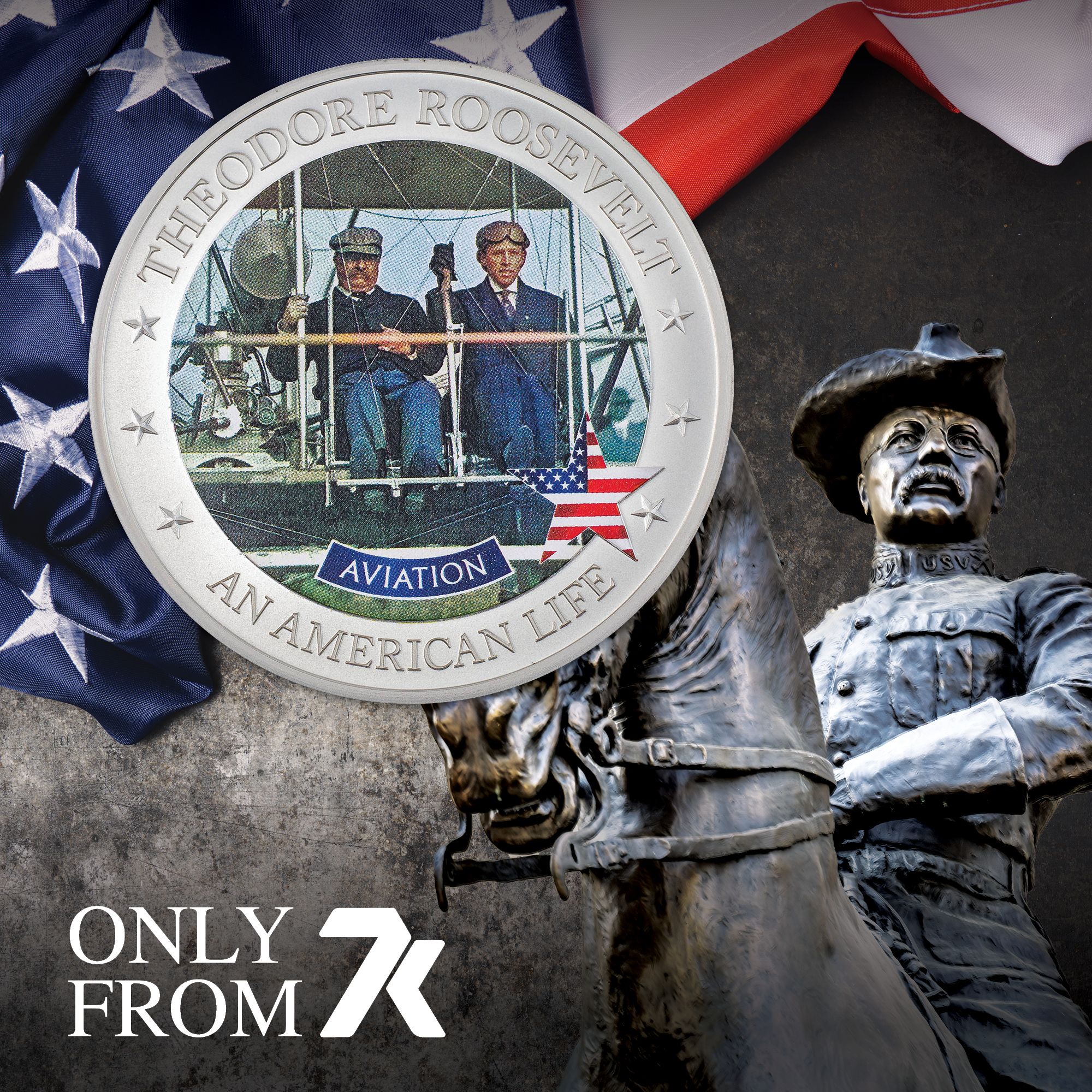 2022 Life of Roosevelt Aviation 1/2 oz Silver Coin
Year of Issue: 2022
Country of Issue: Cook Islands
Mint: Mayer Mint
Face Value: 2 Dollars
Coin Weight: 1/2 Troy Ounce
Metal Purity: 0.999
Metal Composition: Fine Silver
Mintage: 5000
Features: Ultra High Relief
Theodore Roosevelt became the first (ex) President to ride in an airplane in 1910, when a chance encounter with the Wright Brothers' flight demonstrator, Alex Hoxsey, led to an invitation to fly! Cheeky guy he was, Teddy even leaned out the side of the craft on the first lap and gave a wave to the observing crowd, scaring some who had never seen a man in flight before. But as Teddy would say, what is life without a little adventure?