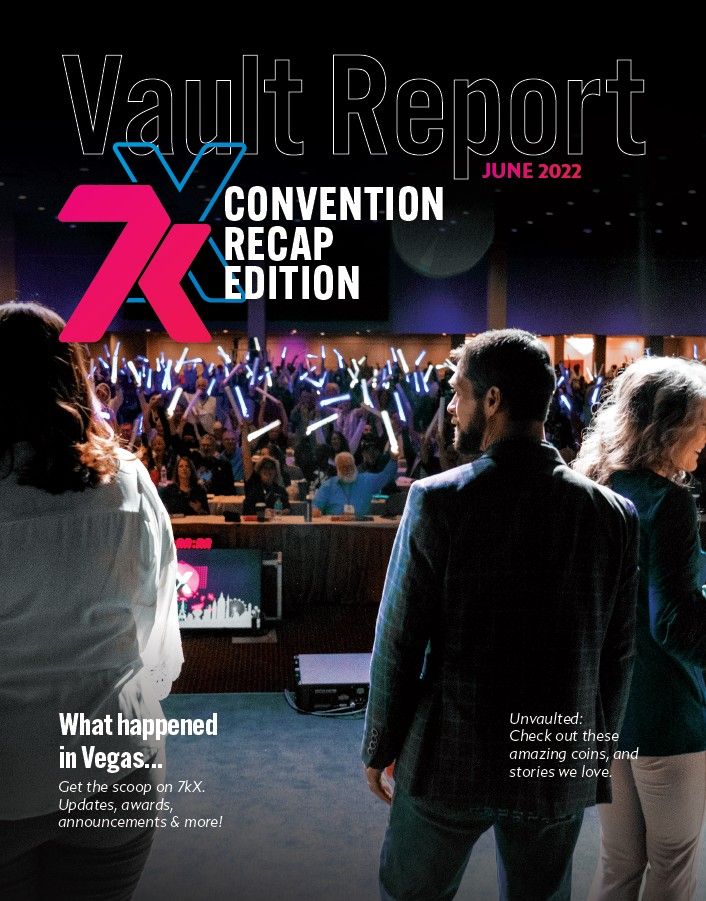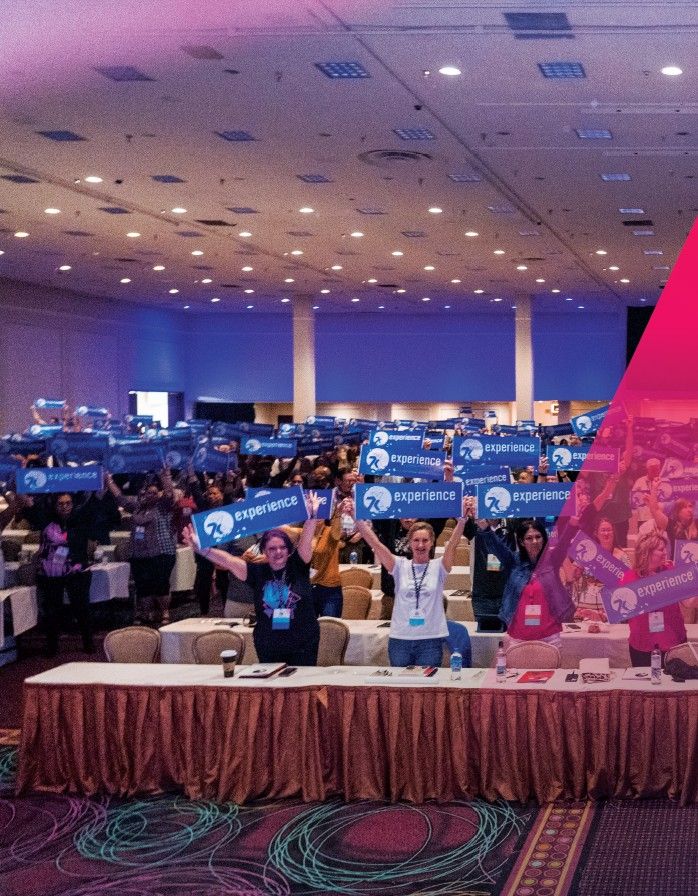 CONTENTS
1 - 7kX Convention Recap
7 - Rank Advancements 4/15 - 5/15
13 - 7k Unvaulted: Coins and Stories We Love
15 - Stack & Sell Updates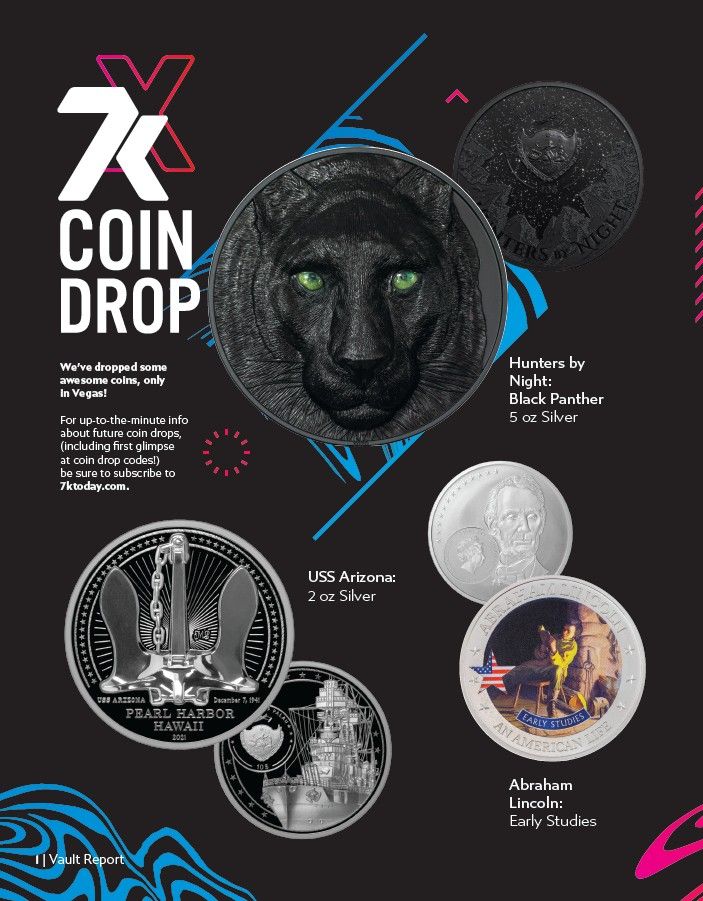 7kX Coin Drop
We dropped some awesome coins, only in Vegas!
For up-to-the-minute info about future coin drops, be sure to subscribe to 7kToday.com.
Hunters By Night: Black Panther 5oz Silver
USS Arizona 2oz Silver
Abraham Lincoln Early Studies
7k Today
Want to be the first to know about coin drops?
Curious which State Animal coins have been released?
Need to see all the coins in a collection?
What about old Vault Reports?
Looking for a particular article?
We've got you!
7kToday.com was created to answer YES to all those questions and more!
Head over to 7kToday.com and you'll find articles about coins, past Vault Reports, coin series, market trends, articles from 7k Founders, business tips and so much more.
Boost your business and your coin collections. Become a 7kToday Insider by subscribing to be notified first about new posts. It's easy! Just sign up with your email address anywhere on the 7kToday.com.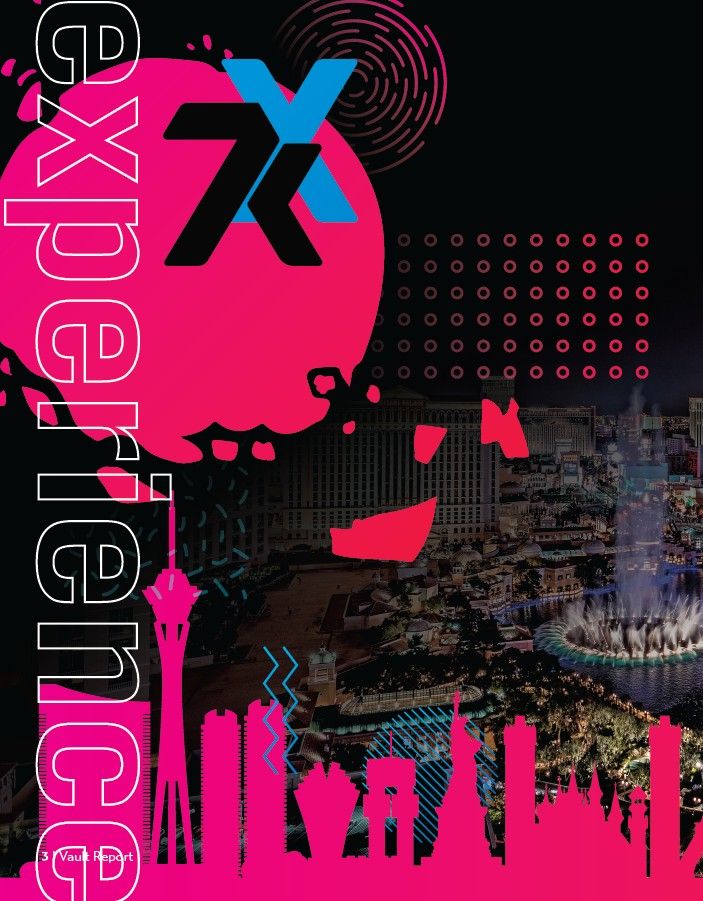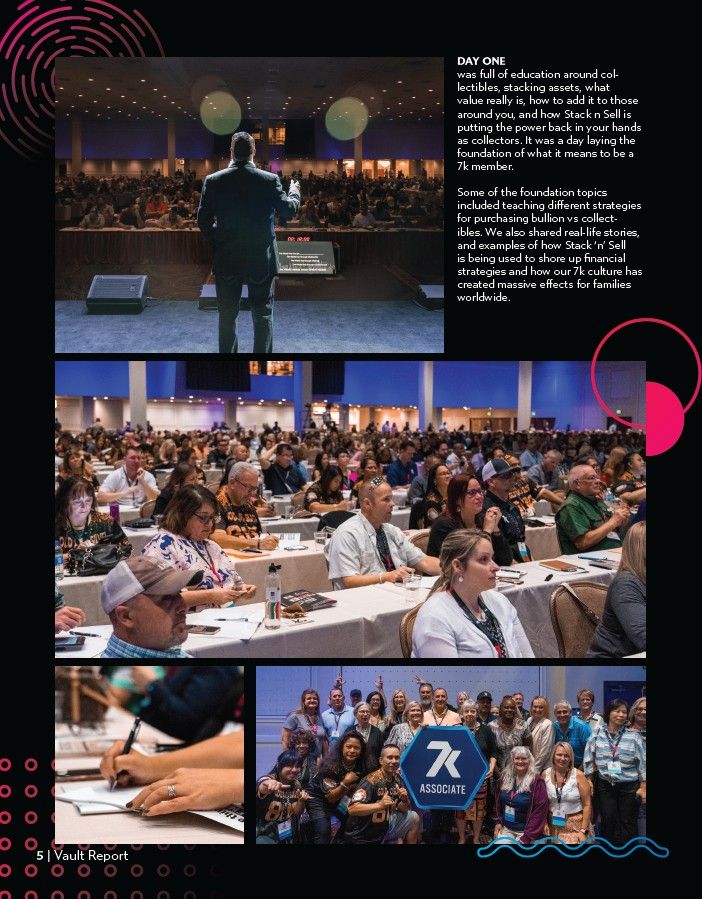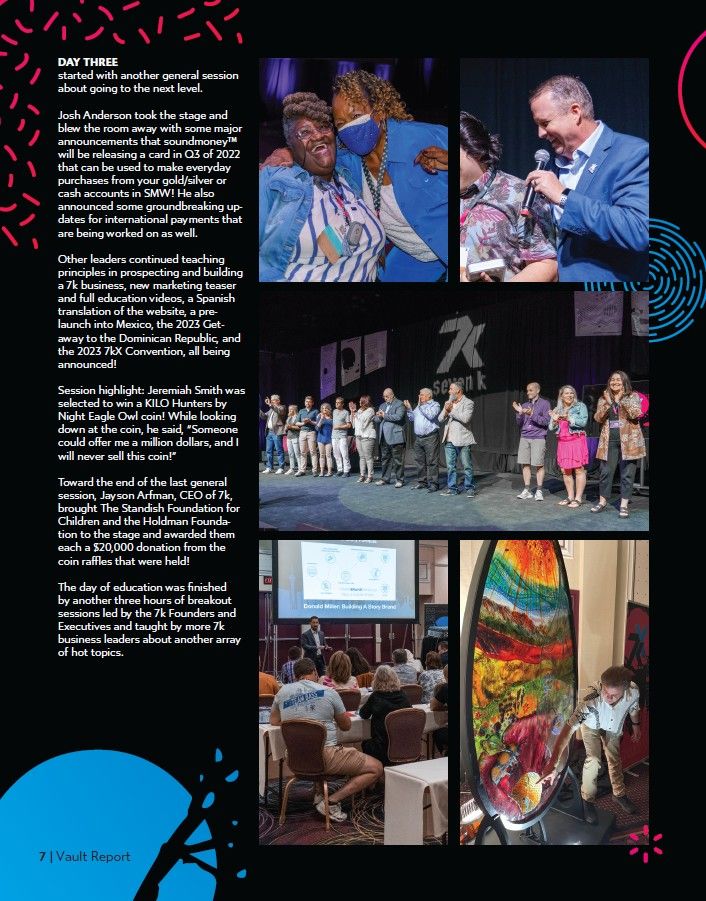 7kX: Four Straight Days of Legacy Building
Starting with the Welcome and ending with an epic Gala awards dinner, 7kX Vegas 2022 was packed with excitement, new friendships, and lots of breakthroughs on how to take the next step.
If you missed it--here are some things to catch you up:
Day 1 was full of education around collectibles, stacking assets, what value really is, how to add it to those around you, and how Stack n Sell is putting the power back in your hands as collectors. It was a day laying the foundation of what it means to be a 7k member.
Some of that foundation ranged from teaching the different strategies around why you would purchase bullion vs collectibles, to real time stories and examples of how Stack n Sell is being used to shore up financial strategies and how the 7k culture is having massive effects on families across the world.
Day 2 was all about taking care of business. The business leaders of 7k took the stage for most of the general session in the morning, covering how to use the 7k systems, how to pique interest when prospecting, and different ideas on how to present the message of 7k.
Along with the business leaders teaching what they have learned in building their 7k businesses, Tom and Gayle Holdman took the stage teaching about the power of light before introducing a brand new gold note series from their artwork, "Threads of Light," that will be released in the Holdman AutoSaver in early July.
To round out the general session, the keynote speaker for the event, Ryan Chamberlain, took the stage and taught some practical ways to keep posture, positioning, and confidence while educating new prospects about 7k.
Session Highlight: Gerard Gabardi was chosen to win a KILO Firefighter coin during a raffle! With tear-filled eyes, he said, "My father was a firefighter, and he will be so excited to see this coin..."
The afternoon of day two was full of 3 hours of 4 different breakouts that members could choose to attend. Led by the 7k Founders and Executive Team in each room, along with field leaders Tom and Gayle Holdman and Ryan Chamberlain, several topics were covered in depth.
Day 3 started with another general session about going to the next level.
Josh Anderson took the stage and blew the room away with some major announcements that soundmoney™ will be releasing a card in Q3 of 2022 that can be used to make everyday purchases from your gold/silver or cash accounts in SMW! He also announced some groundbreaking updates for international payments that are being worked on as well.
Other leaders continued teaching principles in prospecting and building a 7k business, new marketing teaser and full education videos, a Spanish translation of the website, a pre-launch into Mexico, the 2023 Getaway to the Dominican Republic, and the 2023 7kX Convention, all being announced!
Session highlight: Jeremiah Smith was selected to win a KILO Hunters by Night Eagle Owl coin! While looking down at the coin, he said, "Someone could offer me a million dollars, and I will never sell this coin!"
START NEW.
Toward the end of the last general session, Jayson Arfmann, CEO of 7k, was able to bring The Standish Foundation for Children as well as the Holdman Foundation to the stage and award them each a $20,000 donation from the coin raffles that were held! END NEW
The day of education was finished by another three hours of breakout sessions led by the 7k Founders and Executives and taught by more 7k business leaders about another array of hot topics.
The final event of the week was the Awards Gala! Everyone dressed in their best and came ready for the photos!
Rankups were started in the previous sessions at various times and were rounded out here with Gold Associates and above, along with other awards such as Top Stackers, Top all-time income earners, Top yearly income earners in each rank, and more.
The entire week in Vegas was unforgettable, and a time we will always cherish being with our 7k Fam!
Make sure to grab your tickets for 7kX 2023 in New Orleans! If you aren't sure if it will be worth it, just ask anyone that attended this year...See you in NOLA!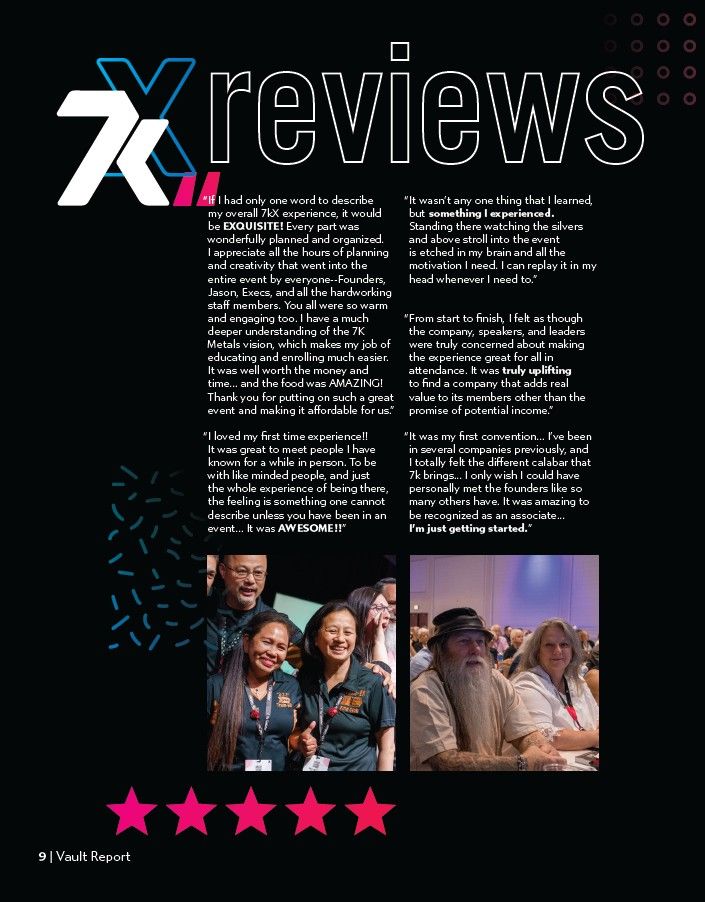 7kX Reviews
If I had only one word to describe my overall 7kX experience, it would be EXQUISITE! Every part was wonderfully planned and organized. I appreciate all the hours of planning and creativity that went into the entire event by everyone... Founders, Jayson, Execs, and all the hardworking staff members. You all were so warm and engaging too. I have a much deeper understanding of the 7k Metals vision, which makes my job of educating and enrolling much easier. It was well worth the money and time... and the food was AMAZING! Thank you for putting on such a great event and making it affordable for us.
I loved my first time experience!! It was great to meet people I have known for a while in person. To be with like minded people, and just the whole experience of being there, the feeling is something one cannot describe unless you have been in an event... It was AWESOME!!
It wasn't any one thing that I learned, but something I experienced. Standing there watching the silvers and above stroll into the event is etched in my brain and all the motivation I need. I can replay it in my head whenever I need to.
From start to finish, I felt as though the company, speakers, and leaders were truly concerned about making the experience great for all in attendance. It was truly uplifing to find a company that adds real value to its members other than the promise of potential income.
It was my first convention... I've been in several companies previously, and I totally felt the different caliber that 7k brings... I only wish I could have personally met the founders like so many others have. It was amazing to be recognized as an associate... I'm just getting started.
Whirlwind event jam-packed with amazing content, speakers, fun & comradery! I cannot wait for New Orleans in 2023! Making sure EVERY ONE of my leaders makes it to that event! Priceless opportunity! Those that went this year are accelerating into Q3 2022 already! Thank you, 7k Metals!
I went to meet the company and people. I wanted to know that I was in the right company. Confirmation is what I was looking for. Everyone was friendly & nice.
7kx was very informational and motivational. I will have a group with me in New Orleans. Thank you!
I was excited about 7K before the event. To be able to be around so many positive, uplifting fellow members and have fun was so awesome! I have advanced to Associate and want to continue to build! I found my why in Las Vegas, and it isn't about MONEY. It's all about people and relationships and making the most out of life! I want to buy a home, and I see this as the vehicle to get me there. THANK YOU!
I had a great time meeting a lot of people and learning about their experience with the company. I enjoyed every training session and learned a lot. I am very happy I attended the event!
I have attended many conventions over the years from being involved with other companies in the industry, and I am impressed with how well planned the 7KX event was. The cost was extremely affordable for all that was included. I have never been to an event where the general session also included breakout sessions which were very effective and powerful. I have no doubt in my mind that I have finally found a home in this industry, and I am ever so grateful!!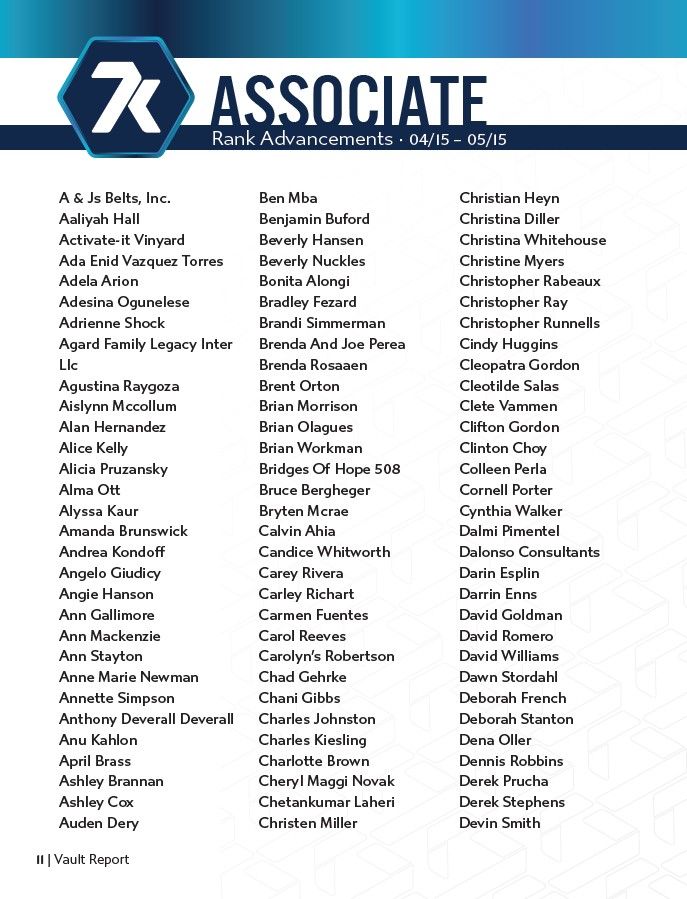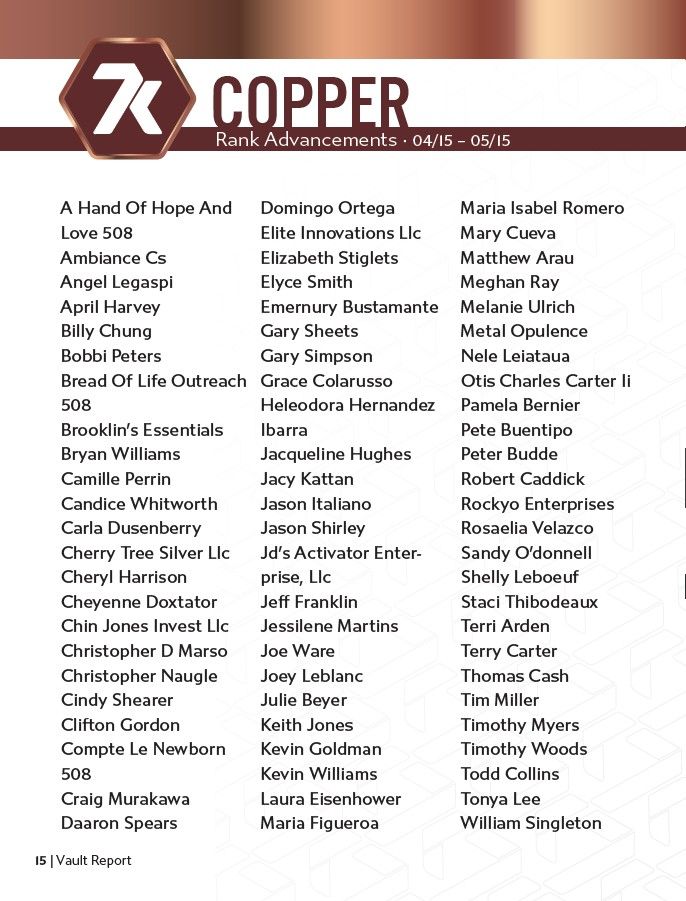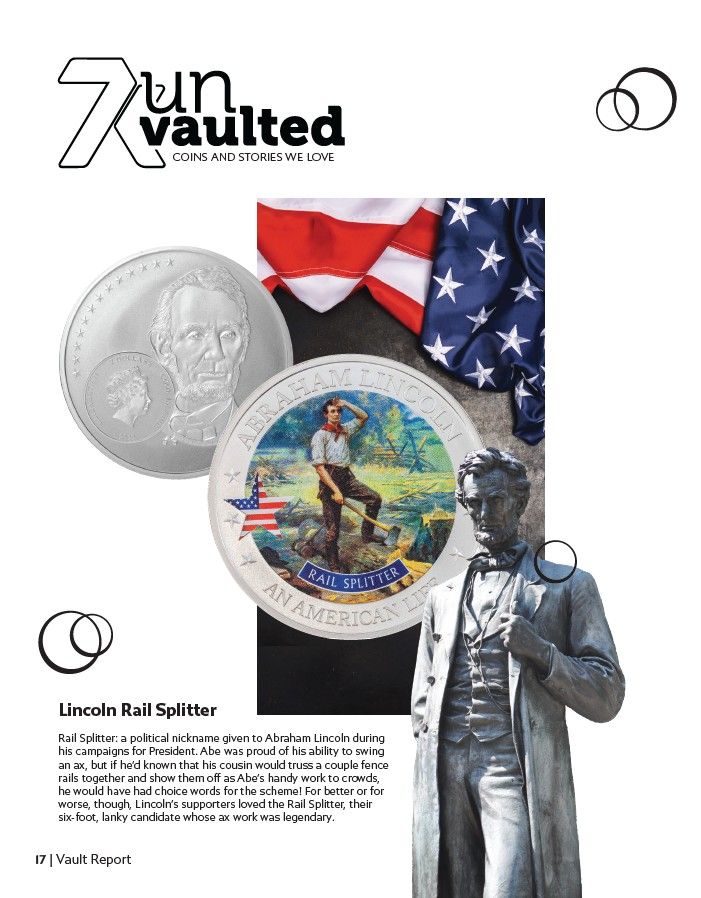 7k Unvaulted
Coins and Stories We Love
Lincoln Rail Splitter
Railsplitter: a political nickname given to Abraham Lincoln during his campaigns for President. Abe was proud of his ability to swing an ax, but if he'd known that his cousin would truss a couple fence rails together and show them off as Abe's handy work to crowds, he would have had choice words for the scheme! For better or for worse, though, Lincoln's supporters loved the Railsplitter, their six-foot, lanky candidate whose ax work was legend.
2oz Eagle Owl
Silent, menacing, and deadly...the second edition of "Hunters of the Night" is the Eagle Owl—a cutthroat predator with the ability to see in complete darkness! This impressive 2 ounce silver coin drenched in Obsidian Black can't help but be a conversation piece when it pops off the coin to observe guests. Pro tip: tell people about how these apex predators of the sky prefer rocky cliffs and high heights to cushy nests in trees. Now that's hardcore.
George Washington 5oz Silver
The First President of the United States. The Indispensable Man. The Father of His Country. There are so many ways to remember George Washington: as an ambitious colonel, a heroic general, a virtuous leader. His legacy is made up of some of the most impressive human feats in our country's history. So as our own thanks to our beloved George for our freedom, we've given him his own 5 ounce fine silver coin, designed specially by Miles Standish.