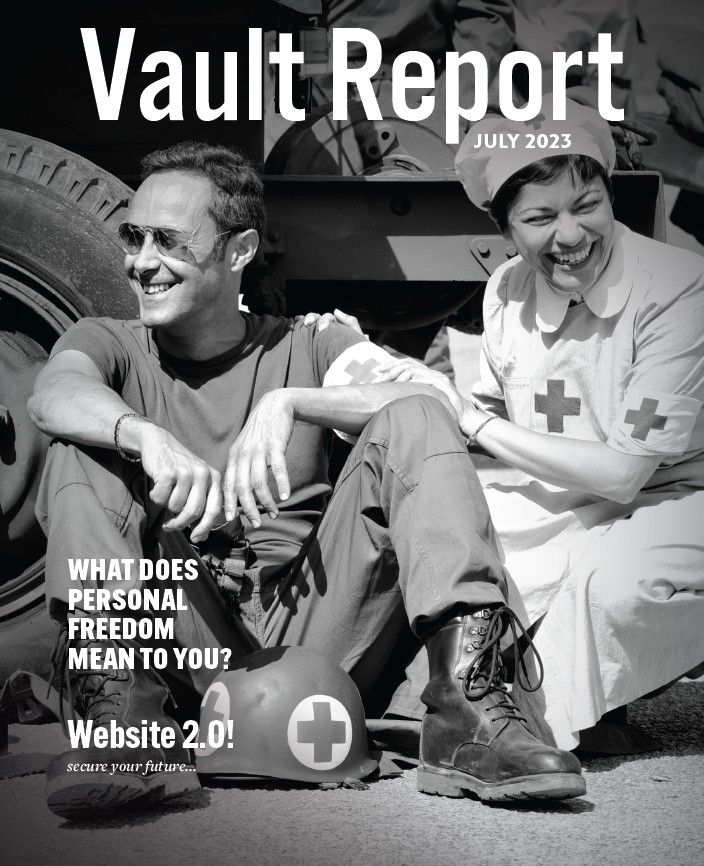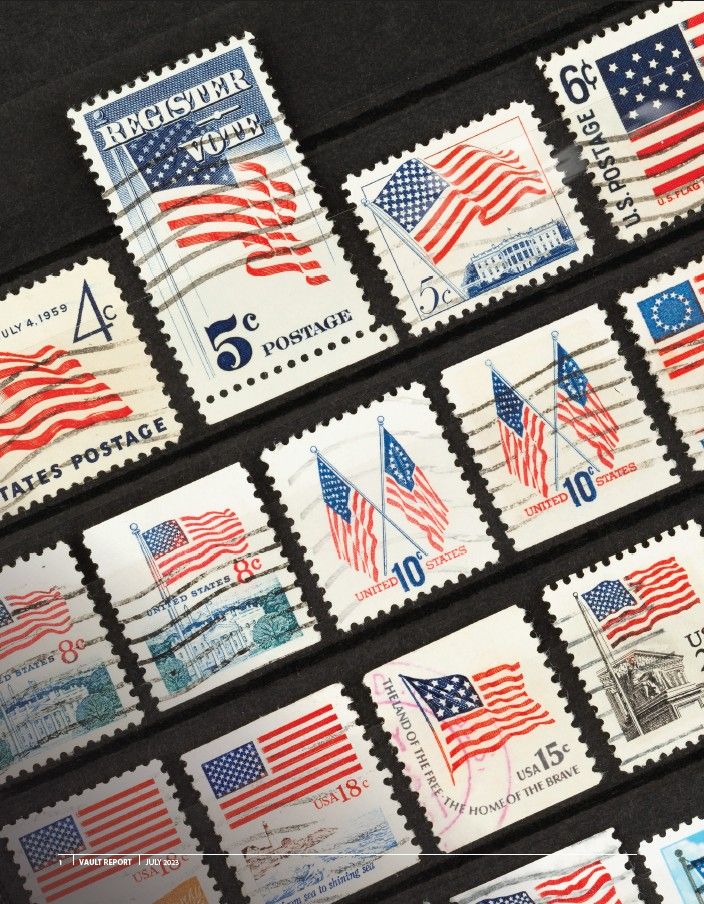 HOPE - LEGACY - IMPACT
Virginia Woolf once wrote, "Lock up your libraries if you like; but there is no gate, no lock, no bolt that you can set upon the freedom of my mind." Here at 7k, we believe that freedom is a mindset. It's refusing to allow others to choose how we respond, how we act, how we think. Our minds are always free, like Woolf says. And if that's true, then freedom belongs to every human being. It's our choice on how we use it. Thanks for using your freedom to be here with us. We love you, 7k. Happy Freedom Day!
CONTENTS
03 - COIN DROP: Roosevelt National Parks
05 - PERSONAL FREEDOM: What Does It Mean To You?
07 - RANK ADVANCEMENTS: 5/15-6/15
13 - NEW WEBSITE: An Overview
15 - 7k SELECT: Coins and Stories We Love
17 - #STACKSONSTACKS: Some awesome stacks!
---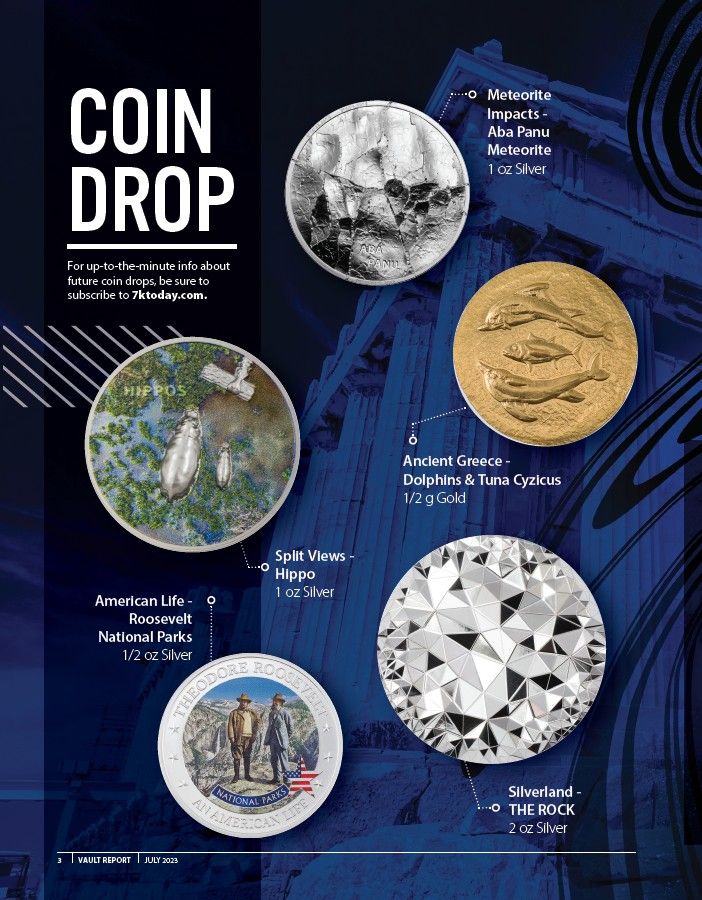 COIN DROP
For up-to-the-minute info about future coin drops, be sure to subscribe to 7ktoday.com.
Meteorite Impacts: Aba Panu Meteorite 1 oz Silver
Ancient Greece: Dolphins & Tuna Cyzicus 1/2 gram Gold
Split Views: Hippos 1 oz Silver
An American Life: Roosevelt National Parks 1/2 oz Silver
Silverland: The Rock 2 oz Silver
Eclectic Nature: Roller 1 oz Silver
Dot Art: Egyptian Pyramid 3 oz Silver
NEED TO KNOW MORE?
1 - Create a new text message.
2 - Enter your country code in the "to" field.
3 - Send "7k" as the body of the message.
Country Codes
USA: 8332099777
CANADA: 8332099777
AUSTRALIA: 61480088229
U.K.: 4474911663966
SINGAPORE: 6582400304
NEW ZEALAND: TBA
IRELAND: TBA
*Normal rates based on your individual plan may apply, but no additional international costs will be incurred.
Once complete, you will receive an automatic text reply welcoming you!
Make sure to act quickly when the text messages come in so you can take advantage of the Coin Drops. Good luck!
---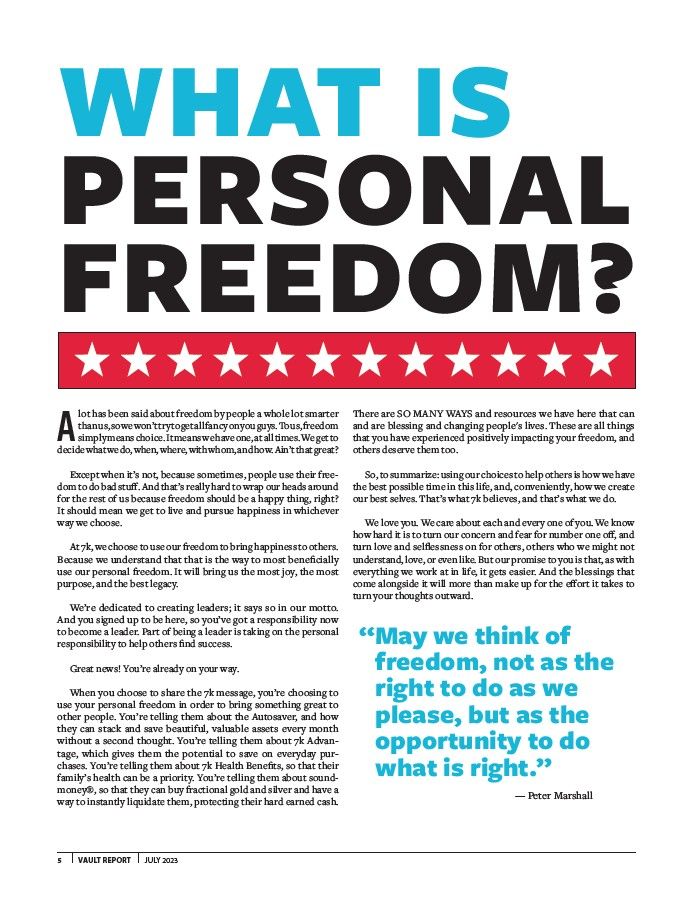 What is Personal Freedom?
A lot has been said about freedom by people a whole lot smarter than us, so we won't try to get all fancy on you guys. To us, freedom simply means choice. It means we have one, at all times. We get to decide what we do, when, where, with whom, and how. Ain't that great?
Except when it's not, because sometimes, people use their freedom to do bad stuff. And that's really hard to wrap our heads around for the rest of us because freedom should be a happy thing, right? It should mean we get to live and pursue happiness in whichever way we choose.
At 7k, we choose to use our freedom to bring happiness to others. Because we understand that that is the way to most beneficially use our personal freedom. It will bring us the most joy, the most purpose, and the best legacy.
We're dedicated to creating leaders; it says so in our motto. And you signed up to be here, so you've got a responsibility now to become a leader. Part of being a leader is taking on the personal responsibility to help others find success.
Great news! You're already on your way.
When you choose to share the 7k message, you're choosing to use your personal freedom in order to bring something great to other people. You're telling them about the Autosaver, and how they can stack and save beautiful, valuable assets every month without a second thought. You're telling them about 7k Advantage, which is going to save them so much money and enable them to travel more. You're telling them about 7k Health Benefits, so that their family's health can be a priority. You're telling them about soundmoney®, so that they can buy fractional gold and silver and have a way to instantly liquidate them, protecting their hard earned cash. There are SO MANY WAYS and resources we have here that can and are blessing and changing people's lives. These are all things that you have experienced positively impacting your freedom, and others deserve them too.
So, to summarize: using our choices to help others is how we have the best possible time in this life, and, conveniently, how we create our best selves. That's what 7k believes, and that's what we do.
We love you. We care about each and every one of you. We know how hard it is to turn our concern and fear for number one off, and turn love and selflessness on for others, others who we might not understand, love, or even like. But our promise to you is that, as with everything we work at in life, it gets easier. And the blessings that come alongside it will more than make up for the effort it takes to turn your thoughts outward.
So, in the words of someone smarter than us: 'May we think of freedom, not as the right to do as we please, but as the opportunity to do what is right.' – Peter Marshall
---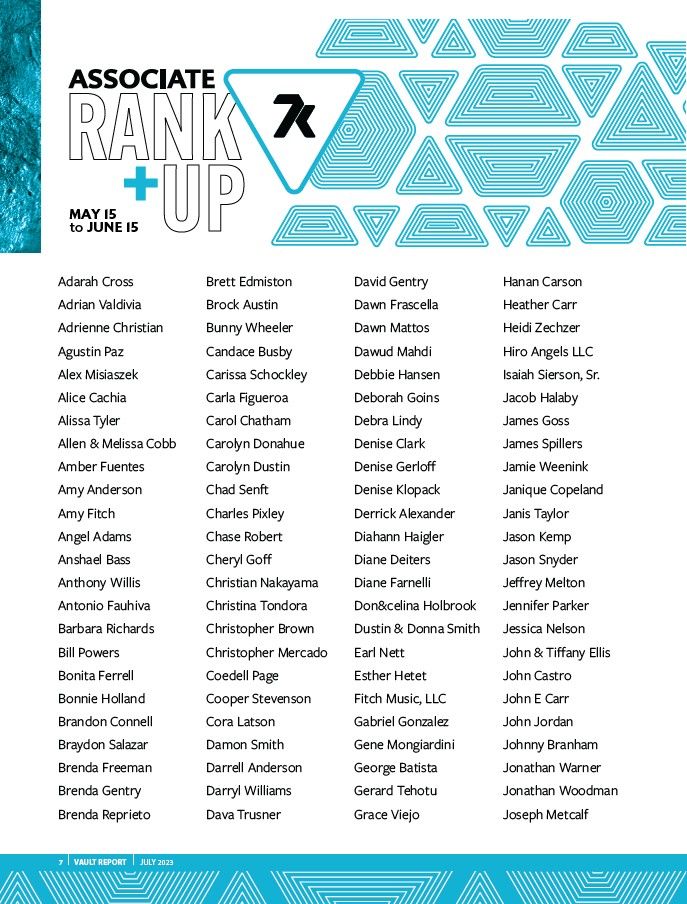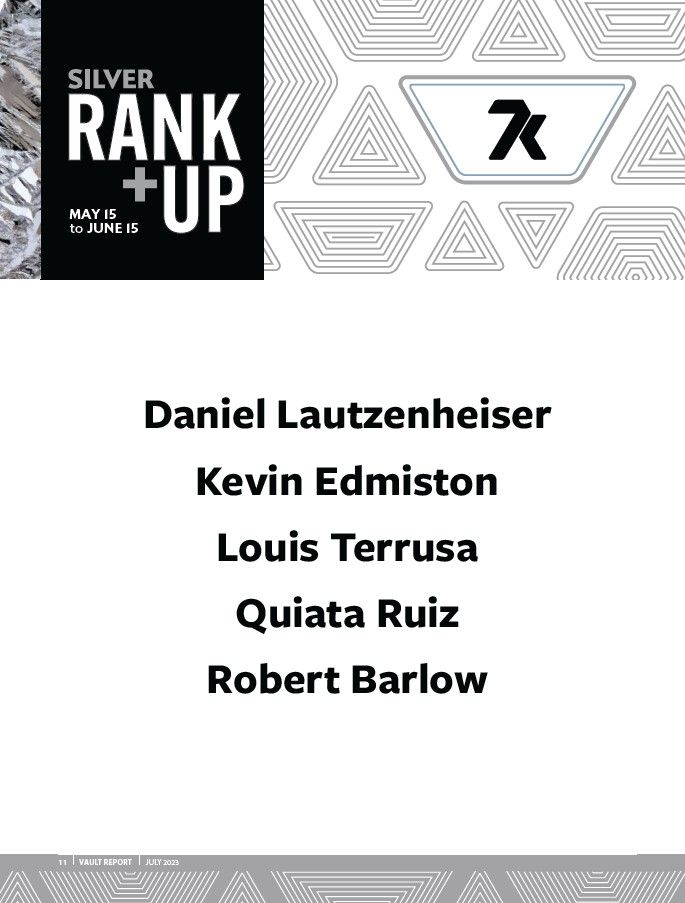 ---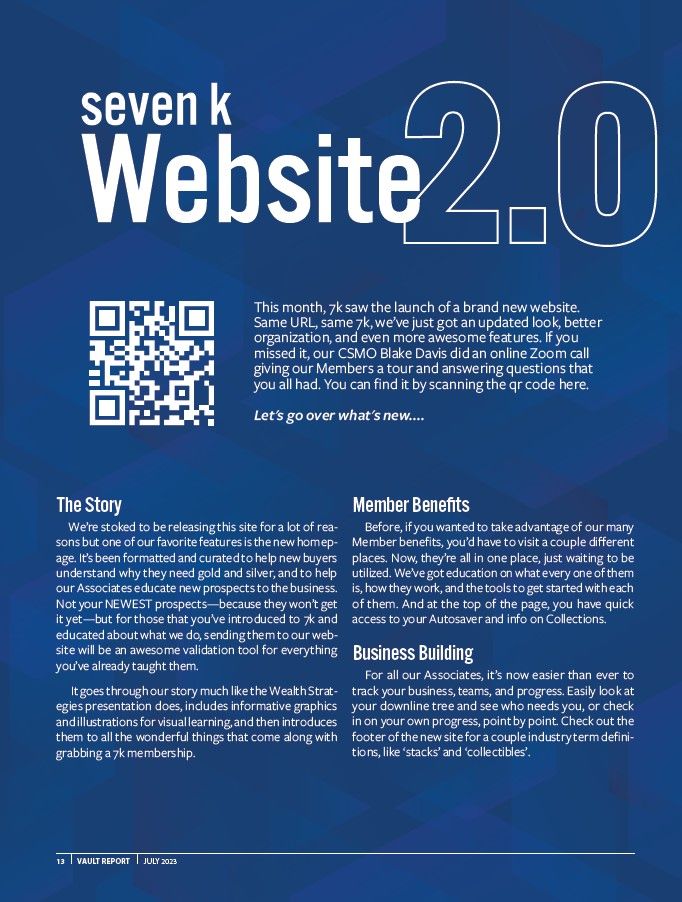 7k Website 2.0
This month, 7k saw the launch of a brand new home website. Same URL, same 7k, we've just got an updated look, better organization, and even more awesome features. If you missed it, our CSMO Blake Davis did an online Zoom call giving our Members a tour and answering questions that you all had. You can find it by scanning the qr code here.
Let's go over what's new…
The Story
We're stoked to be releasing this site for a lot of reasons but one of our favorite features is the new homepage. It's been formatted and curated to help new buyers understand why they need gold and silver, and to help our Associates educate new prospects to the business. Not your NEW new prospects—because they won't get it yet—but for those that you've introduced to 7k and educated about what we do, sending them to our website will be an awesome validation tool for everything you've already taught them. It goes through our story much like the Wealth Strategies presentation does, includes informative graphics and illustrations for visual learning, and then introduces them to all the wonderful things that come along with grabbing a 7k membership.
Member Benefits
Before, if you wanted to take advantage of our many Member benefits, you'd have to visit a couple different places. Now, they're all in one place, just waiting to be utilized. We've got education on what every one of them is, how they work, and the tools to get started with each of them. And at the top of the page, you have quick access to your Autosaver and info on Collections.
Business Building
For all our Associates, it's now easier than ever to track your business, teams, and progress. Easily look at your downline tree and see who needs you, or check in on your own progress, point by point. Check out the foot of the new site for a couple industry terms definitions, like 'stacks' and 'collectibles'.
7k Today & News
But that's not all! Now, you can browse 7k Today, our informational blog, anytime you want just by hitting the News tab at the top of the page. This is where you'll see what's coming: Coin Drops and Releases, educational posts, stories to peak interest, and company-wide news.
Our promise to our Members is that you're always in our minds when we're looking to change things up and progress. This new website is for you and your businesses, to make building a better and easier experience. This gold and silver industry is already laden with a lot of obstacles, but we're slowly chipping away at them, and over time, we hope to make education about and collecting gold and silver assets the norm in the world. There is no way we can succeed without you. So cruise on over to check out the 7k website 2.0! It's worth having a look around.
---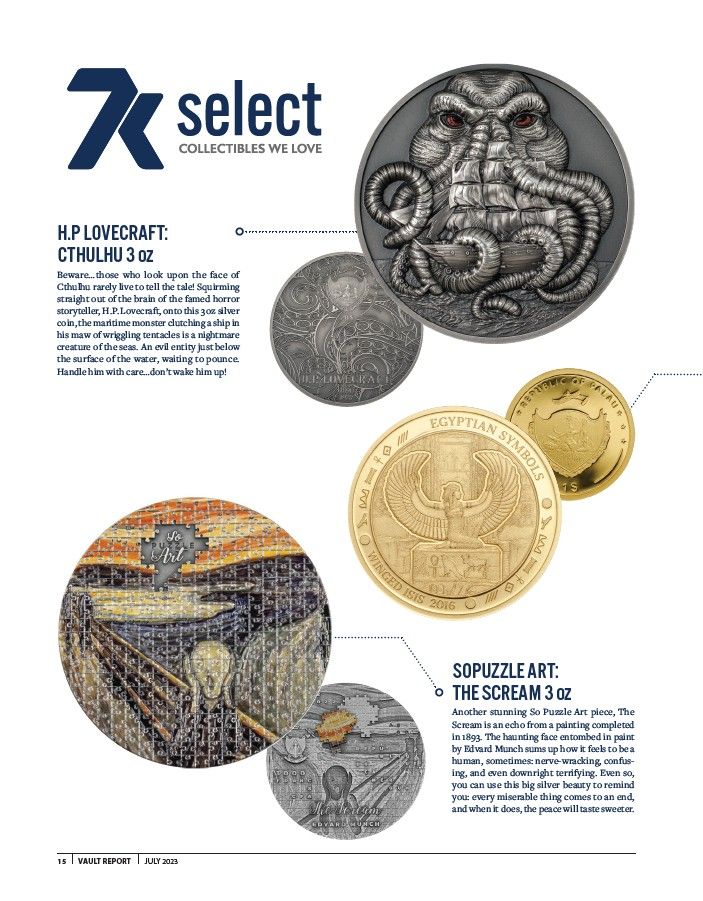 7k Select
Collectibles We Love
H.P. LOVECRAFT: CTHULHU 3 oz
Beware…those who look upon the face of Cthulhu rarely live to tell the tale! Squirming straight out of the brain of the famed horror storyteller, H.P. Lovecraft, onto this 3 oz silver coin, the maritime monster clutching a ship in his maw of wriggling tentacles is a nightmare creature of the seas. An evil entity just below the surface of the water, waiting to pounce. Handle him with care…don't wake him up!
SOPUZZLE ART: THE SCREAM 3 oz
Another stunning So Puzzle Art piece, The Scream is an echo from a painting completed in 1893. The haunting face entombed in paint by Edvard Munch sums up how it feels to be a human, sometimes: nerve-wracking, confusing, and even downright terrifying. Even so, you can use this big silver beauty to remind you: every miserable thing comes to an end, and when it does, the peace will taste sweeter.
EGYPTIAN SYMBOLS: WINGED ISIS 1/2 gram GOLD
The Egyptian Symbols collection is back with the Egyptian Queen Goddess herself...Isis! Ancient civilizations from Rome to Egypt to Greece and beyond adored and worshipped Isis as the epitome of motherhood and femininity. She was thought to have the power to heal sickness and even bring the dead back to life! Here on this pure gold, half-gram coin, Winged Isis prepares to work miracles.
REAL HEROES: SPECIAL FORCES 1 oz PLATINUM
The triumphant return of last year's Special Forces collection includes this striking 1-ounce, platinum tribute to the brave soldiers who serve in special forces. The soldier's goggles on the reverse are illuminated with Ultra High Relief that mesh nicely with the white-silver platinum honeycomb background. With a mintage of only 199, this coin is a rarity fitting of a memorial to the few and faceless soldiers of Special Forces.
REAL HEROES: SPECIAL FORCES 1 oz GOLD
The triumphant return of last year's Special Forces collection includes this striking 1-ounce, golden tribute to the brave soldiers who serve in special forces. The soldier's goggles on the reverse are illuminated with Ultra High Relief that complements the golden honeycomb background. With a mintage of only 199, this coin is a rarity fitting of a memorial to the few and faceless soldiers of Special Forces.
---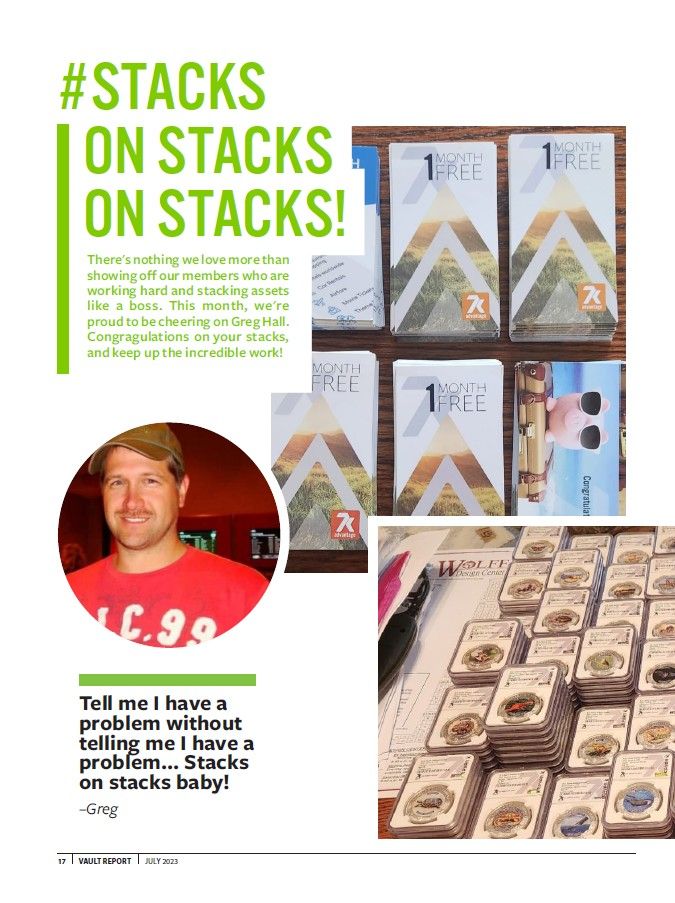 #STACKSONSTACKSONSTACKS!
There's nothing we love more than showing off our members who are working hard and stacking assets like a boss. This month, we're proud to be cheering on Greg Hall. Congratulations on your stacks, and keep up the incredible work!
"Tell me I have a problem without telling me I have a problem... Stacks on stacks, baby!" - Greg
Got #stacksonstacks?
We want to see 'em!
We love to see our members' coin collections! Whether you're just getting started with numismatics or have literal #stacksonstacksonstacks, we're so excited for you to build your legacy with coins!
We'll keep featuring stacks we see on the 7k Exclusive Facebook group, so keep on sharing for a chance to be featured! Time to show off those #stacksonstacks!
---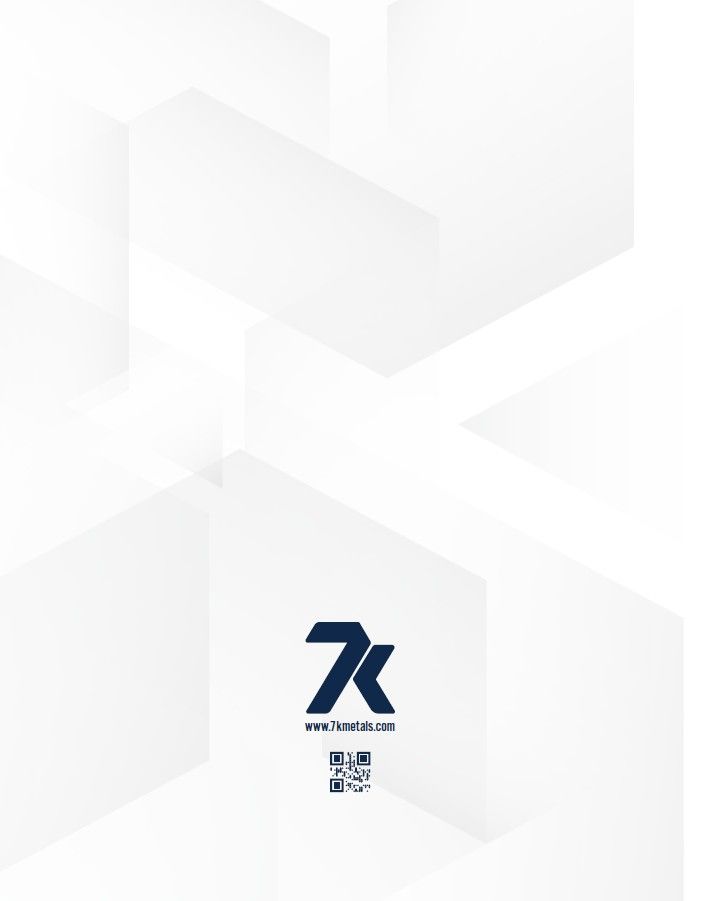 ---