Get Ready for 7kX New Orleans!
Hey 7k Fam!
Let's talk 2023 7kX Convention. May 10th – 14th, New Orleans. 4 days, 4 nights, nonstop learning AND fun with the whole company…like a family reunion but with a lot less bickering. It's a time to focus on hope, gratitude, and reflection, while being inspired and educated by 7k leadership, some of your team leaders, influential leaders in other fields, and in some cases, maybe even your own head and heart. We hope you get as much out of this experience as we've put into it, because we know if you come here ready to absorb the knowledge and experience, you're going to go home changed. We love you all, and we can't wait to meet you in New Orleans!
Map: Below is a nifty 3D map of the area of New Orleans where the 7kX convention will be held, plus all the hotels we have participating in our discount group.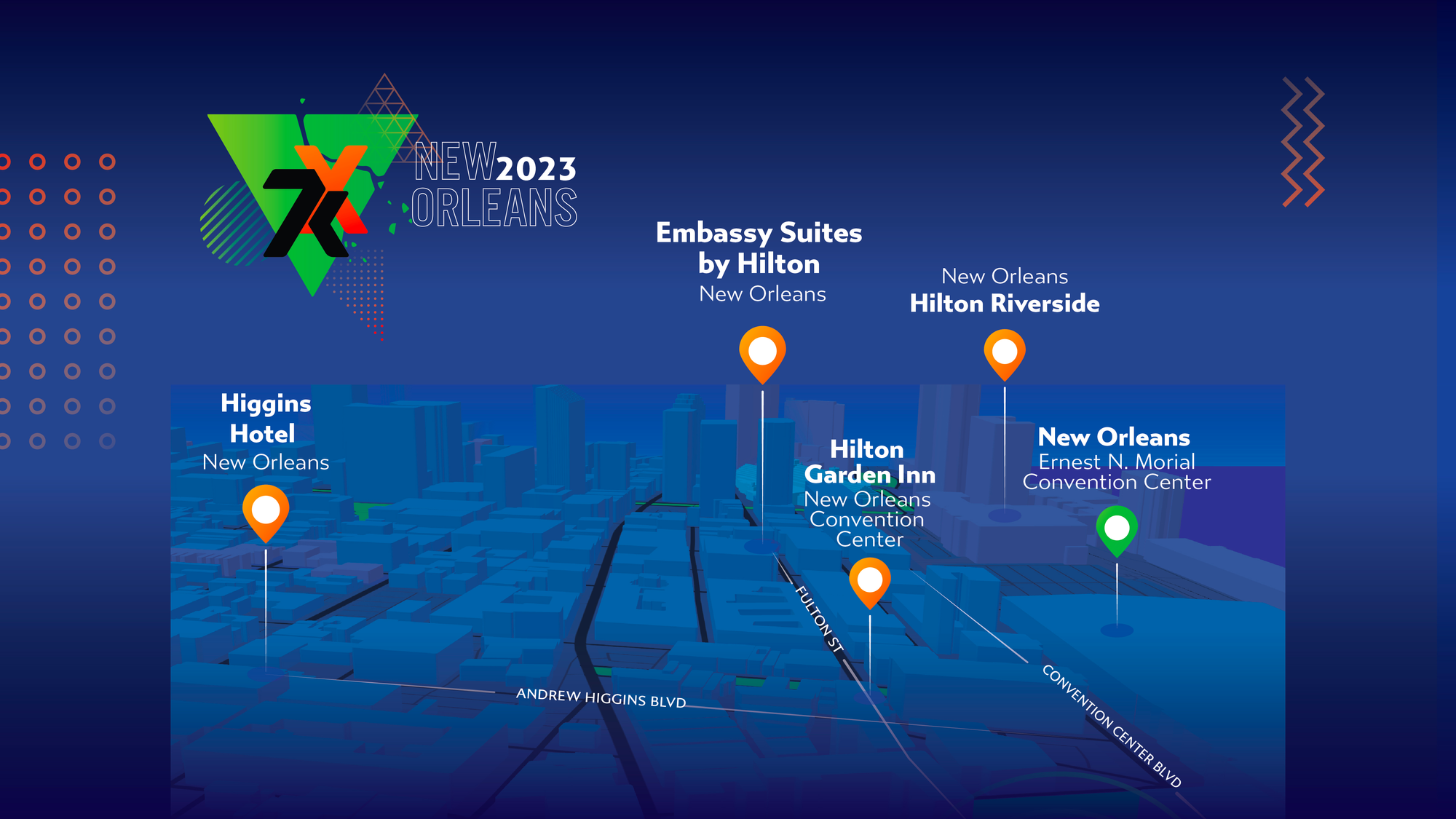 Agenda: The 7kX agenda is up below, but if you're looking for something more in-depth, we'll have a more thorough booklet waiting for you upon your arrival in New Orleans. (Isn't the suspense killing you??)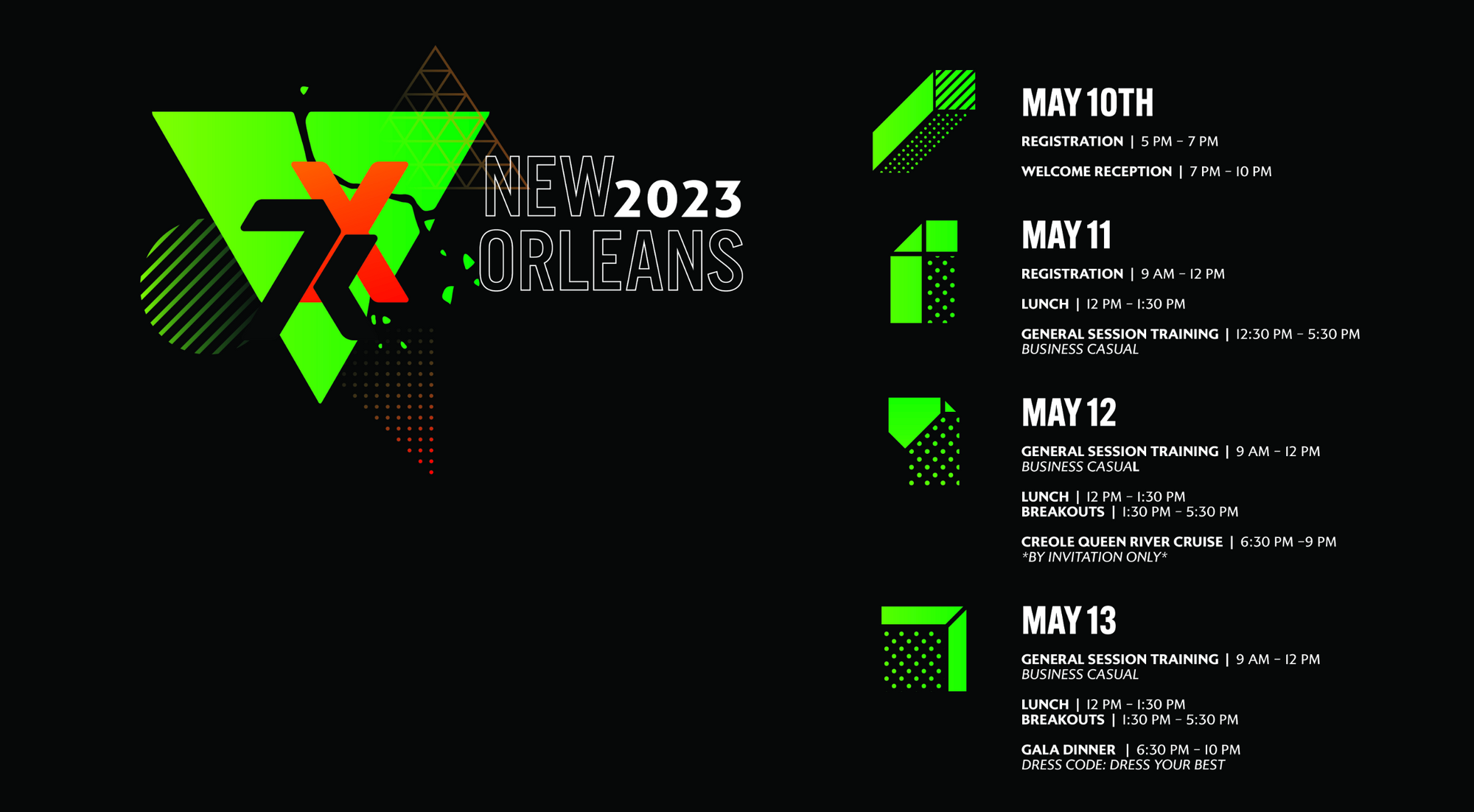 Airport and Hotel Details: To book a hotel for the convention select a discounted option from the list we've put together for 7kX New Orleans under the Events tab in your Back Office. But hurry! Deals end on April 10th. This year in New Orleans, we've got…
the Hilton Riverside Hotel (where the Welcome reception will be held)
the Embassy Suites by Hilton
the Hilton Garden Inn
and the Higgins Hotel
Of course you're welcome to book your hotel any way you want, but you won't get the same discount and that'd be just a big old bummer.
There are two main options for transportation from the airport to your hotel. There is a city bus that takes about 50 minutes and makes a couple of stops along the way. The bus fare ranges from $9-14. The other option is to hail a taxi or book a rideshare like Uber. By car it is about a 24 minute ride from the airport to the convention center and average cost is between $40-55.
Assign your tickets… or else. No but really, please assign all tickets to the person they belong to so that we know who's coming. This needs to be done before April 8th, or you could lose your ticket(s)!
Recognition: It's your chance to celebrate your wins and your teams' wins on stage at convention as a room full of adoring fans applaud you and scream your name! But hurry…April 8th is the cut off date for all Rank+Ups and updates to your profile photo and/or profile name. After that date, we'll still recognize you, just…not 'til next year. Our team needs time to put their lists together, check them twice, and all that good stuff.
Coin Drops & Merch! YES, there WILL be a Coin Drop at convention this year—some 7k-exclusive, a 7k-select, AND maybe, maybe a Holdman piece or two—so amp up your soundmoney® wallets with just as much as you wanna spend on awesome drops and amazing new merch, too! Our estimate for somebody who wants to afford the whole shabang? About $2200. The Merch booth will NOT be taking cash this year, so either stock those soundmoney® wallets, or double-check the credit card info in your Back Office.
Important PSA: There will be NO saving of seats allowed at convention during the trainings or activities. We're all family here and if you can't get along, well then, we might just turn this bus around. Stop hitting your sister.
Child Rates: Of course, you can bring your littles. With our training? Psht, they'll be regular little entrepreneurs in no time.
Pricing for children 12 and under: $150 (includes meals only, no gala entrance). Regardless of age, each person will need a ticket to access any meals.
What about Gala tickets? If you purchased All-In convention tickets, then you're already golden. If you would like to change your purchase option, there's still time to buy tickets! Just email support@7kmetals.com and let them know you want chang your purchase option to include the Gala. Want to bring a plus-one to just the gala? Contact customer service and they can help you with that as well.
Got any food allergies or restrictions? Please let us know so we don't accidentally poison you! Email marketing@7kmetals.com with any food allergies or dietary restrictions you or your guest might have.