Who needs some more fun in their life? Hmm? Just us? No way! Everyone can use a little more fun. Especially as winter drags on (for those of us here in the northern U.S.), amiright? Well, let the good times roll! We have some really fun coins dropping this Friday just to brighten up your day and kick off your weekend right.
Check them out below, but first set a reminder alarm for:
Friday, February 17th @ 11am
Mountain Time
Coin #1: New Concept!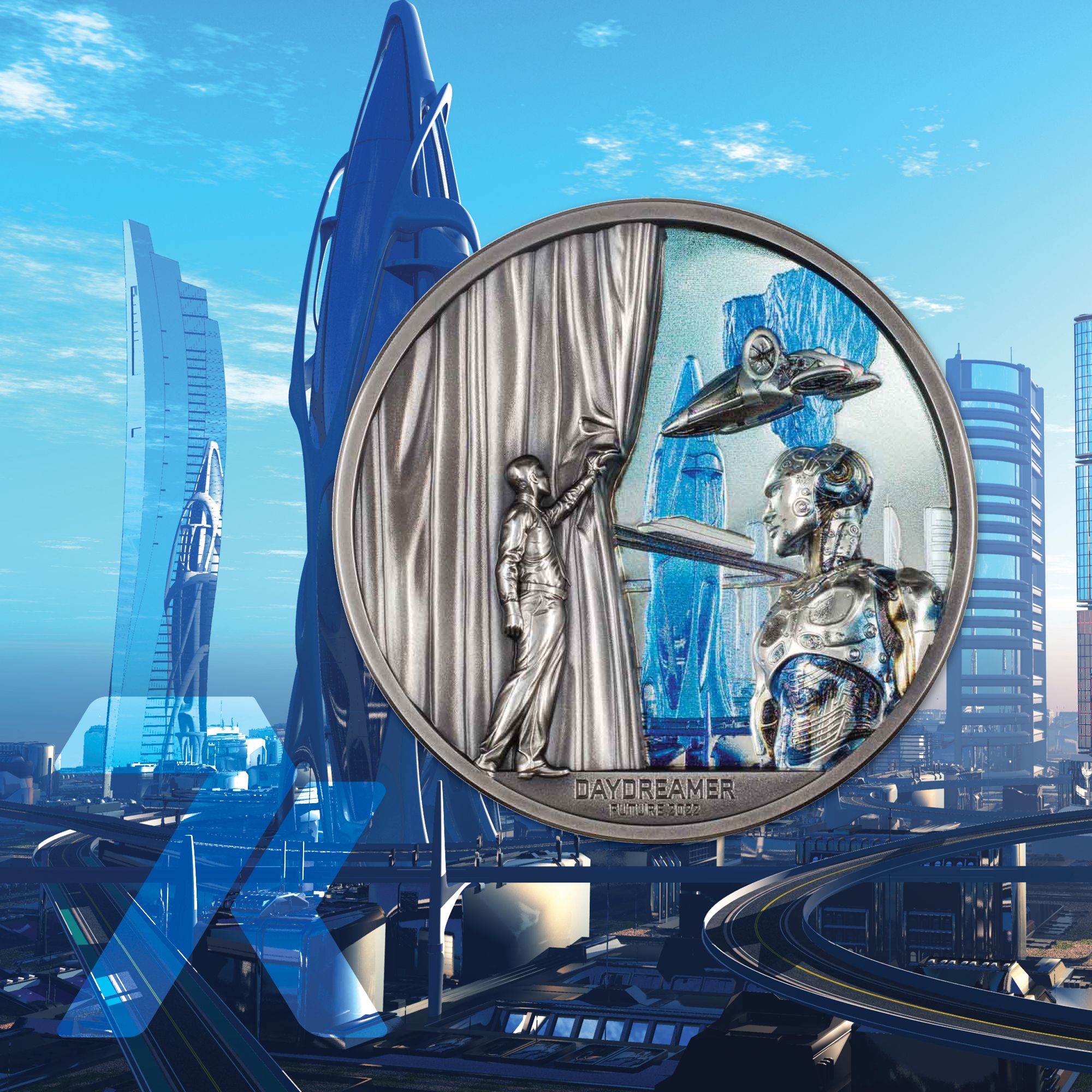 2022 Daydreamer Future 2 oz Silver Coin MS70 & MS69
Year Of Issue: 2022
Country of Issue: Palau
Mint: Mayer Mint
Face Value: 10 Dollars
Coin Weight: 2 Troy Ounces
Metal Purity: 0.999
Metal Composition: Fine Silver
Mintage: 1500
Features: Antique Finish
When you allow yourself to daydream about the future, what do you imagine it will look like? There are countless books and films within the genre of science fiction that share stories and predictions of what our human future might look like, some inspiring and some bleak. This 2-ounce silver coin beautifully and optimistically shares a wonderer and a peek inside his daydreams for the future.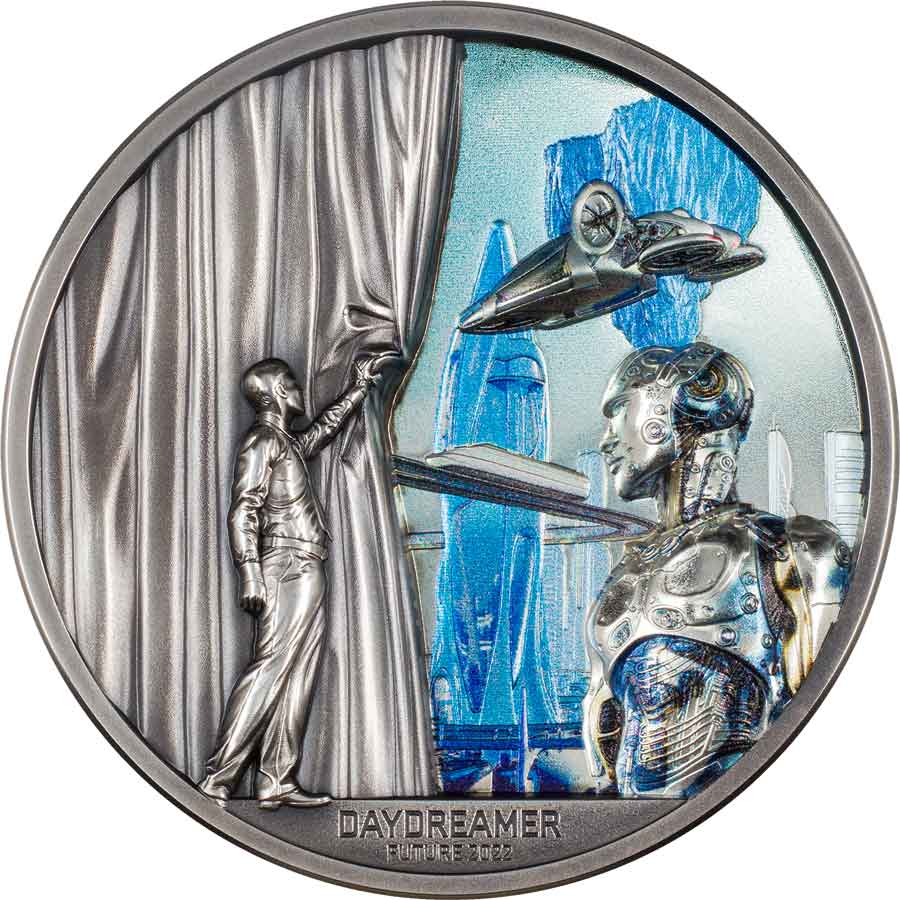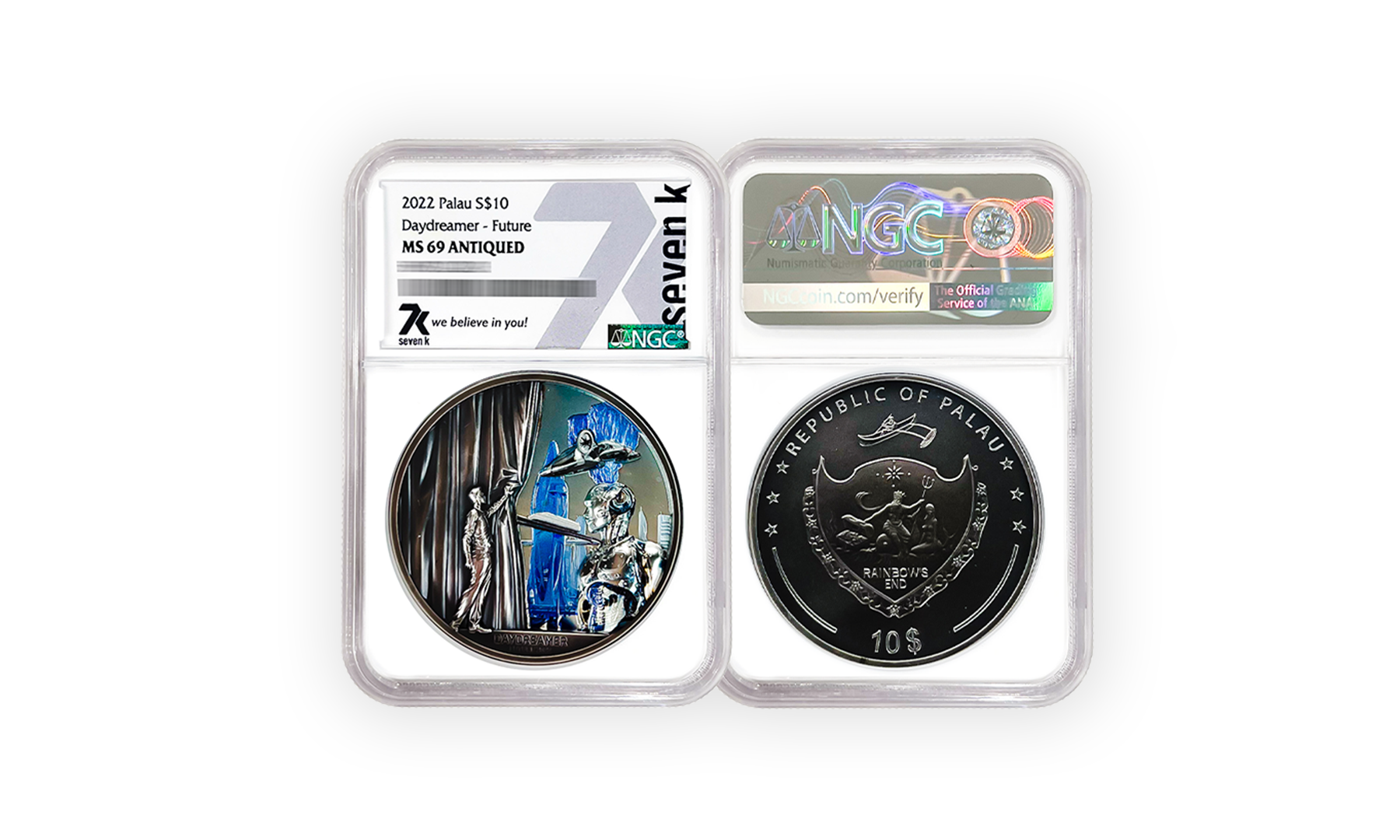 ---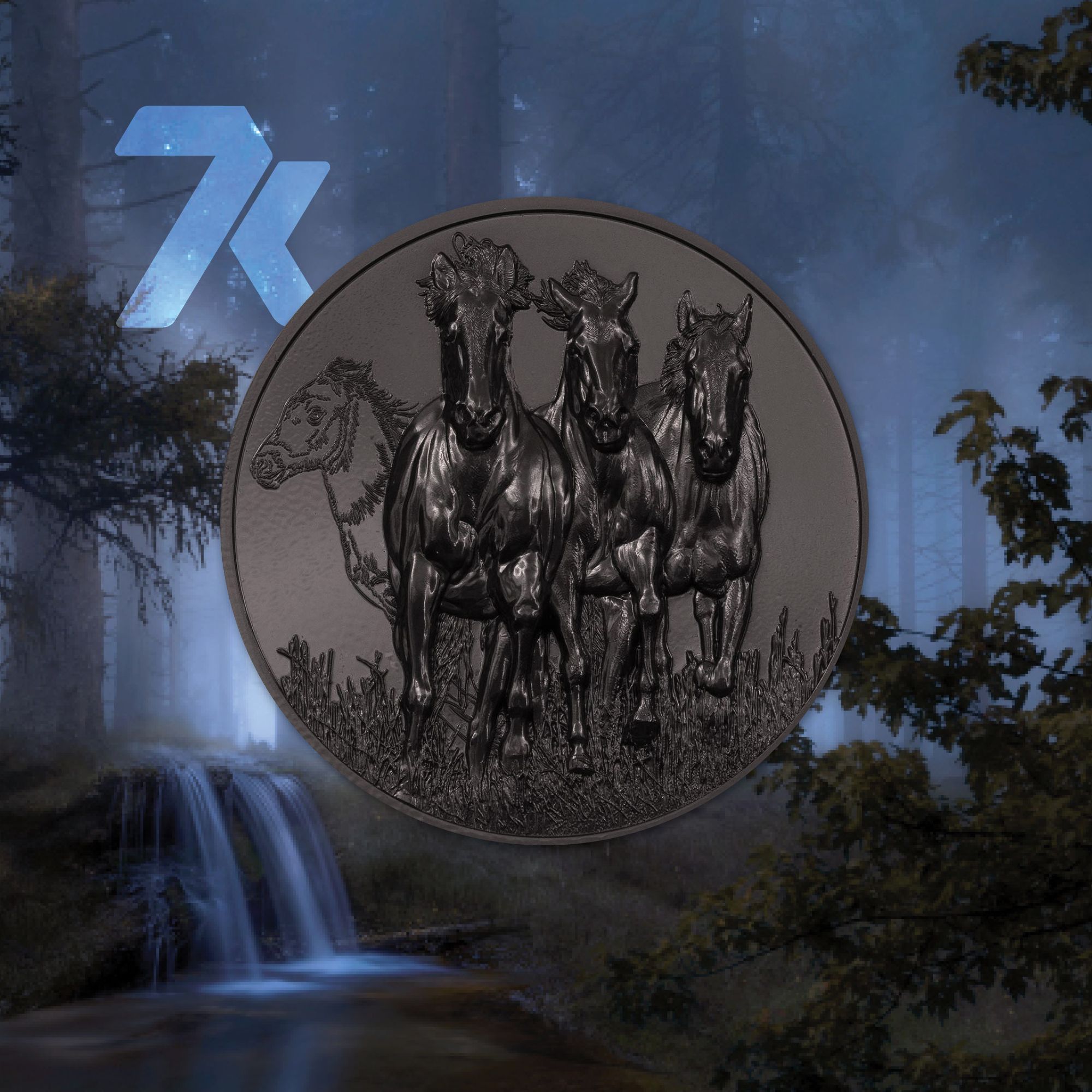 2022 Growing Up Stallion Obsidian Black Proof 2 oz Silver Coin PF70 & PF69
Year of Issue: 2022
Country of Issue: Mongolia
Mint: Mayer Mint
Face Value: 1000 Togrog
Coin Weight: 2 Troy Ounces
Metal Purity: 0.999
Metal Composition: Fine Silver
Mintage: 111
Features: Obsidian Black Proof
Growing Up from a young foal on the obverse to a majestic adult on the reverse, the Stallion on this coin comes to life, complemented by an Obsidian Black Proof quality over 2 ounces of silver. The next in the unique collection, "Growing Up" features smartminting® technology to create dynamic scenes that seemingly leap off the coin's face. With a mintage of only 111, these coins are as difficult to wrangle as a wild stallion! Nice work, partner. See the whole collection: https://www.sevenktoday.com/growing-up-coin-collection/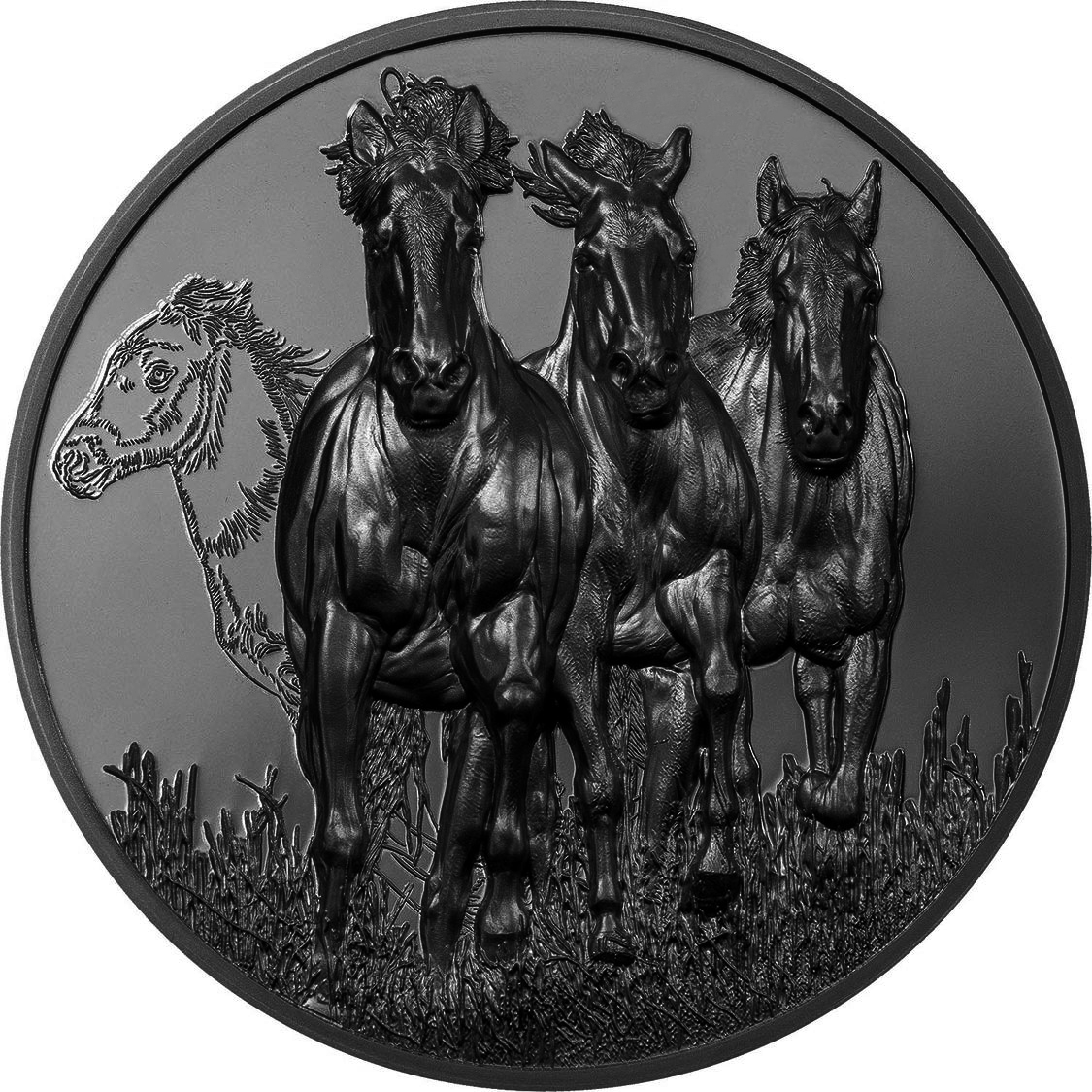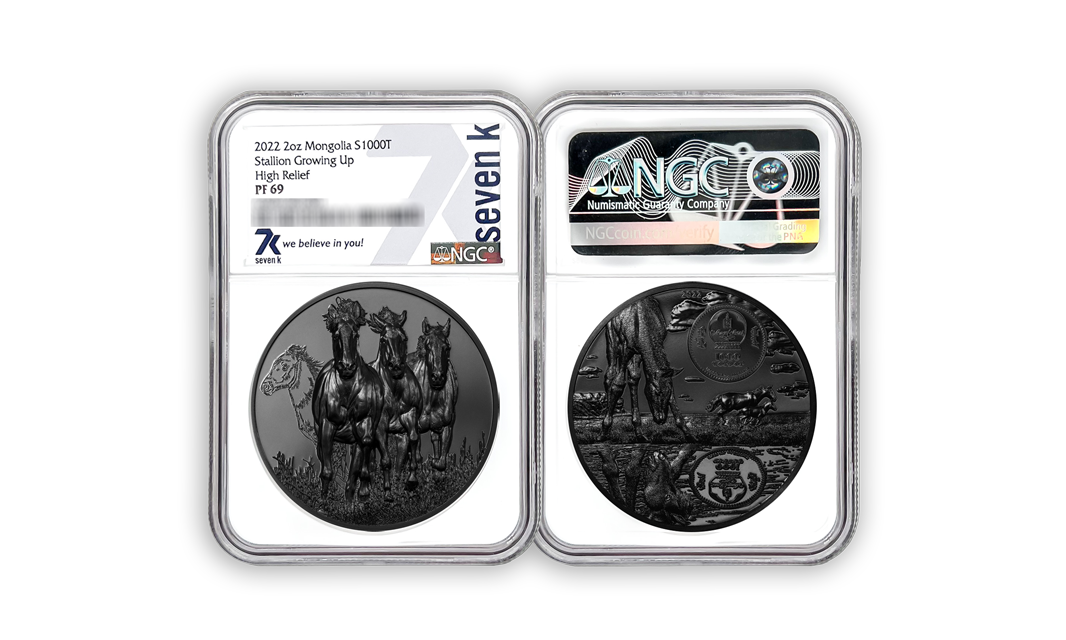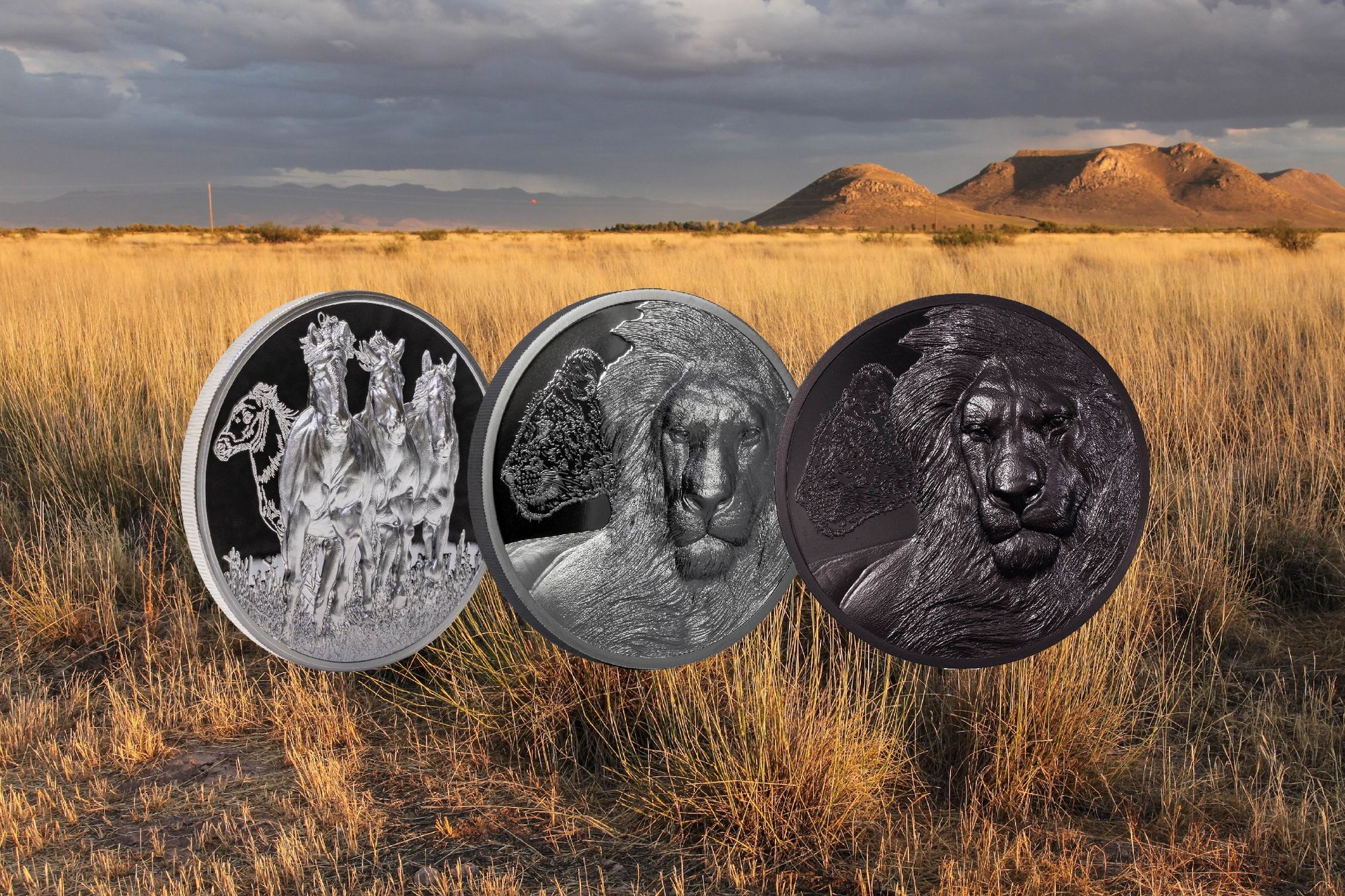 ---
Coin #3: From the Scarabaeus Coin Collection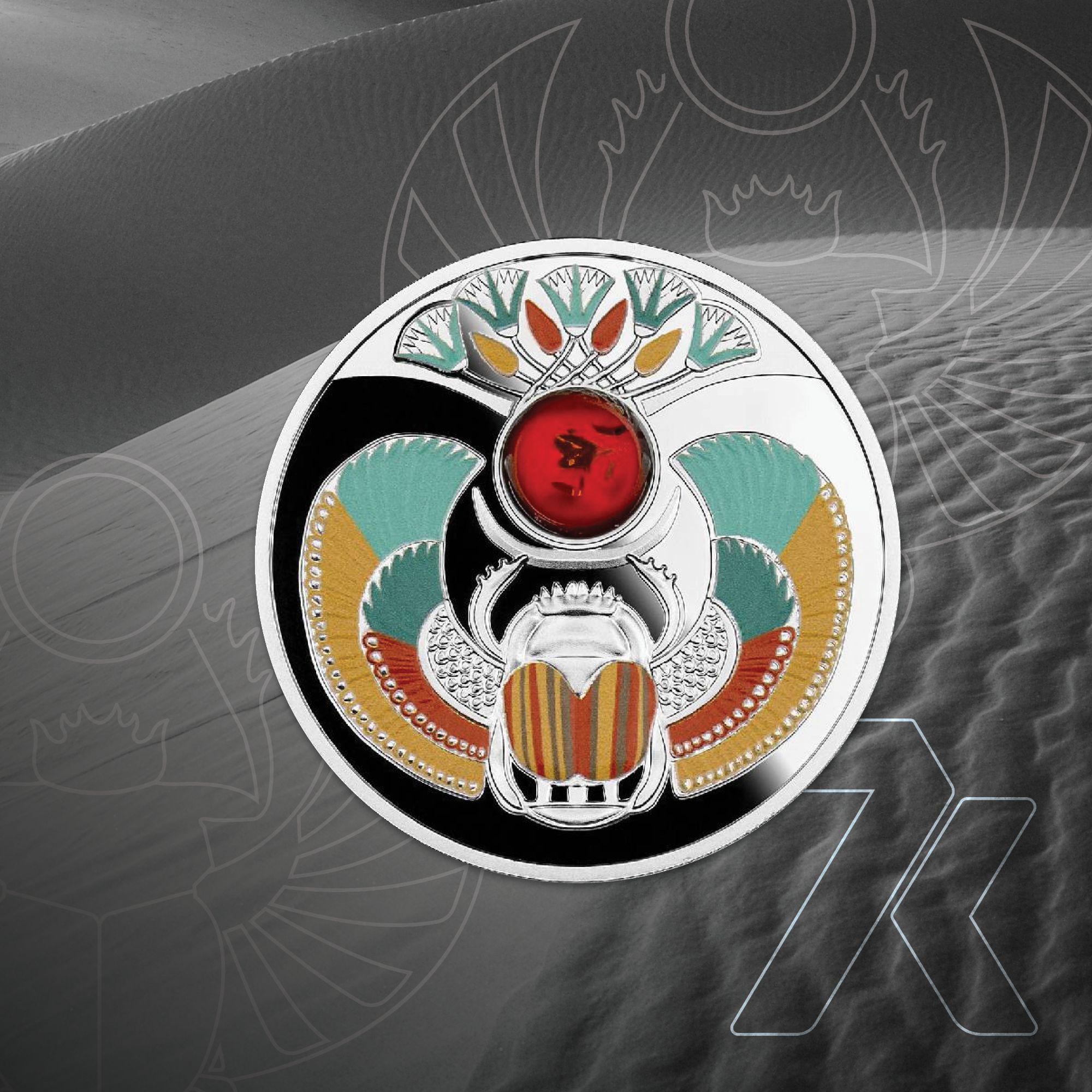 2022 Scarabaeus Amber Scarab 17 gram Silver Coin PF70 & PF69
Year of Issue: 2022
Country of Issue: Niue
Mint: Poland Mint
Face Value: 1 Dollar
Coin Weight: 17 Gram
Metal Purity: 0.999
Metal Composition: Fine Silver
Mintage: 600
Features: Ultra High Relief
This Amber Scarab coin is small, but mighty. Its distinctive design flourishes with gorgeous hues matched with an Ultra High Relief that sets the silver shining. In Ancient Egyptian culture, the popular motif showed up in honor of the scarab sun god, Kepir. Here, the scarab amulet of old has been delightfully modernized, and incorporated with a resplendent Amber insert.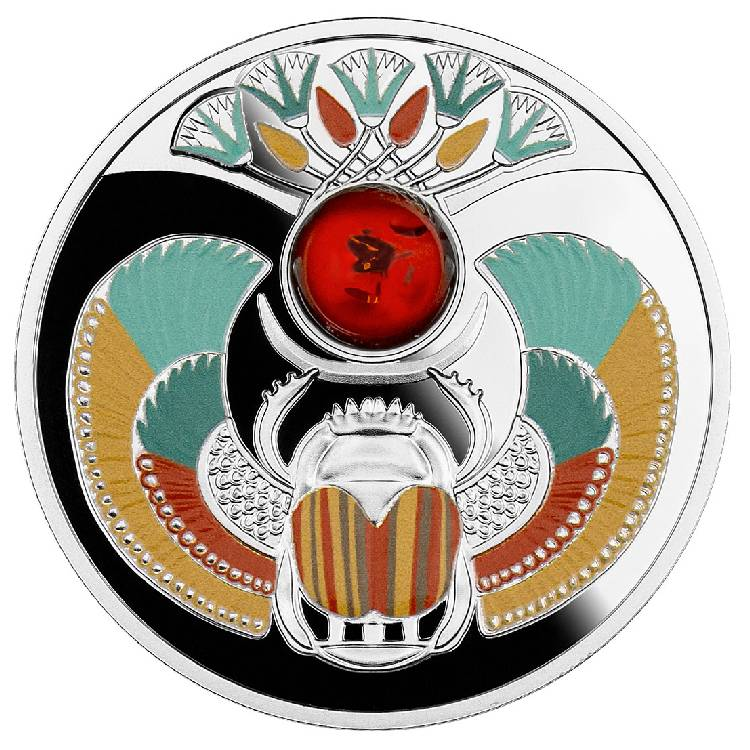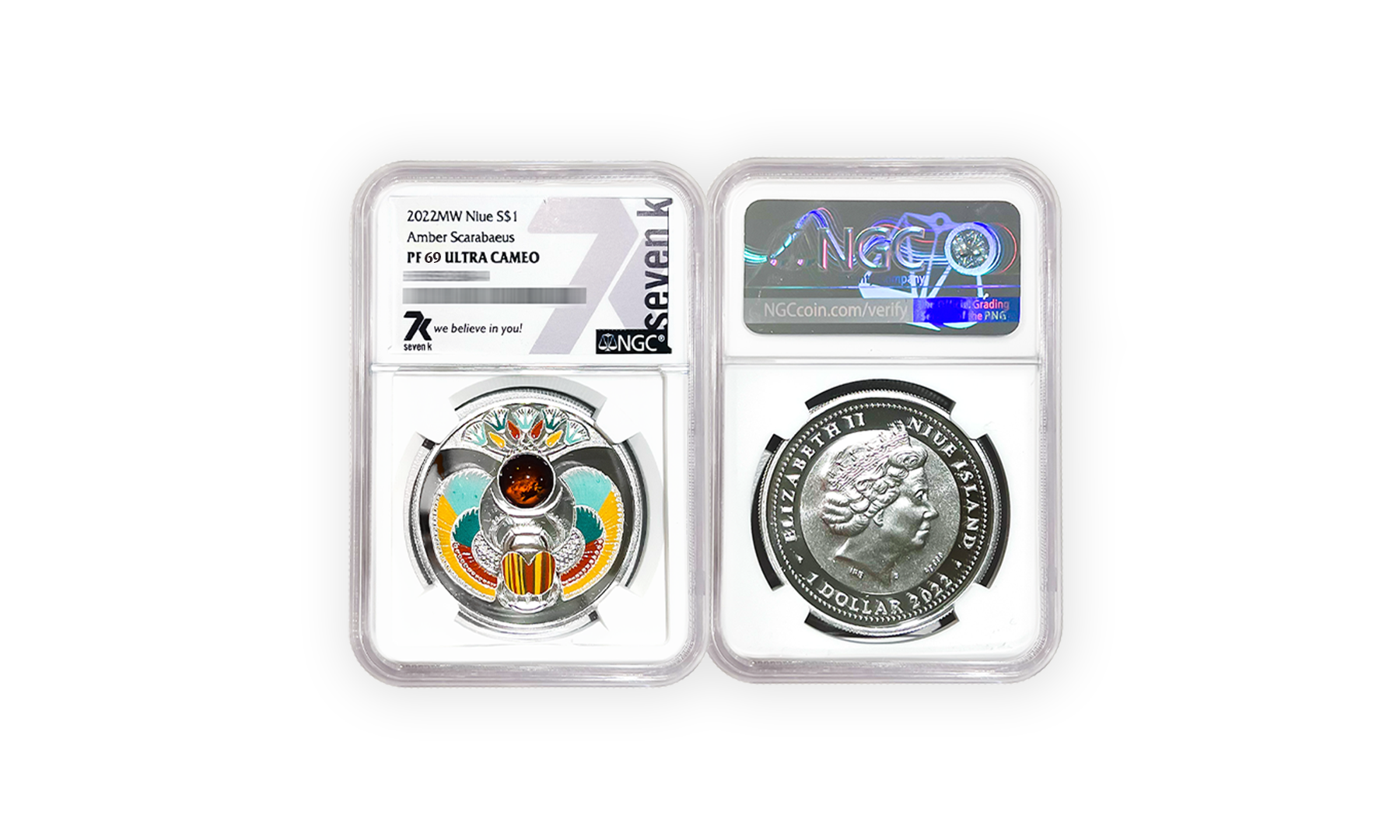 ---
Coin #4: 7k Signature Coin
We dropped this coin for attendees of the recent 7k Getaway trip to the Dominican Republic, but we still have some left and here's your chance to snag one for yourself! It's a 7k Signature coin--meaning, we designed, created, and produced this coin ourselves and it's not found anywhere else in the world!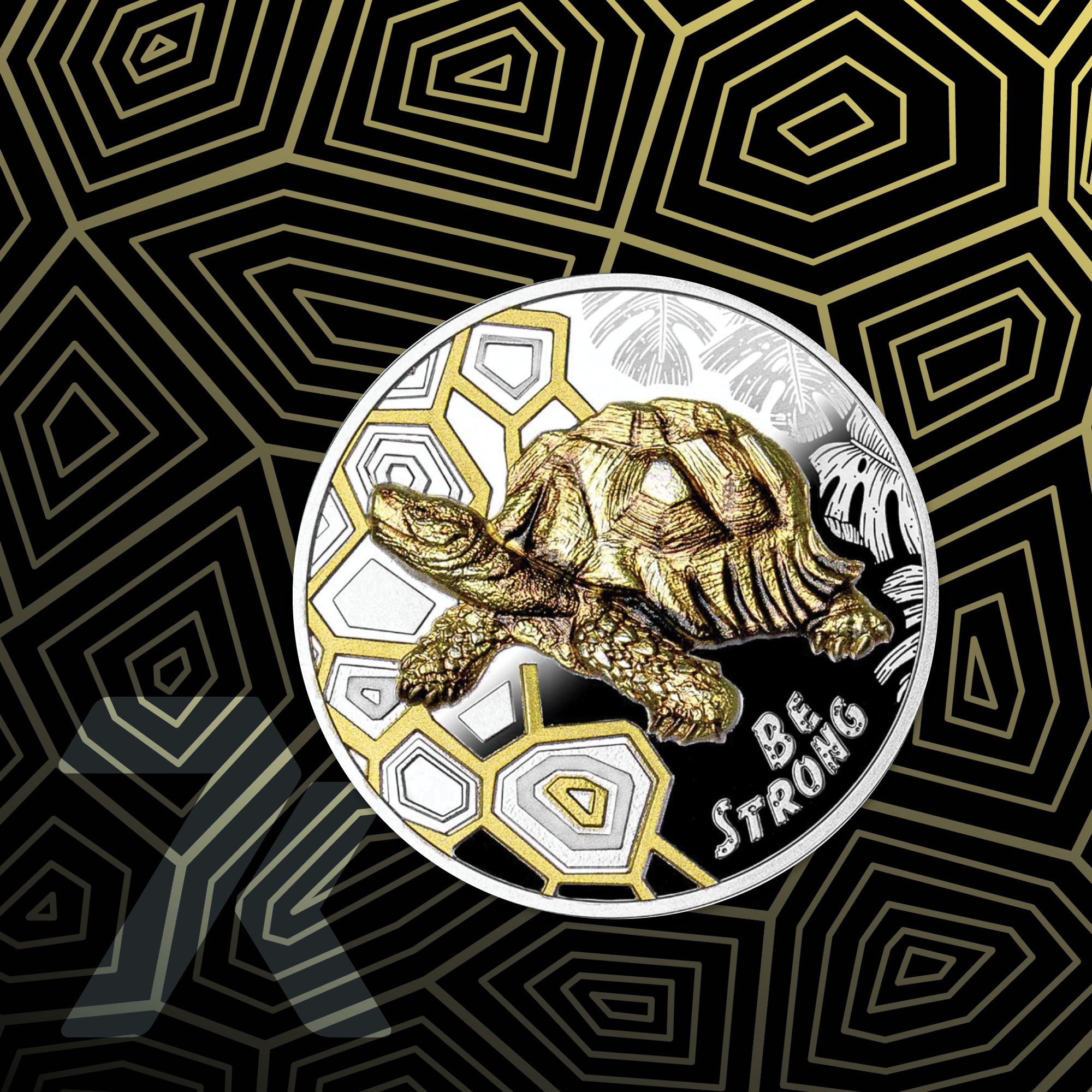 2022 Be Strong 1 oz Silver Coin PF70 & PF69
Year of Issue: 2022
Country of Issue: Cameroon
Mint: Poland Mint
Face Value: 1000 Francs
Coin Weight: 1 Troy Ounce
Metal Purity: 0.999
Metal Composition: Fine Silver
Mintage: 500
Features: Ultra High Relief
Slow and steady wins the race. Turtles have proved that over and over again by simply existing on the Earth for the past 255 million years. Their shells have been their saving grace, acting as a natural defense system able to withstand pressure about 200 times its own weight. In both stamina and structure, turtles are strong. And this beautiful 1 oz silver coin bears the special reminder to 'be strong', like a turtle.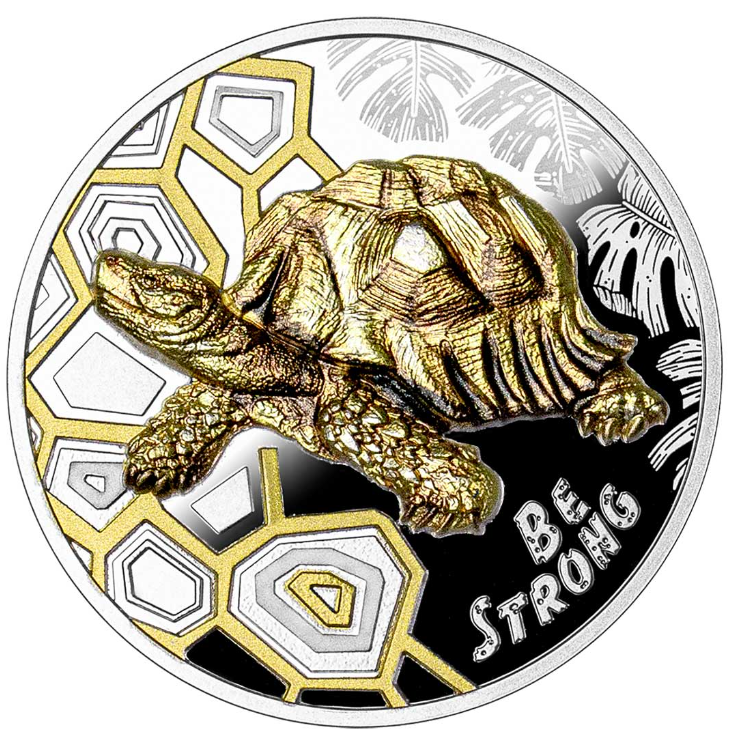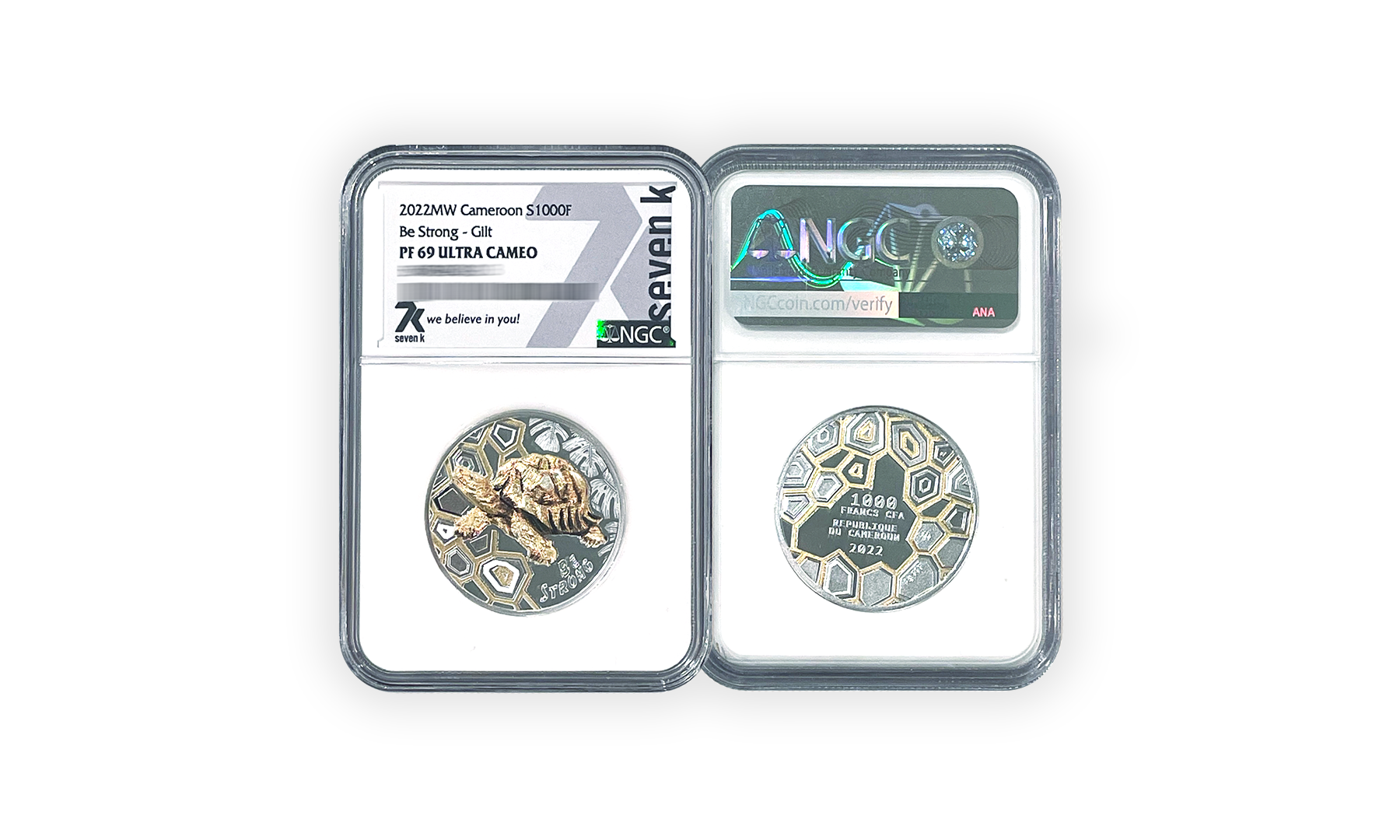 ---
Not Sure How A Coin Drop Works?
We've simplified the process even more to help out. Just follow these steps:
A few minutes before the time of the coin drop, log in to your account on 7kmetals.com.

Click the "Check it out" button in the coin drop box on your account page.


When the timer counts down to zero you'll see the coin drop interface appear. Swipe left until you see (on a touchscreen device), or click on the image (on a computer) of the coin you want.


Click the "I WANT ONE" button underneath the coin description.


Do this for all the coins you want to purchase.
That's it! That's all there is to it!
A few things to note:
THERE IS NO CODE NEEDED!
If there are multiple grades of a coin, you'll need to select the one you want. Make sure it's highlighted. The system defaults to the PF or MS69, so if you want the PF or MS70, you need to select it.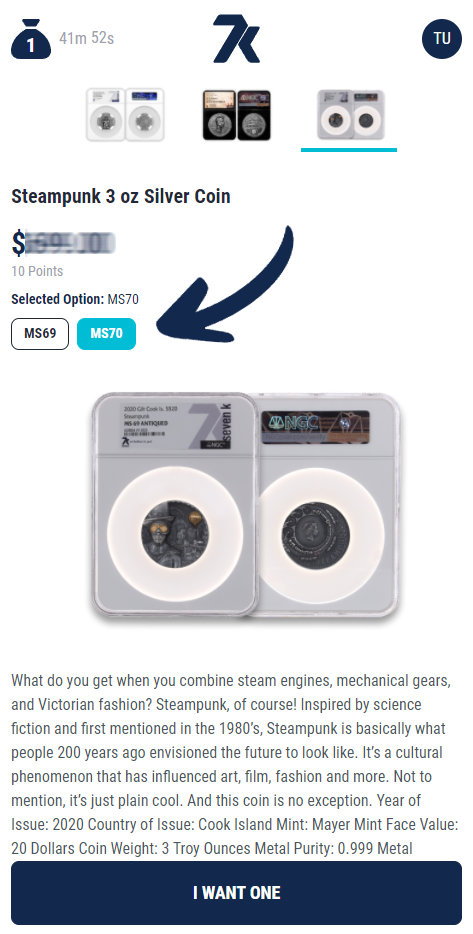 You need to act FAST! The reason we do coin drops is because so many people want a limited number of coins. This is the fairest way we have found to offer these coins. If you see the button underneath a coin flickering between "I Want One" and "Sold Out" it's because people are claiming and then changing their minds about the last few coins.

PRO TIP: People continue to "unshop" throughout the duration of the coin drop. Don't give up if the coin you want sells out in minutes (or seconds!). People will grab them and then change their minds so coins often become available all throughout the drop. KEEP TRYING!
Never Miss Another Coin Drop
1 - Create a new text message.
2 - Enter your country code in the "to" field.
3 - Send "7k" as the body of the message.
Country Codes
USA: 8332099777
CANADA: 8332099777
AUSTRALIA: 61480088229
U.K.: 4474911663966
SINGAPORE: 6582400304
NEW ZEALAND: TBA
IRELAND: TBA
MEXICO: TBA
*Normal rates based on your individual plan may apply, but no additional international costs will be incurred.
Once complete, you will receive an automatic text reply welcoming you!
Make sure to act quickly when the text messages come in so you can take advantage of the Coin Drops. Good luck!