E.T. 40th Anniversary Coin Collection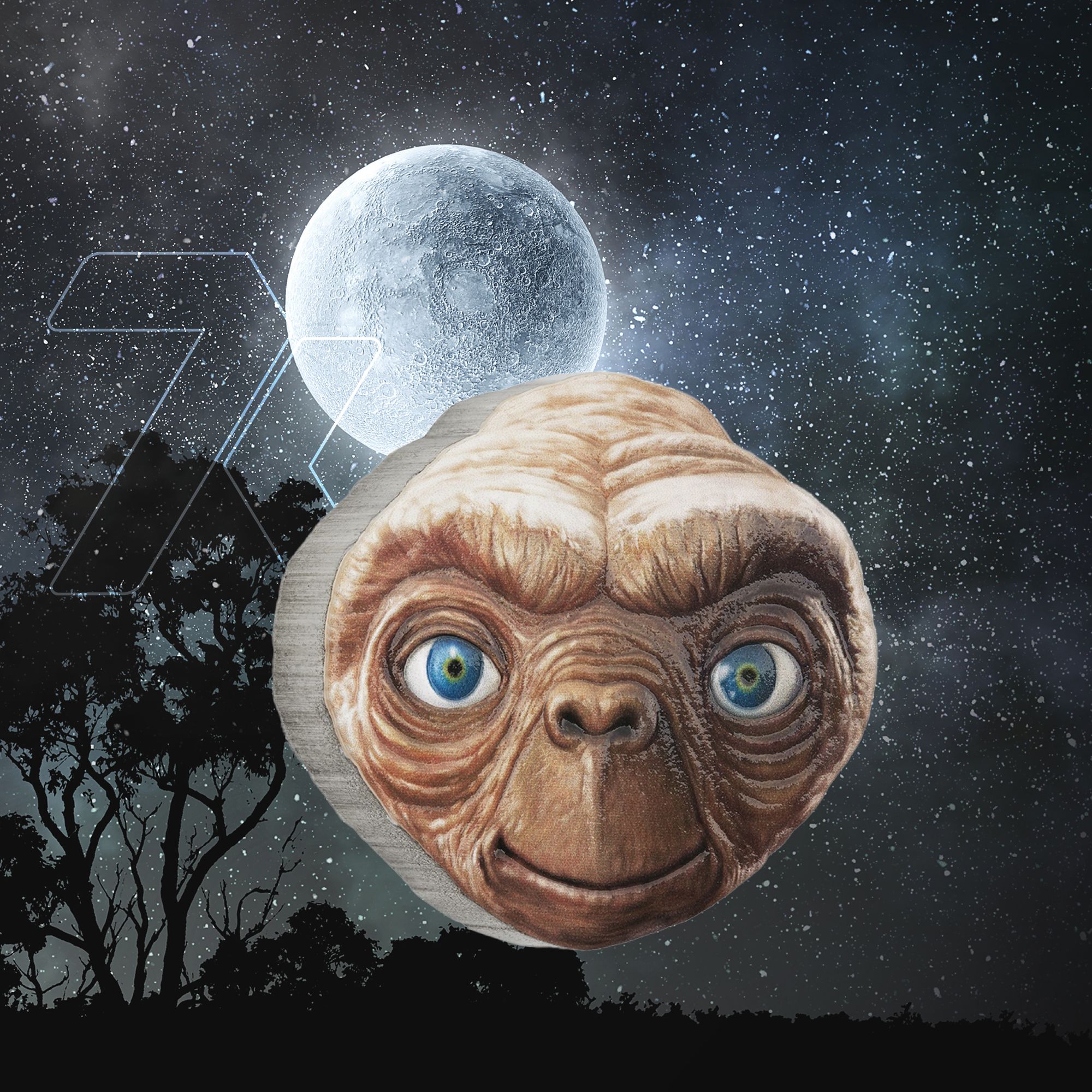 2022 E.T. 40th anniversary The Extra-Terrestrial E.T Shaped Coin 2 oz Silver Coin
Year of Issue: 2022
Country of Issue: Niue
Mint: Mayer Mint
Face Value: 5 Dollars
Coin Weight: 2 Troy Ounces
Metal Purity: 0.999
Metal Composition: Fine SIlver
Mintage: 600
Features: Ultra High Relief
Before the 1982 release of the film, 'E.T.', aliens had really only been portrayed as terrifying overlords, intent on enslaving humanity. With the creation of this stumpy, sweet, curious extra-terrestrial, a new vision was formed. This coin is a special, 2 oz fine silver celebration of the 40th anniversary of E.T.'s debut, featuring Ultra High Relief and a specialized shape. If life is out there, E.T. made us wonder: could it be friendly?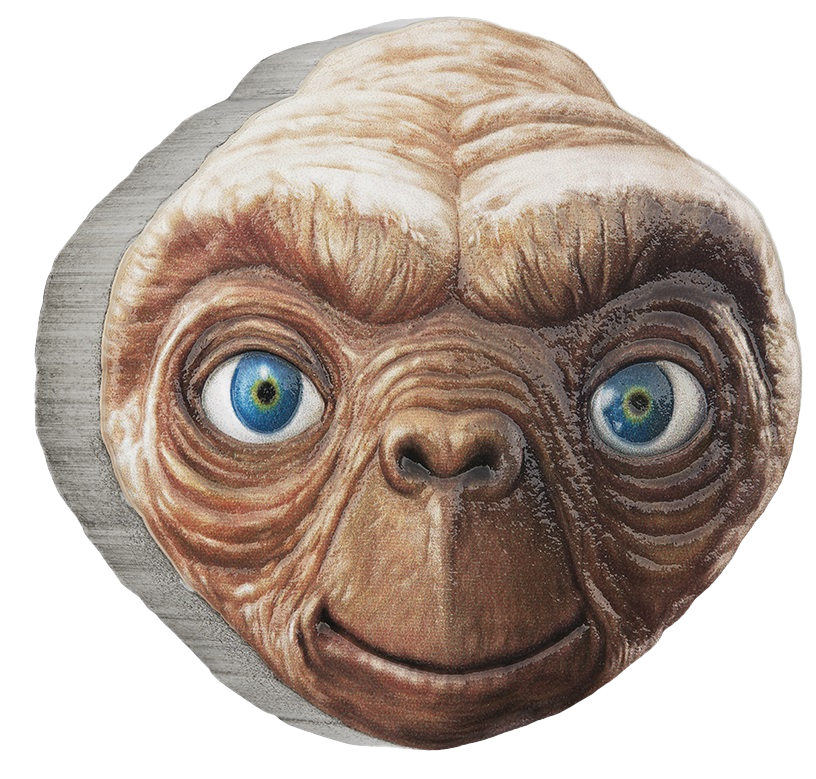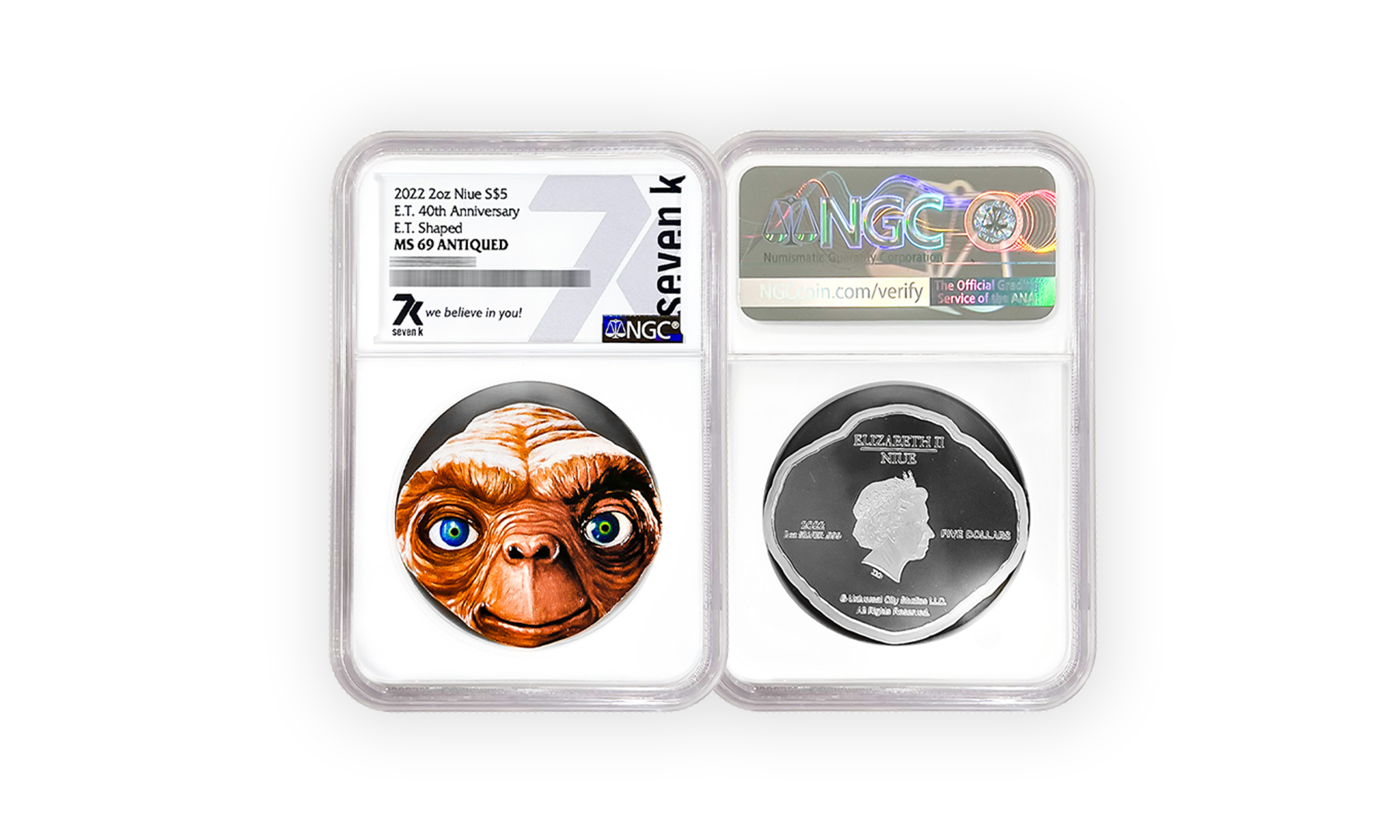 ---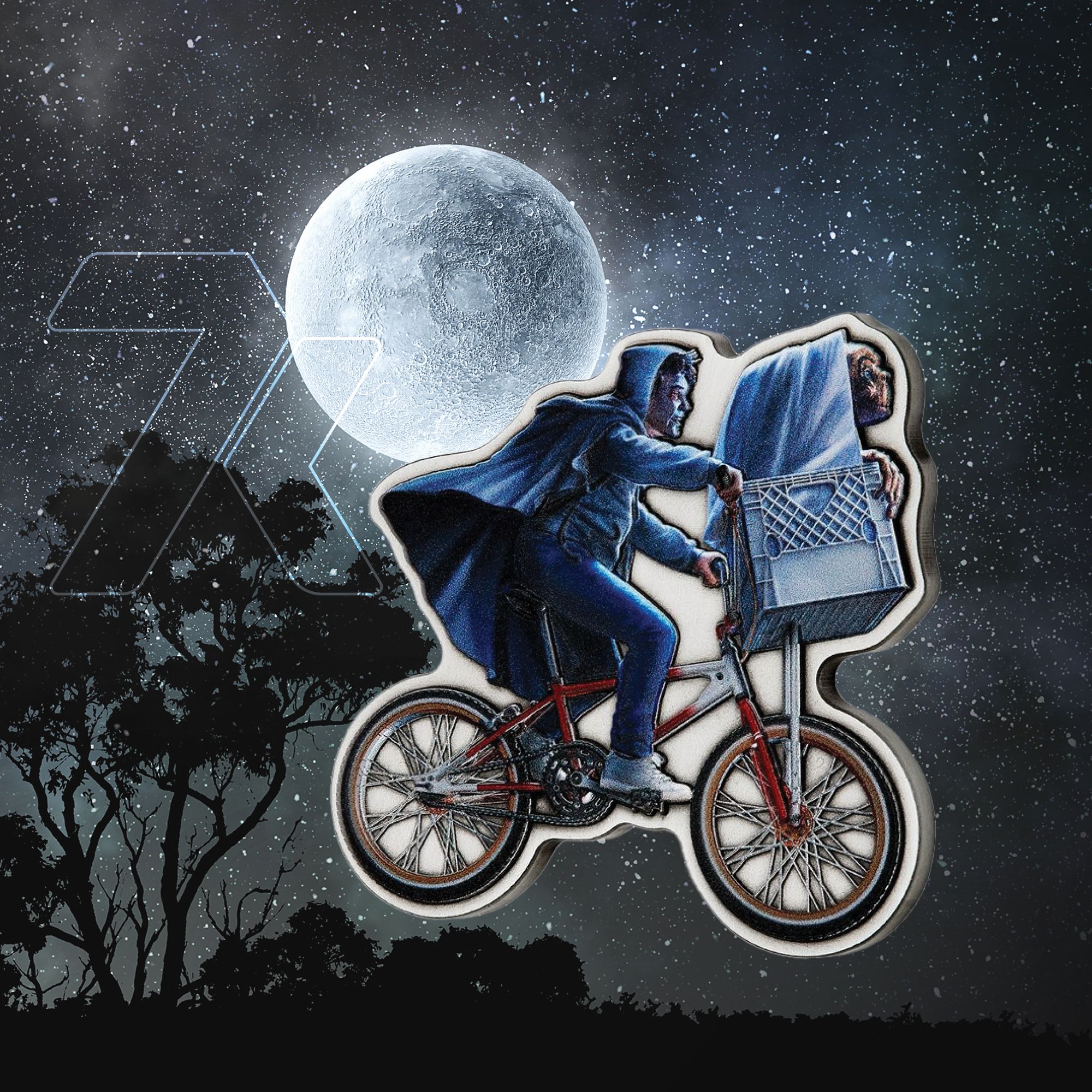 2022 E.T. 40th Anniversary The Extra Terrestrial Bicycle Shaped 2 oz Silver Coin
Year of Issue: 2022
Country of Issue: Niue
Mint: Sunshine Mint
Face Value: 5 Dollars
Coin Weight: 2 Troy Ounces
Metal Purity: 0.999
Metal Composition: Fine Silver
Mintage: 600
Features: Colorized Shaped Coin
For the 40th anniversary of the debut of everybody's favorite neighborhood alien, this 2 oz fine silver coin is released with an incredible colorization and shape to show E.T., finally going home. Fun E.T. film fact: Many sounds and faces were used in layers to create the final product that would be E.T. Among them were: Albert Einstein, a pug, the sound effects creator's wife snoring, sea otters, and a burp.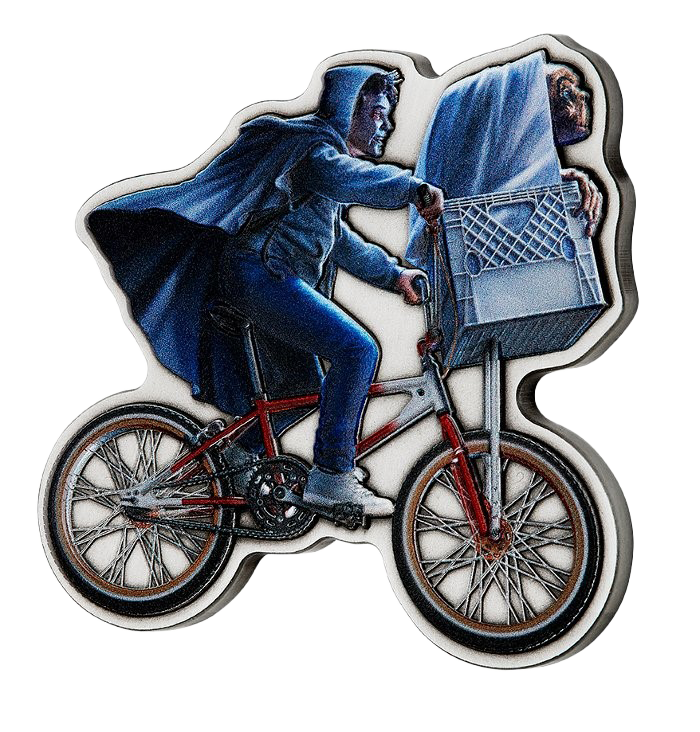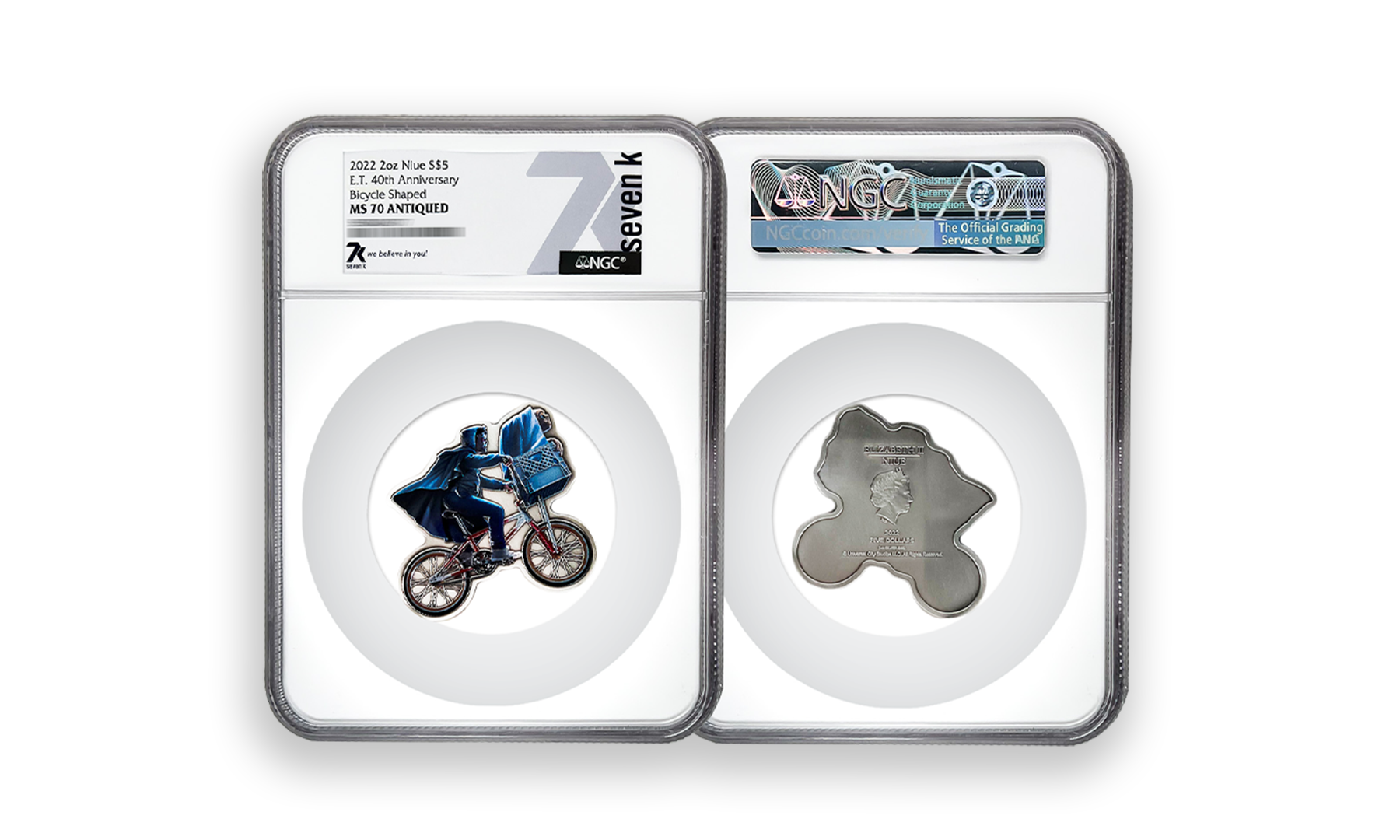 ---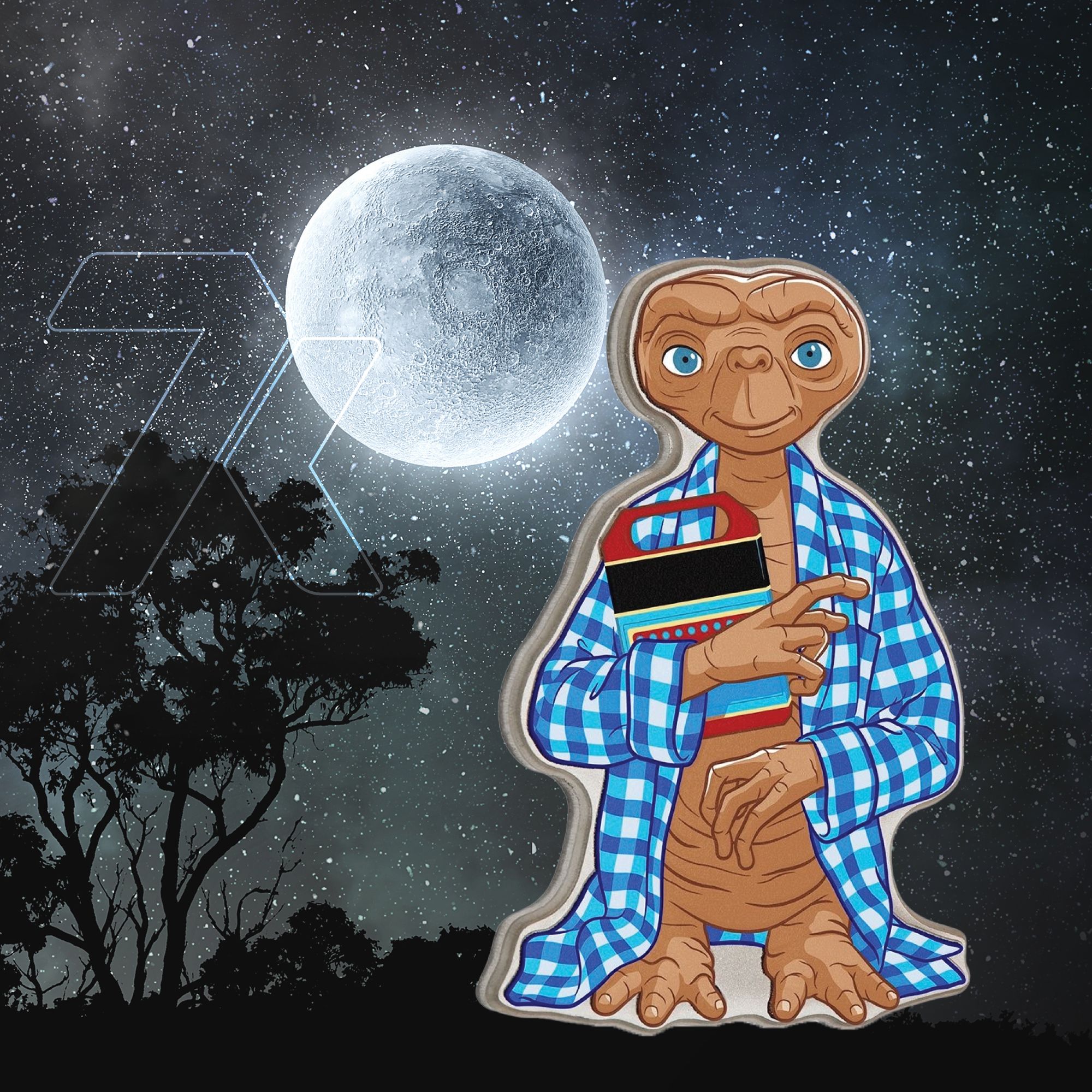 2022 E.T. 40th Anniversary 1 oz Silver Coin
Year of Issue: 2022
Country of Issue: Niue
Mint: Sunshine Mint
Face Value: 2 Dollars
Coin Weight: 1 Troy Ounce
Metal Purity: 0.999
Metal Composition: Fine Silver
Mintage: 1,000
Features: Colorized Shaped coin with Official Licensing
Quick, somebody grab some Reese Pieces! To celebrate the 40th anniversary of your friendly neighborhood extraterrestrial's debut on the big screen, this extra-special 1-oz silver coin was released with spectacular coloring and an amazing E.T. shape. Making his grand debut in the theaters in 1982, E.T. quickly became a national icon with his glowing finger, fancy costumes, and catchphrase, "E.T. phone home!"