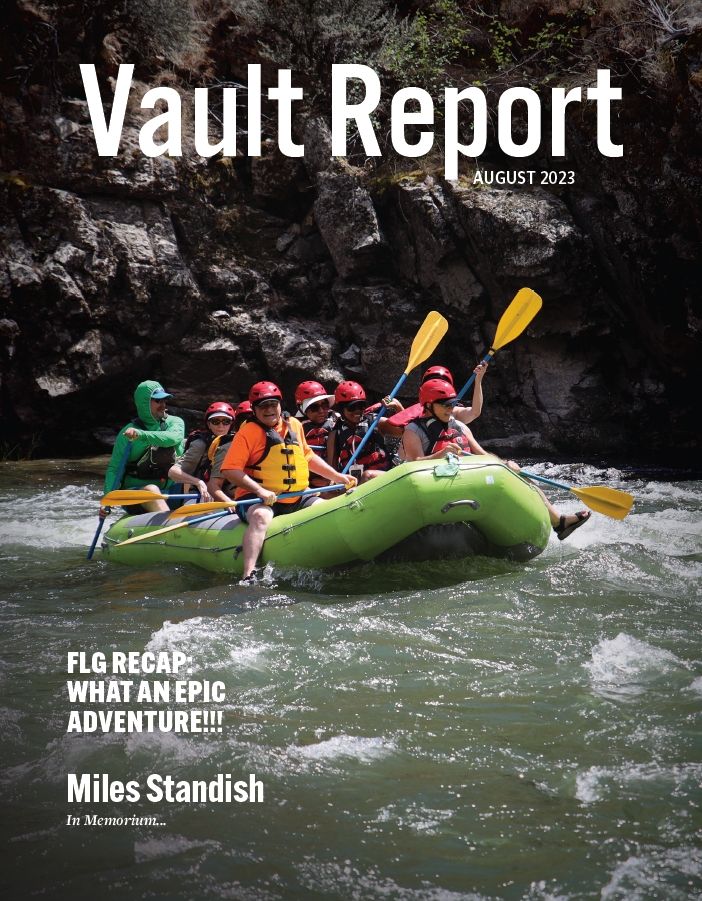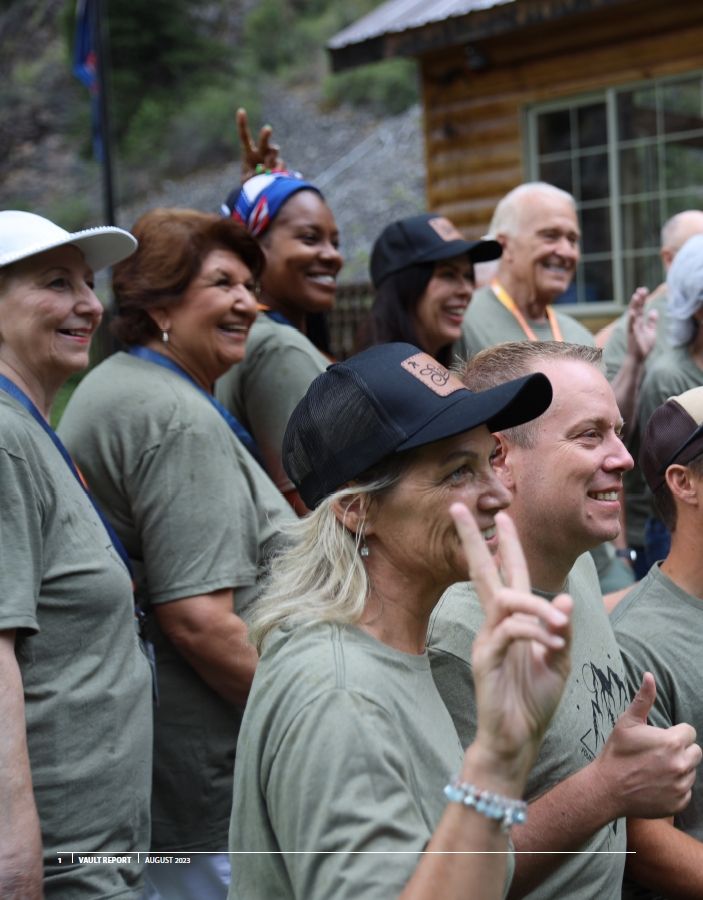 HOPE - LEGACY - IMPACT
"If you had $1440 and lost $10, would you throw the rest away? No. In a day there are 1440 minutes. Don't let a negative 10 minutes ruin your entire day." - Miles Standish
CONTENTS
03 - COIN DROP: An Awesome Drop
05 - FLG Wrap Up: 7k Getaway 2023
09 - RANK ADVANCEMENTS: 6/15-7/15
15 - 7k SELECT: Coins and Stories We Love
17 - MILES STANDISH: In Memorium
---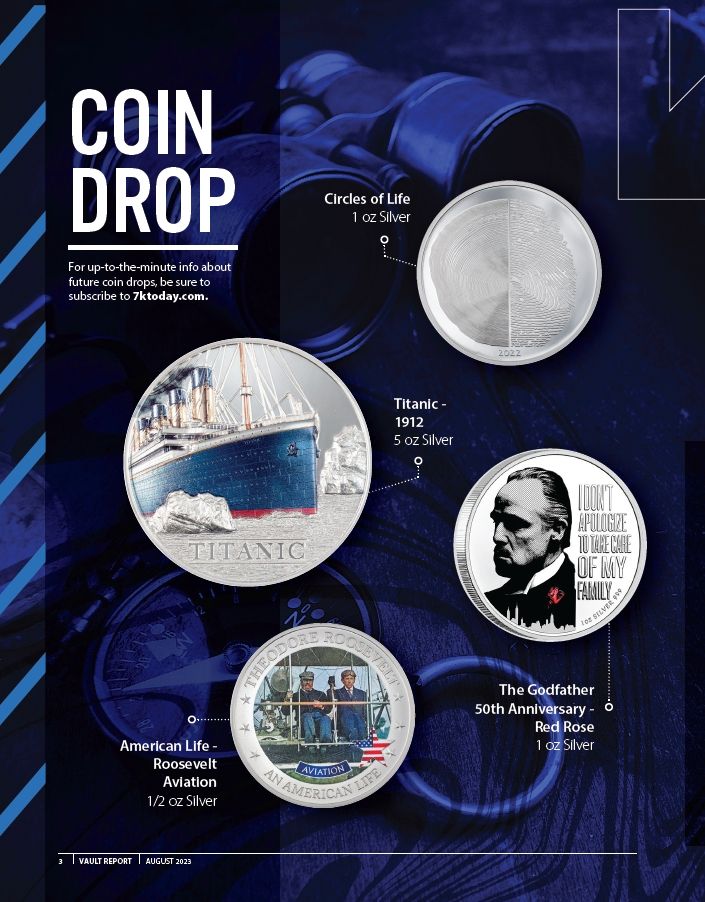 COIN DROP
For up-to-the-minute info about future coin drops, be sure to subscribe to 7ktoday.com.
Circles of Life: 1 oz Silver
Titanic 1912: 5 oz Silver
The Godfather 50th Anniversary: Red Rose 1 oz Silver
An American Life: Roosevelt Aviation 1/2 oz Silver
Pearl Series: Pearl Diving 2 oz Silver
Wild Scenery 2 oz Silver
Dot Art: Egyptian Pyramid 3 oz Silver
NEED TO KNOW MORE?
1 - Create a new text message.
2 - Enter your country code in the "to" field.
3 - Send "7k" as the body of the message.
Country Codes
USA: 8332099777
CANADA: 8332099777
AUSTRALIA: 61480088229
U.K.: 4474911663966
SINGAPORE: 6582400304
NEW ZEALAND: TBA
IRELAND: TBA
*Normal rates based on your individual plan may apply, but no additional international costs will be incurred.
Once complete, you will receive an automatic text reply welcoming you!
Make sure to act quickly when the text messages come in so you can take advantage of the Coin Drops. Good luck!
---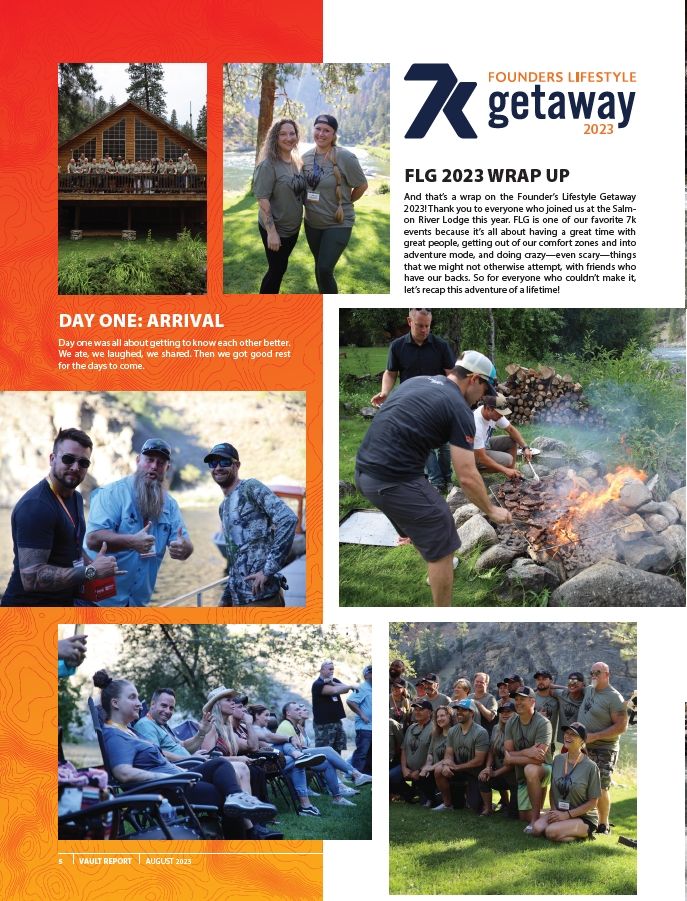 ---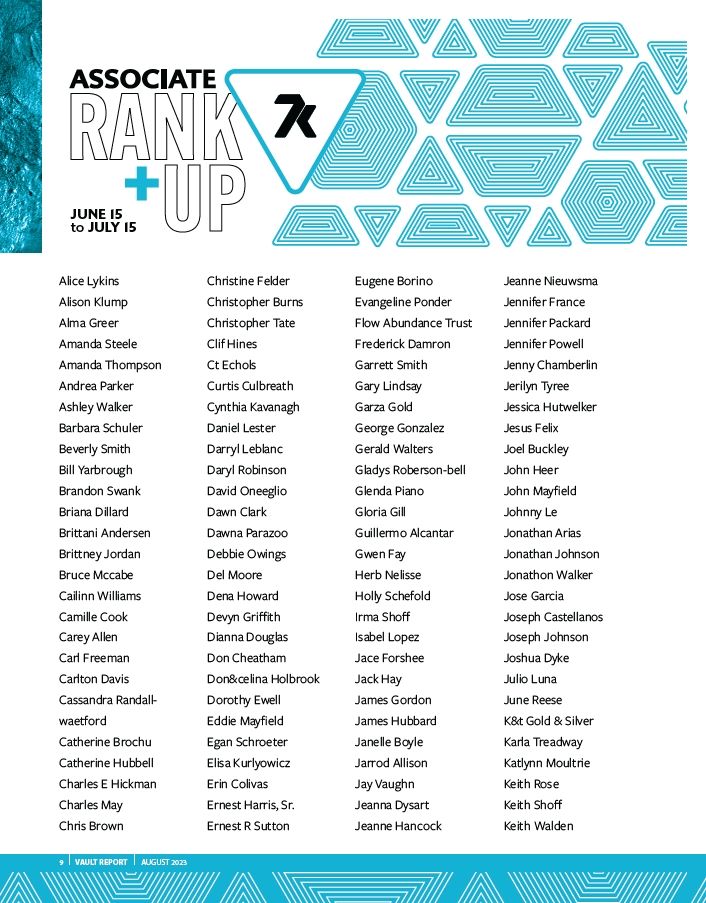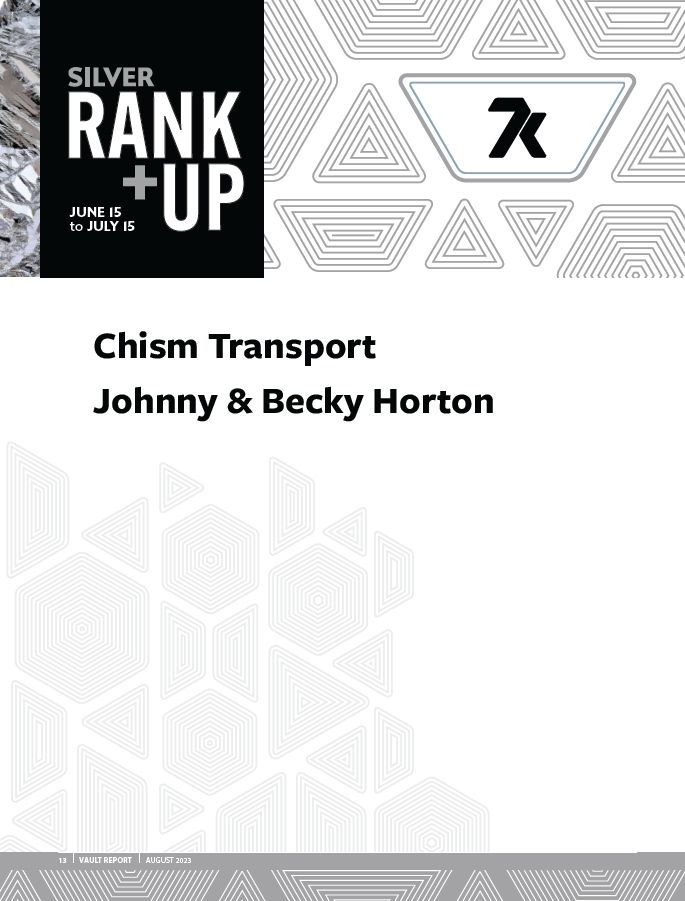 ---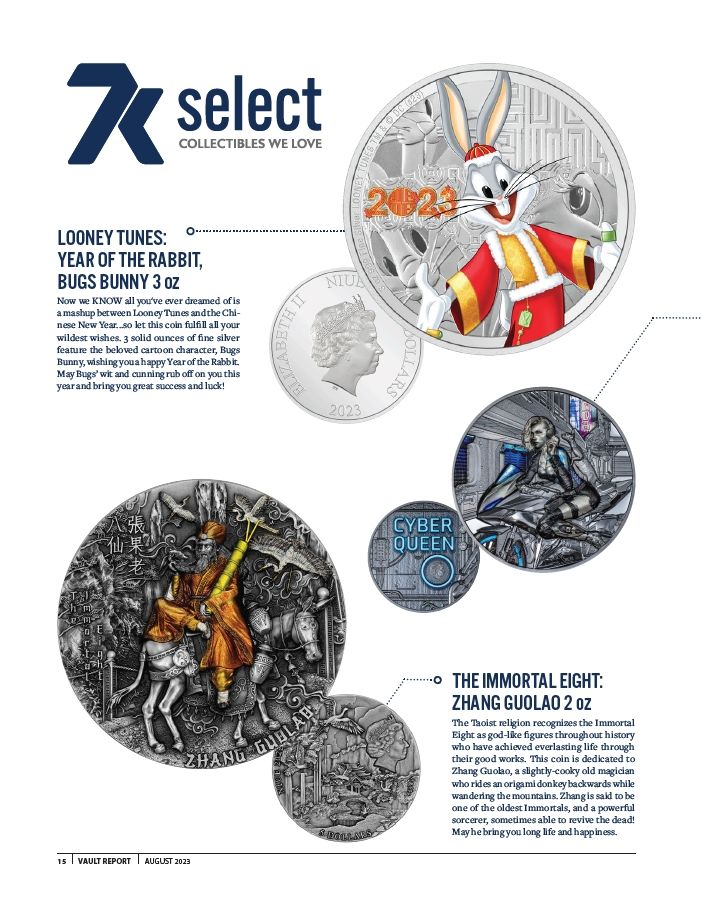 7k Select
Collectibles We Love
LOONEY TUNES: YEAR OF THE RABBIT, BUGS BUNNY 3 oz
Now we KNOW all you've ever dreamed of is a mashup between Looney Tunes and the Chinese New Year...so let this coin fulfill all your wildest wishes. 3 solid ounces of fine silver feature the beloved cartoon character, Bugs Bunny, wishing you a happy Year of the Rabbit. May Bugs' wit and cunning rub off on you this year and bring you great success and luck!
THE IMMORTAL EIGHT: ZHANG GUOLAO 2 oz
The Taoist religion recognizes the Immortal Eight as god-like figures throughout history who have achieved everlasting life through their good works. This coin is dedicated to Zhang Guolao, a slightly-cooky old magician who rides an origami donkey backwards while wandering the mountains. Zhang is said to be one of the oldest Immortals, and a powerful sorcerer, sometimes able to revive the dead! May he bring you long life and happiness.
THE BEGINNING: CYBER QUEEN 3 oz
Make way for the Cyber Queen, because if you don't, she might just run you over with her bike! This cyberpunk baddie cruises through a world where people and machines have become one. Alongside her trusty feline friend, she's out to conquer and thrive. And according to this coin collection's title, this gorgeous coin is only 'The Beginning'.
8th WONDER OF THE WORLD: CHURCH OF SAINT GEORGE 2 oz
You know about the first seven, but what's the 8th Wonder of the World? This coin series explores the options, beginning with the Church of Saint George. Just by studying it on the reverse, you know the ancient stone temple is impressive, but see that colored emblem? That's what the church looks like from above. The people who built it in the 12th century didn't even get to see that angle. You're one lucky son of a gun.
STAR WARS: DEATH STAR #2 3 oz
BOOM! The reactor core of this Death Star coin took a proton torpedo to the face and blew! An Ultra High relief quality brought it back to life on this 3 oz fine silver coin, still in its broken state. Star Wars collectors unite!
HISTORIC INSTRUMENTS: ASTROLABE 2 oz
Before GPS, before global maps, even before sextants, humans had to get creative when navigating this big, blue world. So when they needed a map or to figure their location, they did that with an astrolabe: a little tool that could map the positions of celestial bodies all year round. This 2 oz fine silver coin might not guide you by the stars, but we're betting it'll help get you where you wanna go.
CODE OF THE FUTURE: TIME TRAVEL 2 oz
The Code of the Future is back for round four with a doozy: Time Travel! How many of us daydream about getting to pause time every now and again? Maybe visit a different time? Would you visit the future or the past? The possibilities would be endless! We may not have unlocked that code yet, but this coin captures the awesome complexities of time travel in stark, thrilling detail.
---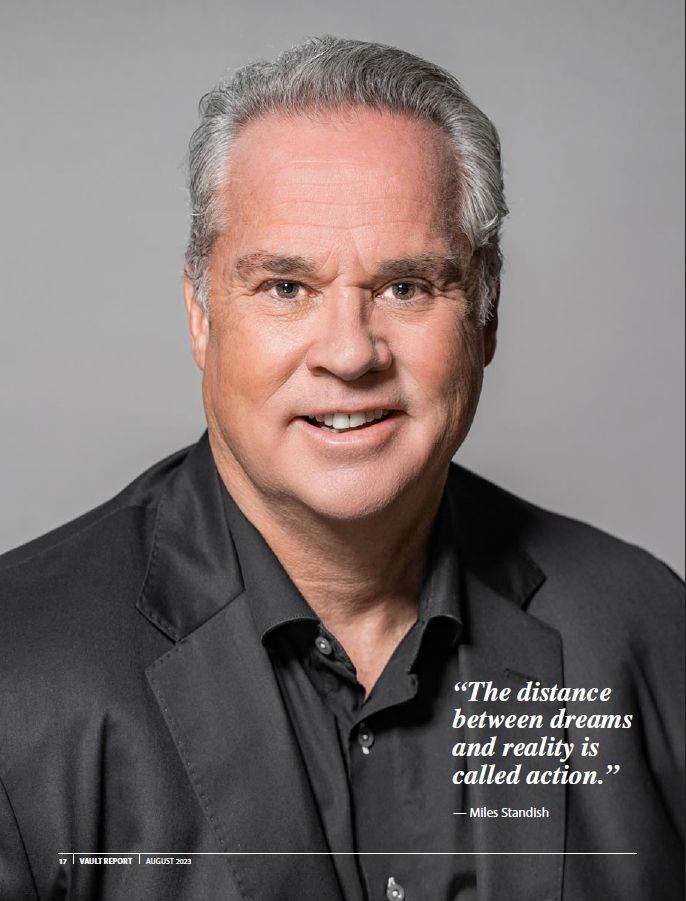 MILES STANDISH
In Memorium
7k Fam,
This month we are heartbroken as we have had to say goodbye to our dear, dear friend, Michael Miles Standish. We know that many of you knew Miles personally and are suffering your own heartbreak at the news of this loss. From all of us here at 7k: we share the burden of grief alongside you. You are not alone.
Miles's life held many accomplishments and is worthy of much celebration. His achievements reach outside of the numismatic and precious metal worlds. He was a beloved husband, brother, son, and friend. He was an author, professional coin grader, businessman, coin enthusiast, artist, and philanthropist.
From his humble beginning as a 17-year-old coin lover setting up his table at the National Silver Dollar Show in Houston, Texas in 1982, to his establishment of a worldwide reputation as a respected, innovative businessman with many of his ideas changing the landscape of the coin world forever, Miles brought passion and expertise to each of his endeavors. We at 7k will forever miss his unwavering smile and infectious spirit and look forward to continue celebrating him through future unreleased projects Miles had in the works with us.
The love and respect we hold for Miles and his wonderful wife, Andy lives on and will continue to grow as we strive to carry his torch. His beautiful coin designs are struck in gold and silver, guaranteeing them a place in the world forever. Our gratitude for the friendships he made with the 7k family is lifelong. We will keep a place for him and his family right here with us, and remember him always.
If you would like to show support to Andy Standish, please donate to the Standish Foundation for Children in lieu of cards of flowers, you may do so through this link: Miles Standish Memorial
---